Abstract
Background
The vaginal microbiota of healthy women consists typically of a diversity of anaerobic and aerobic microorganisms. Lactobacilli are the most prevalent and often numerically dominant microorganisms and are relevant as a barrier to infection. The capacity of lactobacilli to adhere and compete for adhesion sites in the vaginal epithelium and the capacity to produce antimicrobial compounds (hydrogen peroxide, lactic acid, bacteriocin-like substances), are important in the impairment of colonization by pathogens.
Objective
This review summarizes the role of lactic acid bacteria in preventing illness of the host, including bacterial vaginosis, yeast vaginitis, urinary tract infection and sexually transmitted diseases.
Conclusions
The administration of probiotics that colonize the vaginal tract can be important in maintaining a normal urogenital health and also to prevent or treat infections.
This is a preview of subscription content,
to check access.
Access this article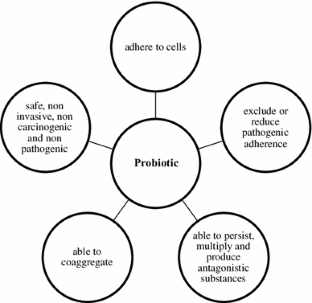 References
Farage MA, Miller KW, Sobel JD (2010) Dynamics of the vaginal ecosystem-hormonal influences. Infect Dis Res Treat 3:1–15

Hickey RJ, Zhou X, Pierson JD, Ravel J, Forney LJ (2012) Understanding vaginal microbiome complexity from an ecological perspective. Transl Res 160:267–282

Cribby S, Taylor M, Reid G (2008) Vaginal microbiota and the use of probiotics. Interdiscip Perspect Infect Dis 2008:256490

Iannitti T, Palmieri B (2010) Therapeutical use of probiotic formulations in clinical practice. Clin Nutr 29:701–725

Konings WN, Kok J, Kuipers OP, Poolman B (2000) Lactic acid bacteria: the bugs of the new millennium. Curr Opin Microbiol 3:276–282

Reid G, Burton J (2002) Use of Lactobacillus to prevent infection by pathogenic bacteria. Microbes Infect 4:319–324

Bolton M, Van Der Straten A, Cohen C (2008) Probiotics: potential to prevent HIV and sexually transmitted infections in women. Sex Transm Dis 35:214–225

Döderlein A (1892) Das scheidensekret und seine bedeutung fur puerperalfieber. Zentralblatt fur Bakteriology 11:699

Ma B, Forney LJ, Ravel J (2012) Vaginal microbiome: rethinking health and disease. Annu Rev Microbiol 66:371–389

Boris S, Barbés C (2000) Role played by lactobacilli in controlling the population of vaginal pathogens. Microbes Infect 2:543–546

Ravel J, Gajer P, Abdo Z, Schneider GM, Koenig SSK, McCulle SL, Karlebach S, Gorle R, Russell J, Tacket CO, Brotman RM, Davis CC, Ault K, Peralta L, Forney LJ (2011) Vaginal microbiome of reproductive-age women. PNAS 108:4680–4687

Jin L, Tao L, Pavlova SI, So J-S, Kiwanuka N, Namukwaya Z, Saberbein BA, Wawer M (2007) Species diversity and relative abundance of vaginal lactic acid bacteria from women in Uganda and Korea. J Appl Microbiol 102:1107–1115

Antonio MAD, Hawes SE, Hillier SL (1999) The identification of vaginal Lactobacillus species and the demographic and microbiologic characteristics of women colonized by these species. J Infect Dis 180:1950–1956

Anukam KC, Osazuwa EO, Ahonkhai I, Reid G (2006) Lactobacillus vaginal microbiota of women attending a reproductive health care service in Benin City, Nigeria. Sex Transm Dis 33:59–62

Aslim B, Kilic E (2006) Some probiotic properties of vaginal lactobacilli isolated from healthy women. Jpn J Infect Dis 59:249–253

Tamrakar R, Yamada T, Furuta I, Cho K, Morikawa M, Yamada H, Sakuragi N, Minakami H (2007) Association between Lactobacillus species and bacterial vaginosis-related bacteria, and bacterial vaginosis scores in pregnant Japanese women. BMC Infect Dis 7:128

Vitali B, Pugliese C, Biagi E, Candela M, Turroni S, Bellen G, Donders GGG, Brigidi P (2007) Dynamics of vaginal bacterial communities in women developing bacterial vaginosis, candidiasis, or no infection, analyzed by PCR-denaturing gradient gel electrophoresis and real-time PCR. Appl Environ Microbiol 73:5731–5741

Brolazo EM, Simões JA, Nader MEF, Tomás MSJ, Gregoracci GB, Marconi C (2009) Prevalência e caracterização de espécies de lactobacilos vaginais em mulheres em idade reprodutiva sem vulvovaginites. Rev Bras Ginecol Obstet 31:189–195

Schwebke JR (2001) Role of vaginal flora as a barrier to HIV acquisition. Curr Infect Dis Rep 3:152–155

Burton JP, Reid G (2002) Evaluation of the bacterial vaginal flora of 20 postmenopausal women by direct (Nugent score) and molecular (polymerase chain reaction and denaturing gradient gel electrophoresis) techniques. J Infect Dis 186:1770–1780

Reid G, Bocking A (2003) The potential for probiotics to prevent bacterial vaginosis and preterm labor. Am J Obstet Gynecol 189:1202–1208

Falagas ME, Betsi GI, Athanasiou S (2007) Probiotics for the treatment of women with bacterial vaginosis. Clin Microbiol Infect 13:657–664

Nugent RP, Krohn MA, Hillier SL (1991) Reliability of diagnosing bacterial vaginosis is improved by a standardized method of gram stain interpretation. J Clin Microbiol 29:297–301

Dover SE, Aroutcheva AA, Faro S, Chikindas ML (2008) Natural antimicrobials and their role in vaginal health: a short review. Int J Probiot Prebiot 3:219–230

Donati L, Di Vico A, Nucci M, Quagliozzi L, Spagnuolo T, Labianca A, Bracaglia M, Ianniello F, Caruso A, Paradisi G (2010) Vaginal microbial flora and outcome of pregnancy. Arch Gynecol Obstet 281:589–600

Rampersaud R, Randis TM, Ratner AJ (2012) Microbiota of the upper and lower genital tract. Semin Fetal Neonatal Med 17:51–57

Reid G (2008) Probiotics and prebiotics—progress and challenges. Int Dairy J 18:969–975

Wilks M, Wiggins R, Whiley A, Hennessy E, Warwick S, Porter H, Corfield A, Millar M (2004) Identification and H2O2 production of vaginal lactobacilli from pregnant women at high risk of preterm birth and relation with outcome. J Clin Microbiol 42:713–717

Charlier C, Cretenet M, Even S, Le Loir Y (2009) Interactions between Staphylococcus aureus and lactic acid bacteria: an old story with new perspectives. Int J Food Microbiol 131:30–39

Reid G, Kim SO, Köhler GA (2006) Selecting, testing and understanding probiotic microorganisms. FEMS Immunol Med Microbiol 46:149–157

Aroutcheva A, Gariti D, Simon M, Shott S, Faro J, Simoes JA, Gurguis A, Faro S (2001) Defense factors of vaginal lactobacilli. Am J Obstet Gynecol 185:375–379

Conti C, Malacrino C, Mastromarino P (2009) Inhibition of herpes simplex virus type 2 by vaginal lactobacilli. J Physiol Pharmacol 60:19–26

Matu MN, Orinda GO, Njagi ENM, Cohen CR, Bukusi EA (2010) In vitro inhibitory activity of human vaginal lactobacilli against pathogenic bacteria associated with bacterial vaginosis in Kenyan women. Anaerobe 16:210–215

Klebanoff SJ, Watts DH, Mehlin C, Headley CM (1999) Lactobacilli and vaginal host defense: activation of the human immunodeficiency virus type 1 long terminal repeat, cytokine production, and NF-κB. J Inf Dis 179:653–660

Wasiela M, Misiak G, Pieczara A, Kalinka J (2008) Association between hydrogen peroxide Lactobacillus species and bacterial vaginosis-related bacteria in vaginal fluid of pregnant women. Arch Perinatol Med 14:23–27

Kim YH, Kim CH, Cho MK, Na JH, Song TB, Oh JS (2006) Hydrogen peroxide-producing lactobacilli in the vaginal flora of pregnant women with preterm labor with intact membranes. Int J Gynaecol Obstet 93:22–27

Muench DF, Kuch DJ, Wu H, Begum AA, Veit SJ, Pelletier M-E, Soler-García ÁA, Jerse AE (2009) H2O2-producing lactobacilli inhibit gonococci in vitro but not during experimental genital tract infection. J Infect Dis 199:1369–1378

O'Hanlon DE, Lanier BR, Moench TR, Cone RA (2010) Cervicovaginal fluid and semen block the microbicidal activity of hydrogen peroxide produced by vaginal lactobacilli. BMC Infect Dis 10:1–8

Gillor O, Nigro L, Riley M (2005) Genetically engineered bacteriocins and their potential as the next generation of antimicrobials. Curr Pharm Des 11:1067–1075

Ocaña VS, de Ruiz Pesce, Holgado AA, Nader-Macías ME (1999) Characterization of a bacteriocin-like substance produced by a vaginal Lactobacillus salivarius strain. Appl Environ Microbiol 65:5631–5635

Pascual LM, Daniele MB, Giordano W, Pájaro MC, Barberis IL (2008) Purification and partial characterization of novel bacteriocin L23 produced by Lactobacillus fermentum L23. Curr Microbiol 397–402

Vera Pingitore E, Hébert EM, Nader-Macías ME, Sesma F (2009) Characterization of salivaricin CRL 1328, a two-peptide bacteriocin produced by Lactobacillus salivarius CRL 1328 isolated from the human vagina. Res Microbiol 160:401–408

Dezwaan DC, Mequio MJ, Littell JS, Allen JP, Rossbach S, Pybus V (2007) Purification and characterization of enterocin 62-6, a two-peptide bacteriocin produced by a vaginal strain of Enterococcus faecium: potential significance in bacterial vaginosis. Microb Ecol Health D 19:241–250

Karaoğlu ŞA, Aydin F, Kiliç SS, Kiliç AO (2002) Antimicrobial activity and characteristics of bacteriocins produced by vaginal lactobacilli. Turk J Med Sci 33:7–13

Coudeyras S, Jugie G, Vermerie M, Forestier C (2008) Adhesion of human probiotic Lactobacillus rhamnosus to cervical and vaginal cells and interaction with vaginosis-associated pathogens. Infect Dis Obstet Gynecol 2008:549640

Zárate G, Nader-Macias ME (2006) Influence of probiotic vaginal lactobacilli on in vitro adhesion of urogenital pathogens to vaginal epithelial cells. Lett Appl Microbiol 43:174–180

Boris S, Suárez JE, Vázquez F, Barbés C (1998) Adherence of human vaginal lactobacilli to vaginal epithelial cells and interaction with uropathogens. Infect Immun 66:1985–1989

Anukam KC (2007) The potential role of probiotics in reducing poverty-associated infections in developing countries. J Infect Dev Ctries 1:81–83

Reid G, Burton J, Hammond J, Bruce AW (2004) Nucleic acid-based diagnosis of bacterial vaginosis and improved management using probiotic lactobacilli. J Med Food 7:223–228

Ehrström S, Daroczy K, Rylander E, Samuelsson C, Johannesson U et al (2010) Lactic acid bacteria colonization and clinical outcome after probiotic supplementation in conventionally treated bacterial vaginosis and vulvovaginal candidiasis. Microbes Infect 12:691–699

Marcone V, Rocca G, Lichtner M, Calzolari E (2010) Long-term vaginal administration of Lactobacillus rhamnosus as a complementary approach to management of bacterial vaginosis. Int J Gynaecol Obstet 110:223–226

Garg S, Goldman D, Krumme M, Rohan LC, Smoot S, Friend DR (2010) Advances in development, scale-up and manufacturing of microbicide gels, films, and tablets. Antiviral Res 88S:S19–S29

Maggi L, Mastromarino P, Macchia S, Brigidi P, Pirovano F, Matteuzzi D, Conte U (2000) Technological and biological evaluation of tablets containing different strains of lactobacilli for vaginal administration. Eur J Pharm Biopharm 50:389–395

Burton JP, Cadieux PA, Reid G (2003) Improved understanding of the bacterial vaginal microbiota of women before and after probiotic instillation. Appl Environ Microbiol 69:97–101

Eriksson K, Carlsson B, Forsum U, Larsson P-G (2005) A double-blind treatment study of bacterial vaginosis with normal vaginal lactobacilli after an open treatment with vaginal clindamycin ovules. Acta Derm Venereol 85:42–46

Czaja CA, Stapleton AE, Yarova-Yarovaya Y, Stamm WE (2007) Phase I trial of a Lactobacillus crispatus vaginal suppository for prevention of recurrent urinary tract infection in women. Infect Dis Obstet Gynecol 2007:35387

Drago L, de Vecchi E, Nicola L, Zucchetti E, Gismondo MR, Vicariotto F (2007) Activity of a Lactobacillus acidophilus—based Douche for the treatment of bacterial vaginosis. J Altern Complem Med 13:435–438

Kale V, Trivedi R, Muley P (2008) Proposed design of a dissolution apparatus for vaginal formulations containing probiotics. Dissolut Technol 15:27–29

Larsson P-G, Stray-Pedersen B, Ryttig KR, Larsen S (2008) Human lactobacilli as supplementation of clindamycin to patients with bacterial vaginosis reduce the recurrence rate; a 6-month, double-blind, randomized, placebo-controlled study. BMC Womens Health 8:3

Kaewnopparat S, Kaewnopparat N (2009) Formulation and evaluation of vaginal suppositories containing Lactobacillus. World Acad Sci Eng Technol 55:25–28

Uehara S, Monden K, Nomoto K, Seno Y, Kariyama R, Hiromi K (2006) A pilot study evaluating the safety and effectiveness of Lactobacillus vaginal suppositories in patients with recurrent urinary tract infection. Int J Antimicrob Agents 28S:S30–S34

Barrons R, Tassone D (2008) Use of Lactobacillus probiotics for bacterial genitourinary infections in women: a review. Clin Ther 30:453–468
Acknowledgments
This work was supported by National Funds from FCT—Fundação para a Ciência e a Tecnologia through project PEst-OE/EQB/LA0016/2011. Financial support for author S. Borges was provided by PhD fellowship, SFRH/BD/45496/2008 (FCT—Fundação para a Ciência e a Tecnologia). Editing of this manuscript by Dr P.A. Gibbs is gratefully acknowledged.
Conflict of interest
The authors have no conflicts of interest to disclose.
About this article
Cite this article
Borges, S., Silva, J. & Teixeira, P. The role of lactobacilli and probiotics in maintaining vaginal health. Arch Gynecol Obstet 289, 479–489 (2014). https://doi.org/10.1007/s00404-013-3064-9
Received:

Accepted:

Published:

Issue Date:

DOI: https://doi.org/10.1007/s00404-013-3064-9
Keywords