Abstract
Purpose
This study aimed to investigate the effects of water-based gel application in reducing pain or discomfort associated with speculum examination, and compared the presence of unsatisfactory Papanicolaou smear results between gel-applied and control groups.
Methods
In this prospective randomized controlled study, a total of 1,580 patients were analyzed. The subjects were randomized to a gel group and a control group. For the collection of the smear sample, water-based gel was used in the gel group and dry speculum was used in the control group. All patients were asked to score their pain on a numeric pain scale at two time points during the procedure (insertion and opening phase of speculum). Cytopathologists who analyzed the smear cytology were blinded to the study. Pain intensity during speculum examination, as well as unsatisfactory smear results, were analyzed between the groups.
Results
The pain scores obtained at two different time points of speculum application were significantly lower in the gel group compared to the control group both in premenopausal and postmenopausal women (p < 0.001). The ratios of unsatisfactory cytopathologic examination results were 1.13 and 1.39 % for the gel-applied and control groups, which were not significantly different.
Conclusion
Lubrication of the outer superior and inferior blade of the plastic vaginal speculum with a small amount of a water-soluble lubricant gel decreases the pain associated with insertion and opening of the vaginal speculum in both premenopausal and postmenopausal women without affecting the quality of the cytology results during the collection of Papanicolaou test specimens.
Access options
Buy single article
Instant access to the full article PDF.
USD 39.95
Price includes VAT (USA)
Tax calculation will be finalised during checkout.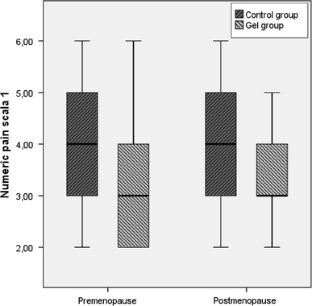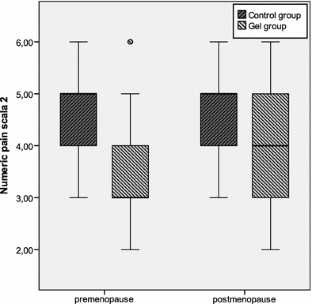 References
1.

U.S. Preventive Services Task Force (2012) Screening for cervical cancer: recommendation statement. Am Fam Phys 86(6):555–559 d10517 [pii]

2.

Walton RJ (1976) Editorial: the task force on cervical cancer screening programs. Can Med Assoc J 114(11):981

3.

Miller AB, Lindsay J, Hill GB (1976) Mortality from cancer of the uterus in Canada and its relationship to screening for cancer of the cervix. Int J Can 17(5):602–612

4.

Vesco KK, Whitlock EP, Eder M, Lin J, Burda BU, Senger CA, Holmes RS, Fu R, Zuber S (2011) (NBK66099) [bookaccession]

5.

Vesco KK, Whitlock EP, Eder M, Burda BU, Senger CA, Lutz K (2011) Risk factors and other epidemiologic considerations for cervical cancer screening: a narrative review for the US preventive services task force. Ann Int Med 155(10):698–705. doi:10.1059/0003-4819-155-10-201111150-00377

6.

Kahn JA, Chiou V, Allen JD, Goodman E, Perlman SE, Emans SJ (1999) Beliefs about papanicolaou smears and compliance with papanicolaou smear follow-up in adolescents. Arch Pediatr Adol Med 153(10):1046–1054

7.

Kosus A, Kosus N, Duran M, Haltas H, Hizli D, Kafali H (2012) Effect of liquid-based gel application during speculum examination on satisfactory level of smear examination. Arch Gynecol Obs 285(6):1599–1602. doi:10.1007/s00404-011-2198-x

8.

Charoenkwan K, Ninunanahaeminda K, Khunamornpong S, Srisomboon J, Thorner PS (2008) Effects of gel lubricant on cervical cytology. Acta Cytol 52(6):654–658

9.

AbdullGaffar B, Kamal MO, Khalid M, Samuel R, AlGhufli R (2010) Lubricant, mucus, and other contaminant materials as a potential source of interpretation errors in ThinPrep cervical cytology. J Low Gen Tract Dis 14(1):22–28. doi:10.1097/LGT.0b013e3181ab4584

10.

Amies AM, Miller L, Lee SK, Koutsky L (2002) The effect of vaginal speculum lubrication on the rate of unsatisfactory cervical cytology diagnosis. Obs Gynecol 100(5 Pt 1):889–892 pii: S0029784402023487

11.

Harer WB, Valenzuela G Jr, Lebo D (2002) Lubrication of the vaginal introitus and speculum does not affect papanicolaou smears. Obs Gynecol 100(5 Pt 1):887–888 pii: S0029784402021683

12.

Casselman CW, Crutcher RA, Jadusingh IH (1997) Use of water-soluble gel in obtaining the cervical cytologic smear. Acta Cytol 41(6):1861–1862

13.

Uygur D, Guler T, Yayci E, Atacag T, Comunoglu C, Kuzey GM (2012) Association of speculum lubrication with pain and papanicolaou test accuracy. J Am Board Fam Med 25(6):798–804. doi:10.3122/jabfm.2012.06.120021

14.

Gilson M, Desai A, Cardoza-Favarato G, Vroman P, Thornton JA (2006) Does gel affect cytology or comfort in the screening papanicolaou smear? J Am Board Fam Med 19(4):340–344 pii: 19/4/340

15.

Keskin AE, Onaran Y, Duvan IC, Simavli S, Kafali H (2012) Topical anesthetic (lidocaine–prilocaine) cream application before speculum examination in postmenopausal women. J Min Inv Gynecol 19(3):350–355. doi:10.1016/j.jmig.2012.01.005

16.

Altman DG, Bland JM (1999) How to randomise. BMJ 319(7211):703–704

17.

Day NE (1984) Effect of cervical cancer screening in scandinavia. Obs Gynecol 63(5):714–718

18.

Stenkvist B, Bergstrom R, Eklund G, Fox CH (1984) Papanicolaou smear screening and cervical cancer. What can you expect? JAMA 252(11):1423–1426

19.

Caraceni A, Cherny N, Fainsinger R, Kaasa S, Poulain P, Radbruch L, De Conno F (2002) Pain measurement tools and methods in clinical research in palliative care: recommendations of an expert working group of the European association of palliative care. J Pain Sym Man 23(3):239–255 pii: S0885392401004092

20.

Hjermstad MJ, Fayers PM, Haugen DF, Caraceni A, Hanks GW, Loge JH, Fainsinger R, Aass N, Kaasa S (2011) Studies comparing numerical rating scales, verbal rating scales, and visual analogue scales for assessment of pain intensity in adults: a systematic literature review. J Pain Symp Man 41(6):1073–1093. doi:10.1016/j.jpainsymman.2010.08.016

21.

Griffith WF, Stuart GS, Gluck KL, Heartwell SF (2005) Vaginal speculum lubrication and its effects on cervical cytology and microbiology. Contraception 72(1):60–64. doi:10.1016/j.contraception.2005.01.004

22.

Hathaway JK, Pathak PK, Maney R (2006) Is liquid-based pap testing affected by water-based lubricant? Obs Gynecol 107(1):66–70. doi:10.1097/01.AOG.0000192512.03576.da

23.

Pawlik M, Martin FJ (2009) Does a water-based lubricant affect pap smear and cervical microbiology results? Can Fam Phys 55(4):376–377 pii: 55/4/376

24.

Holton T, Smith D, Terry M, Madgwick A, Levine T (2008) The effect of lubricant contamination on ThinPrep (Cytyc) cervical cytology liquid-based preparations. Cytopathology 19(4):236–243. doi:10.1111/j.1365-2303.2007.00525.x
Acknowledgments
None.
Conflict of interest
None.
About this article
Cite this article
Simavli, S., Kaygusuz, I., Kınay, T. et al. The role of gel application in decreasing pain during speculum examination and its effects on papanicolaou smear results. Arch Gynecol Obstet 289, 809–815 (2014). https://doi.org/10.1007/s00404-013-3047-x
Received:

Accepted:

Published:

Issue Date:
Keywords
Smear

Water-based gel

Speculum examination

Pain

Numeric pain scale