Abstract
Purpose
Depression during and after pregnancy can have a negative impact on women's quality of life and on the development of the newborn child. Interventions have been shown to have a positive influence on both mothers and children. Predictive factors for depressive symptoms might possibly be able to identify groups that are at high risk. The aim of this study was to investigate the value of socioeconomic factors in predicting depressive symptoms during and after pregnancy.
Methods
Depressiveness was measured using the German version of the 10-item Edinburgh Postnatal Depression Scale (EPDS) at three time-points, in a prospective cohort study (n = 1,100). Visit 1 (Q1) was at study entry in the third trimester of the pregnancy, visit 2 (Q2) was shortly after birth, and visit 3 (Q3) was 6–8 months after birth. Depression scores were associated with socioeconomic factors and time in linear mixed models.
Results
Parity status, education status, monthly income, residential property status, and partnership status, as well as interactions between them, were found to be predictive factors for EPDS scores. The strongest factor influencing depressive symptoms was partnership status. Women who did not have an intact partnership had EPDS scores that were on average four points higher than in women with a partner at all three study visits (P < 0.000001).
Conclusions
Socioeconomic factors define subgroups that have different depression scores during and after pregnancy. Partnership status appears to be one of the most important influencing factors and could be useful for identifying women who should be offered an intervention to prevent possible negative effects on the mother or child.
Access options
Buy single article
Instant access to the full article PDF.
US$ 39.95
Tax calculation will be finalised during checkout.
Subscribe to journal
Immediate online access to all issues from 2019. Subscription will auto renew annually.
US$ 119
Tax calculation will be finalised during checkout.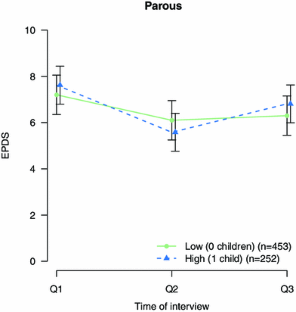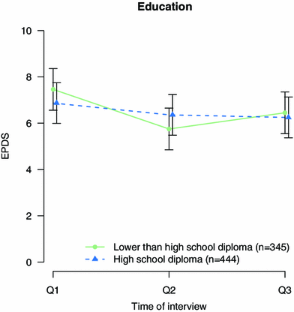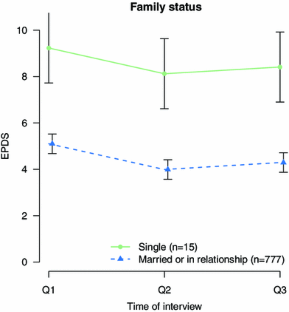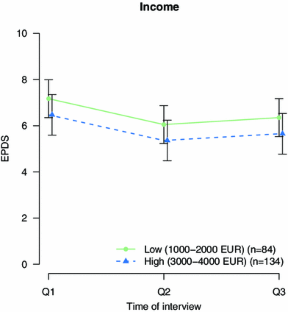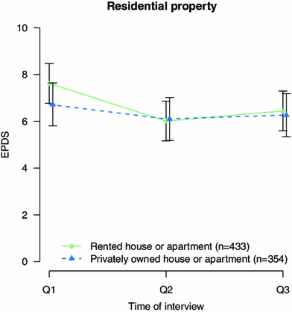 References
1.

Gawlik S, Reck C, Kuelkens S, Waldeier L, Sohn C, Schlehe B, Maul H (2010) Prenatal depression and anxiety: what is important for the obstetrician? Geburtsh Frauenheilkd 70(5):361–368. doi:10.1055/s-0030-1249842

2.

Gaynes BN, Gavin N, Meltzer-Brody S, Lohr KN, Swinson T, Gartlehner G, Brody S, Miller WC (2005) Perinatal depression: prevalence, screening accuracy, and screening outcomes. Evid Rep Technol Assess (Summ) 119:1–8

3.

Alder J, Fink N, Bitzer J, Hosli I, Holzgreve W (2007) Depression and anxiety during pregnancy: a risk factor for obstetric, fetal and neonatal outcome? A critical review of the literature. J Matern Fetal Neonatal Med 20(3):189–209. doi:10.1080/14767050701209560

4.

Bansil P, Kuklina EV, Meikle SF, Posner SF, Kourtis AP, Ellington SR, Jamieson DJ (2010) Maternal and fetal outcomes among women with depression. J Womens Health 19(2):329–334. doi:10.1089/jwh2009.1387

5.

Lancaster CA, Flynn HA, Johnson TRB, Marcus SM, Davis MM (2010) Peripartum length of stay for women with depressive symptoms during pregnancy. J Womens Health 19(1):31–37. doi:10.1089/jwh2009.1383

6.

Deave T, Heron J, Evans J, Emond A (2008) The impact of maternal depression in pregnancy on early child development. BJOG 115(8):1043–1051. doi:10.1111/j.1471-0528.2008.01752.x

7.

Goodman SH, Rouse MH, Connell AM, Broth MR, Hall CM, Heyward D (2011) Maternal depression and child psychopathology: a meta-analytic review. Clin Child Fam Psychol Rev 14(1):1–27. doi:10.1007/s10567-010-0080-1

8.

Agnafors S, Sydsjo G, Dekeyser L, Svedin CG (2012) Symptoms of depression postpartum and 12 years later-associations to child mental health at 12 years of age. Matern Child Health J. doi:10.1007/s10995-012-0985-z

9.

Poobalan AS, Aucott LS, Ross L, Smith WC, Helms PJ, Williams JH (2007) Effects of treating postnatal depression on mother-infant interaction and child development: systematic review. Br J Psychiatry 191:378–386. doi:10.1192/bjp.bp.106.032789

10.

Lancaster CA, Gold KJ, Flynn HA, Yoo H, Marcus SM, Davis MM (2010) Risk factors for depressive symptoms during pregnancy: a systematic review. Am J Obstet Gynecol 202(1):5–14. doi:10.1016/j.ajog.2009.09.007

11.

Suda S, Segi-Nishida E, Newton SS, Duman RS (2008) A postpartum model in rat: behavioral and gene expression changes induced by ovarian steroid deprivation. Biol Psychiatry 64(4):311–319. doi:10.1016/j.biopsych.2008.03.029

12.

Green AD, Barr AM, Galea LA (2009) Role of estradiol withdrawal in 'anhedonic' sucrose consumption: a model of postpartum depression. Physiol Behav 97(2):259–265. doi:10.1016/j.physbeh.2009.02.020

13.

Bloch M, Schmidt PJ, Danaceau M, Murphy J, Nieman L, Rubinow DR (2000) Effects of gonadal steroids in women with a history of postpartum depression. Am J Psychiatry 157(6):924–930

14.

Binder EB, Jeffrey Newport D, Zach EB, Smith AK, Deveau TC, Altshuler LL, Cohen LS, Stowe ZN, Cubells JF (2010) A serotonin transporter gene polymorphism predicts peripartum depressive symptoms in an at-risk psychiatric cohort. J Psychiatr Res 44(10):640–646. doi:10.1016/j.jpsychires.2009.12.001

15.

Doornbos B, Dijck-Brouwer DA, Kema IP, Tanke MA, van Goor SA, Muskiet FA, Korf J (2009) The development of peripartum depressive symptoms is associated with gene polymorphisms of MAOA, 5-HTT and COMT. Prog Neuropsychopharmacol Biol Psychiatry 33(7):1250–1254. doi:10.1016/j.pnpbp.2009.07.013

16.

Forty L, Jones L, Macgregor S, Caesar S, Cooper C, Hough A, Dean L, Dave S, Farmer A, McGuffin P, Brewster S, Craddock N, Jones I (2006) Familiality of postpartum depression in unipolar disorder: results of a family study. Am J Psychiatry 163(9):1549–1553. doi:10.1176/appi.ajp.163.9.1549

17.

Kohl C, Walch T, Huber R, Kemmler G, Neurauter G, Fuchs D, Solder E, Schrocksnadel H, Sperner-Unterweger B (2005) Measurement of tryptophan, kynurenine and neopterin in women with and without postpartum blues. J Affect Disord 86(2–3):135–142. doi:10.1016/j.jad.2004.12.013

18.

Mahon PB, Payne JL, MacKinnon DF, Mondimore FM, Goes FS, Schweizer B, Jancic D, Coryell WH, Holmans PA, Shi J, Knowles JA, Scheftner WA, Weissman MM, Levinson DF, DePaulo JR Jr, Zandi PP, Potash JB (2009) Genome-wide linkage and follow-up association study of postpartum mood symptoms. Am J Psychiatry 166(11):1229–1237. doi:10.1176/appi.ajp.2009.09030417

19.

Murphy-Eberenz K, Zandi PP, March D, Crowe RR, Scheftner WA, Alexander M, McInnis MG, Coryell W, Adams P, DePaulo JR Jr, Miller EB, Marta DH, Potash JB, Payne J, Levinson DF (2006) Is perinatal depression familial? J Affect Disord 90(1):49–55. doi:10.1016/j.jad.2005.10.006

20.

Payne JL, MacKinnon DF, Mondimore FM, McInnis MG, Schweizer B, Zamoiski RB, McMahon FJ, Nurnberger JI Jr, Rice JP, Scheftner W, Coryell W, Berrettini WH, Kelsoe JR, Byerley W, Gershon ES, DePaulo JR Jr, Potash JB (2008) Familial aggregation of postpartum mood symptoms in bipolar disorder pedigrees. Bipolar Disord 10(1):38–44. doi:10.1111/j.1399-5618.2008.00455.x

21.

Sanjuan J, Martin-Santos R, Garcia-Esteve L, Carot JM, Guillamat R, Gutierrez-Zotes A, Gornemann I, Canellas F, Baca-Garcia E, Jover M, Navines R, Valles V, Vilella E, de Diego Y, Castro JA, Ivorra JL, Gelabert E, Guitart M, Labad A, Mayoral F, Roca M, Gratacos M, Costas J, van Os J, de Frutos R (2008) Mood changes after delivery: role of the serotonin transporter gene. Br J Psychiatry 193(5):383–388. doi:10.1192/bjp.bp.107.045427

22.

Scheid JM, Holzman CB, Jones N, Friderici KH, Nummy KA, Symonds LL, Sikorskii A, Regier MK, Fisher R (2007) Depressive symptoms in mid-pregnancy, lifetime stressors and the 5-HTTLPR genotype. Genes Brain Behav 6(5):453–464. doi:10.1111/j.1601-183X.2006.00272.x

23.

Llewellyn AM, Stowe ZN, Nemeroff CB (1997) Depression during pregnancy and the puerperium. J Clin Psychiatry 58(Suppl 15):26–32

24.

O'Hara MW (2009) Postpartum depression: what we know? J Clin Psychol 65(12):1258–1269. doi:10.1002/jclp.20644

25.

Hopkins J, Campbell SB (2008) Development and validation of a scale to assess social support in the postpartum period. Archives of women's mental health 11(1):57–65. doi:10.1007/s00737-008-0212-5

26.

Cheng D, Schwarz EB, Douglas E, Horon I (2009) Unintended pregnancy and associated maternal preconception, prenatal and postpartum behaviors. Contraception 79(3):194–198. doi:10.1016/j.contraception.2008.09.009

27.

Quelopana AM, Champion JD, Reyes-Rubilar T (2011) Factors associated with postpartum depression in Chilean women. Health Care Women Int 32(10):939–949. doi:10.1080/07399332.2011.603866

28.

Melo EF Jr, Cecatti JG, Pacagnella RC, Leite DF, Vulcani DE, Makuch MY (2012) The prevalence of perinatal depression and its associated factors in two different settings in Brazil. J Affect Disord 136(3):1204–1208. doi:10.1016/j.jad.2011.11.023

29.

Mautner E, Egger JW, Daghofer F, Lang U, Greimel E (2010) Medical and psychosocial risk factors for depression and decreased quality of life in pregnancy and postpartum. Geburtsh Frauenheilk 70(4):298–303. doi:10.1055/s-0029-1241021

30.

Zelkowitz P, Schinazi J, Katofsky L, Saucier JF, Valenzuela M, Westreich R, Dayan J (2004) Factors associated with depression in pregnant immigrant women. Transcult Psychiatry 41(4):445–464

31.

Seguin L, Potvin L, St-Denis M, Loiselle J (1995) Chronic stressors, social support, and depression during pregnancy. Obstet Gynecol 85(4):583–589. doi:10.1016/0029-7844(94)00449-N

32.

Pajulo M, Savonlahti E, Sourander A, Helenius H, Piha J (2001) Antenatal depression, substance dependency and social support. J Affect Disord 65(1):9–17

33.

Larsson C, Sydsjo G, Josefsson A (2004) Health, sociodemographic data, and pregnancy outcome in women with antepartum depressive symptoms. Obstet Gynecol 104(3):459–466. doi:10.1097/01.AOG.0000136087.46864.e4

34.

Hoffman S, Hatch MC (2000) Depressive symptomatology during pregnancy: evidence for an association with decreased fetal growth in pregnancies of lower social class women. Health Psychol Off J Div Health Psychol Am Psychol Assoc 19(6):535–543

35.

Hobfoll SE, Ritter C, Lavin J, Hulsizer MR, Cameron RP (1995) Depression prevalence and incidence among inner-city pregnant and postpartum women. J Consult Clin Psychol 63(3):445–453

36.

Lindgren K (2001) Relationships among maternal-fetal attachment, prenatal depression, and health practices in pregnancy. Res Nurs Health 24(3):203–217

37.

Lermann J, Schott S, Dorr A, Grupe C, Lattrich C (2011) Is a Rdefinement in courses of "psychosomatic basic care in gynecology" absolutely necessary? Geburtsh Frauenheilk 71(6):550–551

38.

Siedentopf F, Rauchfuss M, Kentenich H (2011) Is further education in 'basic psychosomatic care in gynecology' urgently required? Geburtsh Frauenheilk 71(10):889–890

39.

Bakdash A, Burger P, Goecke TW, Fasching PA, Reulbach U, Bleich S, Hastedt M, Rothe M, Beckmann MW, Pragst F, Kornhuber J (2010) Quantification of fatty acid ethyl esters (FAEE) and ethyl glucuronide (EtG) in meconium from newborns for detection of alcohol abuse in a maternal health evaluation study. Anal Bioanal Chem 396(7):2469–2477. doi:10.1007/s00216-010-3474-5

40.

Fasching PA, Faschingbauer F, Goecke TW, Engel A, Haberle L, Seifert A, Voigt F, Amann M, Rebhan D, Burger P, Kornhuber J, Ekici AB, Beckmann MW, Binder EB (2012) Genetic variants in the tryptophan hydroxylase 2 gene (TPH2) and depression during and after pregnancy. J Psychiatr Res. doi:10.1016/j.jpsychires.2012.05.011

41.

Mehta D, Menke A, Binder EB (2010) Gene expression studies in major depression. Curr Psychiatry Rep 12(2):135–144. doi:10.1007/s11920-010-0100-3

42.

Reulbach U, Bleich S, Knorr J, Burger P, Fasching PA, Kornhuber J, Beckmann MW, Goecke TW (2009) Pre-, peri- and postpartal depression. Fortschr Neurol Psychiatr 77(12):708–713. doi:10.1055/s-0028-1109822

43.

Okano T, Nomura J (1992) Endocrine study of the maternity blues. Prog Neuropsychopharmacol Biol Psychiatry 16(6):921–932

44.

Nagata M, Nagai Y, Sobajima H, Ando T, Nishide Y, Honjo S (2000) Maternity blues and attachment to children in mothers of full-term normal infants. Acta Psychiatr Scand 101(3):209–217

45.

Mitchell AM, Mittelstaedt ME, Schott-Baer D (2006) Postpartum depression: the reliability of telephone screening. MCN Am J Matern Child Nurs 31(6):382–387

46.

Bergant AM, Nguyen T, Heim K, Ulmer H, Dapunt O (1998) German language version and validation of the Edinburgh postnatal depression scale. Dtsch Med Wochenschr 123(3):35–40. doi:10.1055/s-2007-1023895

47.

Cox JL, Holden JM, Sagovsky R (1987) Detection of postnatal depression. Development of the 10-item Edinburgh Postnatal Depression Scale. Br J Psychiatry 150(6):782–786

48.

Reck C, Struben K, Backenstrass M, Stefenelli U, Reinig K, Fuchs T, Sohn C, Mundt C (2008) Prevalence, onset and comorbidity of postpartum anxiety and depressive disorders. Acta Psychiatr Scand 118(6):459–468. doi:10.1111/j.1600-0447.2008.01264.x

49.

Mehta D, Quast C, Fasching PA, Seifert A, Voigt F, Beckmann MW, Faschingbauer F, Burger P, Ekici AB, Kornhuber J, Binder EB, Goecke TW (2012) The 5-HTTLPR polymorphism modulates the influence on environmental stressors on peripartum depression symptoms. J Affect Disord 136(3):1192–1197. doi:10.1016/j.jad.2011.11.042

50.

Dennis CL, Janssen PA, Singer J (2004) Identifying women at-risk for postpartum depression in the immediate postpartum period. Acta Psychiatr Scand 110(5):338–346. doi:10.1111/j.1600-0447.2004.00337.x

51.

Navarro P, Ascaso C, Garcia-Esteve L, Aguado J, Torres A, Martín-Santos R (2007) Postnatal psychiatric morbidity: a validation study of the GHQ-12 and the EPDS as screening tools. Gen Hosp Psychiatry 29(1):1–7. doi:10.1016/j.genhosppsych.2006.10.004

52.

Sit DWK (2009) Identification of postpartum depression. Clin Obstet Gynecol 52(3):456–468
Conflict of interest
The authors have no conflicts of interest to report.
About this article
Cite this article
Hein, A., Rauh, C., Engel, A. et al. Socioeconomic status and depression during and after pregnancy in the Franconian Maternal Health Evaluation Studies (FRAMES). Arch Gynecol Obstet 289, 755–763 (2014). https://doi.org/10.1007/s00404-013-3046-y
Received:

Accepted:

Published:

Issue Date:
Keywords
Pregnancy

Depression

Socioeconomic factors

Prediction