Abstract
Purpose
Work–life balance is an upcoming issue for physicians. The working group "Family and Career" of the German Society for Gynecology and Obstetrics (DGGG) designed a survey to reflect the present work–life balance of female and male gynecologists in Germany.
Methods
The 74-item, web-based survey "Profession–Family–Career" was sent to all members of the DGGG (n = 4,564). In total, there were 1,036 replies (23 %) from 75 % female gynecologists (n = 775) aged 38 ± 7 (mean ± standard deviation [SD]) years and 25 % male (n = 261) gynecologists aged 48 ± 11 years. Statistical analyses were performed using the mean and SD for descriptive analysis. Regression models were performed considering an effect of p ≤ 0.05 as statistically significant.
Results
47 % women and 46 % men reported satisfaction with their current work–life balance independent of gender (p gender = 0.15). 70 % women and 75 % men answered that work life and private life were equally important to them (p gender = 0.12). While 39 % women versus 11 % men worked part-time (p gender < 0.0001), men reported more overtime work than women (p gender < 0.0001). 75 % physicians were not satisfied with their salary independent of gender (p gender = 0.057). Work life affected private life of men and women in a similar way (all p gender > 0.05). At least 37 % women and men neglected both their partner and their children very often due to their work.
Conclusions
Female physicians often described their work situation similar to male physicians, although important differences regarding total work time, overtime work and appreciation by supervisors were reported. Work life affected private life of women and men in a similar way.
Access options
Buy single article
Instant access to the full article PDF.
US$ 39.95
Tax calculation will be finalised during checkout.
Subscribe to journal
Immediate online access to all issues from 2019. Subscription will auto renew annually.
US$ 119
Tax calculation will be finalised during checkout.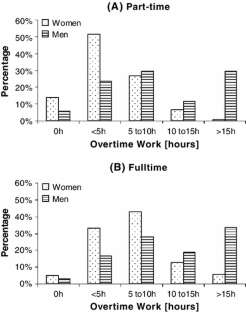 References
1.

ärztezeitung.de http://www.aerztezeitung.de/politik_gesellschaft/berufspolitik/article/617876/verbaende-aerztemangel-deutschland-spitzt.html. Accessed 22 Apr 2012

2.

Buddeberg-Fischer B, Stamm M, Buddeberg C, Bauer G, Häemmig O, Knecht M, Klaghofer R (2010) The impact of gender and parenthood on physicians' careers—professional and personal situation seven years after graduation. BMC Health Serv Res 10:40

3.

Leigh JP, Tancredi DJ, Kravitz RL (2009) Physician career satisfaction within specialties. BMC Health Serv Res 9:166

4.

Kopetsch T Dem deutschen Gesundheitswesen gehen die Ärzte aus!, http://www.aerzteblatt.de/down.asp?typ=PDF&id=6100. Accessed 22 Apr 2012

5.

Deutsches Ärzteblatt Archiv "Geschlechtsspezifische Berufsverläufe: Unterschiede auf dem Weg nach oben" (24 January 2003), http://www.aerzteblatt.de/v4/archiv/artikel.asp?id=35261. Accessed 13 Mar 2011

6.

Reed V, Buddeberg-Fischer B (2001) Career obstacles for women in medicine: an overview. Med Educ 35:139–147

7.

Hancke K, Toth B, Igl W, Ramsauer B, Wöckel A, Jundt K, Ditsch N, Bühren A, Gingelmaier A, Rhiem K, Vetter K, Friese K, Kreienberg R (2012) Career and Family—is it compatible? Gebfra 72:403–407

8.

Lambert EM, Holmboe ES (2005) The relationship between specialty choice and gender of US medical students, 1990–2003. Acad Med 80:797–802

9.

SurveyMonkey: Kostenloses Softwaretool für Onlineumfragen & -fragebögen http://de.surveymonkey.com/home.aspx. Accessed 15 Mar 2011

10.

Proschan MA, Waclawiw MA (2000) Practical guidelines for multiplicity adjustment in clinical trials. Control Clin Trials 21:527–539

11.

Agresti A (2002) Categorical data analysis, Chap 7.3. Wiley & Sons, Hoboken, p 282ff

12.

Thangaratinam S, Yanamandra SR, Deb S, Coomarasamy A (2006) Specialist training in obstetrics and gynecology: a survey on work–life balance and stress among trainees in UK. J Obstet Gynaecol 26:302–304

13.

Streu R, McGrath MH, Gay A, Salem B, Abrahamse P, Alderman AK (2011) Plastic surgeons' satisfaction with work–life balance: results from a national survey. Plast Reconstr Surg 127:1713–1719

14.

Henry A, Clements S, Kingston A, Abbott J (2012) In search of work/life balance: trainee perspectives on part-time obstetrics and gynecology specialist training. BMC Res Notes 5:19

15.

Buddeberg-Fischer B, Stamm M, Buddeberg C, Klaghofer R (2008) The new generation of family physicians—career motivation, life goals and work–life balance. Swiss Med Wkly 138:305–312

16.

"Feminisierung" der Ärzteschaft: Überschätzter Effekt (27 May 2011) http://www.aerzteblatt.de/archiv/91442/Feminisierung-der-Aerzteschaft-Ueberschaetzter-Effekt?src=search. Accessed 18 May 2012

17.

Kellerman SE, Herold J (2001) Physician response to surveys. A review of the literature. Am J Prev Med 20:61–67

18.

Gobern JM, Novak CM, Lockrow EG (2011) Survey of robotic surgery training in obstetrics and gynecology residency. J Minim Invasive Gynecol 18:755–760

19.

Becker JL, Milad MP, Klock SC (2006) Burnout, depression, and career satisfaction: cross-sectional study of obstetrics and gynecology residents. Am J Obstet Gynecol 95:1444–1449
Acknowledgments
The authors thank Evelyn Klein for the careful reading and editing of the final article. The authors wish to thank Dr. Susanne Dettmer for advisory work with the survey. The questionnaire was supported by the German Society of Gynecology and Obstetrics.
Conflict of interest
The authors have no conflict of interest.
About this article
Cite this article
Hancke, K., Igl, W., Toth, B. et al. Work–life balance of German gynecologists: a web-based survey on satisfaction with work and private life. Arch Gynecol Obstet 289, 123–129 (2014). https://doi.org/10.1007/s00404-013-2949-y
Received:

Accepted:

Published:

Issue Date:
Keywords
Work–life balance

Career

Family

Gender

Female physicians