Abstract
Purpose
To describe the use of a local hemostatic agent (LHA) for the management of postpartum hemorrhage (PPH) due to bleeding of the placental bed in patients taken to caesarean section at Fundación Santa Fe de Bogotá University Hospital.
Sample
A total of 41 pregnant women who had a caesarean section and developed PPH.
Methods
A cross-sectional study. Analysis of all cases of PPH during caesarean section presented from 2006 up to and including 2012 at Fundación Santa Fe de Bogotá University Hospital.
Main outcome measure
Emergency hysterectomy due to PPH.
Results
The proportion of hysterectomies was 5 vs. 66 % for the group that received and did not receive management with a LHA respectively (PR 0.07, CI 95 % 0.01–0.51 p < 0.01). For the group managed without a LHA, 80 % of patients needed hemoderivatives transfusion vs. 20 % of patients in the group managed with a LHA (PR 0.24, CI 95 % 0.1–0.6 p < 0.01). A reduction in the mean days of hospitalization in addition to a descent in the proportion of patients admitted to the intensive care unit (ICU) was noticed when comparing the group that received a LHA versus the one that did not.
Conclusion
An inverse association between the use of a LHA in patients with PPH due to bleeding of the placental bed and the need to perform an emergency obstetric hysterectomy was observed. Additionally there was a significant reduction in the mean duration of hospital stay, use of hemoderivatives and admission to the ICU.
Access options
Buy single article
Instant access to the full article PDF.
USD 39.95
Price excludes VAT (USA)
Tax calculation will be finalised during checkout.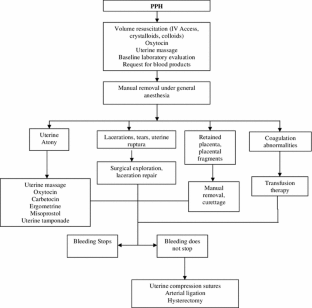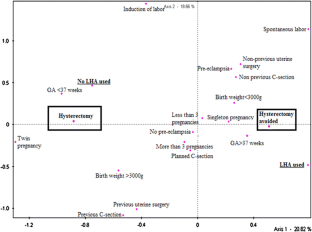 Abbreviations
PPH:

Postpartum hemorrhage

LHA:

Local hemostatic agent

PR:

Prevalence ratio

ICU:

Intensive care unit
References
AbouZahr C (2003) Global burden of maternal death and disability. In: Rodeck C (ed) Reducing maternal death and disability in pregnancy. Oxford University Press, Oxford, pp 1–11

Oyelese Y, Ananth CV (2010) Postpartum hemorrhage: epidemiology, risk factors, and causes. Clin Obstet Gynecol 53(1):147–156

Departamento Administrativo Nacional de Estadística (DANE) [Internet]. Defunciones No fetales 2009 [cited 2012 Jun] Available from: http://www.dane.gov.co/index.php?option=com_content&view=article&id=632:defunciones-no-fetales-2009-preliminar-&catid=118:estadisticas-vitales. Español

Wu S, Kocherginsky M, Hibbard JU (2005) Abnormal placentation: twenty-year analysis. Am J Obstet Gynecol 192:1458–1461

Clark SL, Koonings PP, Phelan JP (1985) Placenta previa/accreta and prior cesarean section. Obstet Gynecol 66:89–92

Silver RM, Landon MB, Rouse DJ (2006) National Institute of child health and human development maternal-fetal medicine units network. Maternal morbidity associated with multiple repeat cesarean deliveries. Obstet Gynecol 107:1226–1232

Baumann P, Schumacher H, Hüsing J, Luntz S, Knaebel HP (2009) A randomized, controlled, prospective trial to evaluate the haemostatic effect of lyostypt versus surgicel in arterial bypass anastomosis: "COBBANA" trial. Trials 29(10):91

Barnard J, Millner R (2009) A review of topical hemostatic agents for use in cardiac surgery. Ann Thorac Surg 88(4):1377–1383

Renkens KL Jr, Payner TD, Leipzig TJ, Feuer H, Morone MA, Koers JM et al (2001) A multicenter, prospective, randomized trial evaluating a new hemostatic agent for spinal surgery. Spine (Phila Pa 1976) 26(15):50–1645

Moriarty KT, Premila S, Bulmer PJ (2008) Use of FsloSeal haemostatic gel in massive obstetric haemorrhage: a case report. BJOG 115:793–795

Law LW, Chor CM, Leung TY (2010) Use of hemostatic gel in postpartum hemorrhage due to placenta previa. Obstet Gynecol 116(Suppl 2):528–530

Whiteside JL, Asif RB, Novello RJ (2010) Fibrin sealant for management of complicated obstetric lacerations. Obstet Gynecol 115:403–404

Fuglsang K, Petersen LK (2010) New local hemostatic treatment for postpartum hemorrhage caused by placenta previa at cesarean section. Acta Obstet Gynecol Scand 89(10):1346–1349

Mercier FJ, Van de Velde M (2008) Major obstetric hemorrhage. Anesthesiol Clin 26(1):53–66

Varatharajan L, Chandraharan E, Sutton J, Lowe V, Arulkumaran S (2011) Outcome of the management of massive postpartum hemorrhage using the algorithm "HEMOSTASIS". Int J Gynaecol Obstet 113(2):152–154

Rossi AC, Lee RH, Chmait RH (2010) Emergency postpartum hysterectomy for uncontrolled postpartum bleeding: a systematic review. Obstet Gynecol 115(3):637–644

Hossain N, Shah T, Khan N, Shah N, Khan NH (2011) Transfusion of blood and blood component therapy for postpartum haemorrhage at a tertiary referral center. J Pak Med Assoc 61(4):343–345

Mariño CA, Vargas DC. Caracterización de la morbilidad materna extrema en el Instituto Materno Infantil––Hospital la Victoria [Internet]. Universidad Nacional de Colombia 2010 Español. Available from: http://www.bdigital.unal.edu.co/2519/1/597843.2010.pdf

Yoong W, Massiah N, Oluwu A (2006) Obstetric hysterectomy: changing trends over 20 years in a multiethnic high risk population. Arch Gynecol Obstet 274:37–40

Daskalakis G, Anastasakis E, Papantoniou N, Mesogitis S, Theodora M, Antsaklis A (2007) Emergency obstetric hysterectomy. Acta Obstet Gynecol Scand 86(2):223–227

Kastner ES (2002) Fifueroa R, Garry D. emergency peripartum hysterectomy: experience at a community teaching hospital. Obstet Gynecol 99:971–975

Zelop CM, Harlow BL, Frigoletto FD, Safon LE (1993) Emergency peripartum hysterectomy. Am J Obstet Gynecol 168:1443–1448

Petersen LK, Oxlund H, Uldbjerg N, Forman A (1991) In vitro analysis of muscular contractile ability and passive biomechanical properties of uterine cervical samples from nonpregnant women. Obstet Gynecol 77(5):772–776

Richter F, Schnorr D, Deger S, Trk I, Roigas J, Wille A et al (2003) Improvement of hemostasis in open and laparoscopically performed partial nephrectomy using a gelatin matrix-thrombin tissue sealant (FloSeal). Urology 61:73–77

Lemmer R, Albrech M, Bauer G (2012) Use of FloSeal hemostatic matrix in a patient with severe postpartum hemorrhage. J Obstet Gynaecol Res 38(2):435–437

Ethicon, Inc.(2007).A compendium of scientific literature: Evidence supporting the efficacy and safety of the SURGICEL® Family of absorbable hemostats. Neuchatel, Switzerland. Retrieved March 5, 2013 from http://www.ethicon360.com/sites/default/files/Lit_Compendium_Surgicel_0.pdf
Conflict of interest
The authors state explicitly that there are no conflicts of interest to be disclosed.
About this article
Cite this article
Portilla, D., Hernández-Giraldo, C., Moreno, B. et al. A local hemostatic agent for the management of postpartum hemorrhage due to placenta previa and placenta accreta: a cross-sectional study. Arch Gynecol Obstet 288, 543–549 (2013). https://doi.org/10.1007/s00404-013-2812-1
Received:

Accepted:

Published:

Issue Date:

DOI: https://doi.org/10.1007/s00404-013-2812-1
Keywords
Postpartum Hemorrhage

Cellulose, Oxidized

Hysterectomy

Placenta previa

Placenta accreta