Abstract
Background
Infertility is a major cause of marital problems and sexual dissatisfaction. This study was conducted to determine the effects of counseling on infertile couple's marital relationship and sexual satisfaction.
Materials and methods
This study was performed as a randomized controlled trial (RCT) in which 100 infertile couples (200 participants) who visited Reproductive Health Research Center Tehran, Iran were randomly assigned into two groups: intervention (n = 50 couples, 50 wives and 50 husbands) and control (n = 50 couples, 50 wives and 50 husbands). Intervention was defined as three counseling sessions per week, each lasting 60–90 min. Counseling in the intervention group was conducted separately for each couple. Demographic characteristics and marital and sexual satisfaction were investigated using three questionnaires through interviews. The outcomes, including changes in marital satisfaction and sexual satisfaction, were compared between the two groups 3 months later.
Results
Based on the data collected 3 months after the intervention period, the mean scores of marital and sexual satisfaction in intervention and control groups for wives were 49.62 ± 11.09 versus 54.97 ± 12.64 (P = 0.036) and 36.00 ± 8.37 versus 40.04 ± 7.69 (P = 0.019), respectively. Respective scores for husbands were 45.48 ± 9.55 versus 50.08 ± 11.43 (P = 0.042) and 33.37 ± 7.09 versus 36.63 ± 6.52 (P = 0.025), respectively. It should be noted that higher scores in questionnaires inspecting marital and sexual satisfaction indicate lower satisfaction.
Conclusions
Infertility counseling improves marital and sexual satisfaction in infertile couples.
Access options
Buy single article
Instant access to the full article PDF.
USD 39.95
Price excludes VAT (USA)
Tax calculation will be finalised during checkout.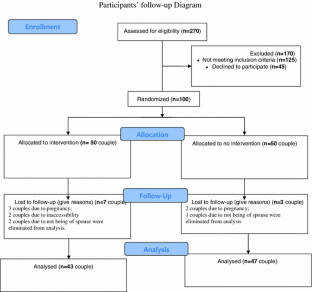 References
Orji EO, Ogunniyi SO (2001) Sexual behavior of infertile Nigerian women. J Obstet Gynaecol 21(3):303–305

Audu BM (2002) Sexual dysfunction among infertile Nigerian women. J Obstet Gynaecol 22(6):655–657

Braverman AM (2004) Psychosocial aspects of infertility: sexual dysfunction. Int Congr Ser 1266:270–276

Lee T (2001) The effect of an infertility diagnosis on treatment-related stresses. Arch Androl 46:67–71

Pasch LA, Dunkel Schetter C, Christensen A (2002) Differences between husbands and wives approach to infertility affect marital communication and adjustment. Fertil Steril 77(6):1241–1247

Reed S (2001) Medical and psychological aspect of infertility and assisted reproductive technology for the primary care providers. Mil Med 166(11):1018–1022

Lemmens G, Vervaek M, Enzlin P, Bakelants E, Vanderschueren D, Hooghe TD et al (2004) Coping with infertility: a body-mind group intervention programme for infertile couples. Hum Reprod 19:1917–1923

Boivin J, Scanlan LC, Walker SM (1999) Why are infertile patients not using psychosocial counseling? Hum Reprod 14(5):1384–1391

Schmidt L, Holstein BE, Boivin J, Sangren H, Tjornhoj-Thomsen T, Blaabjerg J et al (2003) Patients' attitudes to medical and psychosocial aspects of care in fertility clinics: findings from the Copenhagen Multicentre Psychological Infertility (COMPI) Research Programme. Hum Reprod 18(3):628–637

Wischmann T, Scherg H, Strowitzki TH, Verres R (2009) Psychosocial characteristics of women and men attending infertility counselling. Hum Reprod 24(2):378–385

Emery M, Beran MD, Darwiche J, Oppizzi L, Joris V, Capel R et al (2003) Results from a prospective, randomized, controlled study evaluating the acceptability and effects of routine pre-IVF counselling. Hum Reprod 18:2647–2653

Hämmerli K, Znoj H, Barth J (2009) The efficacy of psychological interventions for infertile patients: a meta-analysis examining mental health and pregnancy rate. Hum Reprod Updat 15:279–295

Boivin J (2003) A review of psychosocial interventions in infertility. Soc Sci Med 57:2325–2341

Klerk CD, Hunfeld JA, Duivenvoorden HJ, Outer MA, Fauser BC, Passchier J et al (2005) Effectiveness of a psychosocial counseling intervention for first time IVF couples: a randomized controlled trial. Hum Reprod 20(5):1333–1338

Domar AD, Clapp D, Slawsby E, Kessel B, Orav J, Freizinger M (2000) The impact of group psychological interventions on distress in infertile women. Health Psychol 19(6):568–575

Lee T, Sun G-H (2000) Psychosocial response of Chinese infertile husbands and wives. Arch Androl 45:143–148

Boivin J, Appleton T, Baetens P, Baron C, Bitzer J, Corrigan E et al (2001) Guidelines for counselling in infertility. Hum Reprod 16:1301–1304

Lee TY, Sun GH, Chao SC (2001) The effect of an infertility diagnosis on the distress, marital and sexual satisfaction between husbands and wives in Taiwan. Hum Reprod 16:1762–1767

Kamel RM (2010) Management of the infertile couple: an evidence-based protocol. RB&E 8(21):1–7

Mofarehe SH (2002) The effect of counseling on couple's sexual satisfaction in Shiraz. Thesis of MSc of Midwifery, Midwifery Department, Faculty of Nursing and Midwifery, Iran University of Medical Sciences, Tehran, Iran

Farnam F, Pakgohar M, Mirmohamadali M, Mahmoodi M (2008) Effect of sexual education on sexual health in Iran. Sex Educ 8(2):159–168

Farnam F, Pakgohar M, Mirmohammadali M (2011) Effect of pre-marriage counseling on marital satisfaction of Iranian newlywed couples: a randomized controlled trial. Sex Cult 15(2):141–152

Pakgohar M, Mahmmodi M, Ghobary B, Golian S (2008) Marriage counselling for enriching and nutrition relationship issues of marriage. Med Daneshvar 73:1–6

Lee SH (2003) Effects of using a nursing crisis intervention program on psychosocial responses and coping strategies of infertile women during in vitro fertilization. JNR 11(3):197–208

Anderson JR, Stagner M, Macomber JE, Murry J (2003) Systematic review of the impact of marriage and relationship program. Pers Responsib Work Fam Promot Act 7(4):1–43

Sprecher S (2002) Sexual satisfaction in premarital relationships: association with satisfaction, love, commitment and stability. JSR 39:190–196

Stammer H, Wischman T, Verres R (2002) Counseling and couple therapy for infertile couples. Fam Process 41(1):111–122

Greill AL, Slauson-Blevins K, McQuillan J (2010) The experience of infertility: a review of recent literature. Sociol Health Illn 32(1):140–162

Greef A, Malherb H (2001) Intimacy and marital satisfaction in spouses. J Sex Marital Ther 27:242–257

Karami Nouri R, Akhondi MM, Behjati Ardakani Z (2001) Psychosocial aspects of infertility from viewpoint of infertility treating physicians. JRI 7(2):13–26
Acknowledgments
This study was part of a M.S. dissertation supported by Tehran University of Medical Sciences (Grant No: 250/5845). Authors would like to thank all couples who helped us to conduct this study with their participation and cooperation.
Conflict of interest
I certify that no actual or potential conflict of interest in relation to this article exists.
About this article
Cite this article
Vizheh, M., Pakgohar, M., Babaei, G. et al. Effect of counseling on quality of marital relationship of infertile couples: a randomized, controlled trial (RCT) study. Arch Gynecol Obstet 287, 583–589 (2013). https://doi.org/10.1007/s00404-012-2595-9
Received:

Accepted:

Published:

Issue Date:

DOI: https://doi.org/10.1007/s00404-012-2595-9
Keywords
Infertility

Counseling

Marital relationship

Marital satisfaction

Sexual satisfaction

Couple