Abstract
Purpose
The cause of dysmenorrhoea is an abnormal function of smooth muscles in the uterus due to long-term deficient blood supply into smooth muscle tissue. The purpose of this study was to evaluate the effectiveness of skin adhesive low-level light therapy (LLLT) in participants with dysmenorrhoea.
Methods
Thirty-one women were included in this randomized, double-blind, placebo-controlled, pilot trial. Twenty-one women were treated with active LLLT and ten women were treated with placebo one. The therapy was performed in a laboratory room for 20 min a day over a period of 5 days prior to the expected onset of menstruation. The outcome was measured using a visual analog scale (VAS) for each participant's dysmenorrhoeal pain severity. VAS of each subject was measured every month for 6 months.
Results
In the active LLLT group, 16 women reported successful results during their first menstrual cycle just after active LLLT and 5 women had successful results from the second menstrual cycle after active LLLT. The pain reduction rate was 83 % in the active LLLT group, whereas there was only a slight and temporary reduction in pain in the placebo LLLT group. Changes of VAS within 6 months of LLLT showed statistical significance (p = 0.001) over placebo control.
Conclusions
Our study suggests that skin adhesive LLLT on acupuncture points might be an effective, simple and safe non-pharmacological treatment for dysmenorrhoea.
Access options
Buy single article
Instant access to the full article PDF.
USD 39.95
Price excludes VAT (USA)
Tax calculation will be finalised during checkout.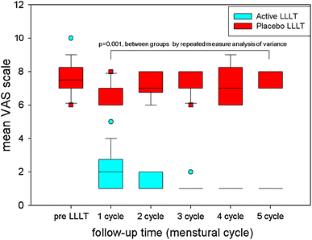 References
Cakir M, Mungan I, Karakas T, Girisken I, Okten A (2007) Menstrual pattern and common menstrual disorders among university students in Turkey. Pediatr Int 49(6):938–942

Sharma A, Taneja DK, Sharma P, Saha R (2012) Socioeconomic correlates of reproductive morbidity among adolescent girls in Sikkim. India Asia Pac J Public Health 24:136–150

Smith RP, Kaunitz AM, Barbieri RL, Barss VA (2011) Pathogenesis, clinical manifestations, and diagnosis of primary dysmenorrhea in adult women. http://www.uptodate.com. Accessed 01 Dec 2011

Banikarim C, Middleman AB, Geffner M, Hoppin AG (2011) Primary dysmenorrhea in adolescents. http://www.uptodate.com. Accessed 01 Dec 2011

Burton WN, Morrison A, Wertheimer AI (2003) Pharmaceuticals and worker productivity loss: a critical review of the literature. J Occup Environ Med 45(6):610–621

Bulletti C, DE Ziegler D, Setti PL, Cicinelli E, Polli V, Flamigni C (2004) The patterns of uterine contractility in normal menstruating women: from physiology to pathology. Ann N Y Acad Sci 1034:64–83

Mueller A, Maltaris T, Siemer J, Binder H, Hoffmann I, Beckmann MW, Dittrich R (2006) Uterine contractility in response to different prostaglandins: results from extracorporeally perfused non-pregnant swine uteri. Hum Reprod 21(8):2000–2005

Berkow R (1992) The Merck manual of diagnosis and therapy, 16th edn. Merck Research Laboratories, New Jersey

Eby GA (2007) Zinc treatment prevents dysmenorrhea. Med Hypotheses 69(2):297–301

Marjoribanks J, Proctor M, Farquhar C, Derks RS (2010) Nonsteroidal anti-inflammatory drugs for dysmenorrhoea. Cochrane Database Syst Rev 20(1):CD001751 Review

Tramer MR, Moore RA, Reynolds DJ, McQuay HJ (2000) Quantitative estimation of rare adverse events which follow a biological progression: a new model applied to chronic NSAID use. Pain 85(1–2):169–182

Smith KC (2010) Laser and LED photobiology. Laser Therapy 19(2):72–78

Tiphlova O, Karu T (1988) Stimulation of Escherichia coli division by low-intensity monochromatic visible light. Photochem Photobiol 48(4):467–471

Ball KA, Castello PR, Poyton RO (2011) Low intensity light stimulates nitrite-dependent nitric oxide synthesis but not oxygen consumption by cytochrome c oxidase: implications for phototherapy. J Photochem Photobiol B 102(3):182–191

Witt CM, Reinhold T, Brinkhaus B, Roll S, Jena S, Willich SN (2008) Acupuncture in patients with dysmenorrhea: a randomized study on clinical effectiveness and cost-effectiveness in usual care. Am J Obstet Gynecol 198(2):166.e1–166.e8

Schiøtz HA, Jettestad M, Al-Heeti D (2007) Treatment of dysmenorrhoea with a new TENS device (OVA). J Obstet Gynaecol 27(7):726–728

Jones KR, Vojir CP, Hutt E, Fink R (2007) Determining mild, moderate, and severe pain equivalency across pain-intensity tools in nursing home residents. J Rehabil Res Dev 44(2):305–314

Editorial committee of the Korean Acupuncture and Moxibustion Society (2008) The acupuncture and moxibustion. Zipmundang, Seoul In Korean

Kelly AM (1998) Does the clinically significant difference in visual analogue scale pain scores vary with gender, age, or cause of pain? Acad Emerg Med 5(11):1086–1090

Abbott J, Hawe J, Srivastava P, Hunter D, Garry R (2001) Intraperitoneal gas drain to reduce pain after laparoscopy: randomized masked trial. Obstet Gynecol 98(1):97–100

Kempf D, Berger D, Ausfeld-Hafter B (2009) Laser needle acupuncture in women with dysmenorrhoea: a randomised controlled double blind pilot trial. Forsch Komplementmed 16(1):6–12

Kataoka M, Togashi K, Kido A, Nakai A, Fujiwara T, Koyama T, Fujii S (2005) Dysmenorrhea: evaluation with cine-mode-display MR imaging—initial experience. Radiology 235(1):124–131

Kido A, Togashi K, Kataoka M, Maetani Y, Nakai A, Kataoka ML, Koyama T, Fujii S (2007) The effect of oral contraceptives on uterine contractility and menstrual pain: an assessment with cine MR imaging. Hum Reprod 22(7):2066–2071

Wyatt K, Dimmock P, Jones P, Obhrai M, O'Brien S (2001) Efficacy of progesterone and progestogens in management of premenstrual syndrome: systematic review. BMJ 323(7316):776–780

Cerin A, Colilins A, Landgren BM, Eneroth P (1993) Hormonal and biochemical profiles of premenstrual syndrome. Acta Obstet Gynecol Scand 72(5):337–343

Kelly JV (1962) Myometrical participation in human sperm transport: a dilemma. Fertil Steril 12:84–92

Bulletti C, de Ziegler D, Polli V, Diotallevi L, Del Ferro E, Flamigni C (2000) Uterine contractility during the menstrual cycle. Hum Reprod 15(Suppl 1):81–89

Soh KS (2004) Bonghan duct and acupuncture meridian as optical channel of biophoton. J Korean Phys Soc 45(5):1196–1198

Kim SS (1989) Pyun-jac royal guide I: acupuncture and moxibustion. Kim Sung Han Inc., Seoul In Korean

Pankratov S (1991) Meridian conduct light. Raum und Zeit 35(88):16–18 In German

Karu T (1986) Biological action of low-intensity visible monochromatic light and some of its medical applications. In: Galletti G (ed) Laser. Monduzzi Editore, Bologna, pp 25–29

Yap LR (2006) Raciometric imaging of calcium in myometrial cells. Neurobiology-Physiology Major Report, University of Maryland, College Park. http://terpconnect.umd.edu/~lyap/lyap.pdf. Accessed 01 Dec 2011

Poyton RO, Ball KA (2011) Therapeutic photobiomodulation: nitric oxide and a novel function of mitochondrial cytochrome c oxidase. Discov Med 11(57):154–159
Acknowledgments
This work was supported by the Grant of the Korean Ministry of Education, Science and Technology (The Regional Core Research Program/Center for Healthcare Technology Development). All devices used in this study were supported by Color Seven Company.
Conflict of interest
All authors declare that they have no conflict of interest.
About this article
Cite this article
Shin, YI., Kim, NG., Park, KJ. et al. Skin adhesive low-level light therapy for dysmenorrhoea: a randomized, double-blind, placebo-controlled, pilot trial. Arch Gynecol Obstet 286, 947–952 (2012). https://doi.org/10.1007/s00404-012-2380-9
Received:

Accepted:

Published:

Issue Date:

DOI: https://doi.org/10.1007/s00404-012-2380-9
Keywords
Low-level light therapy

Dysmenorrhoea

Acupuncture point

Smooth muscle relaxation