Abstract
Purpose
The objectives of this study were to examine the age distribution among women suffering from endometriosis and to establish that endometriosis is not a disease that occurs only in premenopausal women. The null hypothesis was that there are also postmenopausal women with endometriosis.
Methods
In a retrospective epidemiological study, a descriptive analysis of data from the Federal Statistical Office in Germany for 2005 and 2006 was carried out. A total of 42,079 women in Germany were admitted for surgical treatment due to histologically confirmed endometriosis during this period. The patients' age distribution was examined and they were assigned to 5-year age groups and then to premenopausal, perimenopausal, and postmenopausal subgroups.
Results
A total of 20,835 women in 2005 and 21,244 in 2006 were admitted to hospital for the treatment of endometriosis. In the premenopausal group (age 0–45 years), there were 33,814 patients (80.36 %); 23 patients (0.05 %) in this premenopausal group were younger than 15. There were 7,191 patients (17.09 %) in the perimenopausal group (45–55 years), and the postmenopausal group (55–95 years) included 1,074 patients (2.55 %).
Conclusions
The assumption that endometriosis is a disease of the premenopausal period and in women of reproductive age needs to be called into question, as well as the influence of estrogen in fully developed endometriosis. Due to the relatively high prevalence of the condition in patients aged over 40, physicians should consider endometriosis in cases of unclear pelvic pain in this age group.
Access options
Buy single article
Instant access to the full article PDF.
USD 39.95
Price excludes VAT (USA)
Tax calculation will be finalised during checkout.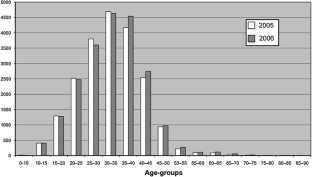 References
Schweppe KW (2003) Endometriosis—a disease that has no lobby. Zentralbl Gynäkol 125:233 (German)

Child TJ, Tan SL (2001) Endometriosis: aetiology, pathogenesis and treatment. Drugs 61:1735–1750

Viganò P, Parazzini F, Somigliana E, Vercellini P (2004) Endometriosis: epidemiology and aetiological factors. Best Pract Res Clin Obstet Gynaecol 18:177–200

Sampson JA (1927) Peritoneal endometriosis due to the menstrual dissemination of endometrial tissue into the peritoneal cavity. Am J Obstet Gynecol 14:422–469

Meyer R (1919) Über den Stand der Frage der Adenomyositis und Adenomyome im Allgemeinen und insbesondere über Adenomyositis seroepithelialis und Adenomyometritis sarcomatosa. Zentralbl Gynäkol 36:745–750

Noe M, Kunz G, Herbertz M, Mall G, Leyendecker G (1999) The cyclic pattern of the immunocytochemical expression of oestrogen and progesterone receptors in human myometrial and endometrial layers: characterization of the endometrial–subendometrial unit. Hum Reprod 14:190–197

Cicinelli E, De Ziegler D, Nicoletti R et al (2008) Chronic endometritis: correlation among hysteroscopic, histologic, and bacteriologic findings in a prospective trial with 2,190 consecutive office hysteroscopies. Fertil Steril 89:677–684

Oppelt P, Renner SP, Strick R et al (2010) Correlation of high-risk human papilloma viruses but not of herpes viruses or Chlamydia trachomatis with endometriosis lesions. Fertil Steril 93:1778–1786

Renner SP, Strick R, Oppelt P et al (2006) Evaluation of clinical parameters and estrogen receptor alpha gene polymorphisms for patients with endometriosis. Reproduction 131:153–161

Treloar SA, Zhao ZZ, Le L et al (2007) Variants in EMX2 and PTEN do not contribute to risk of endometriosis. Mol Hum Reprod 13:587–594

Greendale GA, Lee NP, Arriola ER (1999) The menopause. Lancet 353:571–580

Oldenhave A, Jaszmann LJ, Haspels AA, Everaerd WT (1993) Impact of climacteric on well-being. A survey based on 5,213 women 39 to 60 years old. Am J Obstet Gynecol 168:772–780

Treloar AE (1981) Menstrual cyclicity and the pre-menopause. Maturitas 3:249–264

Avis NE, McKinlay SM (1995) The Massachusetts Women's Health Study: an epidemiologic investigation of the menopause. J Am Med Womens Assoc 50:45–49, 63

Giudice LC, Kao LC (2004) Endometriosis. Lancet 364:1789–1799

Noble LS, Simpson ER, Johns A, Bulun SE (1996) Aromatase expression in endometriosis. J Clin Endocrinol Metab 81:174–179

Zeitoun K, Takayama K, Sasano H et al (1998) Deficient 17beta-hydroxysteroid dehydrogenase type 2 expression in endometriosis: failure to metabolize 17beta-estradiol. J Clin Endocrinol Metab 83:4474–4480

Tehrani FR, Solaymani-Dodaran M, Azizi F (2009) A single test of antimullerian hormone in late reproductive-aged women is a good predictor of menopause. Menopause 16:797–802

Shebl O, Ebner T, Sir A et al (2011) Age-related distribution of basal serum AMH level in women of reproductive age and a presumably healthy cohort. Fertil Steril 95:832–834

Broekmans FJ, Kwee J, Hendriks DJ, Mol BW, Lambalk CB (2006) A systematic review of tests predicting ovarian reserve and IVF outcome. Hum Reprod Update 12:685–718

Gindoff PR, Jewelewicz R (1986) Reproductive potential in the older woman. Fertil Steril 46:989–1001

Soliman NF, Hillard TC (2006) Hormone replacement therapy in women with past history of endometriosis. Climacteric 9:325–335

Al Kadri H, Hassan S, Al-Fozan HM, Hajeer A (2009) Hormone therapy for endometriosis and surgical menopause. Cochrane Database Syst Rev (1):CD005997

Stewart WW, Ireland GW (1977) Vesical endometriosis in a postmenopausal woman: a case report. J Urol 118:480–481

Maeda T, Uchida Y, Nakajima F (2009) Vesical endometriosis following the menopause. Int Urogynecol J Pelvic Floor Dysfunct 20:1515–1517
Acknowledgments
None of the authors has received any financial support for this paper, and it has not previously been presented at any meeting or conference.
Conflict of interest
None.
About this article
Cite this article
Haas, D., Chvatal, R., Reichert, B. et al. Endometriosis: a premenopausal disease? Age pattern in 42,079 patients with endometriosis. Arch Gynecol Obstet 286, 667–670 (2012). https://doi.org/10.1007/s00404-012-2361-z
Received:

Accepted:

Published:

Issue Date:

DOI: https://doi.org/10.1007/s00404-012-2361-z
Keywords