Abstract
Purpose
To compare Pueraria mirifica 25 and 50 mg dosages to relieve menopausal symptoms.
Methods
A double-blind study was conducted on 52 hysterectomized women with menopausal symptoms who had an indication for hormone therapy. The women were randomly allocated into two groups receiving either Pueraria mirifica 25 mg tablet (Arm A; n = 26) or Pueraria mirifica 50 mg (Arm B; n = 26) for 6 months. Menopausal symptoms, physical examination findings, and laboratory data were recorded at baseline. Symptoms were reevaluated at 3 and 6 months, while physical and laboratory examinations were evaluated at 1 month and at the end of treatment. A modified Green climacteric scale was used to evaluate menopausal symptoms; a score of ≥15 indicated estrogen deficiency.
Results
All women completed the study. Mean baseline climacteric scores of women who received 25 and 50 mg were: 24.19 ± 9.11 versus 23.19 ± 7.89, respectively (p = 0.674). After 3 and 6 months of treatment, scores were 17.92 ± 10.40 versus 15.35 ± 8.44 (p = 0.332) and 14.08 ± 10.30 versus 12.46 ± 6.38 (p = 0.500), respectively. No significant side effects were observed with Pueraria mirifica 25 or 50 mg.
Conclusions
Both dosages of Pueraria mirifica were similarly effective and safe in the treatment of menopausal symptoms.
This is a preview of subscription content, log in to check access.
Access options
Buy single article
Instant access to the full article PDF.
US$ 39.95
Price includes VAT for USA
Subscribe to journal
Immediate online access to all issues from 2019. Subscription will auto renew annually.
US$ 199
This is the net price. Taxes to be calculated in checkout.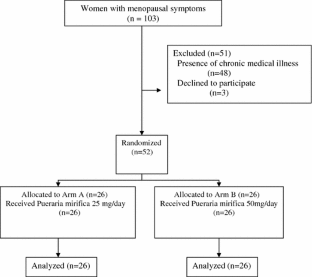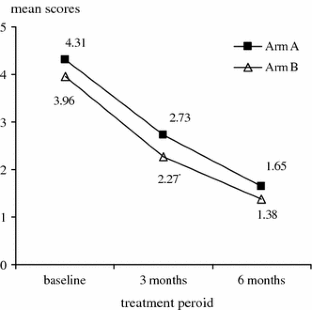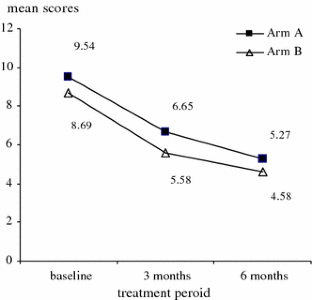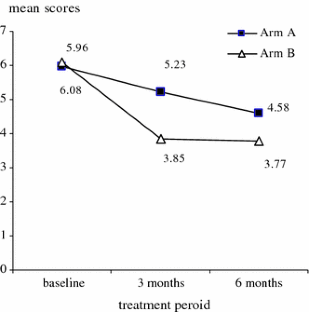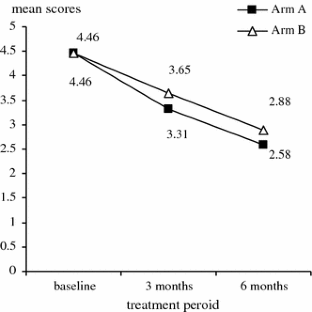 References
1.

Shuster LT, Rhodes DJ, Gostout BS, Grossardt BR, Rocca WA (2010) Premature menopause or early menopause: long-term health consequences. Maturitas 65(2):161–166

2.

North American Menopause Society (2007) Menopause practice: a clinician's guide, 3rd ed. Cleveland, OH, North American Menopause Society, pp 9–18

3.

Santoro N (2008) Symptoms of menopause: hot Flushes. evidence-based approach to menopause. Clin Obstet Gynecol 51:539–548

4.

Knight DC, Eden JA (1996) A review of the clinical effects of phytoestrogens. Obstet Gynecol 87(5):897–904

5.

Dewicks PM (1995) Isoflavonoids. In: Harborne JB (ed) The flavonoid. Dhapman & Hall, London, pp 117–238

6.

Lamlertkittikul S, Chandeying V (2004) Effectiveness and safety of Pueraria mirifica (Kwao Kruea Khao) for the treatment of vasomotor symptoms in perimenopausal women: phase II study. J Med Assoc Thai 87:33–40

7.

Sukavaj T (1949) Herbal medicine. Thai J Med Sci 3:104–110

8.

Urasopon N, Hamada Y, Asaoka K, Cherdshewasart W, Malaivijitnond S (2007) Pueraria mirifica, a phytoestrogen-rich herb, prevents bone loss in orchidectomized rats. Maturitas 56:322–331

9.

Urasopon N, Hamada Y, Cherdshewasart W, Malaivijitnond S (2008) Preventive effects of Pueraria mirifica on bone loss in ovariectomized rats. Maturitas 59:137–148

10.

Cherdshewasart W, Traosup V, Picha P (2008) Determination of the estrogenic activity of wild phytoestrogen-rich Pueraria mirifica MCF-7 proliferation assay. J Reprod Dev 4:63–67

11.

Chandeying V, Lamlertkittikul S (2007) Challenges in the conduct of Thai herbal scientific study: effectiveness and safety of phytoestrogen, Pueraria mirifica (Kwao Kuer Kao), phase I, in the alleviation of climacteric symptoms in perimenopausal women. J Med Assoc Thai 90:1274–1280

12.

Chandeying V, Sangthawan M (2007) Effectiveness comparison of Pueraria mirifica (PM) against conjugated equine estrogen (CEE) with/without medroxyprogesterone acetate (MPA) in the treatment of climacteric symptoms in perimenopausal women: phase III study. J Med Assoc Thai 90:1720–1726

13.

Speroff L, Fritz MA (2005) Clinical gynecologic endocrinology and infertility, 7th edn. Williams & Wilkins, Philadelphia, Lippincott, pp 689–777

14.

Smitasiri Y, Junyatum U, Songjitsawad A, Sripromma P, Trisrisilp S, Anuntalabhochai S (1986) Postcoital antifertility effects of Pueraria mirifica in rats. J Sci Fac Chiang Mai Univ 13:19–28

15.

MacLennan A (1996) Symptoms and signs of the climacteric. In: Wren BG, Nachtigall LE (eds) Clinical management of the menopause. McGraw-Hill, Roseville, pp 7–15

16.

Manonai J, Chittacharoen A, Udomsubpayakul U, Theppisai H, Theppisai U (2008) Effects and safety of Pueraria mirifica on lipid profiles and biochemical markers of bone turnover rates in healthy postmenopausal women. Menopause 15:530–535

17.

Ettinger B (2005) Vasomotor symptom relief versus unwanted effects: role of estrogen dosage. Am J Med 118 (Suppl 12B):74–8

18.

Coope J, Thomson JM, Poller L (1975) Effects of "natural oestrogen" replacement therapy on menopausal symptoms and blood clotting. Br Med J 4:139–143

19.

Klaiber EL, Broverman DM, Vogel W, Kobayashi Y (1979) Estrogen therapy for severe persistent depression women. Arch Gen Psychiatry 36(5):550–554

20.

Mundy GR (2007) Osteoporosis and inflammation. Nutr Rev 65(12 Pt 2): S147–S151

21.

Wang KC, Lin YF, Qin CH, Chen TL, Chen CH (2010) Bisphenol-A interferes with estradiol-mediated protection in osteoarthritic chondrocytes. Toxicol Lett 5; 198(2):127–133

22.

Maltais ML, Desroches J, Dionne IJ (2009) Changes in muscle mass and strength after menopause. J Musculoskelet Neuronal Interact 9(4):186–197

23.

Thomas TN, Rhodin JA, Clark L, Garces A, Bryant M (2003) A comparison of the anti-inflammatory activities of conjugated estrogens and 17-beta estradiol. Inflamm Res 52(11):452–460

24.

Dijsselbloem N, Vanden BW, De NA, Haegeman G (2004) Soy isoflavones phyto-pharmaceuticals in interleukin-6 affections. Multi-purpose nutraceuticals at the crossroad of hormone replacement, anti-cancer and anti-inflammatory therapy. Biochem Pharmacol 15; 68(6):1171–1185

25.

Felson DT, Nevitt MC (1998) The effects of estrogen on osteoarthritis. Curr Opin Rheumatol 10(3):269–272

26.

Sarrel PM (1990) Sexuality and menopause. Obstet Gynecol 75(4Suppl):26S–30S; discussion 31S–35S

27.

Kicovic PM, Cortes-Prieto J, Milojevic S, Haspels AA, Aljinovic A (1980) The treatment of postmenopause vaginal atrophy with Ovestin vaginal cream or suppositories: clinical endocrinological and safety aspects. Maturitas 14:23–31

28.

Guttuso T Jr, Kurlan R, McDermott MP, Kieburtz K (2003) Gabapentin's effects on hot flashes in postmenopausal women: a randomized controlled trial. Obstet Gynecol 101(2):337–345

29.

Faure ED, Chantre P, Mares P (2002) Effects of a standardized soy extract on hot flushes: a multicenter double-blind, randomized, placebo-controlled study. Menopause 9(5):329–334

30.

Kongnyuy EJ, Norman RJ, Flight IHK, Rees MC (2005) Oestrogen and progestogen hormone replacement therapy for perimenopausal and post-menopausal women: weight and body fat distribution. Cochrane Database of Systematic Reviews, Issue 3. Art. no.: CD001018. doi:10.1002/14651858

31.

Sanchanta P, Saenphet K, Saenphet S, Aritajat S, Wongsawad C (2005) Toxicological study of aqueous and ethanolic extracts from Pueraria mirifica Airy Shaw and Suvatabandhu on male rats. In: Brovelli E, Chansakaow S, Farias D et al (eds) III WOCMAP congress on medicinal and aromatic plants—volume 5: quality, effectiveness, safety, processing and trade in medicinal and aromatic plants. International Society for Horticultural Science, Leuven, Belgium

32.

Egeland GM, Kuller LH, Matthews KA, Kelsey SF, Cauley J, Guzick D (1990) Hormone replacement therapy and lipoprotein changes during early menopause. Obstet Gynecol Nov 76(5 pt 1):776–782

33.

Godsland IF (2001) Effects of postmenopausal hormone replacement therapy on lipid, lipoprotein, and apolipoprotein (a) concentrations: analysis of studies published from 1974–2000. Fertil Steril 75:898–915

34.

Irwig L, Glaszious P, Wilson A, Macaskill P (1991) Estimating an individual's true cholesterol level and response to intervention. JAMA 266:1678–1685
Acknowledgments
This study was supported by a grant from The Thai Traditional Medical Knowledge Fund, The Institute of Thai Traditional Medicine, Ministry of Public Health of Thailand. The sponsors were not involved in any aspect of this research. The authors would like to thank Dr. Budsaba Wiriyasirivaj and Dr. Sumonmal Manusirivithaya for their assistance in statistical analysis and Dr. Siriwan Tangjitgamol for the manuscript preparation.
Conflict of interest
The authors declare that we have no conflict of interest.
Appendix
Appendix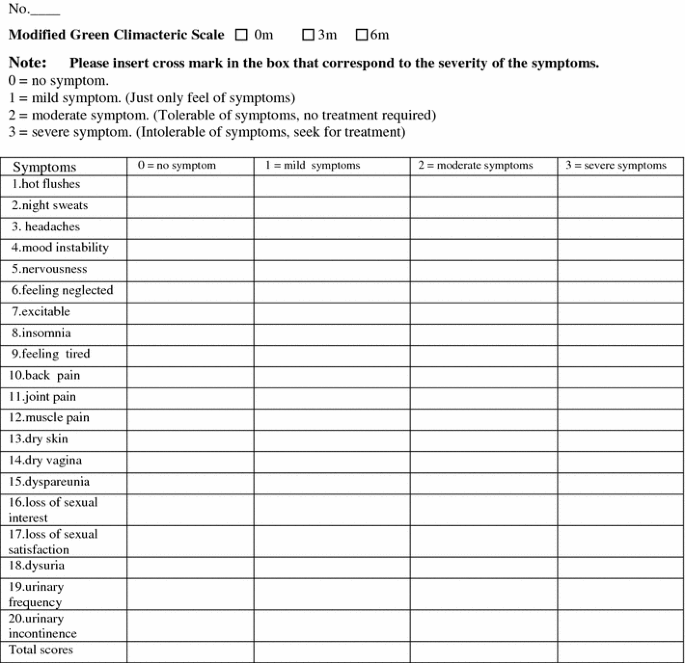 About this article
Cite this article
Virojchaiwong, P., Suvithayasiri, V. & Itharat, A. Comparison of Pueraria mirifica 25 and 50 mg for menopausal symptoms. Arch Gynecol Obstet 284, 411–419 (2011). https://doi.org/10.1007/s00404-010-1689-5
Received:

Accepted:

Published:

Issue Date:
Keywords
Pueraria mirifica

Modified Green climacteric scale

Menopausal symptoms