Abstract
Background
Nipple piercing gains popularity and social acceptance within the last years, especially among young people. The medical literature reports an increase of complications in the post-piercing period.
Case report
We report a case of a young woman, who presented with a light enlargment of the right breast and tenderness in the retroareolar region following nipple piercing 5 months ago. On ultrasound, a poorly marginated hypoechoic lesion was seen which was suspicious of an inflammation. After 1 week of antibiotic therapy, the mass had enlarged. As carcinoma could not be excluded, open biopsy was performed. Histology showed signs of chronic mastitis.
Conclusion
To date, only a few reports of breast abscess after nipple piercing have been published. With the increasing prevalence of body piercing, it is important to document and report infections which may be discovered many months following piercing. Carcinoma can mimick breast abscess and should be included in the differential diagnosis.
Access options
Buy single article
Instant access to the full article PDF.
US$ 39.95
Tax calculation will be finalised during checkout.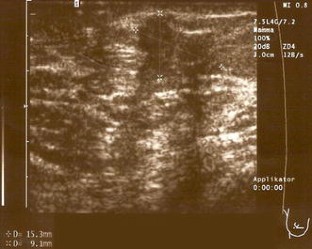 References
1.

Volker J, Golombeck K, Walter J, Kiechle M (2003) Brustabszess nach Brustwarzenpiercing. Deutsches Aerzteblatt 100(8):394–397

2.

Meyer R (2001) Piercing. Gefaehrlicher Koerperschmuck. Deutsches Aerzteblatt 98(13):819–820

3.

Tweeten SS, Rickman LS (1998) Infectious complications of body piercing. Clin Infect Dis 26:735–740

4.

Fiumara MJ, Capek M (1982) The Breastwarze or nipple ring. Sex Transm Dis 9:138–139

5.

Javaid M, Shibu M (1999) Breast implant infection following a nipple piercing. Br J Plast Surg 52:676–677

6.

Ochsenfahrt C, Friedl R, Hannekum A, Schumacher BA (2001) Endocarditis after nipple piercing in a patient with bicuspid aortic valve. Ann Thorac Surg 71(4):1365–1366

7.

de Kleer N, Cohen M, Semple J, Simor A, Antonyshyn O (2001) Nipple piercing may be contraindicated in male patients with chest implants. Ann Plast Surg 47:188–190

8.

Trupiano JK, Sebak BA, Goldfarb J, Levy LR, Hall GS, Procop GW (2001) Mastitis due to mycobacterium abscessus after body piercing. Clin Infect Dis 33:131–134

9.

Brook I (2001) Recovery of anaerobic bacteria from 3 patients with infection at a pierced body site. Clin Infect Dis 33:12–13

10.

Lewis CG, Wells MK, Jennings WC (2004) Mycobacterium fortuitum breast infection following nipple piercing, mimicking carcinoma. Breast J 10(4):363–365

11.

Jacobs VR, Colombeck K, Jonat W, Kiechle M (2002) Drei Fallsbeispiele von Brustabszess nach Brustwarzenpiercing, Unterschaetzte Gesundheitsprobleme eines Modephaenomens. Zentralbl Gynakol 124:378–385

12.

Bengualid V, Singh V, Singh H, Berger J (2008) Mycobacterium fortuitum and anaerobic breast abscess following nipple piercing: case presentation and review of the literature. J Adolesc Health 42(5):530–532

13.

Kamal MR, Hamed ST, Salem DS (2009) Classification of inflammatory breast disorders and step to step diagnosis. Breast J 15(4):367–380

14.

Wong C, Wright C, Colclough A, Marsh S (2006) Case report: metaplastic carcinoma presenting as a breast abscess. Int Semin Surg Oncol 3:23–25

15.

Cappellani A, Di Vita M, Zanghi A, De Luca A, Tomarchio G, La Porta D, Lanzafame S, Alfano G (2004) A pure primary squamous cell breast carcinoma presenting as a breast abscess: case report and review of literature. Ann Ital Chir 75(2):259–262
Conflict of interest statement
About this article
Cite this article
Kapsimalakou, S., Grande-Nagel, I., Simon, M. et al. Breast abscess following nipple piercing: a case report and review of the literature. Arch Gynecol Obstet 282, 623–626 (2010). https://doi.org/10.1007/s00404-010-1560-8
Received:

Accepted:

Published:

Issue Date:
Keywords
Nipple piercing

Breast abscess

Breast ultrasound