Abstract
Objective
This study was undertaken to investigate cut-off value of the endometrial thickness by transvaginal ultrasonography (TvUSG), and to detect the accuracy of preoperative Pipelle biopsy in premenopausal women with abnormal vaginal bleeding.
Study design
This study was included 144 premenopausal women with abnormal bleeding. Their endometrial thickness was measured by TvUSG and then Pipelle endometrial biopsy was performed. Preoperative histopathologic findings of 57 women who were operated were compared with final histolopathologic examination.
Results
Of the 144 women, 113 (78.4%) had normal and 31 (21.6%) had an abnormal endometrium. The abnormal endometrium was composed of 11.8% hyperplasia (simple + atypical complex), 4.2% endometrial polyp, and 5.5% adenocarcinoma. An optimal sensitivity and specificity (83.6 and 56.4%, respectively) and negative predictive value with 95.6% for detection of abnormal endometrium were obtained with an endometrial thickness of 8 mm. The accuracy rate of preoperative Pipelle biopsy was 94.7% in a total of 57 women.
Conclusion
An endometrial thickness >8 mm is more likely than that of 8 mm or less to be indicated with endometrial biopsy in premenopausal uterine bleeding. Pipelle endometrial biopsy is an accurate diagnostic procedure for the detection of high-grade endometrial lesions in premenopausal women.
This is a preview of subscription content,
to check access.
Access this article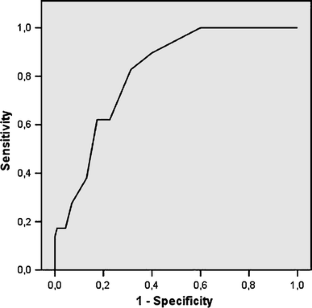 Similar content being viewed by others
References
Bettocchi S, Ceci O, Vicino M, Marello F, Impedevo L, Selvaggi L (2001) Diagnostic inadequacy of dilatation and curettage. Fertil Steril 75:803–805

Dubinsky TJ (2004) Value of sonography in the diagnosis of abnormal vaginal bleeding. J Clin Ultrasound 32:348–353 (review)

Gupta JK, Chien PFW, Voit D, Clark TJ, Khan KS (2002) Ultrasonographic endometrial thickness for diagnosing endometrial pathology in women with postmenopausal bleeding: a meta-analysis. Acta Obstet Gynecol Scand 81:799–816

Smith-Bindman R, Kerlikowske K, Feldstein VA et al (1998) Endovaginal ultrasound to exclude endometrial cancer and other endometrial abnormalities. JAMA 280:1510

Van Doorn LC, Dijkhuizen PHLJ, Kruitwagen RFMP, Heintz AP, Kooi GS, Mol BW (2004) DUPOMEB (Dutch Study in Postmenopausal Bleeding): accuracy of transvaginal ultrasonography in diabetic and or obese women with postmenopausal bleeding. Obstet Gynecol 104:571–578

Gull B, Karlsson B, Milsom I, Granberg S (2003) Can ultrasound replace dilatation and curettage? A longitudinal evaluation of postmenopausal bleeding and transvaginal sonographic measurement of the endometrium as predictors of endometrial cancer. Am J Obstet Gynecol 188:401–408

Goldstein RB, Bree RL, Benson CB et al (2001) Evaluation the women with postmenopausal bleeding: Society of Radiologists in Ultrasound-Sponsored Concensus Conference statement. J Ultrasound Med 20:1025–1036

Vercellini P, Cortesi I, Oldani S, Moschetta M, De Giorgi O, Crosignani PG (1997) The role of transvaginal ultrasonography and outpatient diagnostic hysterescopy in the evaluation of patients with menorrhagia. Hum Reprod 12:1768–1771

Goldstein SR, Zelster I, Horan CK, Snyder JR, Schwartz LB (1997) Ultrasonography-based triage for perimenopausal patients with abnormal uterine bleeding. Am J Obstet Gynecol 177:102–108

Schwarzler P, Concin H, Bosch H et al (1998) An evaluation sonohysterography and diagnostic hysteroscopy fort he assessment of intrauterine pathology. Ulrasound Obstet Gynecol 11:337–342

Chittacharoen A, Theppisai U, Linasmita V, Manonaj J (2000) Sonohysterography in the diagnosis of abnormal uterine bleeding. J Obstet Gynaecol Res 26:277–281

Pasrija S, Trivedi SS, Narula MK (2004) Prospective study of saline infusion sonohysterography in evaluation pf perimenopausal women with abnormal uterine bleeding. J Obstet Gynaecol Res 30:27–33

Getpook C, Wattanakumtornkul S (2006) Endometrial thickness screening in premenopausal women with abnormal uterine bleeding. J Obstet Gynaecol Res 32:588–592

Dueholm M, Jensen ML, Laursen H, Kracht P (2001) Can the endometrial thickness as measured by trans-vaginal sonography be used to exclude polyps or hyperplasia in pre-menopausal patients with abnormal uterine bleeding? Acta Obstet Gynecol Scand 80:645–651

Batool T, Reginald PW, Hughes JH (1994) Outpatient Pipelle endometrial biopsy in the investigation of postmenopausal bleeding. Br J Obstet Gynaecol 101:545–546

Clark TJ, Mann CH, Shah N, Khan KS, Song F, Gupta JK (2002) Accuracy of outpatient endometrial biopsy in the diagnosis of endometrial cancer: a systematic quantitative review. BJOG 109:313–321

Dijkhuizen FP, Mol BW, Brölmann HA, Heintz AP (2000) The accuracy of endometrial sampling in the diagnosis of patients with endometrial carcinoma and hyperplasia: a meta analysis. Cancer 89:1765–1772
Conflict of interest statement
About this article
Cite this article
Özdemir, S., Çelik, Ç., Gezginç, K. et al. Evaluation of endometrial thickness with transvaginal ultrasonography and histopathology in premenopausal women with abnormal vaginal bleeding. Arch Gynecol Obstet 282, 395–399 (2010). https://doi.org/10.1007/s00404-009-1290-y
Received:

Accepted:

Published:

Issue Date:

DOI: https://doi.org/10.1007/s00404-009-1290-y
Keywords