Abstract
Objective
Apart from thalidomide, retinoids like isotretinoin are the strongest teratogens in humans known today. The overall risk of birth defects is estimated as up to 30% after exposure during embryogenesis. In spite of well established pregnancy prevention programs, pregnancies still occur during isotretinoin therapy in many countries including Germany. A detailed investigation of the incidence and outcome of these pregnancies would fill an important gap.
Methodology
The Berlin Institute for Clinical Teratology documents prospectively the course of drug-exposed pregnancies when contacted for individual drug risk assessment. Datasets of isotretinoin exposed pregnancies recorded between 1993 and 2008 were evaluated as to the outcome of pregnancy.
Results
A total of 108 pregnancies exposed to systemic isotretinoin (median dosage 20 mg/day) during the contraindicated period were registered. 76% (69/91) of the pregnancies with known outcome were electively terminated—mainly for fear of medication risk. No terminations due to abnormal prenatal ultrasound findings were reported. Spontaneous abortions occurred in five pregnancies. Of 18 live births including 1 pair of twins 1 major birth defect (small ventricular septal defect) was observed. None of the infants showed symptoms of retinoid embryopathy. 70% (48/69) of the patients with data on contraception did not use any method, in 30% contraception failed. There was no evidence that poor maternal education was a major cause for the omission of contraception documented in 48 women.
Conclusion
Inadvertent isotretinoin exposure during the first 2 weeks post conception does not necessarily require discussion of termination of pregnancy, as the risk of major birth defects appears to be much lower than it becomes beyond this period. Nevertheless, additional efforts are required to improve the effectiveness of contraception while on isotretinoin treatment considering psycho-social aspects such as improved self-confidence, unexpected new partnership and sexual activity and incorrect perception of infertility.
This is a preview of subscription content, log in to check access.
Access options
Buy single article
Instant access to the full article PDF.
US$ 39.95
Price includes VAT for USA
Subscribe to journal
Immediate online access to all issues from 2019. Subscription will auto renew annually.
US$ 199
This is the net price. Taxes to be calculated in checkout.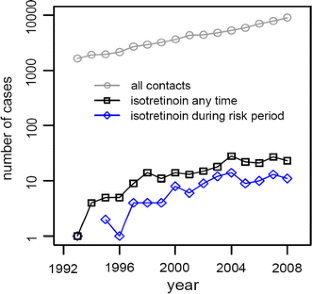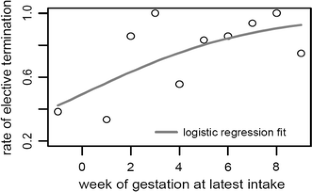 References
1.

Abroms L, Maibach E, Lyon-Daniel K, Feldman SR (2006) What is the best approach to reducing birth defects associated with isotretinoin? PLoS Med 3:e483. doi:10.1371/journal.pmed.0030483

2.

Adams J (2004) The adverse effect profile of neurobehavioral teratogens: retinoic acid. Birth Defects Res A 70:344

3.

Adams J, Lammer E (1991) Relationship between dysmorphology and neuropsychological functions in children exposed to isotretinoin (in utero). In: Fujii T, Boer GJ (eds) Functional neuroteratology of short term exposure to drugs. Teiko University Press, Tokyo, pp 159–168

4.

Azoulay L, Oraichi D, Bérard A (2006) Patterns and utilization of isotretinoin from 1984 to 2003: is there need for concern? Eur J Clin Pharmacol 62:667–674. doi:10.1007/s00228-006-0151-x

5.

Bérard A, Azoulay L, Koren G et al (2007) Isotretinoin, pregnancies, abortions and birth defects: a population-based perspective. Br J Clin Pharmacol 63:196–205. doi:10.1111/j.1365-2125.2006.02837.x

6.

Dai WS, LaBraico JM, Stern RS (1992) Epidemiology of isotretinoin exposure during pregnancy. J Am Acad Dermatol 26:599–606. doi:10.1016/0190-9622(92)70088-W

7.

David M, Pachaly J, Vetter K (2006) Perinatal outcome in Berlin (Germany) among immigrants from Turkey. Arch Gynecol Obstet 274:271–278. doi:10.1007/s00404-006-0182-7

8.

Garcia-Bournissen F, Tsur L, Goldstein LH, Staroselsky A, Avner M, Asrar F, Berkovitch M, Straface G, Koren G, De Santis M (2008) Fetal exposure to isotretinoin—an international problem. Reprod Toxicol 25:124–128. doi:10.1016/j.reprotox.2007.10.005

9.

Holmes LB (1999) Need for inclusion and exclusion criteria for the structural abnormalities recorded in children born from exposed pregnancies. Teratology 64:79–82

10.

Honein MA, Paulozzi LJ, Erickson JD (2001) Continued occurence of accutane exposed pregnancies. Teratology 64:142–147. doi:10.1002/tera.1057

11.

Johnson KA, Weber PA, Jones KL et al (2001) Selection bias in teratology information service pregnancy outcome studies. Teratology 64:79–82. doi:10.1002/tera.1048

12.

Lammer EJ, Chen DT, Hoar RM et al (1985) Retinoic acid embryopathy. N Engl J Med 313:837–841

13.

Lammer EJ, Hayes AM, Schunior A et al (1988) Unusually high risk for adverse outcomes of pregnancy following fetal isotretinoin exposure. Am J Hum Genet 43:A 58

14.

Martinez-Frias ML, Rodriguez-Pinilla E (1999) The problems of using data from teratology information services (TIS) to identify putative teratogens. Teratology 60:54–55. doi:10.1002/(SICI)1096-9926(199908)60:2<54::AID-TERA3>3.0.CO;2-3

15.

Merks JHM, van Karnebeek CDM, Caron HN, Hennekam RCM (2003) Phenotypic abnormalities: terminology and classification. Am J Med Genet 123:211A–230A. doi:10.1002/ajmg.a.20249

16.

Moerike S, Pantzar JT, De Sa D (2002) Temporal bone pathology in fetuses exposed to isotretinoin. Pediatr Dev Pathol 5:405–409. doi:10.1007/s10024-001-0258-0

17.

Moskop JC, Smith ML, De Ville K (1997) Ethical aspects of teratogenic medications: the case of isotretinoin. J Clin Ethics 8:264–278

18.

Nulman I, Berkovitch M, Klein J et al (1998) Steady-state pharmacokinetics of isotretinoin and ist 4-oxo metabolite: implications for fetal safety. J Clin Pharmacol 38:926–930

19.

Ornoy A, Mastroiacovo P (2000) More on data from teratogen information systems (TIS). Teratology 61:327–328. doi:10.1002/(SICI)1096-9926(200005)61:5<327::AID-TERA2>3.0.CO;2-H

20.

Raatikainen K, Heiskanen N, Heinonen S (2007) Under-attending free antenatal care is associated with adverse pregnancy outcomes. BMC Public Health 7:268. doi:10.1186/1471-2458-7-268

21.

Rasmussen SA, Olney RS, Holmes LB, Lin AE, Keppler-Noreuil KM, Moore CA (2003) Guidelines for case classification for the national birth defects prevention study. Birth Defects Res A 67:193–201. doi:10.1002/bdra.10012

22.

Robertson J, Polifka JE, Avner M et al (2005) A survey of pregnant women using isotretinoin. Birth Def Res A 73:881–887. doi:10.1002/bdra.20197

23.

Rosa FW (1983) Teratogenicity of isotretinoin. Lancet 2:513. doi:10.1016/S0140-6736(83)90538-X

24.

Schaefer C, Arnoy A, Clementi M, Meister R, Weber-Schoendorfer C (2008) Using observational cohort data for studying drug effects on pregnancy outcome—methodological considerations. Reprod Toxicol 26:36–41. doi:10.1016/j.reprotox.2008.05.064

25.

Teratology Society (1991) Recommendations for isotretinoin use in women of child-bearing potential. Teratology 44:1–6. doi:10.1002/tera.1420440102
Acknowledgments
The authors thank Dr. Dorothy Rosenberg, Maine, USA, for critical reading of the manuscript. The study was performed with financial support from the Bundesinstitut für Arzneimittel und Medizinprodukte (German Federal Institute for Drugs and Medical Devices).
Conflict of interest statement
None.
About this article
Cite this article
Schaefer, C., Meister, R. & Weber-Schoendorfer, C. Isotretinoin exposure and pregnancy outcome: an observational study of the Berlin Institute for Clinical Teratology and Drug Risk Assessment in Pregnancy. Arch Gynecol Obstet 281, 221 (2010). https://doi.org/10.1007/s00404-009-1112-2
Received:

Accepted:

Published:
Keywords
Isotretinoin

Retinoids

Pregnancy

Acne

Contraception

Fetal outcome

Pregnancy outcome

Teratogenicity