Abstract
Objective
To assess the experience of the first 5 years of the first midwife-led birth centre (MLBC) in Italy.
Study design
Data were prospectively collected to analyse the first 5 years' experience of the MLBC. MLBC is located alongside a University hospital maternity unit and it offers care to women with a straightforward pregnancy and midwives take primary professional responsibility for care. Women with maternal diseases, complicated obstetric history, height < 150 cm, maternal age > 45, or multiple pregnancy were excluded. Transfer was request in case of antenatal, intrapartum and postpartum pathological conditions.
Results
During the 5-year period (1 January 2001–31 December 2005), 1,438 low-risk women were admitted in labour to the MLBC. Of these, 203 (14.1%) were transferred during labour to consultant care (138 because of pathologies and 65 because of request of epidural analgesia). Among the transfers, the caesarean sections were 87, corresponding to 6.1% (87/1,438) of the total of women admitted to MLBC, while the operative vaginal deliveries were 14, corresponding to 1.0% (14/1,438) of the total of women admitted to MLBC. Among women who gave birth in the MLBC, episiotomy rate was 17.1%.
Conclusions
In Italy, in the passed 10 years, the caesarean section rate reached 60%, in some regions. According to our data, the first 5 years of activity of the first MLBC in Italy had been associated with a low rate of medical interventions during labour and birth, with high rates of spontaneous vaginal birth and without signs of complications. We hope that this experience could be taken as a model to improve the quality of maternity care in Italy.
Access options
Buy single article
Instant access to the full article PDF.
US$ 39.95
Tax calculation will be finalised during checkout.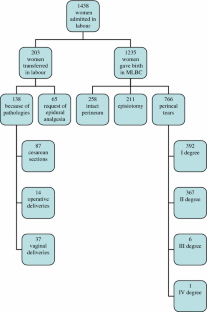 References
1.

Wagner M (2001) Fish can't see water: the need to humanize birth. Int J Gynaecol Obstet 75:S25–S37

2.

Department of Health. National Health Service Maternity Statistics, England 1998–99 to 2000–1. London: Department of Health, 2002

3.

Johanson R, Newburn M, Macfarlane A (2002) Has medicalisation of childbirth gone to far? BMJ 321:892–895

4.

Williams F, Florey C, Ogston S, Patel N, et al (1998) United Kingdom study of intrapartum care for low risk primigravidas: a survey of interventions. J Epidemiol Community Health 52:494–500

5.

Saunders D, BoultonM, Chapple J, et al. Evaluation of the Edgware Birth Center. Middlesex, North Thames Perinatal Health, 2000

6.

Hundley V, Cruickshank F, Lang G, Glazener C (1994) Midwife managed delivery unit: a randomized controlled comparison with consultant led care. Br Med J 309:1400–1404

7.

Rosser J (2001) Birth centers—the key to modernising the maternity services. Midirs 3(2):22–26

8.

Rooks JP,Weatherby NL, Ernst EK, et al (1989) Outcomes of care in birth centers. The National Birth Center Study. N Engl J Med 321:1804–1811

9.

Steward M, McCandlish R, Henderson J, Brocklehurst P. Report of a structured review of birth centre outcomes. The Maternity Research Group of the National Service Framework (NSF) for Children, Young People and Maternity Services. December 2004. NPEU

10.

Azonobi I, McBride-Richter H, Patrick L (2006) Late-onset postpartum eclampsia. J Midwifery Womens Health 51(1):51–53

11.

Sikorski J, Wilson J, Clement S, Das S, Smeeton N (1996) A randomised controlled trial comparing two schedules of antenatal visits: the antenatal care project. BMJ 312(7030):546–553

12.

Tucker L, Hoff C, Peevy K, Brost B, Holland S, Calhoun BC (1995) The effects of antenatal steroid use in premature rupture of membranes. Aust N Z J Obstet Gynaecol 35(4):390–392

13.

Hodnett ED, Downe S, Edwards N, Walsh D. Home-like versus conventional institutional settings for birth. The Cochrane Database of Systematic Reviews 2005, Issue 4

14.

Eskes M, van Alten D, Treffers PE (1993) The Wormerveer study; perinatal mortality and non-optimal management in a practice of independent midwives. Eur J Obstet Gynecol Reprod Biol 51(2):91–95

15.

Waldenstrom U, Turnbull D (1998) A systematic review comparing continuity of midwifery care with standard maternity services. Br J Obstet Gynaecol 105(11):1160–1170

16.

Turnbull D, Holmes A, Shields N, Cheyne H, Twaddle S, Gilmour WH, McGinley M, Reid M, Johnstone I, Geer I, McIlwaine G, Lunan CB (1996) Randomised, controlled trial of efficacy of midwife-managed care. Lancet 348(9022):213–218

17.

Saporito M, Arsieri R, Pugliese A, Formisano V, Triassi M (2003) Increase of births by cesarean section in Campania in 2000. Epidemiol Prev 27(5):291–296

18.

Gottval K, Grunewald C, Waldenstrom U (2004) Safety of birth centre care: perinatal mortality over a 10-year period. BJOG 111:71–78

19.

Gould D, Lupton B, Marks M, Wales N (2004) Outcomes of an alongside birth centre in a tertiary referral centre. Midwives 7(6):252–256

20.

MacVicar J, Dobbie G, Owen-Johnstone L, Jagger C, Hopkins M, Kennedy J (1993) Simulated home delivery in hospital: a randomised controlled trial. Br J Obstet Gynecol 100:316–323

21.

Homer C, Davis G, Petocz P, Barclay L, Matha D, Chapman M (2000) Birth centre or labour ward? A comparison of the clinical outcomes of low risk women in NSW hospital. Austral J Advanced Nursing 18(1):8–12

22.

Mahmood ta (2003) Evaluation of an experimental midwife-led unit in Scontland. J Obstet Gynecol 23(2):121–129

23.

Woodcock H, Baston H (1996) Midwife-led care: an audit of the home from home scheme at Darley Maternity Centre. MIDIRS Midwifery Digest 6(1):20–22

24.

Donati S, Andreozzi S, Grandolfo ME. Istituto Superiore di Sanità. (2001) Evaluation of the support and the information activities offered to pregnant women: a national survey, 93p. Rapporti ISTISAN 01/5 (in Italian)

25.

Waldenstrom U, Nilsson CA, Winbladh B (1997) The Stockholm Birth Centre trial: maternal and infant outcome. Br J Obstet Gynecol 104:410–418
Acknowledgments
We thank the many midwives without whose help the first Italian midwife-led birth centre would not have been possible.
Additional information
Condensation: The experience of the first midwife-led birth centre in Italy in reducing rates of perinatal medical interventions and in increasing rates of spontaneous vaginal birth.
About this article
Cite this article
Morano, S., Cerutti, F., Mistrangelo, E. et al. Outcomes of the first midwife-led birth centre in Italy: 5 years' experience. Arch Gynecol Obstet 276, 333–337 (2007). https://doi.org/10.1007/s00404-007-0358-9
Received:

Accepted:

Published:

Issue Date:
Keywords
Midwife-led birth centre

Midwives care unit

Straightforward pregnancy

Low-risk pregnancy