Abstract
Materials and methods
The maternal and neonatal outcome of 27 triplet and 1 quadruplet gestations was studied at the University Hospital of Verona.
Results
Mean maternal age was 31.7±3.7 years; 24 women (85.7%) were nulliparous. Six (21.4%) patients had conceived spontaneously. Common maternal complications were: preterm labor (78.6%), anemia (57.1%), preeclampsia (25.0%). Thirteen patients (46.4%) had cervical cerclage, 21(75%) received tocolysis, 20 (71.4%) corticosteroid prophylaxis, 4 (14.3%) unfractionated heparin. All patients underwent Caesarean section with mean gestational age of 32±2.5 weeks and mean postoperative stay was 9 days. Three patients were treated in ICU after delivery, 1 was hysterectomized and 6 received blood transfusions. The live newborns were 80, the stillborns 5. Mean birth weight was 1,520±516 g (range 650–2,665), 95.0% being LBW. The following neonatal complications were observed: RDS (28.7%), cerebral hemorrhage (26.2% of II° and 1.2% of III°), anemia (20%), PDA (12.5%), ROP (6.5%), polyglobulia (3.75%), NEC (2.5%). Mean hospitalization time was 30.6 days (range 2–132).
Discussion
Iatrogenic multiple births are increasing as the use of assisted conception techniques expands. Gynecologists should be aware of maternal complications and neonatal outcome of triplet pregnancies and infertility management strategies should try to avoid iatrogenic multiple gestations.
This is a preview of subscription content, log in to check access.
Access options
Buy single article
Instant access to the full article PDF.
US$ 39.95
Price includes VAT for USA
Subscribe to journal
Immediate online access to all issues from 2019. Subscription will auto renew annually.
US$ 199
This is the net price. Taxes to be calculated in checkout.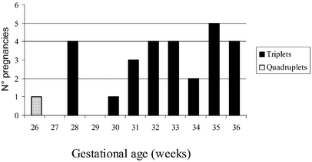 References
1.

Alamia V, Royek AB, Jaekle RK, Meyer BA (1998) Preliminary experience with a prospective protocol for panned vaginal triplet gestations. Am J Obstet Gynecol 179:1133–1135

2.

Albrecht JL, Tomich PG (1996) The maternal and neonatal outcome of triplet gestations. Am J Obstet Gynecol 174:1551–1556

3.

Borlum KG (1991) Third-trimester fetal death in triplet pregnancies. Obstet Gynecol 77:6–9

4.

Charasson T, Lenoir S, Pessonier A, Fournie A (1997) Short-term outcome of infants from triplet pregnancies. A series of 45 pregnancies. J Gynecol Obstet Biol Reprod 26:169–174

5.

Dommergues M, Mahieu-Caputo D, Mandelbrot L, Huon C, Moriette G, Dumez Y (1995) Delivery of uncomplicated triplet pregnancies: is the vaginal route safer? A case-control study. Am J Obstet Gynecol 172:513–517

6.

Elimian A, Figueroa R, Nigam S, Verma U, Tejani N, Kirshenbaum N (1999) Perinatal outcome of triplet gestation: does prophylactic cerclage make a difference? J Matern Fetal Med 8:119–122

7.

Gabriel R, Harika G, Saniez D, Durot S, Quereux C, Wahl P (1994) Prolonged intravenous ritodrine therapy: a comparison between multiple and singleton pregnancies. Eur J Obstet Gynecol Reprod Biol 57:65–67

8.

Grobman WA, Peaceman AM, Haney EI, Silver RK, MacGregor SN (1998) Neonatal outcomes in triplet gestations after a trial of labor. Am J Obstet Gynecol 179:942–945

9.

Levav AL, Chan L, Wapner RJ (1998) Long-term magnesium sulfate tocolysis and maternal osteoporosis in a triplet pregnancy: a case report. Am J Perinatol 15:43–46

10.

Lipitz S, Seidman DS, Alcalay M, Achiron R, Maschiach S, Reichman B (1993) The effect of fertility drugs and in vitro methods on the outcome of 106 triplet pregnancies. Fertil Steril 60:1031–1034

11.

Malone FD, Kaufman GE, Chelmow D (1998) Maternal morbidity associated with triplet pregnancy. Am J Perinatol 15:73–77

12.

Newman RB (1998) Obstetric management of high order multiple pregnancies. Baillieres Clin Obstet Gynecol 12:109–129

13.

Olofsson P (1990) Triplet and quadruplet pregnancies—a forthcoming challenge also for the 'general' obstetrician. Eur J Obstet Gynecol Reprod Biol 35:159–171

14.

Petterson B, Blair E, Watson L, Stanley F (1998) Adverse outcome after multiple pregnancy. Baillieres Clin Obstet Gynecol 12:1–17

15.

Ron-El R, Mor Z, Weinraub Z, Schreyer P, Bukovsky I, Dolphin Z, Goldberg M, Caspi E (1992) Triplet, quadruplet and quintuplet pregnancies. Management and outcome. Acta Obstet Gynecol Scand 71:347–350

16.

Sassoon DA, Castro LC, Davis JL, Bear M, Hobel CJ (1990) Perinatal outcome in triplet versus twin gestations. Obstet Gynecol 75:817–820

17.

Sauer MV, Paulson RJ, Lobo RA (1996) Oocyte donation to women of advanced reproductive age: pregnancy results and obstetrical outcomes in patients 45 years and older. Hum Reprod 11:2540–2543

18.

Seoud MA, Toner JP, Kruithoff C, Muasher SJ (1992) Outcome of twin, triplet, and quadruplet in vitro fertilization pregnancies: the Norfolk experience. Fertil Steril 57:825–834

19.

Simpson EL, Lawrenson RA, Nightingale AL, Farmer RD (2001) Venous thromboembolism in pregnancy and the puerperium: incidence and additional risk factors from a London perinatal database. Br J Obstet Gynaecol 108:56–60

20.

Wildschut HI, van Roosmalen J, van Leeuwen E, Keirse MJ (1995) Planned abdominal compared with planned vaginal birth in triplet pregnancies. Br J Obstet Gynaecol 102:292–296

21.

Wisanto A, Magnus M, Bonduelle M, Liu J, Camus M, Tournaye H, Liebaers I, van Steirteghem AC, Devroey P (1995) Obstetric outcome of 424 pregnancies after intracytoplasmic sperm injection. Hum Reprod 10:2713–2718

22.

Zeleny C (1921) The relative number of twins and triplets. Science 53:262–264
About this article
Cite this article
Zanconato, G., Poggi, S., Ruffo, R. et al. Antepartum management and neonatal outcome of triplet pregnancies. Arch Gynecol Obstet 271, 320–324 (2005). https://doi.org/10.1007/s00404-004-0632-z
Received:

Accepted:

Published:

Issue Date:
Keywords
Triplets

Perinatal care

Neonatal outcome