Abstract
Recurrent changes of temperature and persistence of cooling along fingers at the room temperature make hands the most frequent region of interest for thermography in systemic sclerosis (SSc). The aim of this study was to evaluate dependance of temperature in hands on a subtype of the disease, immune profile of antinuclear antibodies (ANA), and lung involvement. There were 29 patients with limited cutaneous involvement (lcSSc) and 10 patients with diffuse cutaneous disease (dcSSc) enrolled for the study. To compare measurements to normal values, there were enrolled 29 healthy volunteers (control group). All participants were submitted to thermography with handheld camera FLIR One Pro for iOS, attached to mobile phone iPhone 11, at the fixed temperature of 21 °C. Measurements included average temperature (Tavg) over nailfolds in thumbs and fingers II–V, as well as the difference in average temperatures (TΔ) between metacarpus of the hand and its thumb and fingers II–V. Both thumbs and fingers II–V remained cooler in subjects with dcSSc compared to those with lcSSc. This implicated a significantly greater TΔ along thumbs and fingers II–V in dcSSc group. Although Tavg at nailfolds in SSc patients was not lower than in healthy controls, TΔ remained significantly more pronounced in both lcSSc and dcSSc subjects. A positivity to ACA in lcSSc group was found to be associated with significantly lower Tavg and more pronounced TΔ in fingers II–V than the presence of anti-Scl70 antibodies. Temperature measurements remained statistically independent on a presence of ILD in lcSSc group, but both thumbs and fingers II–V in dcSSc group were warmer in case of lung involvement. The study showed the dcSSc subtype, the positivity of ACA in lcSSc, but not lung involvement were associated with poorer thermal control in the hands of SSc patients. A comparison to healthy controls highlighted the weakness of temperature measurements at nailfolds (Tavg) but increased the value of TΔ in thermography of hands.
This is a preview of subscription content,
to check access.
Access this article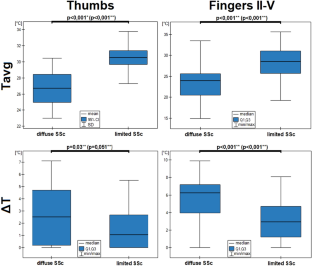 References
Clark S, Hollis S, Campbell F, Moore T, Jayson M, Herrick A (1999) The "distal-dorsal difference" as a possible predictor of secondary Raynaud's phenomenon. J Rheumatol 26(5):1125–1128

Anderson ME, Moore TL, Lunt M, Herrick AL (2007) The 'distal-dorsal difference': a thermographic parameter by which to differentiate between primary and secondary Raynaud's phenomenon. Rheumatology (Oxford) 46(3):533–538

Pauling JD, Shipley JA, Hart DJ, McGrogan A, McHugh NJ (2015) Use of laser speckle contrast imaging to assess digital microvascular function in primary raynaud phenomenon and systemic sclerosis: a comparison using the Raynaud condition score diary. J Rheumatol 42(7):1163–1168

Kelly A, Dinsdale G, Manning J, Herrick AL (2019) Do thermographic parameters help to classify patients with early systemic sclerosis? Rheumatology (Oxford) 58(6):1105–1106

Mariotti A, Grossi G, Amerio P, Orlando G, Mattei PA, Tulli A et al (2009) Finger thermoregulatory model assessing functional impairment in Raynaud's phenomenon. Ann Biomed Eng 37(12):2631–2639

Miziołek B, Lis-Święty A, Skrzypek-Salamon A, Brzezińska-Wcisło L (2021) Correlation between the infrared thermogram and microvascular abnormalities of the nailfold in patients with systemic sclerosis. Postepy Dermatol Alergol 38(2):115–122

Hughes M, Wilkinson J, Moore T, Manning J, New P, Dinsdale G et al (2016) Thermographic abnormalities are associated with future digital ulcers and death in patients with systemic sclerosis. J Rheumatol 43(8):1519–1522

van den Hoogen F, Khanna D, Fransen J, Johnson SR, Baron M, Tyndall A et al (2013) 2013 classification criteria for systemic sclerosis: an American college of rheumatology/European league against rheumatism collaborative initiative. Ann Rheum Dis 72(11):1747–1755

LeRoy EC, Black C, Fleischmajer R, Jablonska S, Krieg T, Medsger TA et al (1988) Scleroderma (systemic sclerosis): classification, subsets and pathogenesis. J Rheumatol 15(2):202–205

Elicker BM, Kallianos KG, Henry TS (2017) The role of high-resolution computed tomography in the follow-up of diffuse lung disease. Eur Respir Rev 26(144):170008

Khanna D, Furst DE, Clements PJ, Allanore Y, Baron M, Czirjak L et al (2017) Standardization of the modified Rodnan skin score for use in clinical trials of systemic sclerosis. J Scleroderma Relat Disord 2(1):11–18

Cutolo M, Sulli A, Pizzorni C, Accardo S (2000) Nailfold videocapillaroscopy assessment of microvascular damage in systemic sclerosis. J Rheumatol 27(1):155–160

Miletin J, Sukop A, Baca V, Kachlik D (2017) Arterial supply of the thumb: systemic review. Clin Anat 30(7):963–973

Clark S, Dunn G, Moore T, Jayson M, King TA, Herrick AL (2003) Comparison of thermography and laser Doppler imaging in the assessment of Raynaud's phenomenon. Microvasc Res 66(1):73–76

Chlebicka I, Matusiak L, Maj J, Baran E, Szepietowski JC (2013) Freezing fingers syndrome, primary and secondary Raynaud's phenomenon: characteristic features with hand thermography. Acta Derm Venereol 93(4):428–432

Kuwana M (2017) Circulating anti-nuclear antibodies in systemic sclerosis: utility in diagnosis and disease subsetting. J Nippon Med Sch 84(2):56–63

Caetano J, Nihtyanova SI, Harvey J, Denton CP, Ong VH (2018) Distinctive clinical phenotype of anti-centromere antibody-positive diffuse systemic sclerosis. Rheumatol Adv Pract 2(1):rky002

Sulli A, Paolino S, Pizzorni C, Ferrari G, Pacini G, Pesce G et al (2020) Progression of nailfold capillaroscopic patterns and correlation with organ involvement in systemic sclerosis: a 12 year study. Rheumatology (Oxford) 59(5):1051–1058

Sulli A, Ruaro B, Smith V, Pizzorni C, Zampogna G, Gallo M, Cutolo M (2013) Progression of nailfold microvascular damage and antinuclear antibody pattern in systemic sclerosis. J Rheumatol 40(5):634–639

Denton CP, Krieg T, Guillevin L, Schwierin B, Rosenberg D, Silkey M, Zultak M et al (2012) Demographic, clinical and antibody characteristics of patients with digital ulcers in systemic sclerosis: data from the DUO Registry. Ann Rheum Dis 71(5):718–721

Denton CP, Black CM, Abraham DJ (2006) Mechanisms and consequences of fibrosis in systemic sclerosis. Nat Clin Pract Rheumatol 2(3):134–144

Ji LL, Wang H, Zhang XH, Zhang ZL (2018) Correlation between nailfold capillaroscopic findings and presence of interstitial lung disease in systemic sclerosis patients. Beijing Da Xue Xue Bao 50(3):501–516

Guillén-Del-Castillo A, Simeón-Aznar CP, Callejas-Moraga EL, Tolosa-Vilella C, Alonso-Vila S, Fonollosa-Pla V, Selva-O'Callaghan A (2018) Quantitative videocapillaroscopy correlates with functional respiratory parameters: a clue for vasculopathy as a pathogenic mechanism for lung injury in systemic sclerosis. Arthritis Res Ther 20(1):281

Smith V, Distler O, Cutolo M (2019) Might nailfold capillaroscopy be a "proxy" for lung involvement in connective tissue diseases? J Rheumatol 46(9):1061–1063

Volkmann ER, Tashkin DP, Li N, Roth MD, Khanna D, Hoffmann-Vold AM et al (2017) Mycophenolate mofetil versus placebo for systemic sclerosis-related interstitial lung disease: an analysis of scleroderma lung studies I and II. Arthritis Rheumatol (Hoboken, NJ) 69(7):1451–1460

Aschwanden M, Daikeler T, Jaeger KA, Thalhammer C, Gratwohl A, Matucci-Cerinic M, Tyndall A (2008) Rapid improvement of nailfold capillaroscopy after intense immunosuppression for systemic sclerosis and mixed connective tissue disease. Ann Rheum Dis 67(7):1057–1059
Ethics declarations
Conflict of interest
Authors declare no conflict of interest.
Additional information
Publisher's Note
Springer Nature remains neutral with regard to jurisdictional claims in published maps and institutional affiliations.
Supplementary Information
Below is the link to the electronic supplementary material.
About this article
Cite this article
Miziołek, B., Lis-Święty, A., Kucharz, E. et al. Clinical assessment of patients with systemic sclerosis: is there a place for thermography?. Arch Dermatol Res 315, 387–393 (2023). https://doi.org/10.1007/s00403-022-02356-w
Received:

Revised:

Accepted:

Published:

Issue Date:

DOI: https://doi.org/10.1007/s00403-022-02356-w
Keywords