Abstract
Here, we assessed the efficacy and safety of Nano lipid carrier (NLC) drug delivery system containing tretinoin (NLC-TRE) in comparison with the conventional 0.05% tretinoin cream (TRE cream) in mild to moderate acne vulgaris. A stable and appropriate NLC-TRE formulation was prepared using a high-pressure homogenizer and particle characterization and physicochemical properties were evaluated under accelerated conditions. Efficacy assessment was performed via a split-face clinical study, by comparing the number of acne lesions, porphyrin production and skin biophysical parameters in both sides of the face randomly treated with NLC-TRE and TRE cream. Plasma concentration of tretinoin after topical application of NLC-TRE was measured for primary safety evaluation. We acquired a stable, spherical nanoparticles with particle size of 118.5 nm, PI equal to 0.485 and ZP of − 44.7 mV. The rate of decrease of acne lesions was significantly higher in NLC- TRE side (p value < 0.001). The size and intensity of porphyrin production in pilosebaceous follicles were significantly reduced only on NLC-TRE side (p value < 0.01). The plasma concentration of the tretinoin, after 8 weeks' application remained lower than the toxic levels. The NLC-TRE formula provides better efficiency and good loading capacity of TRE in the drug delivery system.
Access options
Buy single article
Instant access to the full article PDF.
USD 39.95
Price includes VAT (USA)
Tax calculation will be finalised during checkout.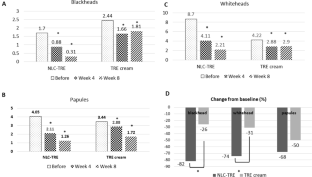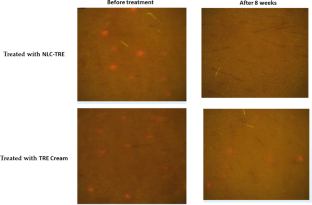 References
1.

Zouboulis CC, Abdel-Naser MB (2010) Acne and its variants. In: Krieg T, Bickers D, Miyacki Y (eds) Therapy of skin diseases. Springer, Berlin, pp 359–373

2.

Eady EA, Cove JH (2000) Is acne an infection of blocked pilosebaceous follicles? Implications for antimicrobial treatment. Am J Clin Dermatol 1(4):201–209

3.

Rathi S (2011) Acne vulgaris treatment: the current scenario. Indian J Dermatol 56(1):7–13

4.

Bagatin E, Florez-White M, Arias-Gomez MI et al (2017) Algorithm for acne treatment: Ibero-Latin American consensus. An Bras Dermatol 92(5):689–693

5.

McDaniel DH, Mazur C, Wortzman MS et al (2017) Efficacy and tolerability of a double-conjugated retinoid cream vs 1.0% retinol cream or 0.025% tretinoin cream in subjects with mild to severe photoaging. J Cosmet Dermatol 16(4):542–548

6.

Abdel-Naser MB, Zouboulis CC (2008) Clindamycin phosphate / tretinoin gel formulation in the treatment of acne vulgaris. Expert Opin Pharmacother 9:2931–2937

7.

Thielitz A, Abdel-Naser MB, Fluhr JW et al (2010) Topical retinoids in acne–an evidence-based overview. J Dtsch Dermatol Ges 1:S15-23

8.

Tabbakhian M, Sharifian A (2008) Preparation and in vitro characterization of tretinoin-containing. Res Pharmaceut Sci 3(2):31–40

9.

Duclairoir C, Orecchioni AM, Depraetere P et al (2003) Evaluation of gliadins nanoparticles as drug delivery systems: a study of three different drugs. Int J Pharm 253(1–2):133–144

10.

Amdidouche D, Montassier P, Poelman MC et al (1994) Evaluation by laser Doppler velocimetry of the attenuation of tretinoin induced skin irritation by β-cyclodextrin complexation. Int J Pharmaceut 1994:111–116

11.

Naseri N, Valizadeh H, Zakeri-Milani P (2015) Solid lipid nanoparticles and nanostructured lipid carriers: structure. Prep Appl Adv Pharm Bull 5(3):305–313

12.

Falcocchio S, Ruiz C, Javier PFI et al (2006) Propionibacterium acnes GehA lipase, an enzyme involved in acne development, can be successfully inhibited by defined natural substances. J Mol Catal B: Enzym 2006:132–137

13.

Raza K, Singh B, Lohan S et al (2013) Nano-lipoidal carriers of tretinoin with enhanced percutaneous absorption, photostability, biocompatibility and anti-psoriatic. Int J Pharm 456(1):65–72

14.

Sanad R (2014) Lipid nanoparticles (SLNs and NLCs): wide range of application. J Drug Res Egypt 35(1):73–79

15.

Dubey A, Prabhu P, Kamath J (2012) Nano structured lipid carriers: a novel. Int J PharmTech Res 4(2):705–714

16.

Nasrollahi SA, Hassanzade H, Moradi A et al (2017) Safety assessment of tretinoin loaded nano emulsion and nanostructured lipid carriers: a non-invasive trial on human volunteers. Curr Drug Deliv 14:575–580

17.

Gasco MR (2007) Lipid nanoparticles: perspectives and challenges. Adv Drug Deliv Rev 59(6):377–378

18.

Sabouri M, Samadi A, Ahmad Nasrollahi S et al (2018) Tretinoin loaded nanoemulsion for acne vulgaris: fabrication, physicochemical and clinical efficacy assessments. Skin Pharmacol Physiol 31(6):316–323

19.

Moradi A, Farboud ES, Ahmad-Nasrollahi S et al (2017) Tretinoin Loaded nanostructured lipid carrier (NLC): safe and effective drug delivery system. Nanosci Nanotechnol Asia 2017:221–229

20.

Nastiti CM, Ponto T, Abd E et al (2017) Topical nano and microemulsions for skin delivery. Pharmaceutics 9:37

21.

Weyenberg W, Filev P, Van den Plas D et al (2007) Cytotoxicity of submicron emulsions and solid lipid nanoparticles for dermal application. Int J Pharm 337(1–2):291–298

22.

Latter G, Grice JE, Mohammed Y et al (2019) Targeted topical delivery of retinoids in the management of acne vulgaris: current formulations and novel delivery systems. Pharmaceutics 24(11):10

23.

Gordillo-Galeano A, Mora-Huertas CE (2018) Solid lipid nanoparticles and nanostructured lipid carriers: a review emphasizing on particle structure and drug release. Eur J Pharm Biopharm 133:285–308

24.

Shegokar R, Singh KK, Müller RH (2011) Production & stability of stavudine solid lipid nanoparticles—from lab to industrial scale. Int J Pharm 416(2):461–470

25.

Khurana S, Bedi P, Jain N (2013) Preparation and evaluation of solid lipid nanoparticles based nanogel for dermal delivery of meloxicam. Chem Phys Lipids 175:65–72

26.

Tamjidi F, Shahedi M, Varshosaz J et al (2013) Nanostructured lipid carriers (NLC): a potential delivery system for bioactive food molecules. Innov Food Sci Emerg Technol 19:29–43

27.

Kovačević AB, Muller RH, Savić SD et al (2014) Solid lipid nanoparticles (SLN) stabilized with polyhydroxy surfactants: preparation, characterization and physical stability investigation. Colloids Surf A Physicochem Eng Asp 444:15–25

28.

Rahman SA, Abdelmalak NS, Badawi A et al (2016) Tretinoin-loaded liposomal formulations: from lab to comparative clinical study in acne patients. Drug Deliv 23(4):1184–1193

29.

Selvamuthukumar S, Velmurugan R (2012) Nanostructured lipid carriers: a potential drug carrier for cancer chemotherapy. Lipids Health Dis 11:159

30.

Almousallam M, Moia C, Huijun Z (2015) Development of nanostructured lipid carrier for dacarbazine delivery. Int Nano Lett 5:241–248

31.

Manconi M, Sinico C, Valenti D et al (2006) Niosomes as carriers for tretinoin: III. A study into the in vitro cutaneous delivery of vesicle-incorporated tretinoin. Int J Pharm 311:11–19

32.

Sinico C, Manconi M, Peppi M et al (2005) Liposomes as carriers for dermal delivery of tretinoin: in vitro evaluation of drug permeation and vesicle–skin interaction. J Control Release 103:123–136

33.

Sanad NS, Tabdelmalak TS, Elbayoomy A (2010) Formulation of a novel oxybenzone-loaded nanostructured lipid carriers (NLCs). AAPS PharmSciTech 11:1684–1694

34.

Dan N (2016) Compound release from nanostructured lipid carriers (NLCs). J Food Eng 171:37–43

35.

Ghate VM, Lewis SA, Prabhu P et al (2016) Nanostructured lipid carriers for the topical delivery of tretinoin. Eur J Pharm Biopharm 108:253–261

36.

Adamson PC, Bailey J, Pluda J et al (1995) Pharmacokinetics of all- trans-retinoic acid administered on an intermittent schedule. J Clin Oncol 13:1238–1240

37.

Lynn K, Joel L, Judy L et al (2003) Assessment of dermatopharmacokinetic approach in the bioequivalence determination of topical tretinoin gel products. JAAD 48(5):740–751
Funding
No funding source to declare.
Ethics declarations
Conflicts of interest
The authors have no conflicts of interest to declare.
Statement of Ethics
This study was approved by the Ethics Committee of Tehran University of Medical Sciences under the registration code IR.TUMS.REC.1394.1771. The study protocol was approved by the Committee of Iranian Registry of Clinical Trials on 3/1/2016 under the registration code IRCT20161207031288N2. Data were generated, recorded and processed in accordance with the Declaration of Helsinki and principles of Good Clinical Practice. The method of study was explained to all volunteers, and a written informed consent was obtained.
Additional information
Publisher's Note
Springer Nature remains neutral with regard to jurisdictional claims in published maps and institutional affiliations.
About this article
Cite this article
Samadi, A., Sartipi, Z., Ahmad Nasrollahi, S. et al. Efficacy assessments of tretinoin-loaded nano lipid carriers in acne vulgaris: a double blind, split-face randomized clinical study. Arch Dermatol Res (2021). https://doi.org/10.1007/s00403-021-02256-5
Received:

Revised:

Accepted:

Published:
Keywords
Acne vulgaris

Tretinoin

Nano lipid carriers

Efficacy assessment