Abstract
Alopecia areata (AA) is a psychologically distressing disorder for which few reliable treatments exist. Although oral tofacitinib has demonstrated efficacy in treating AA, it is not approved by the Food and Drug Administration (FDA) for this indication. To investigate and identify the challenges associated with securing insurance approval for oral tofacitinib for AA. We conducted a retrospective review of patient records from two academic medical centers to identify patients with AA in whom insurance approval was sought for oral tofacitinib from 2015–2019. We recorded information on prior authorization (PA) submissions, appeals, and peer-to-peer reviews. We noted whether patients were documented to experience negative impact on mood/QOL or suicidal ideation (SI) due to their disease. We identified 37 patients in whom insurance approval was sought for oral tofacitinib for the treatment of AA. PAs were initially denied for 36/37 (97%) patients. The most commonly cited reason for denial was "tofacitinib not covered for AA/off-label medication use" (n = 26/36; 72%). 26/37 (70%) patients ultimately failed to obtain coverage. Of the 11 (30%) patients who obtained coverage, 10 (91%) were privately insured, 0 (0%) had Medicare and 1 (9%) had Medicaid. 13 patients (34%) experienced documented diminished QOL/mood (including SI) due to their disease burden; 6/13 (46%) of these patients eventually secured insurance approval. Lack of FDA approval of oral tofacitinib for the treatment of AA creates challenges in caring for patients with this disease. Policymakers should consider the negative implications lack of FDA approval may have for patients with recalcitrant dermatologic conditions.
This is a preview of subscription content,
to check access.
Access this article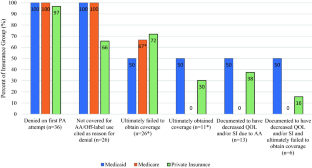 References
Gilhar A, Etzioni A, Paus R (2012) Alopecia areata. N Engl J Med 366(16):1515–1525

Strazzulla LC, Wang EH, Avila L et al (2018) Alopecia areata: an appraisal of new treatment approaches and overview of current therapies. J Am Acad Dermatol 78(1):15–24

Crispin MK, Ko JM, Craiglow BG et al (2016) Safety and efficacy of the JAK inhibitor tofacitinib citrate in patients with alopecia areata. JCI Insight 1:15

Almutairi N, Nour TM, Hussain NH (2019) Janus kinase inhibitors for the treatment of severe alopecia areata: an open-label comparative study. Dermatology 235(2):130–136

Jabbari A, Sansaricq F, Cerise J et al (2018) An open-label pilot study to evaluate the efficacy of tofacitinib in moderate to severe patch-type alopecia areata, totalis, and universalis. J Invest Dermatol 138(7):1539–1545

Xeljanz Prices, Coupons and Savings Tips. GoodRx. https://www.goodrx.com/xeljanz. (Accessed 10 Apr 2020).
Ethics declarations
Conflicts of interest
The authors have no conflicts of interest to declare.
Ethics approval
This study was deemed exempt by the Partners Institutional Review Board (IRB).
Additional information
Publisher's Note
Springer Nature remains neutral with regard to jurisdictional claims in published maps and institutional affiliations.
Sheena Desai and Kelly Lo co-first authors.
Avery LaChance and Ruth Ann Vleugels co-last authors.
About this article
Cite this article
Desai, S., Lo, K., Nambudiri, V.E. et al. Challenges of securing insurance approval for oral tofacitinib for the treatment of alopecia areata: a multi-institution retrospective review. Arch Dermatol Res 314, 487–489 (2022). https://doi.org/10.1007/s00403-020-02158-y
Received:

Revised:

Accepted:

Published:

Issue Date:

DOI: https://doi.org/10.1007/s00403-020-02158-y
Keywords