Abstract
Medical innovation is crucial to advancing our field, and physicians have the potential to play a leading role due to their daily patient care experiences. The objective of this study was to evaluate the interest in, and barriers to participating in innovation. Two surveys were conducted; the first cross-sectional survey was conducted among attendees of the Advancing Innovation in Dermatology Forum in Feburary 2019. The second survey was conducted among trainees (resident/fellows) and faculty dermatologists at Brown, Emory, Iowa, Stanford, and Vanderbilt Universities between June and November 2019. Demographic data were collected, as well as factors involved with identifying problems, developing solutions, training in innovation, and perceived barriers to innovation. In the first survey, the greatest perceived benefits include bringing joy to one's work and increasing professional fulfillment with work. Innovation was also perceived to decrease burnout. In the second survey of academic centers, faculty more commonly expressed interest in identifying problems (p  = 0.04), and was also more confident in their ability to generate solutions to these problems as compared to trainees (p < 0.01). Major barriers to participating in innovation processes included lack of time and lack of training or education in innovation. Both trainees and faculty groups noted a lack of knowledge in creating prototypes, understanding regulatory approval for medical products, and inexperience with pitching to investors or obtaining funding. These cross-sectional needs assessment surveys found a strong interest in innovation coupled with a lack of education in innovation processes. These findings suggest an urgent need and opportunity for providing formal training to empower dermatologists with the tools to lead innovation within our field.
This is a preview of subscription content,
to check access.
Access this article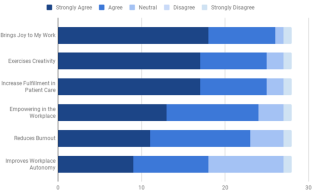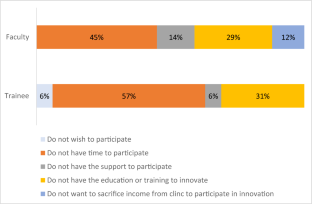 References
Smith SW, Sfekas A (2013) How much do physician-entrepreneurs contribute to new medical devices? Med Care 51(5):461–467

Lexa FJ, Lexa FJ (2005) Physician-entrepreneurship: a user's manual, part 1: critical questions for early-stage medical ventures. J Am Coll Radiol 2(7):607–612

Demonaco HJ, Ali A, Hippel E (2006) The major role of clinicians in the discovery of off-label drug therapies. Pharmacotherapy 26(3):323–332

West CP, Dyrbye LN, Sloan JA, Shanafelt TD (2009) Single item measures of emotional exhaustion and depersonalization are useful for assessing burnout in medical professionals. J Gen Intern Med 24(12):1318–1321

Peckham C (2020) Medscape National Physician Burnout & Depression Report 2018. Medscape. https://www.medscape.com/slideshow/2020-lifestyle-burnout-6012460#2. Accessed Aug 6 2020 

Dorrell DN, Feldman SR, Huang WW (2019) The most common causes of burnout among US academic dermatologists based on a survey study. J Am Acad Dermatol 81(1):269–270

Chang CJ, Ashar BS, Marquart LN (2018) The US Food and Drug Administration's approach for safe innovation of medical devices in dermatology. JAMA Dermatol 154(3):261–263

Xu S, Allred J, Kirsch B, Raff A, Anderson RR, Ju W (2016) Training the next generation of innovators in dermatology. J Invest Dermatol 136(11):2113–2115

Garibyan L, Anderson RR (2017) Increasing clinical faculty engagement in problem-driven research: the "magic wand" initiative at Massachusetts General Hospital. JAMA Dermatol 153(5):375–376
Additional information
Publisher's Note
Springer Nature remains neutral with regard to jurisdictional claims in published maps and institutional affiliations.
About this article
Cite this article
Lee, K.C., Lee, I., Okhovat, JP. et al. Innovation interest within dermatology: a needs assessment for novel thought processes. Arch Dermatol Res 313, 885–888 (2021). https://doi.org/10.1007/s00403-020-02118-6
Received:

Revised:

Accepted:

Published:

Issue Date:

DOI: https://doi.org/10.1007/s00403-020-02118-6
Keywords