Abstract
Oral tranexamic acid (TXA) 250 mg twice daily has been used effectively for 4 weeks to 6 months to treat melasma. As relapses are frequent on discontinuation, a minimum effective dose of TXA that can be used safely for long time remains unknown. We compared the efficacy of oral TXA 250 mg once daily and 500 mg twice daily given for 16 weeks in 132 (m:f 23:109) adults with melasma. 42 patients in Group-A (TXA 250 mg/d) and 46 patients in Group-B (TXA 500 mg twice/d) completed the study. They were followed up at 4-week interval for percentage reduction in baseline Melasma Area Severity Index (MASI) and at 24 and 28 weeks for relapse. Therapeutic response, for both as per-protocol and intention-to-treat analysis, was scored as very good (> 75% reduction), good (51–75% reduction), moderate (25–50% reduction), mild (< 25% reduction) or no improvement. Reduction in mean MASI score at 4 weeks was not statistically significant in Group-A but it decreased significantly 8 weeks onwards and was comparable with that in Group-B. The relapse rate was higher in Group-B (10.8%) than Group-A (4.7%) at the end of 28 weeks. Oligomenorrhoea and abdominal discomfort in few patients did not necessitate treatment discontinuation. TXA 500 mg twice daily showed early reduction in mean MASI score compared to 250 mg given once daily with comparable safety and therapeutic efficacy at 16 weeks. Open-label cross-sectional design, no control arm, small number of patients in each group, MASI score being subjective assessment tool, short duration of treatment and follow-up are study limitations.
Access options
Buy single article
Instant access to the full article PDF.
US$ 39.95
Tax calculation will be finalised during checkout.
Subscribe to journal
Immediate online access to all issues from 2019. Subscription will auto renew annually.
US$ 119
Tax calculation will be finalised during checkout.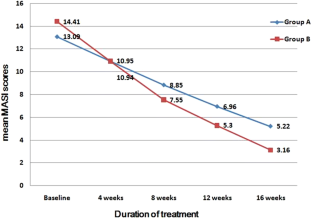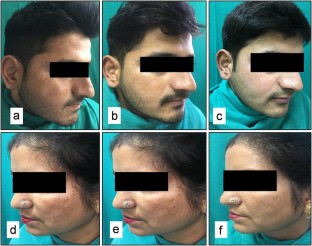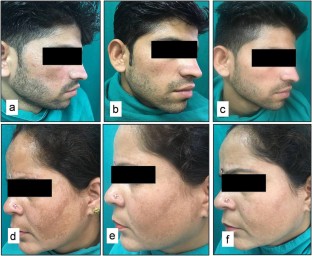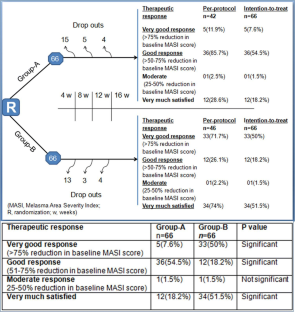 Abbreviations
bFGF:

Basic fibroblast growth factor

IL-8:

Interleukin-8

MASI:

Melasma Area Severity Index

NSAIDS:

Non-steroidal anti-inflammatory drugs

VEGF:

Vascular endothelial growth factor

SD:

Standard deviation

TXA:

Tranexamic acid

UV:

Ultraviolet
References
1.

Achar A, Rathi SK (2011) Melasma: a clinico-epidemiological study of 312 cases. Indian J DermatoL 56:380–382

2.

Kanechorn Na Ayuthaya P, Niumphradit N, Manosroi A, Nakakes A (2012) Topical 5% tranexamic acid for the treatment of melasma in Asians: a double-blind randomized controlled clinical trial. J Cosmet Laser Ther 14:150–154. https://doi.org/10.3109/14764172.2012.685478

3.

Budamakuntla L, Loganathan E, Suresh DH, Shanmugam S, Suryanarayan S, Dongare A et al (2013) Microinjections and microneedling in patients with melasma. J Cutan Aesthet Surg 6:139–143

4.

Cestari T, Arellano I, Hexsel D, Ortonne JP (2009) Melasma in Latin America: options for therapy and treatment algorithm. J Eur Acad Dermatol Venerol 23:760–772

5.

Cho HH, Choi M, Cho S, Lee JH (2013) Role of oral tranexamic acid in melasma patients treated with IPL and low fluence QS Nd:YAG laser. J Dermatol Treat 24:292–296

6.

George A (2016) Tranexamic acid: An emerging depigmenting agent. Pigment Int 3:66–71. https://doi.org/10.4103/2349-5847.196295

7.

Guinot C, Cheffai S, Latreille J, Dhaoui MA, Youssef S, Jaber K et al (2010) Aggravating factors for melasma: a prospective study in 197 Tunisian patients. J Eur Acad Dermatol Venereol 24:1060–1069

8.

Karn D, Kc S, Amatya A, Razouria EA, Timalsina M (2012) Oral tranexamic acid for the treatment of melasma. Kathmandu Univ Med J 10:40–43 PMID: 23575051

9.

Khurana VK, Misri RR, Agarwal S, Thole AV, Kumar S, Anand T et al (2019) A randomized, open-label, comparative study of oral tranexamic acid and tranexamic acid microinjections in patients with melasma. Indian J Dermatol Venereol Leprol 85:39–43

10.

Kim EH, Kim YC, Lee ES, Kang HY (2007) The vascular characteristics of melasma. J Dermatol Sci 46:111–116

11.

Kim SJ, Park J-Y, Shibata T, Fujiwara R, Kang HY (2016) Efficacy and possible mechanisms of topical tranexamic acid in melasma. Clin Exp Dermatol 41:480–485

12.

Kimbrough-Green CK, Griffiths CEM, Finkel LJ, Hamilton TA, Bulengo-Ransby SM, Ellis CN et al (1994) Topical retinoic acid (tretinoin) for melasma in black patients. Arch Dermatol 130:727–733

13.

Lee HC, Thng TG, Goh CL (2016) Oral tranexamic acid (TA) in the treatment of melasma: A retrospective analysis. J Am Acad Dermatol 75:385–392

14.

Li Y, Sun Q, He Z, Fu L, He C, Yan Y (2014) Treatment of melasma with oral administration of compound tranexamic acid: a preliminary clinical trial. J Eur Acad Dermatol Venereol 28:393–394. https://doi.org/10.1111/jdv.12209

15.

Maeda K, Naganuma M (1998) Topical trans-4-aminomethylcyclohexanecarboxylic acid prevents ultraviolet radiation-induced pigmentation. J Photochem Photobiol 47:136–141 PMID: 10093913

16.

Mafune E, Morimoto Y, Iizuka Y (2008) Tranexamic acid and melisma. Farumashia 44:437–42

17.

Na JI, Choi SY, Yang SH, Choi HR, Kang HY, Park KC (2013) Effect of Tranexamic acid on melasma: A clinical trial with histological evaluation. J Eur Acad Dermatol Venereol 27:1035–1039

18.

Noh TK, Choi SJ, Chung BY, Kang JS, Lee JH, Lee MW et al (2014) Inflammatory features of melasma lesions in Asian skin. J Dermatol 41:788–794

19.

Pasricha JS, Khaitan BK, Dash S (2007) Pigmentary disorders in India. Dermatol Clin 25:343–352

20.

Pawaskar MD, Parikh P, Markowski T, Mc Michael AJ, Feldman SR, Balkrishan R (2007) Melasma and its impact on health related QOL in Hispanic women. J Dermatolog Treat 18:5–9

21.

Picardo R, Vallejos Q, Feldman SR, Schultz MR, Verma A, Quandt SA et al (2009) The prevalence of melasma and its association with quality of life among male migrant Latino workers. Int J Dermatol 48:22–26

22.

Podder I, Sarkar R (2017) Systemic therapy for melasma: Exploring newer options – A comprehensive review. Pigment Int 4:78–84. https://doi.org/10.4103/2349-5847.219672

23.

Prabha N, Mahajan VK, Mehta KS, Chauhan PS, Gupta M (2014) Cosmetic contact sensitivity in patients with Melasma: Results of a pilot study. Dermatol Res Practice. https://doi.org/10.1155/2014/316219

24.

Puri N (2015) Oral tranexamic acid versus triple combination for the treatment of melasma. J J Expt Derm Res 1:018

25.

Sarkar R, Puri P, Jain RK, Singh A, Desai A (2010) Melasma in men: a clinical, aetiological and histological study. J Eur Acad Dermatol Venereol 24:68–72. https://doi.org/10.1111/j.1468-3083.2009.03524.x

26.

Sarma N, Chakraborty S, Poojary SA, Rathi S, Kumaran S, Nirmal B et al (2017) Evidence-based review, grade of recommendation, and suggested treatment recommendations for melasma. Indian Dermatol Online J 8:406–442

27.

Sharma R, Mahajan VK, Mehta KS, Chauhan PS, Rawat R, Shiny TN (2017) Therapeutic efficacy and safety of oral tranexamic acid and that of tranexamic acid local infiltration with microinjections in patients with melasma: a comparative study. Clin Exp Dermatol 42:728–734

28.

Shin JU, Park J, Oh H, Lee JH (2013) Oral tranexamic acid enhances the efficacy of low-fluence 1064-nm quality-switched neodymium-doped yttrium aluminum garnetlaser treatmentfor melasma in Koreans: a randomized, prospective trial. Dermatol Surg 39(3 Pt 1):435–442

29.

Taraz M, Niknam S, Ehsani AH (2017) Tranexamic acid in the treatment of melasma: A comprehensive review of clinical studies. Dermatol Therapy. https://doi.org/10.1111/dth.12465

30.

Tse TW, Hui E (2013) Tranexamic acid: An important adjuvant in the treatment of melasma. J Cosmet Dermatol 12:57–66
Acknowledgements
Mr. Sushant Sharma of Community Medicine (Biostatistics) Dr. R. P. Govt. Medical College, Kangra (Tanda), H.P. (India), helped in the statistical analysis of the data. His erudite association throughout the study is gratefully acknowledged. The authors also thank their patients/subjects who volunteered for the study.
Funding
The study was not funded by any agency. The clinical data form part of the thesis submitted to Himachal Pradesh University, Shimla, (H.P.) for the degree of M.D. (DVL).
Ethics declarations
Conflict of interest
All authors declare that they have no competing interest and therefore nothing else to declare, and have contributed significantly and take full responsibility for the manuscript. The authors of the paper are obliged to confirm that it has not been previously published.
Ethical approval
The study was approved by Institutional Ethics Committee (Rgn no ECR/490/Inst/HP/2013/RR-16) and registered with Clinical Trial Registry of India (CTRI No. REF/2018/03/018038).
Informed consent
Informed consent was obtained from study subjects for enrollment and publication of material with the understanding that their names and initials will not be published and due efforts will be made to conceal their identity but anonymity cannot be guaranteed. All procedures followed were in accordance with the ethical standards of the responsible committee on human experimentation (institutional and national) and with the Helsinki declaration of 1975 as revised in 1983
Additional information
Publisher's Note
Springer Nature remains neutral with regard to jurisdictional claims in published maps and institutional affiliations.
About this article
Cite this article
Chowdhary, B., Mahajan, V.K., Mehta, K.S. et al. Therapeutic efficacy and safety of oral tranexamic acid 250 mg once a day versus 500 mg twice a day: a comparative study. Arch Dermatol Res 313, 109–117 (2021). https://doi.org/10.1007/s00403-020-02078-x
Received:

Revised:

Accepted:

Published:

Issue Date:
Keywords
MASI score

Melasma treatment

Oligomenorrhea

Pigmentary disorders

Tranexamic acid