Abstract
Psoriasis is a prevalent skin disease that impairs multiple domains of quality of life (QoL). Pruritus, a common symptom in patients with psoriasis, may directly affect sleep, but studies investigating this are limited. We investigated the relationships between pruritus and sleep in 104 in-patients with psoriasis, who underwent dermatological assessment and completed questionnaires to determine psoriasis severity, pruritus intensity, sleep quality, QoL (skin disease-specific and generic), depressive mood and anxiety. In total, 80% of patients reported pruritus, and 39% had sleep disturbances, most commonly awakenings during sleep (33%) and sleepiness during the daytime (30%). Sleep impairment was more frequent in patients with pruritus, who had more difficulty falling asleep (P = 0.031). Overall, 14% of all patients and 34% of the patients who reported sleep disturbances reported that their sleep problems were caused by pruritus. Patients who reported sleep disturbances had lower generic QoL. Pruritus in patients with psoriasis was frequent and relevant, as evidenced by the higher rate of sleep problems in this patient group, and it was linked to a lower QoL.
Access options
Buy single article
Instant access to the full article PDF.
USD 39.95
Price excludes VAT (USA)
Tax calculation will be finalised during checkout.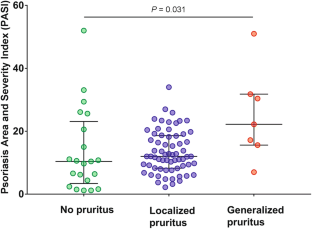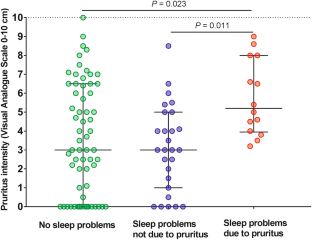 References
Altena E, Van Der Werf YD, Strijers RL, Van Someren EJ (2008) Sleep loss affects vigilance: effects of chronic insomnia and sleep therapy. J Sleep Res 17(3):335–343. https://doi.org/10.1111/j.1365-2869.2008.00671.x(Epub 2008/10/11)

Amatya B, Wennersten G, Nordlind K (2008) Patients' perspective of pruritus in chronic plaque psoriasis: a questionnaire-based study. J Eur Acad Dermatol Venereol 22(7):822–826. https://doi.org/10.1111/j.1468-3083.2008.02591.x

Beck AT, Steer RA, Garbin MG (1988) Psychometric properties of the beck depression inventory—25 years of evaluation. Clin Psychol Rev 8(1):77–100. https://doi.org/10.1016/0272-7358(88)90050-5

Breslau N, Roth T, Rosenthal L, Andreski P (1996) Sleep disturbance and psychiatric disorders: a longitudinal epidemiological study of young adults. Biol Psychiatry 39(6):411–418 (Epub 1996/03/15)

Carney CE, Segal ZV, Edinger JD, Krystal AD (2007) A comparison of rates of residual insomnia symptoms following pharmacotherapy or cognitive-behavioral therapy for major depressive disorder. J Clin Psychiatry 68(2):254–260 (Epub 2007/03/06)

Finlay AY, Khan GK (1994) Dermatology Life Quality Index (DLQI)–a simple practical measure for routine clinical use. Clin Exp Dermatol 19(3):210–216

Franzen PL, Buysse DJ (2008) Sleep disturbances and depression: risk relationships for subsequent depression and therapeutic implications. Dialogues Clin Neurosci 10(4):473–481 (Epub 2009/01/28)

Gezer O, Batmaz I, Sariyildiz MA, Sula B, Ucmak D, Bozkurt M, Nas K (2017) Sleep quality in patients with psoriatic arthritis. Int J Rheum Dis 20(9):1212–1218. https://doi.org/10.1111/1756-185X.12505(Epub 2014/11/05)

Globe D, Bayliss MS, Harrison DJ (2009) The impact of itch symptoms in psoriasis: results from physician interviews and patient focus groups. Health Qual Life Outcomes 7:62. https://doi.org/10.1186/1477-7525-7-62

Gowda S, Goldblum OM, McCall WV, Feldman SR (2010) Factors affecting sleep quality in patients with psoriasis. J Am Acad Dermatol 63(1):114–123. https://doi.org/10.1016/j.jaad.2009.07.003

Hawro M, Maurer M, Weller K, Maleszka R, Zalewska-Janowska A, Kaszuba A, Gerlicz-Kowalczuk Z, Hawro T (2017) Lesions on the back of hands and female gender predispose to stigmatization in patients with psoriasis. J Am Acad Dermatol 76(4):648–654. https://doi.org/10.1016/j.jaad.2016.10.040(e642, Epub 2017/01/11)

Hawro T, Miniszewska J, Chodkiewicz J, Sysa-Jedrzejowska A, Zalewska A (2007) Anxiety, depression and social support in patients with psoriasis. Przegl Lek 64(9):568–571

Hawro T, Ohanyan T, Schoepke N, Metz M, Peveling-Oberhag A, Staubach P, Maurer M, Weller K (2018) Comparison and interpretability of the available urticaria activity scores. Allergy 73(1):251–255. https://doi.org/10.1111/all.13271(Epub 2017/08/18)

Jensen P, Zachariae C, Skov L, Zachariae R (2018) Sleep disturbance in psoriasis: a case-controlled study. Br J Dermatol 179(6):1376–1384. https://doi.org/10.1111/bjd.16702(Epub 2018/04/29)

Kaaz K, Szepietowski JC, Matusiak L (2018) Influence of itch and pain on sleep quality in atopic dermatitis and psoriasis. Acta Derm Venereol. https://doi.org/10.2340/00015555-3065(Epub 2018/10/12)

Kabashima K, Furue M, Hanifin JM, Pulka G, Wollenberg A, Galus R, Etoh T, Mihara R, Nakano M, Ruzicka T (2018) Nemolizumab in moderate-to-severe atopic dermatitis: randomized, phase II, long-term extension study. J Allergy Clin Immunol. https://doi.org/10.1016/j.jaci.2018.03.018(Epub 2018/05/13)

Kido-Nakahara M, Katoh N, Saeki H, Mizutani H, Hagihara A, Takeuchi S, Nakahara T, Masuda K, Tamagawa-Mineoka R, Nakagawa H, Omoto Y, Matsubara K, Furue M (2015) Comparative cut-off value setting of pruritus intensity in visual analogue scale and verbal rating scale. Acta Derm Venereol 95(3):345–346. https://doi.org/10.2340/00015555-1972(Epub 2014/09/18)

Krause K, Kessler B, Weller K, Veidt J, Chen SC, Martus P, Church MK, Metz M, Maurer M (2013) German version of ItchyQoL: validation and initial clinical findings. Acta Derm Venereol 93(5):562–568. https://doi.org/10.2340/00015555-1544(Epub 2013/03/16)

Krueger G, Koo J, Lebwohl M, Menter A, Stern RS, Rolstad T (2001) The impact of psoriasis on quality of life: results of a 1998 National Psoriasis Foundation patient-membership survey. Arch Dermatol 137(3):280–284

Lavery MJ, Stull C, Nattkemper LA, Sanders KM, Lee H, Sahu S, Valdes-Rodriguez R, Chan YH, Yosipovitch G (2017) Nocturnal pruritus: prevalence, characteristics, and impact on ItchyQoL in a chronic itch population. Acta Derm Venereol 97(4):513–515. https://doi.org/10.2340/00015555-2560(Epub 2016/11/03)

Leger D, Scheuermaier K, Philip P, Paillard M, Guilleminault C (2001) SF-36: evaluation of quality of life in severe and mild insomniacs compared with good sleepers. Psychosom Med 63(1):49–55 (Epub 2001/02/24)

Mease PJ, Menter MA (2006) Quality-of-life issues in psoriasis and psoriatic arthritis: outcome measures and therapies from a dermatological perspective. J Am Acad Dermatol 54(4):685–704. https://doi.org/10.1016/j.jaad.2005.10.008(Epub 2006/03/21)

Mrowietz U, Chouela EN, Mallbris L, Stefanidis D, Marino V, Pedersen R, Boggs RL (2015) Pruritus and quality of life in moderate-to-severe plaque psoriasis: post hoc explorative analysis from the PRISTINE study. J Eur Acad Dermatol Venereol 29(6):1114–1120. https://doi.org/10.1111/jdv.12761(Epub 2014/11/05)

Neckelmann D, Mykletun A, Dahl AA (2007) Chronic insomnia as a risk factor for developing anxiety and depression. Sleep 30(7):873–880 (Epub 2007/08/09)

Nutt D, Wilson S, Paterson L (2008) Sleep disorders as core symptoms of depression. Dialog Clin Neurosci 10(3):329–336 (Epub 2008/11/05)

O'Neill JL, Chan YH, Rapp SR, Yosipovitch G (2011) Differences in itch characteristics between psoriasis and atopic dermatitis patients: results of a web-based questionnaire. Acta Derm Venereol 91(5):537–540. https://doi.org/10.2340/00015555-1126

Reich A, Chatzigeorkidis E, Zeidler C, Osada N, Furue M, Takamori K, Ebata T, Augustin M, Szepietowski JC, Stander S (2017) Tailoring the cut-off values of the visual analogue scale and numeric rating scale in itch assessment. Acta Derm Venereol 97(6):759–760. https://doi.org/10.2340/00015555-2642(Epub 2017/02/23)

Reich A, Hrehorów E, Szepietowski JC (2010) Pruritus is an important factor negatively influencing the well-being of psoriatic patients. Acta Derm Venereol 90(3):257–263. https://doi.org/10.2340/00015555-0851

Roth T (2000) Diagnosis and management of insomnia. Clin Cornerstone 2(5):28–38 (Epub 2000/06/30)

Sampogna F, Gisondi P, Melchi CF, Amerio P, Girolomoni G, Abeni D, Investigators IDIMPRoVE (2004) Prevalence of symptoms experienced by patients with different clinical types of psoriasis. Br J Dermatol 151(3):594–599. https://doi.org/10.1111/j.1365-2133.2004.06093.x

Shahwan KT, Kimball AB (2017) Itch intensity in moderate-to-severe plaque psoriasis versus atopic dermatitis: a meta-analysis. J Am Acad Dermatol 76(6):1198–1200. https://doi.org/10.1016/j.jaad.2017.02.002(e1191, Epub 2017/05/20)

Skevington SM, Lotfy M, O'Connell KA, Group W (2004) The World Health Organization's WHOQOL-BREF quality of life assessment: psychometric properties and results of the international field trial. A report from the WHOQOL group. Qual Life Res 13(2):299–310

Smolensky MH, Portaluppi F, Manfredini R, Hermida RC, Tiseo R, Sackett-Lundeen LL, Haus EL (2015) Diurnal and twenty-four hour patterning of human diseases: acute and chronic common and uncommon medical conditions. Sleep Med Rev 21:12–22. https://doi.org/10.1016/j.smrv.2014.06.005(Epub 2014/08/19)

Spielberger CD, Gorsuch RL, Lushene R, Vagg P-R, Jacobs GA (1983) Manual for the state-trait anxiety inventory. Consulting Psychologists Press, Palo Alto

Staner L (2003) Sleep and anxiety disorders. Dialog Clin Neurosci 5(3):249–258 (Epub 2003/09/01)

Suilmann T, Zeidler C, Osada N, Riepe C, Stander S (2018) Usability of validated sleep-assessment questionnaires in patients with chronic pruritus: an interview-based study. Acta Derm Venereol. https://doi.org/10.2340/00015555-2947(Epub 2018/04/25)

Szepietowski JC, Reich A, Szepietowski T (2005) Emollients with endocannabinoids in the treatment of uremic pruritus: Discussion of the therapeutic options. Ther Apheresis Dial 9(3):277–279. https://doi.org/10.1111/j.1774-9987.2005.00271.x

Vgontzas AN, Liao D, Bixler EO, Chrousos GP, Vela-Bueno A (2009) Insomnia with objective short sleep duration is associated with a high risk for hypertension. Sleep 32(4):491–497 (Epub 2009/05/06)

Wichniak A, Wierzbicka A, Walecka M, Jernajczyk W (2017) Effects of antidepressants on sleep. Curr Psychiatry Rep 19(9):63. https://doi.org/10.1007/s11920-017-0816-4(Epub 2017/08/10)

Wolkove N, Elkholy O, Baltzan M, Palayew M (2007) Sleep and aging: 1 Sleep disorders commonly found in older people. CMAJ 176(9):1299–1304. https://doi.org/10.1503/cmaj.060792 (Epub 2007/04/25)

Yosipovitch G, Goon A, Wee J, Chan YH, Goh CL (2000) The prevalence and clinical characteristics of pruritus among patients with extensive psoriasis. Br J Dermatol 143(5):969–973

Yosipovitch G, Goon AT, Wee J, Chan YH, Zucker I, Goh CL (2002) Itch characteristics in Chinese patients with atopic dermatitis using a new questionnaire for the assessment of pruritus. Int J Dermatol 41(4):212–216
Acknowledgements
We are grateful for the editorial assistance provided by Gillian Brodie of Orbit Medical Communications, Cambridge, UK, with the help of the urticaria network e.V. (UNEV, https://www.urtikaria.net). We also thank Professor Andrzej Kaszuba for enabling us recruitment of patients at the Department of Dermatology, Pediatric Dermatology and Oncology, Medical University of Łódź, Łódź, Poland.
Ethics declarations
Conflict of interest
MH, AZJ, KW, MM and MM have no relevant conflicts of interest. TH has served on an advisory board for Galderma.
Ethical approval
All the procedures performed in studies involving human participants were in accordance with the ethical standards of the institutional and/or national research committee (Ethics Committee of the Medical University of Łódź; approval no. RNN/240/09/KE) and with the 1964 Helsinki Declaration and its later amendments or comparable ethical standards.
Informed consent
Informed consent was obtained from all individual participants included in the study.
Additional information
Publisher's Note
Springer Nature remains neutral with regard to jurisdictional claims in published maps and institutional affiliations.
Electronic supplementary material
Below is the link to the electronic supplementary material.
About this article
Cite this article
Hawro, T., Hawro, M., Zalewska-Janowska, A. et al. Pruritus and sleep disturbances in patients with psoriasis. Arch Dermatol Res 312, 103–111 (2020). https://doi.org/10.1007/s00403-019-01998-7
Received:

Revised:

Accepted:

Published:

Issue Date:

DOI: https://doi.org/10.1007/s00403-019-01998-7
Keywords
Psoriasis

Sleep

Pruritus

Quality of life

Anxiety

Depression