Abstract
Exposure to solar radiation is a major cause of environmental human skin damage. The main constituent of solar UV light is UVA radiation (320–400 nm); however, the need for protection against UVA has been marginalized for a long time. As a result, there is still a lack of useful agents for UVA protection. In this study, the effect of silymarin (SM) and its main constituent silybin (SB) pre-treatment on UVA-stimulated damage to primary human dermal fibroblasts were carried out. The cells were pre-treated for 1 h with SB or SM and then were exposed to UVA light, using a solar simulator. The effect of SB and SM on reactive oxygen species (ROS) and glutathione (GSH) level, caspase-3 activity, single-strand breaks (SSB) formation and protein level of matrix metalloproteinase-1 (MMP-1), heme oxygenase-1 (HO-1), and heat shock protein (HSP70) was evaluated. Treatment with both SM and SB resulted in a reduction in UVA-stimulated ROS generation and SSB production, as well as in the prevention of GSH depletion, a decrease in the activation of caspase-3 and protein level of MMP-1. They also moderately increased HO-1 level and reduced HSP70 level. Our data showed that both SM and SB are non-phototoxic and have UVA-photoprotective potential and could be useful agents for UV-protective dermatological preparations.
Access options
Buy single article
Instant access to the full article PDF.
USD 39.95
Price excludes VAT (USA)
Tax calculation will be finalised during checkout.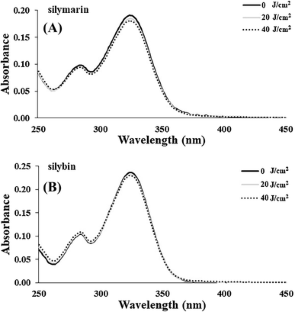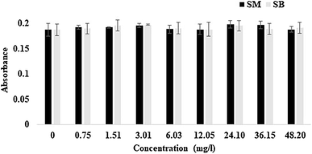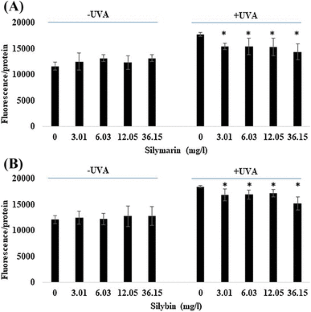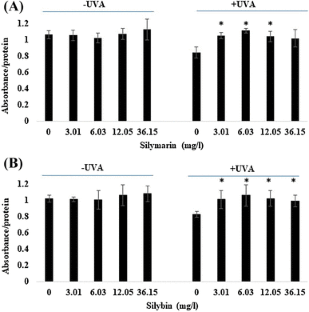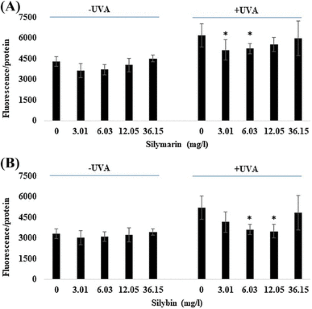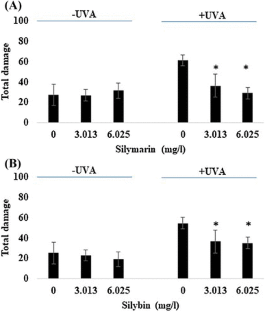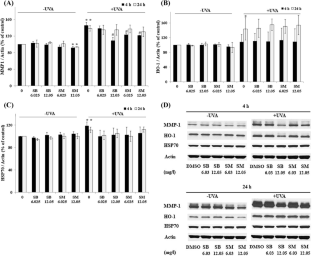 References
Svobodová A, Vostálová J (2010) Solar radiation induced skin damage: review of protective and preventive options. Int J Radiat Biol 86:999–1030

Baliga MS, Katiyar SK (2006) Chemoprevention of photocarcinogenesis by selected dietary botanicals. Photochem Photobiol Sci 5:243–253

Saewan N, Jimtaisong N (2015) Natural products as photoprotection. J Cosmet Dermatol 14:47–63

Šimánek V, Křen V, Ulrichová J, Vičar J, Cvak L (2000) Silymarin: what is in the name… An appeal for a change of editorial policy. Hepatology 32:442–444

Vaid M, Katiyar SK (2010) Molecular mechanisms of inhibition of photocarcinogenesis by silymarin, a phytochemical from milk thistle (Silybum marianum L. Gaertn.) (Review). Int J Oncol 36:1053–1060

Singh RP, Agarwal R (2005) Mechanisms and preclinical efficacy of silibinin in preventing skin cancer. Eur J Cancer 41:1969–1979

Fehér P, Ujhelyi Z, Váradi J, Fenyvesi F, Róka E, Juhász B, Varga B, Bombicz M, Priksz D, Bácskay I, Vecsernyés M (2016) Efficacy of pre- and post-treatment by topical formulations containing dissolved and suspended Silybum marianum against UVB-induced oxidative stress in guinea pig and on HaCaT keratinocytes. Molecules 21:1299

Rigby CM, Roy S, Deep G, Guillermo-Lagae R, Jain AK, Dhar D, Orlicky DJ, Agarwal C, Agarwal R (2017) Role of p53 in silibinin-mediated inhibition of ultraviolet B radiation-induced DNA damage, inflammation and skin carcinogenesis. Carcinogenesis 38:40–50

Svobodová A, Zdařilová A, Mališková J, Mikulková H, Walterová D, Vostálová J (2007) Attenuation of UVA-induced damage to human keratinocytes by silymarin. J Dermatol Sci 46:21–30

Svobodová A, Zdařilová A, Walterová D, Vostálová J (2007) Flavonolignans from Silybum marianum moderate UVA-induced oxidative damage to HaCaT keratinocytes. J Dermatol Sci 48:213–224

Narayanapillai S, Agarwal C, Tilley C, Agarwal R (2012) Silibinin is a potent sensitizer of UVA radiation-induced oxidative stress and apoptosis in human keratinocyte HaCaT cells. Photochem Photobiol 88:1135–1140

Rajnochová Svobodová A, Zálešák B, Biedermann D, Ulrichová J, Vostálová J (2016) Phototoxic potential of silymarin and its bioactive components. J Photochem Photobiol B 156:61–68

Sayre RM, Agin PP, LeVee GJ, Marlowe E (1979) A comparison of in vivo and in vitro testing of sunscreening formulas. Photochem Photobiol 29:559–566

Diffey BL, Robson J (1989) Sun protection factor in vitro. J Soc Cosmet Chem 40:127–133

Couteau C, Couteau O, Alami-El Boury S, Coiffard LJ (2011) Sunscreen products: what do they protect us from? Int J Pharm 415:181–184

Karsili TN, Marchetti B, Ashfold MN, Domcke W (2014) Ab initio study of potential ultrafast internal conversion routes in oxybenzone, caffeic acid, and ferulic acid: implications for sunscreens. J Phys Chem A 118:11999–12010

Guillermo-Lagae R, Deep G, Ting H, Agarwal C, Agarwal R (2015) Silibinin enhances the repair of ultraviolet B-induced DNA damage by activating p53-dependent nucleotide excision repair mechanism in human dermal fibroblasts. Oncotarget 6:39594–39606

Couteau C, Cheignon C, Paparis E, Coiffard LJ (2012) Silymarin, a molecule of interest for topical photoprotection. Nat Prod Res 26:2211–2214

Saija A, Tomaino A, Trombetta D, De Pasquale A, Uccella N, Barbuzzi T, Paolino D, Bonina F (2000) In vitro and in vivo evaluation of caffeic and ferulic acids as topical photoprotective agents. Int J Pharm 199:39–47

Pluemsamran T, Onkoksoong T, Panich U (2012) Caffeic acid and ferulic acid inhibit UVA-induced matrix metalloproteinase-1 through regulation of antioxidant defense system in keratinocyte HaCaT cells. Photochem Photobiol 88:961–968

Horbury MD, Baker LA, Quan WD, Greenough SE, Stavros VG (2016) Photodynamics of potent antioxidants: ferulic and caffeic acids. Phys Chem Chem Phys 18:17691–17697

Netto MPharm G, Jose J (2017) Development, characterization, and evaluation of sunscreen cream containing solid lipid nanoparticles of silymarin. J Cosmet Dermatol. https://doi.org/10.1111/jocd.12470

Collins AR (2009) Investigating oxidative DNA damage and its repair using the comet assay. Mutat Res 681:24–32

Wischermann K, Popp S, Moshir S, Scharfetter-Kochanek K, Wlaschek M, de Gruijl F, Hartschuh W, Greinert R, Volkmer B, Faust A, Rapp A, Schmezer P, Boukamp P (2008) UVA radiation causes DNA strand breaks, chromosomal aberrations and tumorigenic transformation in HaCaT skin keratinocytes. Oncogene 27:4269–4280

Fulop T, Khalil A, Larbi A (2012) The role of elastin peptides in modulating the immune response in aging and age-related diseases. Pathol Biol (Paris) 60:28–33

Rittié L, Fisher GJ (2002) UV-light-induced signal cascades and skin aging. Ageing Res Rev 1:705–720

Cho JW, Il KJ, Lee KS (2013) Downregulation of type I collagen expression in silibinin-treated human skin fibroblasts by blocking the activation of Smad2/3-dependent signaling pathways: potential therapeutic use in the chemoprevention of keloids. Int J Mol Med 31:1148–1152

Simon MM, Reikerstorfer A, Schwarz A, Krone C, Luger TA, Jäättelä M, Schwarz T (1995) Heat shock protein 70 overexpression affects the response to ultraviolet light in murine fibroblasts. Evidence for increased cell viability and suppression of cytokine release. J Clin Invest 95:926–933

de la Coba F, Aguilera J, de Gálvez MV, Alvarez M, Gallego E, Figueroa FL, Herrera E (2009) Prevention of the ultraviolet effects on clinical and histopathological changes, as well as the heat shock protein-70 expression in mouse skin by topical application of algal UV-absorbing compounds. J Dermatol Sci 55:161–169

Xiang Y, Liu G, Yang L, Zhong JL (2011) UVA-induced protection of skin through the induction of heme oxygenase-1. Biosci Trends 5:239–244
Acknowledgements
This work was financially supported by the Grant GACR 15-10897S, IGA_LF_2016_012, IGA_LF_2017_011 and the Institutional Support of Palacký University in Olomouc RVO 61989592. We wish to thank Eva Směšná (University Hospital in Olomouc) for assistance with skin tissue donor recruitment and prof. Vladimír Křen (Institute of Microbiology, Academy of Sciences of the Czech Republic, Prague, Czech Republic) for providing pure flavonolignans for HPLC-MS analysis.
Ethics declarations
Ethical standards
This work follows ethical standards and does not contain any studies with animals performed by any of the authors. The use of skin tissue for isolation of skin fibroblasts complied with the Ethics Committee of the University Hospital in Olomouc and Faculty of Medicine and Dentistry, Palacký University, Olomouc (date: 6.4.2009, Ref. number: 41/09) and all patients had given their written informed consent.
Conflict of interest
The authors declare that they have no conflict of interest.
About this article
Cite this article
Rajnochová Svobodová, A., Gabrielová, E., Michaelides, L. et al. UVA-photoprotective potential of silymarin and silybin. Arch Dermatol Res 310, 413–424 (2018). https://doi.org/10.1007/s00403-018-1828-6
Received:

Revised:

Accepted:

Published:

Issue Date:

DOI: https://doi.org/10.1007/s00403-018-1828-6
Keywords