Abstract
Phytosphingosine (PHS) is a sphingoid that is a key component of phytoceramides NP, AP and EOP. PHS has been known to have anti-inflammation and antimicrobial activities and to stimulate epidermal differentiation. In addition, it is reported that PHS treatment notably increased phytoceramide content in keratinocytes. In this study, we tried to investigate whether PHS has any effect on the maturation of corneocytes such as formation of cornified envelope and natural moisturizing factor (NMF) that is also an essential event during the formation of skin barrier, stratum corneum. Special focus was made on the filaggrin (FLG) metabolism that is directly responsible for NMF production. PHS increased the expression of essential keratinocyte differentiation genes such as involucrin and transglutaminase 1 in cultured human keratinocytes. Interestingly, the expressions of FLG, caspase 14 and bleomycin hydrolase, all of which involved in NMF production in corneocytes, were significantly induced by PHS treatment in vitro. The effect of PHS on FLG metabolism was manifested as the increase of pyrrolidone carboxylic acid and skin hydration in vivo human skin. Results showed PHS had skin moisturizing effect by modulating FLG metabolic pathways and suggested to be an essential role in coordinated formation of the corneocyte envelope and NMF within.
Access options
Buy single article
Instant access to the full article PDF.
US$ 39.95
Tax calculation will be finalised during checkout.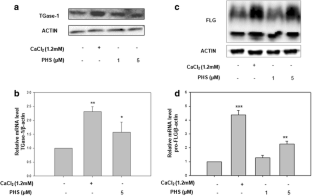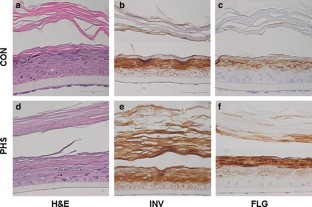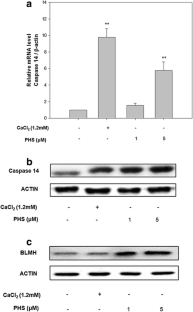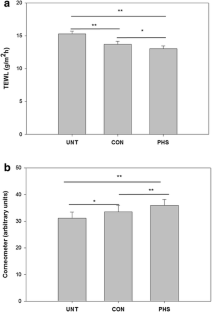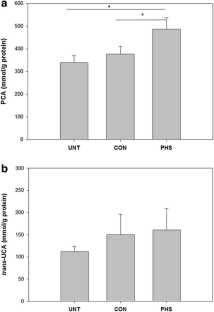 References
1.

Aho S, Harding CR, Lee JM, Meldrum H, Bosko CA (2012) Regulatory role for the profilaggrin N-terminal domain in epidermal homeostasis. J Investig Dermatol 132(10):2376–2385

2.

Bouwstra JA, Groenink HW, Kempenaar JA, Romeijn SG, Ponec M (2008) Water distribution and natural moisturizer factor content in human skin equivalents are regulated by environmental relative humidity. J Investig Dermatol 128(2):378–388

3.

Breiden B, Sandhoff K (2014) The role of sphingolipid metabolism in cutaneous permeability barrier formation. Biochim Biophys Acta 1841(3):441–452

4.

Candi E, Schmidt R, Melino G (2005) The cornified envelope: a model of cell death in the skin. Nat Rev Mol Cell Biol 6(4):328–340

5.

Chon SH, Tannahill R, Yao X, Southall MD, Pappas A (2015) Keratinocyte differentiation and upregulation of ceramide synthesis induced by an oat lipid extract via the activation of PPAR pathways. Exp Dermatol 24(4):290–295

6.

Danby SG, Brown K, Higgs-Bayliss T, Chittock J, Albenali L, Cork MJ (2016) The effect of an emollient containing urea, ceramide NP, and lactate on skin barrier structure and function in older people with dry skin. Skin Pharmacol Physiol 29(3):135–147

7.

Dapic I, Jakasa I, Yau NLH, Kezic S, Kammeyer A (2013) Evaluation of an HPLC method for the determination of natural moisturizing factors in the human stratum corneum. Anal Lett 46(14):2133–2144

8.

Denecker G, Ovaere P, Vandenabeele P, Declercq W (2008) Caspase-14 reveals its secrets. J Cell Biol 180(3):451–458

9.

Elias PM (2005) Stratum corneum defensive functions: an integrated view. J Investig Dermatol 125(2):183–200

10.

Elias PM, Feingold KR (1992) Lipids and the epidermal water barrier: metabolism, regulation, and pathophysiology. Semin Dermatol 11(2):176–182

11.

Elias PM, Gruber R, Crumrine D, Menon G, Williams ML, Wakefield JS, Holleran WM, Uchida Y (2014) Formation and functions of the corneocyte lipid envelope (CLE). Biochim Biophys Acta 1841(3):314–318

12.

Feingold KR (2007) Thematic review series: skin lipids. The role of epidermal lipids in cutaneous permeability barrier homeostasis. J Lipid Res 48(12):2531–2546

13.

Feingold KR (2009) The outer frontier: the importance of lipid metabolism in the skin. J Lipid Res. 50(Suppl):S417–S422

14.

Feingold KR, Elias PM (2014) Role of lipids in the formation and maintenance of the cutaneous permeability barrier. Biochim Biophys Acta 1841(3):280–294

15.

Gruber R, Elias PM, Crumrine D, Lin TK, Brandner JM, Hachem JP, Presland RB, Fleckman P, Janecke AR, Sandilands A, McLean WH, Fritsch PO, Mildner M, Tschachler E, Schmuth M (2011) Filaggrin genotype in ichthyosis vulgaris predicts abnormalities in epidermal structure and function. Am J Pathol 178(5):2252–2263

16.

Gschwandtner M, Mildner M, Mlitz V, Gruber F, Eckhart L, Werfel T, Gutzmer R, Elias PM, Tschachler E (2013) Histamine suppresses epidermal keratinocyte differentiation and impairs skin barrier function in a human skin model. Allergy 68(1):37–47

17.

Hanley K, Jiang Y, He SS, Friedman M, Elias PM, Bikle DD, Williams ML, Feingold KR (1998) Keratinocyte differentiation is stimulated by activators of the nuclear hormone receptor PPARalpha. J Investig Dermatol 110(4):368–375

18.

Harding CR, Aho S, Bosko CA (2013) Filaggrin—revisited. Int J Cosmet Sci 35(5):412–423

19.

Hasegawa T, Shimada H, Uchiyama T, Ueda O, Nakashima M, Matsuoka Y (2011) Dietary glucosylceramide enhances cornified envelope formation via transglutaminase expression and involucrin production. Lipids 46(6):529–535

20.

Holleran WM, Feingold KR, Man MQ, Gao WN, Lee JM, Elias PM (1991) Regulation of epidermal sphingolipid synthesis by permeability barrier function. J Lipid Res 32(7):1151–1158

21.

Hoste E, Kemperman P, Devos M, Denecker G, Kezic S, Yau N, Gilbert B, Lippens S, De Groote P, Roelandt R, Van Damme P, Gevaert K, Presland RB, Takahara H, Puppels G, Caspers P, Vandenabeele P, Declercq W (2011) Caspase-14 is required for filaggrin degradation to natural moisturizing factors in the skin. J Investig Dermatol. 131(11):2233–2241

22.

Jiang YJ, Kim P, Uchida Y, Elias PM, Bikle DD, Grunfeld C, Feingold KR (2013) Ceramides stimulate caspase-14 expression in human keratinocytes. Exp Dermatol 22(2):113–118

23.

Jung M, Choi J, Lee SA, Kim H, Hwang J, Choi EH (2014) Pyrrolidone carboxylic acid levels or caspase-14 expression in the corneocytes of lesional skin correlates with clinical severity, skin barrier function and lesional inflammation in atopic dermatitis. J Dermatol Sci 76(3):231–239

24.

Kamata Y, Taniguchi A, Yamamoto M, Nomura J, Ishihara K, Takahara H, Hibino T, Takeda A (2009) Neutral cysteine protease bleomycin hydrolase is essential for the breakdown of deiminated filaggrin into amino acids. J Biol Chem 284(19):12829–12836

25.

Kezic S, Kammeyer A, Calkoen F, Fluhr JW, Bos JD (2009) Natural moisturizing factor components in the stratum corneum as biomarkers of filaggrin genotype: evaluation of minimally invasive methods. Br J Dermatol 161(5):1098–1104

26.

Kezic S, O'Regan GM, Yau N, Sandilands A, Chen H, Campbell LE, Kroboth K, Watson R, Rowland M, McLean WH, Irvine AD (2011) Levels of filaggrin degradation products are influenced by both filaggrin genotype and atopic dermatitis severity. Allergy 66(7):934–940

27.

Kim B, Kim JE, Kim HS (2014) Caffeic acid induces keratinocyte differentiation by activation of PPAR-alpha. J Pharm Pharmacol 66(1):84–92

28.

Kim JH, Choi DK, Lee SS, Choi SJ, Kim CD, Yoon TJ, Lee JH (2010) Enhancement of keratinocyte differentiation by rose absolute oil. Ann Dermatol 22(3):255–261

29.

Kim S, Hong I, Hwang JS, Choi JK, Rho HS, Kim DH, Chang I, Lee SH, Lee MO, Hwang JS (2006) Phytosphingosine stimulates the differentiation of human keratinocytes and inhibits TPA-induced inflammatory epidermal hyperplasia in hairless mouse skin. Mol Med 12(1–3):17–24

30.

Kim SH, Nam GW, Lee HK, Moon SJ, Chang IS (2006) The effects of Musk T on peroxisome proliferator-activated receptor [PPAR]-alpha activation, epidermal skin homeostasis and dermal hyaluronic acid synthesis. Arch Dermatol Res 298(6):273–282

31.

McAleer MA, Irvine AD (2013) The multifunctional role of filaggrin in allergic skin disease. J Allergy Clin Immunol 131(2):280–291

32.

Menon GK, Cleary GW, Lane ME (2012) The structure and function of the stratum corneum. Int J Pharm 435(1):3–9

33.

Mizutani Y, Sun H, Ohno Y, Sassa T, Wakashima T, Obara M, Yuyama K, Kihara A, Igarashi Y (2013) Cooperative synthesis of ultra long-chain fatty acid and ceramide during keratinocyte differentiation. PLoS One 8(6):e67317

34.

Mutanu Jungersted J, Hellgren LI, Hogh JK, Drachmann T, Jemec GB, Agner T (2010) Ceramides and barrier function in healthy skin. Acta Derm Venereol 90(4):350–353

35.

Nemes Z, Steinert PM (1999) Bricks and mortar of the epidermal barrier. Exp Mol Med 31(1):5–19

36.

Pavicic T, Wollenweber U, Farwick M, Korting HC (2007) Anti-microbial and -inflammatory activity and efficacy of phytosphingosine: an in vitro and in vivo study addressing acne vulgaris. Int J Cosmet Sci 29(3):181–190

37.

Raj N, Voegeli R, Rawlings AV, Doppler S, Imfeld D, Munday MR, Lane ME (2017) A fundamental investigation into aspects of the physiology and biochemistry of the stratum corneum in subjects with sensitive skin. Int J Cosmet Sci 39(1):2–10

38.

Raj N, Voegeli R, Rawlings AV, Summers B, Munday MR, Lane ME (2016) Variation in the activities of late stage filaggrin processing enzymes, calpain-1 and bleomycin hydrolase, together with pyrrolidone carboxylic acid levels, corneocyte phenotypes and plasmin activities in non-sun exposed and sun-exposed facial stratum corneum of different ethnicities. Int J Cosmet Sci 38:567–575

39.

Rawlings AV, Harding CR (2004) Moisturization and skin barrier function. Dermatol Ther 17:43–48

40.

Sandilands A, Sutherland C, Irvine AD, McLean WH (2009) Filaggrin in the frontline: role in skin barrier function and disease. J Cell Sci 122(Pt 9):1285–1294

41.

Sigruener A, Tarabin V, Paragh G, Liebisch G, Koehler T, Farwick M, Schmitz G (2013) Effects of sphingoid bases on the sphingolipidome in early keratinocyte differentiation. Exp Dermatol 22(10):677–679

42.

Skolova B, Kovacik A, Tesar O, Opalka L, Vavrova K (2017) Phytosphingosine, sphingosine and dihydrosphingosine ceramides in model skin lipid membranes: permeability and biophysics. Biochim Biophys Acta 1859(5):824–834

43.

Son ED, Kim Y, Joo KM, Kim HJ, Lee E, Nam GW, Cho EG, Noh M, Chung JH, Byun SY, Lee TR (2015) Skin dryness in apparently healthy human skin is associated with decreased expression of bleomycin hydrolase in the stratum corneum. Clin Exp Dermatol 40(3):247–253

44.

Wallmeyer L, Lehnen D, Eger N, Sochorova M, Opalka L, Kovacik A, Vavrova K, Hedtrich S (2015) Stimulation of PPARalpha normalizes the skin lipid ratio and improves the skin barrier of normal and filaggrin deficient reconstructed skin. J Dermatol Sci 80(2):102–110

45.

Woo SW, Rhim DB, Kim C, Hwang JK (2015) Effect of standardized Boesenbergia pandurata extract and its active compound panduratin A on skin hydration and barrier function in human epidermal keratinocytes. Prev Nutr Food Sci 20(1):15–21

46.

Yan Y, Furumura M, Numata S, Teye K, Karashima T, Ohyama B, Tanida N, Hashimoto T (2015) Various peroxisome proliferator-activated receptor (PPAR)-gamma agonists differently induce differentiation of cultured human keratinocytes. Exp Dermatol 24(1):62–65
Acknowledgements
This study was supported by a grant from the Korea Healthcare Technology R&D Project, Ministry of Health and Welfare, Republic of Korea (Grant no. HN10C0000).
Ethics declarations
Conflict of interest
The authors state no conflict of interest.
Ethical approval
All procedures performed in studies involving human participants were in accordance with the ethical standards of the institutional and/or national research committee and with the 1964 Helsinki declaration and its later amendments or comparable ethical standards (approved from Dongguk University, Approval no. DUIRB-20160830-016).
About this article
Cite this article
Choi, H.K., Cho, Y.H., Lee, E.O. et al. Phytosphingosine enhances moisture level in human skin barrier through stimulation of the filaggrin biosynthesis and degradation leading to NMF formation. Arch Dermatol Res 309, 795–803 (2017). https://doi.org/10.1007/s00403-017-1782-8
Received:

Revised:

Accepted:

Published:

Issue Date:
Keywords
Phytosphingosine

Filaggrin

Natural moisturizing factor

Pyrrolidone carboxylic acid

Skin barrier