Abstract
Tofacitinib is a Janus kinase 3 (JAK3) inhibitor that promotes hair growth; however, the efficacy and mechanism of this effect are not yet understood. This study aimed to evaluate the efficacy and mechanism of topical tofacitinib on hair growth in mice. Eight-week-old male C57BL/6 mice were divided equally into four groups and treated topically with tofacitinib, minoxidil, or vehicle once daily for 21 days. Weekly photographs were taken to determine the area and rate of hair growth, and tissue samples were collected for histopathological evaluation. mRNA and protein expression of anagen-maintaining growth factors, including vascular endothelial growth factor (VEGF) and insulin-like growth factor-1 (IGF-1), were determined via RT-PCR and ELISA, respectively. Tofacitinib-treated mice exhibited more hair regrowth than either minoxidil-treated or control mice did between day 7 and 21 (P < 0.05). Topical tofacitinib also promoted more rapid hair growth rate than topical minoxidil or control did (P < 0.001). Histopathology showed a distinct increase in the number of hair follicles, mostly in the anagen phase, in the tofacitinib-treated group. Hair follicles in the minoxidil- and vehicle-treated groups were more often classified as catagen and anagen. VEGF mRNA and protein expression in the tofacitinib-treated group was significantly greater than those in the other groups (P < 0.05). IGF-1 mRNA expression was not upregulated in tofacitinib-treated mice. Topical tofacitinib is effective in promoting hair growth, and the possible mechanism involves increased VEGF levels and lowered inflammation. This study will help develop a new therapeutic option for non-scarring alopecia.
This is a preview of subscription content,
to check access.
Access this article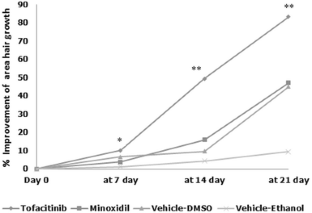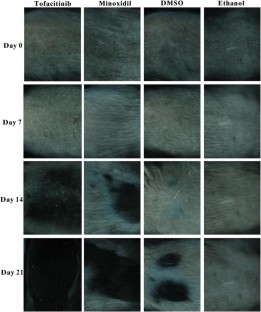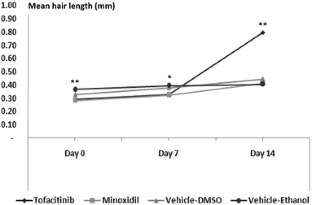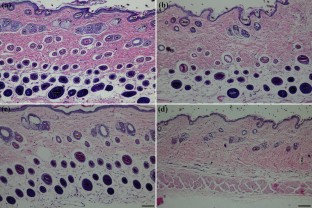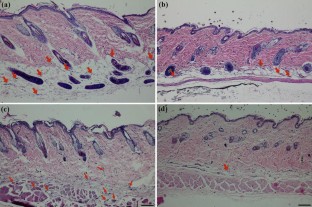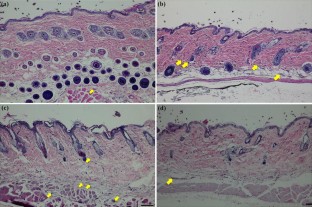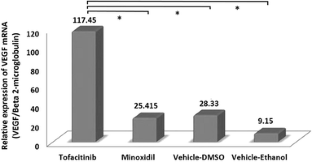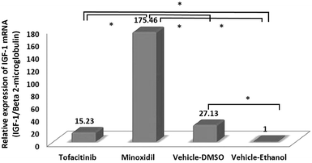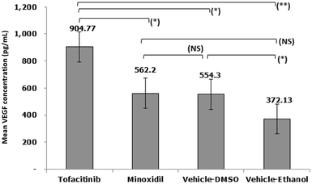 Similar content being viewed by others
References
Ambler CA, Watt FM (2007) Expression of Notch pathway genes in mammalian epidermis and modulation by β-Catenin. Dev Dyn 236:1595–1601

Bachelez H, van de Kerkhof PCM, Strohal R, Kubanov A, Valenzuela F, Lee J-H, Yakusevich V, Chimenti S, Papacharalambous J, Proulx J, Gupta P, Tan H, Tawadrous M, Valdez H, Wolk R (2015) Tofacitinib versus etanercept or placebo in moderate-to-severe chronic plaque psoriasis: a phase 3 randomised non-inferiority trial. Lancet 386:552–561

Bae CJ, Shim SB, Jee SW, Lee SH, Kim MR, Lee JW, Lee CK, Hwang DY (2010) IL-6, VEGF, KC and RANTES are a major cause of a high irritant dermatitis to phthalic anhydride in C57BL/6 inbred mice. Allergol Int 59:389–397

Boy MG, Wang C, Wilkinson BE, Chow VF, Clucas AT, Krueger JG, Gaweco AS, Zwillich SH, Changelian PS, Chan G (2009) Double-blind, placebo-controlled, dose-escalation study to evaluate the pharmacologic effect of CP-690,550 in patients with psoriasis. J Invest Dermatol 129:2299–2302

Boyce E, Vyas D, Rogan E, Valle-Oseguera C, O'Dell K (2016) Impact of tofacitinib on patient outcomes in rheumatoid arthritis—review of clinical studies. Patient Relat Outcome Meas 14:1

Cetkovic-Cvrlje M, Tibbles HE (2004) Therapeutic potential of Janus kinase 3 (JAK3) inhibitors. Curr Pharm Des 10:1767–1784

Chhipa RR, Halim D, Cheng J, Zhang HY, Mohler JL, Ip C, Wu Y (2013) The direct inhibitory effect of dutasteride or finasteride on androgen receptor activity is cell line specific. Prostate 73:1483–1494

Craiglow BG, King BA (2014) Killing two birds with one stone: oral tofacitinib reverses alopecia universalis in a patient with plaque psoriasis. J Invest Dermatol 134:2988–2990

Craiglow BG, King BA (2015) Tofacitinib citrate for the treatment of vitiligo: a pathogenesis-directed therapy. JAMA Dermatol 151:1110–1112

Craiglow BG, Tavares D, King BA (2016) Topical Ruxolitinib for the Treatment of Alopecia Universalis. JAMA Dermatol 152:490

Erdemir F, Harbin A, Hellstrom WJG (2008) 5-alpha reductase inhibitors and erectile dysfunction: the connection. J Sex Med 5:2917–2924

Faghihi G, Iraji F, Rajaee Harandi M, Nilforoushzadeh M-A, Askari G (2013) Comparison of the efficacy of topical minoxidil 5% and adenosine 0.75% solutions on male androgenetic alopecia and measuring patient satisfaction rate. Acta Dermatovenerol Croat 21:155–159

Fleischmann R, Kremer J, Cush J, Schulze-Koops H, Connell CA, Bradley JD, Gruben D, Wallenstein GV, Zwillich SH, Kanik KS (2012) Placebo-controlled trial of tofacitinib monotherapy in rheumatoid arthritis. N Engl J Med 367:495–507

Foitzik K, Paus R, Doetschman T, Dotto GP (1999) The TGF-beta2 isoform is both a required and sufficient inducer of murine hair follicle morphogenesis. Dev Biol 212:278–289

Ghoreschi K, Jesson MI, Li X, Lee JL, Ghosh S, Alsup JW, Warner JD, Tanaka M, Steward-Tharp SM, Gadina M, Thomas CJ, Minnerly JC, Storer CE, LaBranche TP, Radi ZA, Dowty ME, Head RD, Meyer DM, Kishore N, O'Shea JJ (2011) Modulation of innate and adaptive immune responses by tofacitinib (CP-690,550). J Immunol 186:4234–4243

Gupta AK, Charrette A (2015) Topical minoxidil: systematic review and meta-analysis of its efficacy in androgenetic alopecia. Skinmed 13:185–189

Gupta AK, Carviel JL, Abramovits W (2016) Efficacy of tofacitinib in treatment of alopecia universalis in two patients. J Eur Acad Dermatol Venereol 30:1373–1378

Harel S, Higgins CA, Cerise JE, Dai Z, Chen JC, Clynes R, Christiano AM (2015) Pharmacologic inhibition of JAK-STAT signaling promotes hair growth. Sci Adv 1:e1500973

Inui S, Itami S (2011) Molecular basis of androgenetic alopecia: from androgen to paracrine mediators through dermal papilla. J Dermatol Sci 61:1–6

Jabbari A, Nguyen N, Cerise JE, Ulerio G, de Jong A, Clynes R, Christiano AM, Mackay-Wiggan J (2016) Treatment of an alopecia areata patient with tofacitinib results in regrowth of hair and changes in serum and skin biomarkers. Exp Derm 25:642–643

Jacobs JP, Szpunar CA, Warner ML (1993) Use of topical minoxidil therapy for androgenetic alopecia in women. Int J Dermatol 32:758–762

Kamp H, Geilen CC, Sommer C, Blume-Peytavi U (2003) Regulation of PDGF and PDGF receptor in cultured dermal papilla cells and follicular keratinocytes of the human hair follicle. Exp Derm 12:662–672

Kaufman KD, Olsen EA, Whiting D, Savin R, DeVillez R, Bergfeld W, Price VH, Van Neste D, Roberts JL, Hordinsky M, Shapiro J, Binkowitz B, Gormley GJ (1998) Finasteride in the treatment of men with androgenetic alopecia. Finasteride Male Pattern Hair Loss Study Group. J Am Acad Dermatol 39:578–589

Kawano M, Komi-Kuramochi A, Asada M, Suzuki M, Oki J, Jiang J, Imamura T (2005) Comprehensive analysis of FGF and FGFR expression in skin: FGF18 is highly expressed in hair follicles and capable of inducing anagen from telogen stage hair follicles. J Invest Dermatol 124:877–885

Kim EJ, Choi JY, Park BC, Lee B-H (2014) Platycarya strobilacea S. et Z. Extract has a high antioxidant capacity and exhibits hair growth-promoting effects in male C57BL/6 Mice. Prev Nutr Food Sci 19:136–144

Kratochwil K, Dull M, Farinas I, Galceran J, Grosschedl R (1996) Lef1 expression is activated by BMP-4 and regulates inductive tissue interactions in tooth and hair development. Genes Dev 10:1382–1394

La Placa M, Balestri R, Bardazzi F, Vincenzi C (2015) Scalp Psoriasiform contact dermatitis with acute telogen effluvium due to topical minoxidil treatment. Skin Appendage Disord 1:141–143

Lachgar S, Moukadiri H, Jonca F, Charveron M, Bouhaddioui N, Gall Y, Bonafe JL, Plouët J (1996) Vascular endothelial growth factor is an autocrine growth factor for hair dermal papilla cells. J Invest Dermatol 106:17–23

Li LF, Fiedler VC, Kumar R (1999) The potential role of skin protein kinase C isoforms alpha and delta in mouse hair growth induced by diphencyprone-allergic contact dermatitis. J Dermatol 26:98–105

Li LF, Guo J, Gao ZF (2003) Overexpression of skin protein kinase C-alpha in anagen hair follicles during induced growth of mouse hair. Clin Exp Dermatol 28:429–433

Liew SH, Nichols KK, Klamerus KJ, Li JZ, Zhang M, Foulks GN (2012) Tofacitinib (CP-690,550), a Janus kinase inhibitor for dry eye disease. Ophthalmol 119:1328–1335

Lucky AW, Piacquadio DJ, Ditre CM, Dunlap F, Kantor I, Pandya AG, Savin RC, Tharp MD (2004) A randomized, placebo-controlled trial of 5% and 2% topical minoxidil solutions in the treatment of female pattern hair loss. J Am Acad Dermatol 50:541–553

Mahé YF, Michelet JF, Billoni N, Jarrousse F, Buan B, Commo S, Saint-Léger D, Bernard BA (2000) Androgenetic alopecia and microinflammation. Int J Dermatol 39:576–584

Marubayashi A, Nakaya Y, Fukui K, Li M, Arase S (2001) Minoxidil-induced hair growth is mediated by adenosine in cultured dermal papilla cells: possible involvement of sulfonylurea receptor 2B as a target of minoxidil. J Invest Dermatol 117:1594–1600

Messenger AG, Rundegren J (2004) Minoxidil: mechanisms of action on hair growth. Br J Dermatol 150:186–194

Migita K, Izumi Y, Jiuchi Y, Kozuru H, Kawahara C, Izumi M, Sakai T, Nakamura M, Motokawa S, Nakamura T, Kawakami A (2014) Effects of Janus kinase inhibitor tofacitinib on circulating serum amyloid A and interleukin-6 during treatment for rheumatoid arthritis. Clin Exp Immunol 175:208–214

O'Shea JJ, Kontzias A, Yamaoka K, Tanaka Y, Laurence A (2013) Janus kinase inhibitors in autoimmune diseases. Ann Rheum Dis 72:ii111–ii115

Olsen EA, Weiner MS (1987) Topical minoxidil in male pattern baldness: effects of discontinuation of treatment. J Am Acad Dermatol 17:97–101

Oshimori N, Fuchs E (2012) Paracrine TGF-β signaling counterbalances BMP-mediated repression in hair follicle stem cell activation. Cell Stem Cell 10:63–75

Otomo S (2002) Hair growth effect of minoxidil. Nippon Yakurigaku Zasshi 119:167–174

Pathomvanich D, Pongratananukul S, Thienthaworn P, Manoshai S (2002) A random study of Asian male androgenetic alopecia in Bangkok, Thailand. Dermatol Surg 28:804–807

Paus R, Foitzik K, Welker P, Bulfone-Paus S, Eichmüller S (1997) Transforming growth factor-beta receptor type I and type II expression during murine hair follicle development and cycling. J Invest Dermatol 109:518–526

Ramos PM, Brianezi G, Martins ACP, da Silva MG, Marques MEA, Miot HA (2016) Apoptosis in follicles of individuals with female pattern hair loss is associated with perifollicular microinflammation. Int J Cosmet Sci 38:651–654

Rendl M, Lewis L, Fuchs E (2005) Molecular dissection of mesenchymal-epithelial interactions in the hair follicle. PLoS Biol 3:e331

Rendl M, Polak L, Fuchs E (2008) BMP signaling in dermal papilla cells is required for their hair follicle-inductive properties. Genes Dev 22:543–557

Sakimoto T, Ishimori A (2016) Anti-inflammatory effect of topical administration of tofacitinib on corneal inflammation. Exp Eye Res 145:110–117

Sandborn WJ, Ghosh S, Panes J, Vranic I, Su C, Rousell S, Niezychowski W (2012) Tofacitinib, an oral Janus kinase inhibitor, in active ulcerative colitis. N Engl J Med 367:616–624

Thompson IM, Goodman PJ, Tangen CM, Lucia MS, Miller GJ, Ford LG, Lieber MM, Cespedes RD, Atkins JN, Lippman SM, Carlin SM, Ryan A, Szczepanek CM, Crowley JJ, Coltman CA Jr (2003) The influence of finasteride on the development of prostate cancer. N Engl J Med 349:215–224

van Gurp E, Weimar W, Gaston R, Brennan D, Mendez R, Pirsch J, Swan S, Pescovitz MD, Ni G, Wang C, Krishnaswami S, Chow V, Chan G (2008) Phase 1 Dose-Escalation Study of CP-690 550 in stable renal allograft recipients: preliminary findings of safety, tolerability, effects on lymphocyte subsets and pharmacokinetics. Am J Transplant 8:1711–1718

Xing L, Dai Z, Jabbari A, Cerise JE, Higgins CA, Gong W, de Jong A, Harel S, DeStefano GM, Rothman L, Singh P, Petukhova L, Mackay-Wiggan J, Christiano AM, Clynes R (2014) Alopecia areata is driven by cytotoxic T lymphocytes and is reversed by JAK inhibition. Nat Med 20:1043–1049

Zhou P, Byrne C, Jacobs J, Fuchs E (1995) Lymphoid enhancer factor 1 directs hair follicle patterning and epithelial cell fate. Gen Dev 9:700–713
Acknowledgements
The authors gratefully acknowledge the financial support provided by The Thailand Research Fund ​(Grant number: TRG6080021).
Ethics declarations
Conflict of interest
The authors have no conflict of interest to declare.
About this article
Cite this article
Meephansan, J., Thummakriengkrai, J., Ponnikorn, S. et al. Efficacy of topical tofacitinib in promoting hair growth in non-scarring alopecia: possible mechanism via VEGF induction. Arch Dermatol Res 309, 729–738 (2017). https://doi.org/10.1007/s00403-017-1777-5
Received:

Revised:

Accepted:

Published:

Issue Date:

DOI: https://doi.org/10.1007/s00403-017-1777-5
Keywords