Abstract
The permeation of resveratrol was assessed by in vitro and in vivo experiments 24 h after topical administration. The in vitro profile of resveratrol was assessed by Raman spectroscopy. Human skin permeation was analysed in vivo by the tape stripping method with the progressive removal of the stratum corneum layers using adhesive tape strips. Moreover, the free radical scavenging activity of resveratrol after its topical application was determined using the DPPH assay. The Raman spectra indicated that the topically applied resveratrol penetrates deep into the skin. The results showed high amounts of resveratrol in the different stratum corneum layers close to the surface and a constant lower amount in the upper layers of the viable epidermis. The concentration of resveratrol present in the outermost stratum corneum layers was obtained by tape stripping after in vivo application. The results demonstrated that resveratrol mainly remained in the human stratum corneum layers. After topical application, resveratrol maintained its antiradical activity. The antioxidant efficacy of the compound was higher in the inner layers of the stratum corneum. As these results have demonstrated, topically applied resveratrol reinforces the antioxidant system of the stratum corneum and provides an efficient means of increasing the tissue levels of antioxidants in the human epidermis.
Access options
Buy single article
Instant access to the full article PDF.
US$ 39.95
Tax calculation will be finalised during checkout.
Subscribe to journal
Immediate online access to all issues from 2019. Subscription will auto renew annually.
US$ 119
Tax calculation will be finalised during checkout.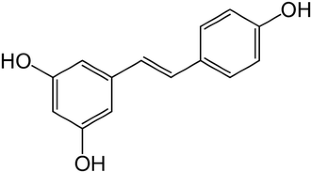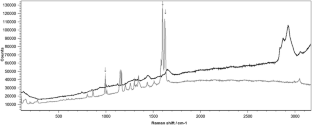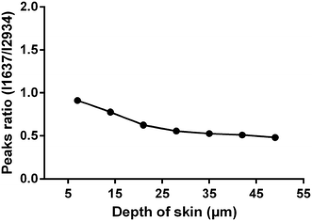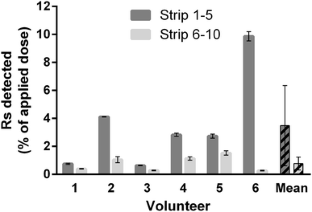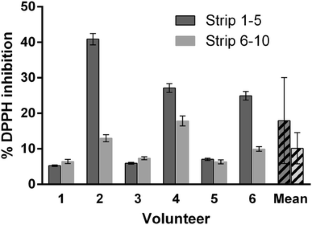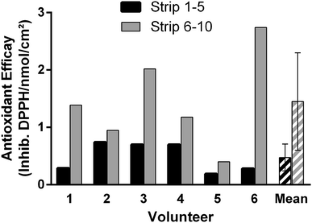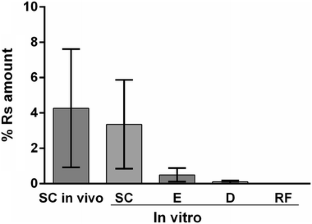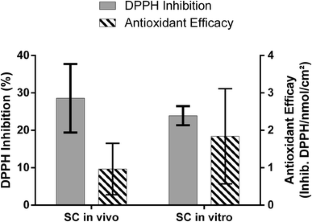 References
1.

Acquaviva R, Russo A, Campisi A, Sorrenti V, Di Giacomo C, Barcellona ML, Avitabile M, Vanella A (2002) Antioxidant activity and protective effect on DNA cleavage of resveratrol. J Food Sci 67:137–141. doi:10.1111/j.1365-2621.2002.tb11373.x

2.

Alonso C, Ramon E, Lozano C, Parra JL, Torres JL, Coderch L (2004) Percutaneous absorption of flavan-3-ol conjugates from plant procyanidins. Drug Exp Clin Res 30:1–10

3.

Alonso C, Rubio L, Touriño S, Martí M, Barba C, Fernández-Campos F, Coderch L, Luís Parra J (2014) Antioxidative effects and percutaneous absorption of five polyphenols. Free Radical Biol Med 75:149–155. doi:10.1016/j.freeradbiomed.2014.07.014

4.

Amr S, Brown MB, Martin GP, Forbes B (2001) Activation of clindamycin phosphate by human skin. J Appl Microbiol 90:550–554. doi:10.1046/j.1365-2672.2001.01282.x

5.

Baur JA, Sinclair DA (2006) Therapeutic potential of resveratrol: the in vivo evidence. Nat Rev Drug Discov 5:493–506. doi:10.1038/nrd2060

6.

Bhat KP, Pezzuto JM (2002) Cancer chemopreventive activity of resveratrol. Ann NY Acad Sci 957:210–229. doi:10.1111/j.1749-6632.2002.tb02918.x

7.

Bradamante S, Barenghi L, Villa A (2004) Cardiovascular protective effects of resveratrol. Cardiovasc Drug Rev 22:169–188. doi:10.1111/j.1527-3466.2004.tb00139.x

8.

Bronaugh RL, Stewart RF, Congdon ER (1982) Methods for in vitro percutaneous absorption studies. II. Animal models for human skin. Toxicol Appl Pharm 62:481–488. doi:10.1016/0041-008X(82)90149-1

9.

Caspers PJ, Lucassen GW, Carter EA, Bruining HA, Puppels GJ (2001) In vivo confocal Raman microspectroscopy of the skin: noninvasive determination of molecular concentration profiles. J Invest Dermatol 116:434–442. doi:10.1046/j.1523-1747.2001.01258.x

10.

Chandrasekar D, Madhusudhana K, Ramakrishna S, Diwan PV (2006) Determination of DPPH free radical scavenging activity by reversed-phase HPLC: a sensitive screening method for polyherbal formulations. J Pharm Biomed Anal 40:460–464. doi:10.1016/j.jpba.2005.07.042

11.

Deostri JE (2000) Antioxidant polyphenols in tea, cocoa and wine. Nutrition 16:692–694. doi:10.1016/S0899-9007(00)00304-X

12.

Fauconneau B, Waffo-Teguo P, Huguet F, Barrier L, Decendit A, Merillon JM (1997) Comparative study of radical scavenger and antioxidant properties of phenolic compounds from Vitis vinifera cell cultures using in vitro tests. Life Sci 61:2103–2110. doi:10.1016/S0024-3205(97)00883-7

13.

Fernandez C, Nielloud F, Fortune R, Vian L, Marti-Mestres G (2002) Benzophenone-3: rapid prediction and evaluation using non-invasive methods of in vivo human penetration. J Pharm Biomed Anal 28:57–63. doi:10.1016/S0731-7085(01)00630-6

14.

Fitzpatrick TB, Eisen AZ, Wolff K, Freedberg IM (1993) Dermatology in general medicine. McGraw-Hill, New York

15.

Frémont L (2000) Biological effects of resveratrol. Life Sci 66:663–673. doi:10.1016/S0024-3205(99)00410-5

16.

Hung CF, Lin YK, Huang ZR, Fang JY (2008) Delivery of resveratrol, a red wine polyphenol, from solutions and hydrogels via the skin. Biol Pharm Bull 31:955–962. doi:10.1248/bpb.31.955

17.

Iacopini P, Baldi M, Storchi P, Sebastiani L (2008) Catechin, epicatechin, quercetin, rutin and resveratrol in red grape: content, in vitro antioxidant activity and interactions. J Food Compos Anal 21:589–598. doi:10.1016/j.jfca.2008.03.011

18.

Jang M, Cai L, Udeani GO, Slowing KV, Thomas CF, Beecher CWW, Fong HHS, Farnsworth NR, Kinghorn AD, Mehta RG, Moon RC, Pezzuto JM (1997) Cancer chemopreventive activity of resveratrol, a natural product derived from grapes. Science 275:218–220. doi:10.1126/science.275.5297.218

19.

King RE, Bomser JA, Min DB (2006) Bioactivity of resveratrol. Compr Rev Food Sci Food Saf 5:65–70. doi:10.1111/j.1541-4337.2006.00001.x

20.

Lademann J, Jacobi U, Surber C, Weigmann HJ, Fluhr JW (2009) The tape stripping procedure—evaluation of some critical parameters. Eur J Pharm Biopharm 72:317–323. doi:10.1016/j.ejpb.2008.08.008

21.

Li ZD, Ma QY, Wang CA (2006) Effect of resveratrol on pancreatic oxygen free radicals in rats with severe acute pancreatitis. World J Gastroenterol 12:137–140. doi:10.3748/WJG.v12.i1.137

22.

Löffler H, Dreher F, Maibach HI (2004) Stratum corneum adhesive tape stripping: influence of anatomical site, application pressure, duration and removal. Brit J Dermatol 151:746–752. doi:10.1111/j.1365-2133.2004.06084.x

23.

Niki E (2010) Assessment of antioxidant capacity in vitro and in vivo. Free Radic Biol Med 49:503–515. doi:10.1016/j.freeradbiomed.2010.04.016

24.

OECD No. 28 (2004) Guidance document for the conduct of skin absorption studies. OECD Series on Testing and Assessment No. 28. OECD Publishing, Paris

25.

Prusakiewicz JJ, Ackermann C, Voorman R (2006) Comparison of skin esterase activities from different species. Pharm Res 23:1517–1524. doi:10.1007/s11095-006-0273-y

26.

Ramon E, Alonso C, Coderch L, De la Maza A, Lopez O, Parra JL, Notario I (2005) Liposomes as alternative vehicles for sun filter formulations. Drug Deliv 12:83–88. doi:10.1080/10717540490446080

27.

Redoules D, Perie J, Viode C, Mavon A, Fournier D, Daunes S, Casas C, Lougarre A, De Viguerie N (2005) Slow internal release of bioactive compounds under the effect of skin enzymes. J Invest Dermatol 125:270–277. doi:10.1111/j.0022-202X.2005.23785.x

28.

Rougier A, Dupuis D, Lotte C, Rouguet R, Shaefer H (1983) In vivo correlation between stratum corneum reservoir function and percutaneous absorption. J Invest Derrmatol 81:275–278. doi:10.1111/1523-1747.ep12518298

29.

Rougier A, Lotte C, Maibach HI (1987) In vivo percutaneous penetration of some organic compounds related to anatomic site in humans: predictive assessment by the stripping method. J Pharm Sci 76:451–454. doi:10.1002/jps.2600760608

30.

Sánchez- Moreno C, Larrauri JA, Saura-Calixto F (1998) A procedure to measure the antiradical efficiency of polyphenols. J Sci Food Agric 76:270–276. doi:10.1002/(SICI)1097-0010(199802)76:2<270:AID-JSFA945>3.0.CO;2-9

31.

Schwindt DA, Wilhelm KP, Maibach HI (1998) Water diffusion characteristics of human stratum corneum at different anatomical sites in vivo. J Invest Dermatol 111:385–389. doi:10.1046/j.1523-1747.1998.00321.x

32.

Sengottuvelan M, Viswanathan P, Nalini N (2006) Chemopreventive effect of trans-resveratrol—a phytoalexin against colonic aberrant crypt foci and cell proliferation in 1,2-dimethylhydrazine induced colon carcinogenesis. Carcinogenesis 27:1038–1046. doi:10.1093/carcin/bgi286

33.

Shah VP, Flynn GL, Yacobi A, Maibach HI, Bon C, Fleischer NM, Franz TJ, Kaplan SA, Kawamoto J, Lesko LJ, Marty JP, Pershing LK, Schaefer H, Sequeira JA, Shrivastava SP, Wilkin J, Williams RL (1998) Bioequivalence of topical dermatological dosage forms—methods of evaluation of bioequivalence. Pharm Res 15:167–171

34.

Tfaili S, Josse G, Angiboust JF, Manfait M, Piot O (2014) Monitoring caffeine and resveratrol cutaneous permeation by confocal Raman microspectroscopy. J Biophotonics 7:676–681. doi:10.1002/jbio.201300011

35.

Tfayli A, Piot O, Manfait M (2008) Confocal Raman microspectroscopy on excised human skin: uncertainties in depth profiling and mathematical correction applied to dermatological drug permeation. J Biophotonics 1:140–153. doi:10.1002/jbio.200710004

36.

Thiele JJ, Dreher F, Packer L (2000) Antioxidant defense systems in skin. In: Elsner P, Maibach H (eds) Drugs vs. cosmetics: cosmeceutical?. Dekker, New York, pp 145–187

37.

Ting WW, Vest CD, Sontheimer R (2003) Practical and experimental consideration of sun protection in dermatology. Int J Dermatol 42:505–513. doi:10.1046/j.1365-4362.2003.01867.x

38.

Wagner H, Kostka KH, Lehr CM, Schaefer UF (2001) Interrelation of permeation and penetration parameters obtained from in vitro experiments with human skin and skin equivalents. J Control Release 75:283–295. doi:10.1016/S0168-3659(01)00396-0

39.

Wiechers JW, Kelly CL, Blease TG, Dederen JC (2004) Formulating for efficacy. Int J Cosmetic Sci 26:173–182. doi:10.1111/j.1467-2494.2004.00211.x

40.

Ya-Xian Z, Suetake T, Tagami H (1999) Number of cell layers of the stratum corneum in normal skin—relationship to the anatomical location on the body, age, sex and physical parameters. Arch Dermatol Res 291:555–559. doi:10.1007/s004030050453

41.

Zhang G, Moore DJ, Sloan KB, Flach CR, Mendelsohn R (2007) Imaging the prodrug-to-drug transformation of a 5-fluorouracil derivative in skin by confocal raman microscopy. J Invest Dermatol 127:1205–1209. doi:10.1038/sj.jid.5700690
Acknowledgements
The authors are grateful to Montserrat Rigol Muxart and Núria Solanes Batlló from the Department of Cardiology (Institut d'Investigacions Biomèdiques August Pi i Sunyer (IDIBAPS) Hospital Clínic, Universitat de Barcelona, Spain) for supplying the porcine skin biopsies.
Ethics declarations
Conflict of interest
The authors declare that they have no conflict of interest.
Funding
The authors wish to thank the Ministerio de Educación y Ciencia (Spanish National Project CTQ2013-44998-P) and the 2009 SGR 1212 (AGAUR) for providing financial support.
Ethical approval
All procedures performed in the study involving human participants were in accordance with the ethical standards of the institutional research committee and with the 1964 Helsinki Declaration and its later amendments or comparable ethical standards. Animal handling was approved by the Institutional Review Board and Ethics Committee of Institut d'Investigacions Biomèdiques August Pi i Sunyer (IDIBAPS) Hospital Clínic, Universitat de Barcelona, Barcelona, Spain. The management of the Landrace Large White pigs used in this study conforms to the Guide for the Care and Use of Laboratory Animals published by the United States National Institutes of Health (Eighth Edition. Washington, DC: The National Academies Press, 2011).
Informed consent
Informed consent was obtained from all the individual participants included in the study.
About this article
Cite this article
Alonso, C., Martí, M., Barba, C. et al. Skin permeation and antioxidant efficacy of topically applied resveratrol. Arch Dermatol Res 309, 423–431 (2017). https://doi.org/10.1007/s00403-017-1740-5
Received:

Revised:

Accepted:

Published:

Issue Date:
Keywords
Resveratrol

Percutaneous absorption

In vivo

In vitro

Antiradical activity