Abstract
Resveratrol is known to inhibit cellular melanin synthesis by multiple mechanisms. Glycolic acid (GA) is used in skin care products for its excellent skin penetration. The purpose of this study was to examine the anti-melanogenic effects of resveratryl triglycolate (RTG), a novel hybrid compound of resveratrol and GA, in comparison with resveratrol, GA, resveratryl triacetate (RTA) and arbutin. Resveratrol, RTG, and RTA inhibited the catalytic activity human tyrosinase (TYR) more potently than arbutin or GA did. Their cytotoxic and anti-melanogenic effects were examined using murine melanoma B16/F10 cells and human epidermal melanocytes (HEMs). The cytotoxicity of RTG was similar to that of resveratrol and RTA. RTG at 3–10 μM decreased melanin levels and cellular TYR activities in α-melanocyte-stimulating hormone-stimulated B16/F10 cells, and l-tyrosine-stimulated HEMs. RTG also suppressed mRNA and protein expression of TYR, tyrosinase-related protein 1, l-3,4-dihydroxyphenylalanine chrome tautomerase, and microphthalmia-associated transcription factor (MITF) in HEMs stimulated with l-tyrosine. This study suggests that, like resveratrol and RTA, RTG can attenuate cellular melanin synthesis effectively through the suppression of MITF-dependent expression of melanogenic enzymes and the inhibition of catalytic activity of TYR enzyme. RTG therefore has potential for use as a cosmeceutical ingredient for skin whitening.
Access options
Buy single article
Instant access to the full article PDF.
USD 39.95
Price excludes VAT (USA)
Tax calculation will be finalised during checkout.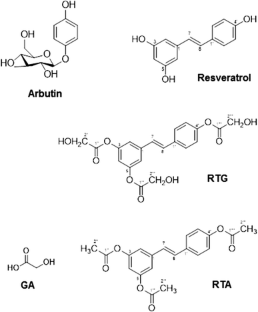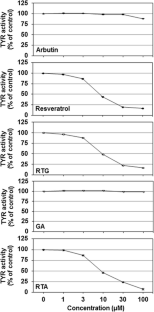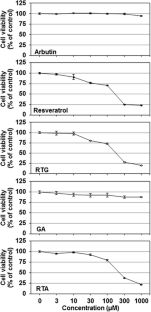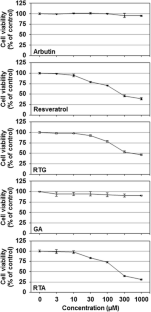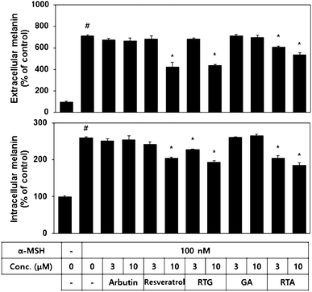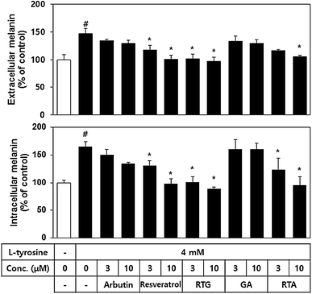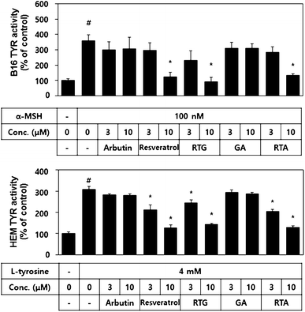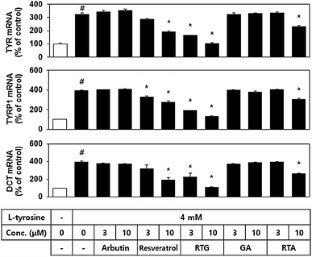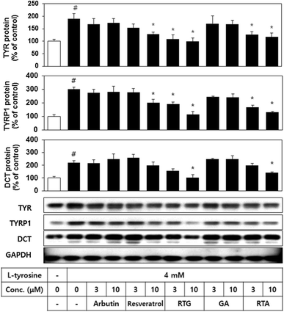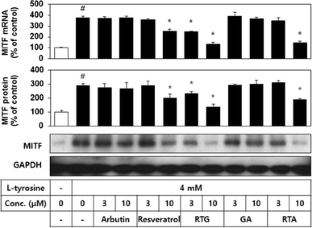 References
An SM, Koh JS, Boo YC (2009) Inhibition of melanogenesis by tyrosinase siRNA in human melanocytes. BMB Rep. 42:178–183

An SM, Lee SI, Choi SW, Moon SW, Boo YC (2008) p-Coumaric acid, a constituent of Sasa quelpaertensis Nakai, inhibits cellular melanogenesis stimulated by alpha-melanocyte stimulating hormone. Br J Dermatol 159:292–299

Busca R, Ballotti R (2000) Cyclic AMP a key messenger in the regulation of skin pigmentation. Pigment Cell Res 13:60–69

Cabanes J, Chazarra S, Garcia-Carmona F (1994) Kojic acid, a cosmetic skin whitening agent, is a slow-binding inhibitor of catecholase activity of tyrosinase. J Pharm Pharmacol 46:982–985

Caddeo C, Teskac K, Sinico C, Kristl J (2008) Effect of resveratrol incorporated in liposomes on proliferation and UV-B protection of cells. Int J Pharm 363:183–191

Costin GE, Hearing VJ (2007) Human skin pigmentation: melanocytes modulate skin color in response to stress. FASEB J 21:976–994

de Villiers MM, Narsai K, van der Watt JG (2000) Physicochemical stability of compounded creams containing a-hydroxy acids. Int J Pharm Compd 4:72–75

Ebanks JP, Wickett RR, Boissy RE (2009) Mechanisms regulating skin pigmentation: the rise and fall of complexion coloration. Int J Mol Sci 10:4066–4087

Epstein JH (1983) Photocarcinogenesis, skin cancer, and aging. J Am Acad Dermatol 9:487–502

Evtodienko VY, Bondarenko DI, Antonenko YN (1999) Permeation of dicarboxylic acids with different terminal position of two carboxylic groups through planar bilayer lipid membranes. Biochim Biophys Acta 1420:95–103

Farris P, Krutmann J, Li YH, McDaniel D, Krol Y (2013) Resveratrol: a unique antioxidant offering a multi-mechanistic approach for treating aging skin. J Drugs Dermatol 12:1389–1394

Glomb MA, Pfahler C (2001) Amides are novel protein modifications formed by physiological sugars. J Biol Chem 276:41638–41647

Han E, Chang B, Kim D, Cho H, Kim S (2015) Melanogenesis inhibitory effect of aerial part of Pueraria thunbergiana in vitro and in vivo. Arch Dermatol Res 307:57–72

Kim M, An SM, Koh JS, Jang DI, Boo YC (2011) Use of non-melanocytic HEK293 cells stably expressing human tyrosinase for the screening of anti-melanogenic agents. J Cosmet Sci 62:515–523

Kulkarni AP, Mahal HS, Kapoor S, Aradhya SM (2007) In vitro studies on the binding, antioxidant, and cytotoxic actions of punicalagin. J Agric Food Chem 55:1491–1500

Kwak JY, Seok JK, Suh HJ, Choi YH, Hong SS, Kim DS, Boo YC (2016) Anti-melanogenic effects of luteolin 7-sulfate isolated from Phyllospadix iwatensis Makino. Br J Dermatol. doi:10.1111/bjd.14496 (Epub ahead of print)

Lin CB, Babiarz L, Liebel F, Roydon Price E, Kizoulis M, Gendimenico GJ, Fisher DE, Seiberg M (2002) Modulation of microphthalmia-associated transcription factor gene expression alters skin pigmentation. J Invest Dermatol. 119:1330–1340

Maeda K, Fukuda M (1996) Arbutin: mechanism of its depigmenting action in human melanocyte culture. J Pharmacol Exp Ther 276:765–769

Newton RA, Cook AL, Roberts DW, Leonard JH, Sturm RA (2007) Post-transcriptional regulation of melanin biosynthetic enzymes by cAMP and resveratrol in human melanocytes. J Invest Dermatol. 127:2216–2227

Ogas T, Kondratyuk TP, Pezzuto JM (2013) Resveratrol analogs: promising chemopreventive agents. Ann N Y Acad Sci 1290:21–29

Park J, Boo YC (2013) Isolation of resveratrol from vitis viniferae caulis and its potent inhibition of human tyrosinase. Evid Based Complement Altern Med. 2013:645257

Park J, Park JH, Suh HJ, Lee IC, Koh J, Boo YC (2014) Effects of resveratrol, oxyresveratrol, and their acetylated derivatives on cellular melanogenesis. Arch Dermatol Res 306:475–487

Pezzuto JM, Kondratyuk TP, Ogas T (2013) Resveratrol derivatives: a patent review (2009–2012). Expert Opin Ther Pat 23:1529–1546

Ryu JH, Seok JK, An SM, Baek JH, Koh JS, Boo YC (2015) A study of the human skin-whitening effects of resveratryl triacetate. Arch Dermatol Res 307:239–247

Schwahn DJ, Xu W, Herrin AB, Bales ES, Medrano EE (2001) Tyrosine levels regulate the melanogenic response to alpha-melanocyte-stimulating hormone in human melanocytes: implications for pigmentation and proliferation. Pigment Cell Res 14:32–39

Slominski A, Tobin DJ, Shibahara S, Wortsman J (2004) Melanin pigmentation in mammalian skin and its hormonal regulation. Physiol Rev 84:1155–1228

Slominski A, Wortsman J, Luger T, Paus R, Solomon S (2000) Corticotropin releasing hormone and proopiomelanocortin involvement in the cutaneous response to stress. Physiol Rev 80:979–1020

Slominski A, Zmijewski MA, Pawelek J (2012) l-Tyrosine and l-dihydroxyphenylalanine as hormone-like regulators of melanocyte functions. Pigment Cell Melanoma Res. 25:14–27

Steinhoff M, Stander S, Seeliger S, Ansel JC, Schmelz M, Luger T (2003) Modern aspects of cutaneous neurogenic inflammation. Arch Dermatol 139:1479–1488

Tachibana M (2000) MITF: a stream flowing for pigment cells. Pigment Cell Res 13:230–240

Wolnicka-Glubisz A, Nogal K, Zadlo A, Plonka PM (2015) Curcumin does not switch melanin synthesis towards pheomelanin in B16F10 cells. Arch Dermatol Res 307:89–98

Wu JM, Hsieh TC (2011) Resveratrol: a cardioprotective substance. Ann N Y Acad Sci 1215:16–21

Xu W, Gong L, Haddad MM, Bischof O, Campisi J, Yeh ET, Medrano EE (2000) Regulation of microphthalmia-associated transcription factor MITF protein levels by association with the ubiquitin-conjugating enzyme hUBC9. Exp Cell Res 255:135–143

Yasumoto K, Yokoyama K, Takahashi K, Tomita Y, Shibahara S (1997) Functional analysis of microphthalmia-associated transcription factor in pigment cell-specific transcription of the human tyrosinase family genes. J Biol Chem 272:503–509
Acknowledgments
This study was supported by the Korea Health Technology R&D Project of the Ministry of Health and Welfare (HN12C0051).
Ethics declarations
Conflict of interest
None.
Electronic supplementary material
Below is the link to the electronic supplementary material.
About this article
Cite this article
Park, S., Seok, J.K., Kwak, J.Y. et al. Anti-melanogenic effects of resveratryl triglycolate, a novel hybrid compound derived by esterification of resveratrol with glycolic acid. Arch Dermatol Res 308, 325–334 (2016). https://doi.org/10.1007/s00403-016-1644-9
Received:

Revised:

Accepted:

Published:

Issue Date:

DOI: https://doi.org/10.1007/s00403-016-1644-9
Keywords