Abstract
Several studies have reported an increase in the prevalence of adult female acne. This subtype of acne presents particular characteristics, and can be triggered by several factors such as smoking, stress, the use of oily cosmetics and even by poor sleep. Sleep quality is related to well-being and the maintenance of body homeostasis. In addition, several skin diseases present a bidirectional relationship with sleep, demonstrating an important connection between skin and the central nervous system. With this in mind, we aimed to compare the effect of two types of treatment for adult female acne (azelaic acid or a combined oral contraceptive) on sleep quality and on concentrations of stress hormones. Also, we proposed to assess the correlation of sleep and hormonal parameters with acne severity. In order to do this, 32 women underwent a clinical evaluation, completed the Pittsburgh Sleep Quality Index (PSQI) questionnaire and had their blood collected for hormone assays. These procedures were performed at baseline and after 6 months of treatment. At baseline there were no differences between the groups in terms of body mass index, age, acne severity and hormone concentrations. Results showed that both treatments demonstrated effectiveness but that women treated with azelaic acid presented a better sleep quality after the treatment compared to baseline and to the group treated with the combined oral contraceptive. The combined oral contraceptive group presented an increase in cortisol and a decrease in free testosterone concentration in relation to baseline. These data suggest that both azelaic acid and combined oral contraceptive are effective in the treatment of adult female acne but, azelaic acid seems to be a more suitable option for those women who may benefit from a better subjective sleep quality.
Access options
Buy single article
Instant access to the full article PDF.
USD 39.95
Price excludes VAT (USA)
Tax calculation will be finalised during checkout.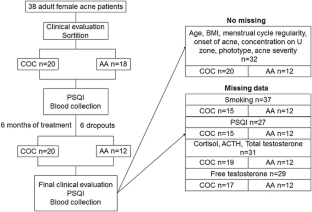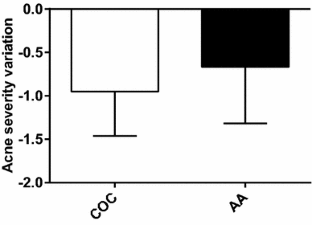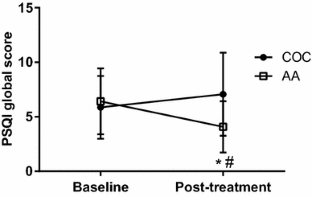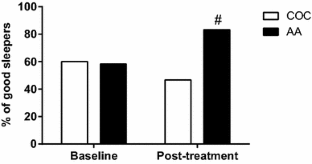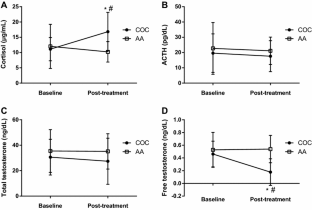 References
Adenekan B, Pandey A, McKenzie S, Zizi F, Casimir GJ, Jean-Louis G (2013) Sleep in America: role of racial/ethnic differences. Sleep Med Rev 17:255–262

Ahmed AH, Gordon RD, Taylor PJ, Ward G, Pimenta E, Stowasser M (2011) Effect of contraceptives on aldosterone/renin ratio may vary according to the components of contraceptive, renin assay method, and possibly route of administration. J Clin Endocrinol Metab 96:1797–1804

Albuquerque RG, Rocha MA, Bagatin E, Tufik S, Andersen ML (2014) Could adult female acne be associated with modern life? Arch Dermatol Res 306:683–688

Andersen ML, Alvarenga TF, Mazaro-Costa R, Hachul HC, Tufik S (2011) The association of testosterone, sleep, and sexual function in men and women. Brain Res 1416:80–104

Andersen ML, Martins PJ, D'Almeida V, Bignotto M, Tufik S (2005) Endocrinological and catecholaminergic alterations during sleep deprivation and recovery in male rats. J Sleep Res 14:83–90

Bajuk Studen K, Jensterle Sever M, Pfeifer M (2013) Cardiovascular risk and subclinical cardiovascular disease in polycystic ovary syndrome. Front Horm Res 40:64–82

Baker FC, Mitchell D, Driver HS (2001) Oral contraceptives alter sleep and raise body temperature in young women. Pflugers Arch 442:729–737

Baker FC, Waner JI, Vieira EF, Taylor SR, Driver HS, Mitchell D (2001) Sleep and 24 hour body temperatures: a comparison in young men, naturally cycling women and women taking hormonal contraceptives. J Physiol 530:565–574

Bataille V, Snieder H, MacGregor AJ, Sasieni P, Spector TD (2002) The influence of genetics and environmental factors in the pathogenesis of acne: a twin study of acne in women. J Invest Dermatol 119:1317–1322

Born J, Hansen K, Marshall L, Mölle M, Fehm HL (1999) Timing the end of nocturnal sleep. Nature 397:29–30

Buckley TM, Schatzberg AF (2005) On the interactions of the hypothalamic-pituitary-adrenal (HPA) axis and sleep: normal HPA axis activity and circadian rhythm, exemplary sleep disorders. J Clin Endocrinol Metab 90:3106–3114

Buysse DJ, Reynolds CF 3rd, Monk TH, Berman SR, Kupfer DJ (1989) The Pittsburgh Sleep Quality Index: a new instrument for psychiatric practice and research. Psychiatry Res 28:193–213

Capitanio B, Sinagra JL, Bordignon V, Cordiali Fei P, Picardo M, Zouboulis CC (2010) Underestimated clinical features of postadolescent acne. J Am Acad Dermatol 63:782–788

Carr BR, Parker CR Jr, Madden JD, MacDonald PC, Porter JC (1979) Plasma levels of adrenocorticotropin and cortisol in women receiving oral contraceptive steroid treatment. J Clin Endocrinol Metab 49:346–349

Chatterjee B, Suri J, Suri JC, Mittal P, Adhikari T (2014) Impact of sleep-disordered breathing on metabolic dysfunctions in patients with polycystic ovary syndrome. Sleep Med 15:1547–1553

Collier CN, Harper JC, Cafardi JA, Cantrell WC, Wang W, Foster KW, Elewski BE (2008) The prevalence of acne in adults 20 years and older. J Am Acad Dermatol 58:56–59 (Erratum in:58:874)

Conway G, Dewailly D, Diamanti-Kandarakis E, Escobar-Morreale HF, Franks S, Gambineri A, Kelestimur F et al (2014) The polycystic ovary syndrome: a position statement from the European Society of Endocrinology. Eur J Endocrinol 171:P1–P29

De Leo V, Morgante G, Piomboni P, Musacchio MC, Petraglia F, Cianci A (2007) Evaluation of effects of an oral contraceptive containing ethinylestradiol combined with drospirenone on adrenal steroidogenesis in hyperandrogenic women with polycystic ovary syndrome. Fertil Steril 88:113–117

Dréno B, Layton A, Zouboulis CC, López-Estebaranz JL, Zalewska-Janowska A, Bagatin E, Zampeli VA et al (2013) Adult female acne: a new paradigm. J Eur Acad Dermatol Venereol 27:1063–1070

Dréno B, Thiboutot D, Layton AM, Berson D, Perez M, Kang S, The Global Alliance to Improve Outcomes in Acne (2014) Large-scale international study enhances understanding of an emerging acne population: adult females. J Eur Acad Dermatol Venereol. doi:10.1111/jdv.12757

Ebede TL, Arch EL, Berson D (2009) Hormonal treatment of acne in women. J Clin Aesthet Dermatol 2:16–22

Ekstedt M, Akerstedt T, Söderström M (2004) Microarousals during sleep are associated with increased levels of lipids, cortisol, and blood pressure. Psychosom Med 66:925–931

Fitzpatrick TB (1988) The validity and practicality of sun-reactive skin types I through VI. Arch Dermatol 124:869–871

Gambacciani M, Rosano G, Cappagli B, Pepe A, Vitale C, Genazzani AR (2011) Clinical and metabolic effects of drospirenone-estradiol in menopausal women: a prospective study. Climacteric 14:18–24

Ganceviciene R, Graziene V, Fimmel S, Zouboulis CC (2009) Involvement of the corticotropin-releasing hormone system in the pathogenesis of acne vulgaris. Br J Dermatol 160:345–352

Goulden V, Clark SM, Cunliffe WJ (1997) Post-adolescent acne: a review of clinical features. Br J Dermatol 136:66–70

Hachul H, Andersen ML, Bittencourt LR, Santos-Silva R, Conway SG, Tufik S (2010) Does the reproductive cycle influence sleep patterns in women with sleep complaints? Climacteric 13:594–603

Hirotsu C, Rydlewski M, Araújo MS, Tufik S, Andersen ML (2012) Sleep loss and cytokines levels in an experimental model of psoriasis. PLoS One 7:e51183

Huang A, Brennan K, Azziz R (2010) Prevalence of hyperandrogenemia in the polycystic ovary syndrome diagnosed by the National Institutes of Health 1990 criteria. Fertil Steril 93:1938–1941

Joish VN, Boklage S, Lynen R, Schmidt A, Lin J (2011) Use of drospirenone/ethinyl estradiol (DRSP/EE) among women with acne reduces acne treatment-related resources. J Med Econ 14:681–689

Koltun W, Maloney JM, Marr J, Kunz M (2011) Treatment of moderate acne vulgaris using a combined oral contraceptive containing ethinylestradiol 20 μg plus drospirenone 3 mg administered in a 24/4 regimen: a pooled analysis. Eur J Obstet Gynecol Reprod Biol 155:171–175

Krattenmacher R (2000) Drospirenone: pharmacology and pharmacokinetics of a unique progestogen. Contraception 62:29–38

Lehmann HP, Robinson KA, Andrews JS, Holloway V, Goodman SN (2002) Acne therapy: a methodologic review. J Am Acad Dermatol 47:231–240

Lidegaard O, Nielsen LH, Skovlund CW, Løkkegaard E (2001) Venous thrombosis in users of non-oral hormonal contraception: follow-up study, Denmark 2001–10. BMJ 344:e2990

Liu RH, Smith MK, Basta SA, Farmer ER (2006) Azelaic acid in the treatment of papulopustular rosacea: a systematic review of randomized controlled trials. Arch Dermatol 142:1047–1052

Palli MB, Reyes-Habito CM, Lima XT, Kimball AB (2013) A single-center, randomized double-blind, parallel-group study to examine the safety and efficacy of 3 mg drospirenone/0.02 mg ethinyl estradiol compared with placebo in the treatment of moderate truncal acne vulgaris. J Drugs Dermatol 12:633–637

Poli F, Dreno B, Verschoore M (2001) An epidemiological study of acne in female adults: results of a survey conducted in France. J Eur Acad Dermatol Venereol 15:541–545

Rodenbeck A, Huether G, Rüther E, Hajak G (2002) Interactions between evening and nocturnal cortisol secretion and sleep parameters in patients with severe chronic primary insomnia. Neurosci Lett 324:159–163

Rogers SM, Baker MA (1997) Thermoregulation during exercise in women who are taking hormonal contraceptives. Eur J Appl Physiol 75:34–38

Schürmann R, Holler T, Benda N (2004) Estradiol and drospirenone for climacteric symptoms in postmenopausal women: a double-blind, randomized, placebo-controlled study of the safety and efficacy of three dose regimens. Climacteric 7:189–196

Sieber MA, Hegel JK (2014) Azelaic acid: properties and mode of action. Skin Pharmacol Physiol 27(Suppl 1):9–17

Silverberg JI, Garg NK, Paller AS, Fishbein AB, Zee PC (2015) Sleep disturbances in adults with eczema are associated with impaired overall health: a US population-based study. J Invest Dermatol 135:56–66

Simpson ER, Waterman MR (1988) Regulation of the synthesis of steroidogenic enzymes in adrenal cortical cells by ACTH. Annu Rev Physiol 50:427–440

Simůnková K, Stárka L, Hill M, Kríz L, Hampl R, Vondra K (2008) Comparison of total and salivary cortisol in a low-dose ACTH (Synacthen) test: influence of three-month oral contraceptives administration to healthy women. Physiol Res 57(Suppl 1):S193–S199

Strauss JS, Krowchuk DP, Leyden JJ, Lucky AW, Shalita AR, Siegfried EC, Thiboutot DM et al (2007) Guidelines of care for acne vulgaris management. J Am Acad Dermatol 56:651–663

Tien KJ, Chou CW, Lee SY, Yeh NC, Yang CY, Yen FC, Wang JJ et al (2014) Obstructive sleep apnea and the risk of atopic dermatitis: a population-based case control study. PLoS One 9:e89656

Tufik S, Andersen ML, Bittencourt LR, Mello MT (2009) Paradoxical sleep deprivation: neurochemical, hormonal and behavioral alterations. Evidence from 30 years of research. An Acad Bras Cienc 81:521–538

Van Cauter E, Leproult R, Plat L (2000) Age-related changes in slow wave sleep and REM sleep and relationship with growth hormone and cortisol levels in healthy men. JAMA 284:861–868

Vandenbroucke JP, Rosing J, Bloemenkamp KW, Middeldorp S, Helmerhorst FM, Bouma BN, Rosendaal FR (2001) Oral contraceptives and the risk of venous thrombosis. N Engl J Med 344:1527–1535

Vargas-Diez E, Hofmann MA, Bravo B, Malgazhdarova G, Katkhanova OA, Yutskovskaya Y (2014) Azelaic acid in the treatment of acne in adult females: case reports. Skin Pharmacol Physiol 27(Suppl 1):18–25

White WB, Hanes V, Mallareddy M, Chauhan V (2008) Effects of the hormone therapy, drospirenone and 17-beta estradiol, on early morning blood pressure in postmenopausal women with hypertension. J Am Soc Hypertens 2:20–27

Winkler UH, Sudik R (2009) The effects of two monophasic oral contraceptives containing 30 mcg of ethinyl estradiol and either 2 mg of chlormadinone acetate or 0.15 mg of desogestrel on lipid, hormone and metabolic parameters. Contraception 79:15–23

Yang YW, Kang JH, Lin HC (2012) Increased risk of psoriasis following obstructive sleep apnea: a longitudinal population-based study. Sleep Med 13:285–289

Zimmerman Y, Eijkemans MJ, Coelingh Bennink HJ, Blankenstein MA, Fauser BC (2014) The effect of combined oral contraception on testosterone levels in healthy women: a systematic review and meta-analysis. Hum Reprod Update 20:76–105

Zouboulis CC (2000) Acne venenataund Acne cosmetica. In: Braun-Falco O, Gloor M, Korting HC (eds) Nutzen und Risiko von Kosmetika. Springer, Berlin, pp 116–123

Zouboulis CC, Böhm M (2004) Neuroendocrine regulation of sebocytes—a pathogenetic link between stress and acne. Exp Dermatol 13(Suppl 4):31–35

Zouboulis CC, Rabe T (2010) Hormonal antiandrogens in acne treatment. J Dtsch Dermatol Ges 8(Suppl 1):S60–S74
Acknowledgments
Our studies are supported by a fellowship from the Associação Fundo de Incentivo à Pesquisa (AFIP), São Paulo Research Foundation (FAPESP, grant #2014/00923-4 to RGA, grant #2014/15259-2 to CH, grant #2012/21794-2 to MLA). ST and MLA also received support from Conselho Nacional de Desenvolvimento Cientifico e Tecnológico (CNPq).
Ethics declarations
Conflict of interest
Combined oral contraceptive (20 µg of EE and 3 mg of DRSP) and 15 % AA gel were provided by Bayer® (Germany).
Additional information
R. G. Albuquerque and M. A. D. da Rocha are equal contributors.
About this article
Cite this article
Albuquerque, R.G., da Rocha, M.A.D., Hirotsu, C. et al. A randomized comparative trial of a combined oral contraceptive and azelaic acid to assess their effect on sleep quality in adult female acne patients. Arch Dermatol Res 307, 905–915 (2015). https://doi.org/10.1007/s00403-015-1600-0
Received:

Revised:

Accepted:

Published:

Issue Date:

DOI: https://doi.org/10.1007/s00403-015-1600-0
Keywords