Abstract
Hidradenitis is a chronic inflammatory skin disease with recurrent nodules, tunnels, scarring and suppuration of intertrigious areas. Hospital-treated HS patients have an increased risk of metabolic syndrome and a wide array of co-morbidities that possibly are related to systemic inflammation. Neutrophile to lymphocyte ratio has been suggested as a marker of systemic inflammation. Studies of psoriasis patients have found their neutrophile to lymphocyte ratio to be increased. In this study, routine blood samples collected during control visits from 50 HS patients are examined, and compared to routine blood samples from 250 age- and sex-matched dermatological outpatients. The neutrophile to lymphocyte ratio does not appear to be increased in HS patients as seen in psoriasis patients, but CRP was found to be higher in HS patients, indicating systemic inflammation. However, N/L ratio was positively correlated to Hurley stage (p < 0.006). The inflammatory biochemical markers for HS patients appear to differ from psoriasis patients and other non-HS dermatological patients; however, a larger study with healthy controls is warranted to further explore the characteristics of inflammatory markers in HS.
Access options
Buy single article
Instant access to the full article PDF.
US$ 39.95
Tax calculation will be finalised during checkout.
Subscribe to journal
Immediate online access to all issues from 2019. Subscription will auto renew annually.
US$ 119
Tax calculation will be finalised during checkout.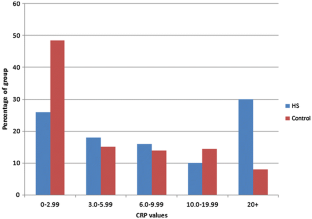 References
1.

Baysal E, Cetin M, Yaylak B, Altntas B, Altndag R, Adyaman S et al (2015) Roles of the red cell distribution width and neutrophil/lymphocyte ratio in predicting thrombolysis failure in patients with an ST-segment elevation myocardial infarction. Blood Coagul Fibrinolysis 26(3):274–278

2.

Bhutta H, Agha R, Wong J, Tang TY, Wilson YG, Walsh SR (2011) Neutrophil-lymphocyte ratio predicts medium-term survival following elective major vascular surgery: a cross-sectional study. Vasc Endovasc Surg 45(3):227–231

3.

Buyukkaya E, Karakas MF, Karakas E, Akcay AB, Tanboga IH, Kurt M et al (2014) Correlation of neutrophil to lymphocyte ratio with the presence and severity of metabolic syndrome. Clin Appl Thromb Hemost 20(2):159–163

4.

Crowley JJ, Mekkes JR, Zouboulis CC, Scheinfeld N, Kimball A, Sundaram M et al (2014) Association of hidradenitis suppurativa disease severity with increased risk for systemic comorbidities. Br J Dermatol 171(6):1561–1565

5.

Ding PR, An X, Zhang RX, Fang YJ, Li LR, Chen G et al (2010) Elevated preoperative neutrophil to lymphocyte ratio predicts risk of recurrence following curative resection for stage IIA colon cancer. Int J Colorectal Dis 25(12):1427–1433

6.

Giamarellos-Bourboulis EJ, Antonopoulou A, Petropoulou C, Mouktaroudi M, Spyridaki E, Baziaka F et al (2007) Altered innate and adaptive immune responses in patients with hidradenitis suppurativa. Br J Dermatol 156(1):51–56

7.

Gold DA, Reeder VJ, Mahan MG, Hamzavi IH (2014) The prevalence of metabolic syndrome in patients with hidradenitis suppurativa. J Am Acad Dermatol 70(4):699–703

8.

Jemec GB (2012) Clinical practice. Hidradenitis suppurativa. N Engl J Med 366(2):158–164

9.

Kocyigit I, Eroglu E, Unal A, Sipahioglu MH, Tokgoz B, Oymak O et al (2013) Role of neutrophil/lymphocyte ratio in prediction of disease progression in patients with stage-4 chronic kidney disease. J Nephrol 26(2):358–365

10.

Kromann CB, Deckers IE, Esmann S, Boer J, Prens EP, Jemec GB (2014) Risk-factors, clinical course and long-term prognosis in hidradenitis suppurativa: a cross-sectional study. Br J Dermatol 171(4):819–824

11.

Kromann C, Ibler KS, Kristiansen V, Jemec GB (2014) the influence of body weight on the prevalence and severity of hidradenitis suppurativa. Acta Derm Venereol 94(5):553–557

12.

Micheletti RM (2014) Hidradenitis suppurativa: current views on epidemiology, pathogenesis, and pathophysiology. Semin Cutan Med Surg 33(3S):S48–S50

13.

Mikkelsen PR, Dufour DN, Zarchi K, Jemec GB (2015) Recurrence rate and patient satisfaction of CO2 laser evaporation of lesions in patients with hidradenitis suppurativa: a retrospective study. Dermatol Surg 41(2):255–260

14.

Miller IM, Ellervik C, Vinding GR, Zarchi K, Ibler KS, Knudsen KM et al (2014) Association of metabolic syndrome and hidradenitis suppurativa. JAMA Dermatol 150(12):1273–1280

15.

Revuz JE, Canoui-Poitrine F, Wolkenstein P, Viallette C, Gabison G, Pouget F et al (2008) Prevalence and factors associated with hidradenitis suppurativa: results from two case-control studies. J Am Acad Dermatol 59(4):596–601

16.

Sabat R, Chanwangpong A, Schneider-Burrus S, Metternich D, Kokolakis G, Kurek A et al (2012) Increased prevalence of metabolic syndrome in patients with acne inversa. PLoS One 7(2):e31810

17.

Sartorius K, Emtestam L, Jemec GB, Lapins J (2009) Objective scoring of hidradenitis suppurativa reflecting the role of tobacco smoking and obesity. Br J Dermatol 161(4):831–839

18.

Schrader AM, Deckers IE, van der Zee HH, Boer J, Prens EP (2014) Hidradenitis suppurativa: a retrospective study of 846 Dutch patients to identify factors associated with disease severity. J Am Acad Dermatol 71(3):460–467

19.

Sen BB, Rifaioglu EN, Ekiz O, Inan MU, Sen T, Sen N (2013) Neutrophil to lymphocyte ratio as a measure of systemic inflammation in psoriasis. Cutan Ocul Toxicol 33(3):223–227

20.

Shlyankevich J, Chen AJ, Kim GE, Kimball AB (2014) Hidradenitis suppurativa is a systemic disease with substantial comorbidity burden: a chart-verified case-control analysis. J Am Acad Dermatol 71(6):1144–1150

21.

Vuong J, Qiu Y, La M, Clarke G, Swinkels DW, Cembrowski G (2014) Reference intervals of complete blood count constituents are highly correlated to waist circumference: should obese patients have their own "normal values?". Am J Hematol 89(7):671–677

22.

Wortsman X, Revuz J, Jemec GB (2012) Lymph nodes in hidradenitis suppurativa. Dermatology 219:22–24
Acknowledgments
The authors would like to acknowledge the help and advice of Dr. Lars Ødum, and the Department of biochemisty at Roskilde Hospital, Denmark.
Ethics declarations
Conflict of interest
The authors report no competing interests.
About this article
Cite this article
Riis, P.T., Søeby, K., Saunte, D.M. et al. Patients with hidradenitis suppurativa carry a higher systemic inflammatory load than other dermatological patients. Arch Dermatol Res 307, 885–889 (2015). https://doi.org/10.1007/s00403-015-1596-5
Received:

Revised:

Accepted:

Published:

Issue Date:
Keywords
Hidradenitis suppurativa

Inflammation

Neutrophileocyte/lymphocyte ratio