Abstract
Resveratrol has a variety of bioactivities that include its anti-melanogenic effects, but its use in cosmetics has been challenging partly because of its chemical instability. Resveratryl triacetate (RTA) is a prodrug that can enhance stability. The purpose of this study was to examine the skin safety and whitening effects of RTA in human subjects. The primary skin irritation potentials of RTA and resveratrol were tested at 0.1 and 0.5 % on human subjects. Resveratrol at a concentration of 0.5 % induced weak skin irritation, whereas RTA did not induce any skin responses. The skin-whitening efficacy of a cosmetic formulation containing 0.4 % RTA was evaluated in two different test models. In the artificial tanning model, the test product and the control product were applied twice daily to the skin of the forearms of 22 human subjects after pigmentation induction by ultraviolet irradiation. Applying the test and the control products to the artificial tanning model for 8 weeks increased the individual topology angles (ITA°) by 17.06 and 13.81 %, respectively, a difference that was statistically significant (p < 0.05). In the hyperpigmentation model, the test product and the control product were applied twice daily to the faces of 21 human subjects. The averaged intensity of the hyperpigmented spots decreased by 2.67 % in the test group and 1.46 % in the control group, a difference that was statistically significant (p < 0.05). Therefore, RTA incorporated into cosmetic formulations can whiten human skin without inducing skin irritation.
Access options
Buy single article
Instant access to the full article PDF.
USD 39.95
Price excludes VAT (USA)
Tax calculation will be finalised during checkout.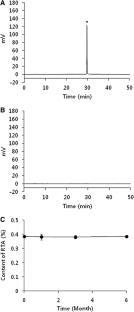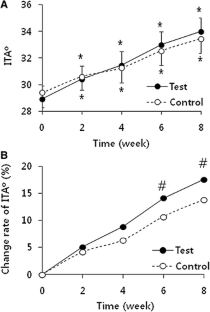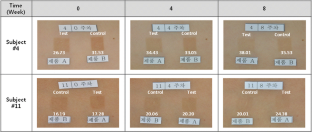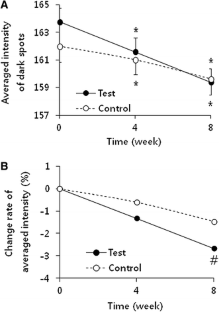 References
Aluyen JK, Ton QN, Tran T, Yang AE, Gottlieb HB, Bellanger RA (2012) Resveratrol: potential as anticancer agent. J Diet Suppl 9:45–56

An SM, Ham H, Choi EJ, Shin MK, An SS, Kim HO, Koh JS (2014) Primary irritation index and safety zone of cosmetics: retrospective analysis of skin patch tests in 7,440 Korean women during 12 years. Int J Cosmet Sci 36:62–67

An SM, Kim HJ, Kim JE, Boo YC (2008) Flavonoids, taxifolin and luteolin attenuate cellular melanogenesis despite increasing tyrosinase protein levels. Phytother Res 22:1200–1207

An SM, Koh JS, Boo YC (2010) p-Coumaric acid not only inhibits human tyrosinase activity in vitro but also melanogenesis in cells exposed to UVB. Phytother Res 24:1175–1180

An SM, Lee SI, Choi SW, Moon SW, Boo YC (2008) p-Coumaric acid, a constituent of Sasa quelpaertensis Nakai, inhibits cellular melanogenesis stimulated by alpha-melanocyte stimulating hormone. Br J Dermatol 159:292–299

Arnau J, Bendayan R, Blanca MJ, Bono R (2013) The effect of skewness and kurtosis on the robustness of linear mixed models. Behav Res Methods. 45:873–879

Athar M, Back JH, Kopelovich L, Bickers DR, Kim AL (2009) Multiple molecular targets of resveratrol: anti-carcinogenic mechanisms. Arch Biochem Biophys 486:95–102

Brisson L, Castan S, Fontbonne H, Nicoletti C, Puigserver A, el Ajandouz H (2008) Alpha-tocopheryl acetate is absorbed and hydrolyzed by Caco-2 cells comparative studies with alpha-tocopherol. Chem Phys Lipids 154:33–37

Cabanes J, Chazarra S, Garcia-Carmona F (1994) Kojic acid, a cosmetic skin whitening agent, is a slow-binding inhibitor of catecholase activity of tyrosinase. J Pharm Pharmacol 46:982–985

Cardinali G, Ceccarelli S, Kovacs D, Aspite N, Lotti LV, Torrisi MR, Picardo M (2005) Keratinocyte growth factor promotes melanosome transfer to keratinocytes. J Invest Dermatol 125:1190–1199

Costin GE, Hearing VJ (2007) Human skin pigmentation: melanocytes modulate skin color in response to stress. Faseb J 21:976–994

Epstein JH (1983) Photocarcinogenesis, skin cancer, and aging. J Am Acad Dermatol 9:487–502

Farris P, Krutmann J, Li YH, McDaniel D, Krol Y (2013) Resveratrol: a unique antioxidant offering a multi-mechanistic approach for treating aging skin. J Drugs Dermatol 12:1389–1394

Frosch PJ, Kligman AM (1979) The soap chamber test. A new method for assessing the irritancy of soaps. J Am Acad Dermatol 1:35–41

Hsieh TC, Huang YC, Wu JM (2011) Control of prostate cell growth, DNA damage and repair and gene expression by resveratrol analogues, in vitro. Carcinogenesis 32:93–101

Kim HJ, An SM, Boo YC (2008) A dual mechanism of 4-hydroxy-5-methyl-3[2H]-furanone inhibiting cellular melanogenesis. J Cosmet Sci 59:117–125

Kulkarni SS, Canto C (2014) The molecular targets of resveratrol. Biochim Biophys Acta. doi:10.1016/j.bbadis.2014.10.005

Lin CB, Babiarz L, Liebel F, Roydon Price E, Kizoulis M, Gendimenico GJ, Fisher DE, Seiberg M (2002) Modulation of microphthalmia-associated transcription factor gene expression alters skin pigmentation. J Invest Dermatol 119:1330–1340

Loffler H, Pirker C, Aramaki J, Frosch PJ, Happle R, Effendy I (2001) Evaluation of skin susceptibility to irritancy by routine patch testing with sodium lauryl sulfate. Eur J Dermatol 11:416–419

Maeda K, Fukuda M (1996) Arbutin: mechanism of its depigmenting action in human melanocyte culture. J Pharmacol Exp Ther 276:765–769

Newton RA, Cook AL, Roberts DW, Leonard JH, Sturm RA (2007) Post-transcriptional regulation of melanin biosynthetic enzymes by cAMP and resveratrol in human melanocytes. J Invest Dermatol 127:2216–2227

Ogas T, Kondratyuk TP, Pezzuto JM (2013) Resveratrol analogs: promising chemopreventive agents. Ann N Y Acad Sci 1290:21–29

Park J, Boo YC (2013) Isolation of resveratrol from vitis viniferae caulis and its potent inhibition of human tyrosinase. Evid Based Complement Alternat Med. 2013:645257

Park J, Park JH, Suh HJ, Lee IC, Koh J, Boo YC (2014) Effects of resveratrol, oxyresveratrol, and their acetylated derivatives on cellular melanogenesis. Arch Dermatol Res 306:475–487

Park SH, Kim DS, Park SH, Shin JW, Youn SW, Park KC (2008) Inhibitory effect of p-coumaric acid by Rhodiola sachalinensis on melanin synthesis in B16F10 cells. Pharmazie 63:290–295

Petrovski G, Gurusamy N, Das DK (2011) Resveratrol in cardiovascular health and disease. Ann N Y Acad Sci 1215:22–33

Pezzuto JM, Kondratyuk TP, Ogas T (2013) Resveratrol derivatives: a patent review (2009–2012). Expert Opin Ther Pat 23:1529–1546

Pierard GE (1998) EEMCO guidance for the assessment of skin colour. J Eur Acad Dermatol Venereol 10:1–11

Schiaffino MV (2010) Signaling pathways in melanosome biogenesis and pathology. Int J Biochem Cell Biol 42:1094–1104

Seo YK, Kim SJ, Boo YC, Baek JH, Lee SH, Koh JS (2011) Effects of p-coumaric acid on erythema and pigmentation of human skin exposed to ultraviolet radiation. Clin Exp Dermatol 36:260–266

Silva F, Figueiras A, Gallardo E, Nerin C, Domingues FC (2014) Strategies to improve the solubility and stability of stilbene antioxidants: a comparative study between cyclodextrins and bile acids. Food Chem 145:115–125

Solano F, Briganti S, Picardo M, Ghanem G (2006) Hypopigmenting agents: an updated review on biological, chemical and clinical aspects. Pigment Cell Res 19:550–571

Song K, An SM, Kim M, Koh JS, Boo YC (2011) Comparison of the antimelanogenic effects of p-coumaric acid and its methyl ester and their skin permeabilities. J Dermatol Sci 63:17–22

Wattanakrai P, Suwanachote S, Kulkollakarn S, Rajatanavin N (2007) The study of human skin irritation of a novel herbal skin care product and ingredients by human single closed patch testing. J Med Assoc Thai 90:1116–1122

Wright DB, Herrington JA (2011) Problematic standard errors and confidence intervals for skewness and kurtosis. Behav Res Methods 43:8–17

Wu JM, Hsieh TC (2011) Resveratrol: a cardioprotective substance. Ann N Y Acad Sci 1215:16–21
Acknowledgments
This study was supported by the Korea Health Technology R&D Project of the Ministry of Health and Welfare (Grant no. HN12C0051).
Additional information
J. H. Ryu and J. K. Seok contributed equally.
About this article
Cite this article
Ryu, J.H., Seok, J.K., An, S.M. et al. A study of the human skin-whitening effects of resveratryl triacetate. Arch Dermatol Res 307, 239–247 (2015). https://doi.org/10.1007/s00403-015-1556-0
Received:

Revised:

Accepted:

Published:

Issue Date:

DOI: https://doi.org/10.1007/s00403-015-1556-0
Keywords