Abstract
The use of underarm cosmetics is common practice in the Western society to obtain better body odor and/or to prevent excessive sweating. A survey indicated that 95 % of the young adult Belgians generally use an underarm deodorant or antiperspirant. The effect of deodorants and antiperspirants on the axillary bacterial community was examined on nine healthy subjects, who were restrained from using deodorant/antiperspirant for 1 month. Denaturing gradient gel electrophoresis was used to investigate the individual microbial dynamics. The microbial profiles were unique for every person. A stable bacterial community was seen when underarm cosmetics were applied on a daily basis and when no underarm cosmetics were applied. A distinct community difference was seen when the habits were changed from daily use to no use of deodorant/antiperspirant and vice versa. The richness was higher when deodorants and antiperspirants were applied. Especially when antiperspirants were applied, the microbiome showed an increase in diversity. Antiperspirant usage led toward an increase of Actinobacteria, which is an unfavorable situation with respect to body odor development. These initial results show that axillary cosmetics modify the microbial community and can stimulate odor-producing bacteria.
This is a preview of subscription content, log in to check access.
Access options
Buy single article
Instant access to the full article PDF.
US$ 39.95
Tax calculation will be finalised during checkout.
Subscribe to journal
Immediate online access to all issues from 2019. Subscription will auto renew annually.
US$ 119
Tax calculation will be finalised during checkout.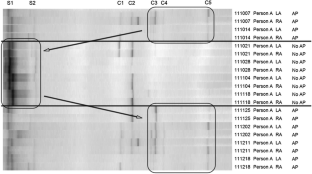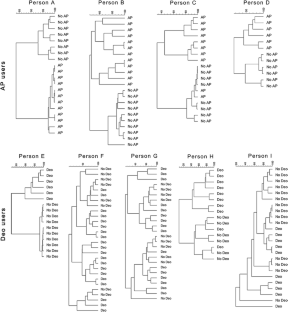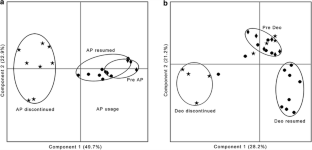 References
1.

Ali SM, Khan AA, Ahmed I, Musaddiq M, Ahmed KS, Polasa H, Rao LV, Habibullah CM, Sechi LA, Ahmed N (2005) Antimicrobial activities of eugenol and cinnamaldehyde against the human gastric pathogen Helicobacter pylori. Ann Clin Microbiol Antimicrob 4:20. doi:10.1186/1476-0711-4-20

2.

Barzantny H, Brune I, Tauch A (2012) Molecular basis of human body odour formation: insights deduced from corynebacterial genome sequences. Int J Cosmet Sci 34(1):2–11. doi:10.1111/j.1468-2494.2011.00669.x

3.

Benohanian A (2001) Antiperspirants and deodorants. Clin Dermatol 19(4):398–405. doi:10.1016/s0738-081x(01)00192-4

4.

Callewaert C, Kerckhof FM, Granitsiotis MS, van Gele M, van de Wiele T, Boon N (2013) Characterization of Staphylococcus and Corynebacterium clusters in the human axillary region. PLoS One 8(8):e50538

5.

Casewell M, Phillips I (1977) Hands as route of transmission for Klebsiella species. Br Med J 2(6098):1315–1317

6.

Davis MF, Iverson SA, Baron P, Vasse A, Silbergeld EK, Lautenbach E, Morris DO (2012) Household transmission of meticillin-resistant Staphylococcus aureus and other staphylococci. Lancet Infect Dis 12(9):703–716

7.

EC (1976) Council Directive of 27 July 1976 on the approximation of the laws of the Member States relating to cosmetic products. (76/768/EEC):1-169

8.

Egert M, Schmidt I, Hohne HM, Lachnit T, Schmitz RA, Breves R (2011) Ribosomal RNA-based profiling of bacteria in the axilla of healthy males suggests right–left asymmetry in bacterial activity. FEMS Microbiol Ecol 77(1):146–153. doi:10.1111/j.1574-6941.2011.01097.x

9.

Elsner P (2006) Antimicrobials and the skin physiological and pathological flora current problems. Dermatology 33:35–41

10.

Evans CA, Stevens RJ (1976) Differential quantitation of surface and subsurface bacteria of normal skin by combined use of cotton swab and scrub methods. J Clin Microbiol 3(6):576–581

11.

FDA (2003) Antiperspirant drug products for over-the-counter human use. Final Monogr Fed Regist, Rules Regul 68(110):34273–34293

12.

Grice EA, Kong HH, Conlan S, Deming CB, Davis J, Young AC, Bouffard GG, Blakesley RW, Murray PR, Green ED, Turner ML, Segre JA, Progra NCS (2009) Topographical and temporal diversity of the human skin microbiome. Science 324(5931):1190–1192. doi:10.1126/science.1171700

13.

Grice EA, Segre JA (2011) The skin microbiome. Nat Rev Microbiol 9(4):244–253. doi:10.1038/nrmicro2537

14.

Hoath SB, Leahy DG (2003) The organization of human epidermis: functional epidermal units and phi proportionality. J Invest Dermatol 121(6):1440–1446. doi:10.1046/j.1523-1747.2003.12606.x

15.

Houben E, De Paepe K, Rogiers V (2007) A keratinocyte's course of life. Skin Pharmacol Physiol 20(3):122–132. doi:10.1159/000098163

16.

James AG, Casey J, Hyliands D, Mycock G (2004) Fatty acid metabolism by cutaneous bacteria and its role in axillary malodour. World J Microbiol Biotechnol 20(8):787–793. doi:10.1007/s11274-004-5843-8

17.

Johny AK, Darre MJ, Donoghue AM, Donoghue DJ, Venkitanarayanan K (2010) Antibacterial effect of trans-cinnamaldehyde, eugenol, carvacrol, and thymol on Salmonella Enteritidis and Campylobacter jejuni in chicken cecal contents in vitro. J Appl Poult Res 19(3):237–244. doi:10.3382/japr.2010-00181

18.

Kong HH, Oh J, Deming C, Conlan S, Grice EA, Beatson MA, Nomicos E, Polley EC, Komarow HD, Murray PR, Turner ML, Segre JA, Program NCS (2012) Temporal shifts in the skin microbiome associated with disease flares and treatment in children with atopic dermatitis. Genome Res 22(5):850–859. doi:10.1101/gr.131029.111

19.

Laden K (1988) In: Laden K, Felger CB (eds) Introduction and history of antiperspirants and deodorants. Antiperspirants and Deodorants Marcel Dekker, New York, pp 1–14

20.

Laden K (1999) Antiperspirants and deodorants: history of major HBA market, vol 20, 2nd edn., Antiperspirants and deodorants cosmetic science and technology series Marcel Dekker, New York, pp 1–17

21.

Leyden JJ, McGinley KJ, Holzle E, Labows JN, Kligman AM (1981) The microbiology of the human axilla and its relationship to axillary odor. J Invest Dermatol 77(5):413–416. doi:10.1111/1523-1747.ep12494624

22.

Marzorati M, Wittebolle L, Boon N, Daffonchio D, Verstraete W (2008) How to get more out of molecular fingerprints: practical tools for microbial ecology. Environ Microbiol 10(6):1571–1581. doi:10.1111/j.1462-2920.2008.01572.x

23.

Meadow JF, Bateman AC, Herkert KM, O'Connor TK, Green JL (2013) Significant changes in the skin microbiome mediated by the sport of roller derby. Peer J 1:e53. doi:10.7717/peerj.53

24.

Muyzer G, Dewaal EC, Uitterlinden AG (1993) Profiling of complex microbial-populations by denaturing gradient gel-electrophoresis analysis of polymerase chain reaction-amplified genes-coding for 16S ribosomal-RNA. Appl Environ Microbiol 59(3):695–700

25.

Nakatsuji T, Chiang H-I, Jiang SB, Nagarajan H, Zengler K, Gallo RL (2013) The microbiome extends to subepidermal compartments of normal skin. Nat Commun 4. doi:10.1038/ncomms2441

26.

Ovreas L, Forney L, Daae FL, Torsvik V (1997) Distribution of bacterioplankton in meromictic Lake Saelenvannet, as determined by denaturing gradient gel electrophoresis of PCR-amplified gene fragments coding for 16S rRNA. Appl Environ Microbiol 63(9):3367–3373

27.

Pierard GE, Elsner P, Marks R, Masson P, Paye M, Grp E (2003) EEMCO guidance for the efficacy assessment of antiperspirants and deodorants. Skin Pharmacol Appl Skin Physiol 16(5):324–342. doi:10.1159/000072072

28.

Read S, Marzorati M, Guimaraes BCM, Boon N (2011) Microbial resource management revisited: successful parameters and new concepts. Appl Microbiol Biotechnol 90(3):861–871. doi:10.1007/s00253-011-3223-5

29.

Robert M (1995) Aluminum toxicity: a major stress for microbes in the environment. In: Environmental impact of soil component interactions: volume 2: metals, other inorganics, and microbial activities, 2nd edn. p 227–242

30.

Shelley WB, Hurley HJ, Nicholas AC (1953) Axillary odor: experimental study of the role of bacteria, apocrine sweat, and deodorants. Arch Dermatol Syphilol 68:430–446

31.

Staudinger T, Pipal A, Redl B (2011) Molecular analysis of the prevalent microbiota of human male and female forehead skin compared to forearm skin and the influence of make-up. J Appl Microbiol 110(6):1381–1389. doi:10.1111/j.1365-2672.2011.04991.x

32.

Wittebolle L, Marzorati M, Clement L, Balloi A, Daffonchio D, Heylen K, De Vos P, Verstraete W, Boon N (2009) Initial community evenness favours functionality under selective stress. Nature 458(7238):623–626. doi:10.1038/nature07840

33.

Zeeuwen PLJM, Boekhorst J, van den Bogaard EH, de Koning HD, van de Kerkhof PMC, Saulnier DM, van Swam II, van Hijum SAFT, Kleerebezem M, Schalkwijk J, Timmerman HM (2012) Microbiome dynamics of human epidermis following skin barrier disruption. Genome Biol 13(11):R101
Acknowledgments
CC, TVDW and NB designed the experiments. CC and PH performed the experiments and analyzed the data. CC wrote the paper. TVDW and NB commented on the manuscript. This research was funded by Ghent University through the assistantship of CC. The participants are very kindly acknowledged for their cooperation in this research. The authors thank Britt Berghmans, Els Coenen, Margot Goossens, Elke Maes and Kristien Verlinden for undertaking the survey on a broad audience. The authors thank Yusuf Cagatay Ersan and Massimo Marzorati for proofreading the manuscript. Tim Lacoere is greatly acknowledged for his help with the molecular analyses. The authors declare that they have no conflict of interest.
Electronic supplementary material
Below is the link to the electronic supplementary material.
About this article
Cite this article
Callewaert, C., Hutapea, P., Van de Wiele, T. et al. Deodorants and antiperspirants affect the axillary bacterial community. Arch Dermatol Res 306, 701–710 (2014). https://doi.org/10.1007/s00403-014-1487-1
Received:

Revised:

Accepted:

Published:

Issue Date:
Keywords
Underarm

Human microbiome

Corynebacterium

Skin

Cosmetics