Abstract
Recent studies have shown that some probiotics affect not only the gut but also the skin. However, the effects of probiotics on ultraviolet (UV)-induced skin damage are poorly understood. In this study, we aim to examine whether oral administration of live Bifidobacterium breve strain Yakult (BBY), a typical probiotic, can attenuate skin barrier perturbation caused by UV and reactive oxygen species (ROS) in hairless mice. The mice were orally supplemented with a vehicle only or BBY once a day for nine successive days. Mouse dorsal skin was irradiated with UV from days 6 to 9. The day after the final irradiation, the transepidermal water loss (TEWL), stratum corneum hydration, and oxidation-related factors of the skin were evaluated. We elucidated that BBY prevented the UV-induced increase in TEWL and decrease in stratum corneum hydration. In addition, BBY significantly suppressed the UV-induced increase in hydrogen peroxide levels, oxidation of proteins and lipids, and xanthine oxidase activity in the skin. Conversely, antioxidant capacity did not change regardless of whether BBY was administered or not. In parameters we evaluated, there was a positive correlation between the increase in TEWL and the oxidation levels of proteins and lipids. Our results suggest that oral administration of BBY attenuates UV-induced barrier perturbation and oxidative stress of the skin, and this antioxidative effect is not attributed to enhancement of antioxidant capacity but to the prevention of ROS generation.
Access options
Buy single article
Instant access to the full article PDF.
US$ 39.95
Tax calculation will be finalised during checkout.
Subscribe to journal
Immediate online access to all issues from 2019. Subscription will auto renew annually.
US$ 119
Tax calculation will be finalised during checkout.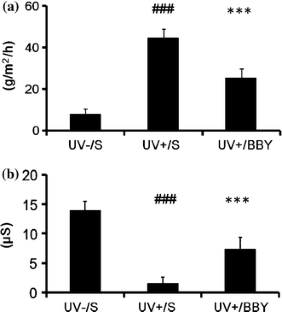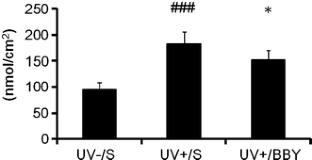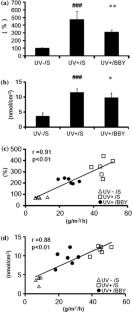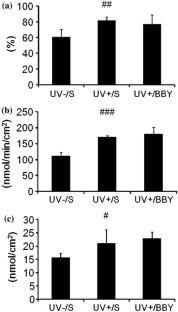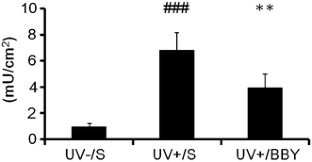 References
1.

Ahn SM, Hwang JS, Lee SH (2007) Fructose 1,6-diphosphate alleviates UV-induced oxidative skin damage in hairless mice. Biol Pharm Bull 30(4):692–697

2.

Cao G, Cutler RG (1995) Protein oxidation and aging. I. Difficulties in measuring reactive protein carbonyls in tissues using 2,4-dinitrophenylhydrazine. Arch Biochem Biophys 320(1):106–114

3.

Chapat L, Chemin K, Dubois B, Bourdet-Sicard R, Kaiserlian D (2004) Lactobacillus casei reduces CD8+ T cell-mediated skin inflammation. Eur J Immunol 34(9):2520–2528

4.

Chiba K, Kawakami K, Sone T, Onoue M (2003) Characteristics of skin wrinkling and dermal changes induced by repeated application of squalene monohydroperoxide to hairless mouse skin. Skin Pharmacol Appl Skin Physiol 16(4):242–251

5.

Darvin M, Patzelt A, Gehse S et al (2008) Cutaneous concentration of lycopene correlates significantly with the roughness of the skin. Eur J Pharm Biopharm 69(3):943–947

6.

Deliconstantinos G, Villiotou V, Stavrides JC (1996) Alterations of nitric oxide synthase and xanthine oxidase activities of human keratinocytes by ultraviolet B radiation. Potential role for peroxynitrite in skin inflammation. Biochem Pharmacol 51(12):1727–1738

7.

Food and Agriculture Organization of the United Nations and World Health Organization Expert Consultation Report (2001) Health and nutritional properties of probiotics in food including powder milk with live lactic acid bacteria. Cordova, Argentina

8.

Guéniche A, Benyacoub J, Blum S, Breton L, Castiel I (2009) Probiotics for skin benefits. In: Tabor A, Blair R (eds) Nutritional cosmetics: beauty from within. Elsevier, Oxford, pp 421–439

9.

Guéniche A, Benyacoub J, Buetler TM, Smola H, Blum S (2006) Supplementation with oral probiotic bacteria maintains cutaneous immune homeostasis after UV exposure. Eur J Dermatol 16(5):511–517

10.

Hashizume H (2004) Skin aging and dry skin. J Dermatol 31(8):603–609

11.

Hougee S, Vriesema AJ, Wijering SC et al (2010) Oral treatment with probiotics reduces allergic symptoms in ovalbumin-sensitized mice: a bacterial strain comparative study. Int Arch Allergy Immunol 151(2):107–117

12.

Iizuka R, Kawakami K, Izawa N, Chiba K (2009) Phenols produced by gut bacteria affect the skin in hairless mice. Microb Ecol Health Dis 21:50–56

13.

Isolauri E, Arvola T, Sütas Y, Moilanen E, Salminen S (2000) Probiotics in the management of atopic eczema. Clin Exp Allergy 30(11):1604–1610

14.

Iwai I, Hirao T (2008) Protein carbonyls damage the water-holding capacity of the stratum corneum. Skin Pharmacol Physiol 21(5):269–273

15.

Jin XJ, Kim EJ, Oh IK, Kim YK, Park CH, Chung JH (2010) Prevention of UV-induced skin damages by 11,14,17-eicosatrienoic acid in hairless mice in vivo. J Korean Med Sci 25(6):930–937

16.

Kalliomäki M, Salminen S, Poussa T, Arvilommi H, Isolauri E (2003) Probiotics and prevention of atopic disease: 4-year follow-up of a randomised placebo-controlled trial. Lancet 361(9372):1869–1871

17.

Kalliomäki M, Isolauri E (2004) Probiotics and down-regulation of the allergic response. Immunol Allergy Clin North Am 24(4):739–752

18.

Kawai M, Setoyama H, Takada T et al (2011) Effect of fermented milk containing Bifidobacterium on bowel habits of healthy volunteers with mild constipation. J Intest Microbiol 25(3):181–187 (in Japanese)

19.

Krutmann J (2009) Pre- and probiotics for human skin. J Dermatol Sci 54(1):1–5

20.

Mitsuyoshi K, Norie M, Chiaki K et al (2013) Consecutive intake of fermented milk containing Bifidobacterium breve strain Yakult and galactooligosaccharides benefits skin condition in healthy adult women. Biosci Microbiota Food Health 32(1):33–39

21.

Morichi E (2004) Antioxidative factors in stratum corneum. Fragr J 9:64–69 (in Japanese)

22.

Peguet-Navarro J, Dezutter-Dambuyant C, Buetler T et al (2008) Supplementation with oral probiotic bacteria protects human cutaneous immune homeostasis after UV exposure-double blind, randomized, placebo controlled clinical trial. Eur J Dermatol 18(5):504–511

23.

Pence BC, Reiners JJ Jr (1987) Murine epidermal xanthine oxidase activity: correlation with degree of hyperplasia induced by tumor promoters. Cancer Res 47(23):6388–6392

24.

Sharma SD, Meeran SM, Katiyar SK (2007) Dietary grape seed proanthocyanidins inhibit UVB-induced oxidative stress and activation of mitogen-activated protein kinases and nuclear factor-kappaB signaling in in vivo SKH-1 hairless mice. Mol Cancer Ther 6(3):995–1005

25.

Sone T, Hanamizu T, Ichioka M et al (1999) Moisturizing effect of vesicles formed from monoglycerides on human skin. Int J Cosmet Sci 21(1):23–31

26.

Sugimoto S, Ishii Y, Izawa N et al (2012) Photoprotective effects of Bifidobacterium breve supplementation against skin damage induced by ultraviolet irradiation in hairless mice. Photodermatol Photoimmunol Photomed 28(6):312–319

27.

Tagami H, Ohi M, Iwatsuki K, Kanamaru Y, Yamada M, Ichijo B (1980) Evaluation of the skin surface hydration in vivo by electrical measurement. J Invest Dermatol 75(6):500–507

28.

Thiele JJ (2001) Oxidative targets in the stratum corneum. A new basis for antioxidative strategies. Skin Pharmacol Appl Skin Physiol 14(Suppl 1):87–91

29.

Vayalil PK, Mittal A, Hara Y, Elmets CA, Katiyar SK (2004) Green tea polyphenols prevent ultraviolet light-induced oxidative damage and matrix metalloproteinases expression in mouse skin. J Invest Dermatol 122(6):1480–1487

30.

Wei H, Cai Q, Tian L, Lebwohl M (1998) Tamoxifen reduces endogenous and UV light-induced oxidative damage to DNA, lipid and protein in vitro and in vivo. Carcinogenesis 19(6):1013–1018

31.

Yamamoto Y (2001) Role of active oxygen species and antioxidants in photoaging. J Dermatol Sci 27(Suppl 1):S1–S4
Acknowledgments
The authors thank Yasuyuki Takahashi, Nobutaka Takahashi, and Tomoko Hanamizu for helpful discussions, and Kisaku Shimura for technical advice.
Conflict of interest
We declare that we have no conflict of interest.
About this article
Cite this article
Ishii, Y., Sugimoto, S., Izawa, N. et al. Oral administration of Bifidobacterium breve attenuates UV-induced barrier perturbation and oxidative stress in hairless mice skin. Arch Dermatol Res 306, 467–473 (2014). https://doi.org/10.1007/s00403-014-1441-2
Received:

Revised:

Accepted:

Published:

Issue Date:
Keywords
Probiotics

Barrier function

Ultraviolet

Reactive oxygen species

Oxidation