Abstract
Resveratrol and oxyresveratrol are naturally occurring phenolic compounds with various bioactivities, but their uses in cosmetics have been partly limited by their chemical instabilities. This study was performed to examine the anti-melanogenic effects of the acetylated derivatives from resveratrol and oxyresveratrol. Resveratrol and oxyresveratrol were chemically modified to triacetyl resveratrol and tetraacetyl oxyresveratrol, respectively. The acetylated compounds were less susceptible than the parent compounds to oxidative discoloration. The acetylated compounds inhibited the activities of tyrosinases less than parent compounds in vitro, but they were as effective at cellular melanogenesis inhibition, indicating bioconversion to parent compounds inside cells. Supporting this notion, the parent compounds were regenerated when the acetylated compounds were digested with cell lysates. Although resveratrol and triacetyl resveratrol inhibited tyrosinase activity less effectively than oxyresveratrol and tetraacetyl oxyresveratrol in vitro, they inhibited cellular melanogenesis more effectively. This discrepancy was explained by strong inhibition of tyrosinase expression by resveratrol and triacetyl resveratrol. Experiments using a reconstituted skin model indicated that resveratrol derivatives can affect melanin synthesis and cell viability to different extents. Collectively, this study suggests that acetylated derivatives of resveratrol have great potential as anti-melanogenic agents for cosmetic use in terms of efficacy, safety, and stability.
Access options
Buy single article
Instant access to the full article PDF.
USD 39.95
Price excludes VAT (USA)
Tax calculation will be finalised during checkout.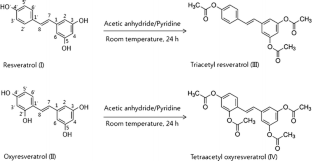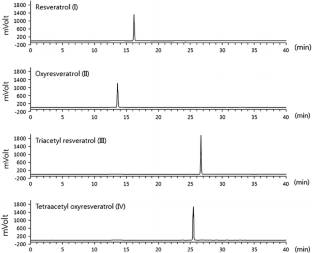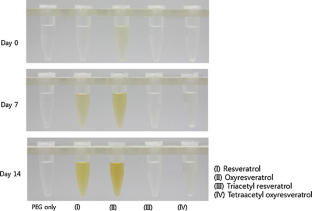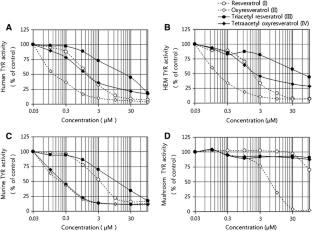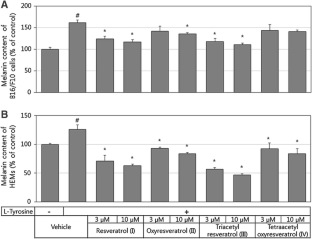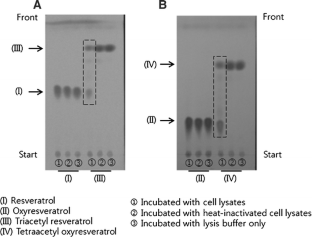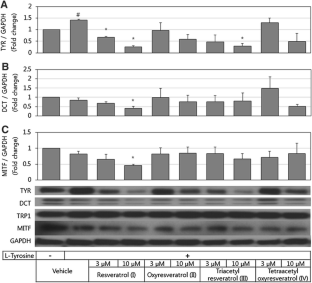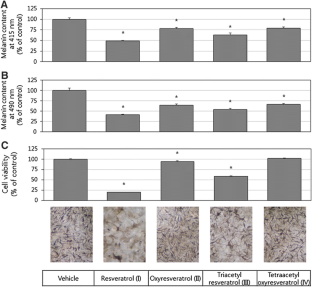 References
An SM, Kim HJ, Kim JE, Boo YC (2008) Flavonoids, taxifolin and luteolin attenuate cellular melanogenesis despite increasing tyrosinase protein levels. Phytother Res 22:1200–1207

An SM, Lee SI, Choi SW, Moon SW, Boo YC (2008) p-Coumaric acid, a constituent of Sasa quelpaertensis Nakai, inhibits cellular melanogenesis stimulated by alpha-melanocyte stimulating hormone. Br J Dermatol 159:292–299

An SM, Koh JS, Boo YC (2009) Inhibition of melanogenesis by tyrosinase siRNA in human melanocytes. BMB Rep 42:178–183

An SM, Koh JS, Boo YC (2010) p-Coumaric acid not only inhibits human tyrosinase activity in vitro but also melanogenesis in cells exposed to UVB. Phytother Res 24:1175–1180

Busca R, Ballotti R (2000) Cyclic AMP a key messenger in the regulation of skin pigmentation. Pigment Cell Res 13:60–69

Cabanes J, Chazarra S, Garcia-Carmona F (1994) Kojic acid, a cosmetic skin whitening agent, is a slow-binding inhibitor of catecholase activity of tyrosinase. J Pharm Pharmacol 46:982–985

Caddeo C, Teskac K, Sinico C, Kristl J (2008) Effect of resveratrol incorporated in liposomes on proliferation and UV-B protection of cells. Int J Pharm 363:183–191

Cardinali G, Ceccarelli S, Kovacs D, Aspite N, Lotti LV, Torrisi MR, Picardo M (2005) Keratinocyte growth factor promotes melanosome transfer to keratinocytes. J Invest Dermatol 125:1190–1199

Chang TS (2009) An updated review of tyrosinase inhibitors. Int J Mol Sci 10:2440–2475

Costin GE, Hearing VJ (2007) Human skin pigmentation: melanocytes modulate skin color in response to stress. Faseb J 21:976–994

Ebanks JP, Wickett RR, Boissy RE (2009) Mechanisms regulating skin pigmentation: the rise and fall of complexion coloration. Int J Mol Sci 10:4066–4087

Epstein JH (1983) Photocarcinogenesis, skin cancer, and aging. J Am Acad Dermatol 9:487–502

Hsieh TC, Huang YC, Wu JM (2011) Control of prostate cell growth, DNA damage and repair and gene expression by resveratrol analogues, in vitro. Carcinogenesis 32:93–101

Kim HJ, An SM, Boo YC (2008) A dual mechanism of 4-hydroxy-5-methyl-3[2H]-furanone inhibiting cellular melanogenesis. J Cosmet Sci 59:117–125

Kim M, An SM, Koh JS, Jang DI, Boo YC (2011) Use of non-melanocytic HEK293 cells stably expressing human tyrosinase for the screening of anti-melanogenic agents. J Cosmet Sci 62:515–523

Kim M, Park J, Song K, Kim HG, Koh JS, Boo YC (2012) Screening of plant extracts for human tyrosinase inhibiting effects. Int J Cosmet Sci 34:202–208

Kim YJ, Uyama H (2005) Tyrosinase inhibitors from natural and synthetic sources: structure, inhibition mechanism and perspective for the future. Cell Mol Life Sci 62:1707–1723

Kim YM, Yun J, Lee CK, Lee H, Min KR, Kim Y (2002) Oxyresveratrol and hydroxystilbene compounds. Inhibitory effect on tyrosinase and mechanism of action. J Biol Chem 277:16340–16344

Kwon BS, Haq AK, Pomerantz SH, Halaban R (1987) Isolation and sequence of a cDNA clone for human tyrosinase that maps at the mouse c-albino locus. Proc Natl Acad Sci USA 84:7473–7477

Lebonvallet N, Jeanmaire C, Danoux L, Sibille P, Pauly G, Misery L (2010) The evolution and use of skin explants: potential and limitations for dermatological research. Eur J Dermatol 20:671–684

Lee KT, Lee KS, Jeong JH, Jo BK, Heo MY, Kim HP (2003) Inhibitory effects of Ramulus mori extracts on melanogenesis. J Cosmet Sci 54:133–142

Lin CB, Babiarz L, Liebel F, Roydon Price E, Kizoulis M, Gendimenico GJ, Fisher DE, Seiberg M (2002) Modulation of microphthalmia-associated transcription factor gene expression alters skin pigmentation. J Invest Dermatol 119:1330–1340

Maeda K, Fukuda M (1996) Arbutin: mechanism of its depigmenting action in human melanocyte culture. J Pharmacol Exp Ther 276:765–769

Newton RA, Cook AL, Roberts DW, Leonard JH, Sturm RA (2007) Post-transcriptional regulation of melanin biosynthetic enzymes by cAMP and resveratrol in human melanocytes. J Invest Dermatol 127:2216–2227

Olivares C, Solano F (2009) New insights into the active site structure and catalytic mechanism of tyrosinase and its related proteins. Pigment Cell Melanoma Res 22:750–760

Park J, Boo YC (2013) Isolation of resveratrol from vitis viniferae caulis and its potent inhibition of human tyrosinase. Evid Based Complement Alternat Med 2013:645257

Park SH, Kim DS, Park SH, Shin JW, Youn SW, Park KC (2008) Inhibitory effect of p-coumaric acid by Rhodiola sachalinensis on melanin synthesis in B16F10 cells. Pharmazie 63:290–295

Petrovski G, Gurusamy N, Das DK (2011) Resveratrol in cardiovascular health and disease. Ann N Y Acad Sci 1215:22–33

Satooka H, Kubo I (2012) Resveratrol as a kcat type inhibitor for tyrosinase: potentiated melanogenesis inhibitor. Bioorg Med Chem 20:1090–1099

Schiaffino MV (2010) Signaling pathways in melanosome biogenesis and pathology. Int J Biochem Cell Biol 42:1094–1104

Schwahn DJ, Xu W, Herrin AB, Bales ES, Medrano EE (2001) Tyrosine levels regulate the melanogenic response to alpha-melanocyte-stimulating hormone in human melanocytes: implications for pigmentation and proliferation. Pigment Cell Res 14:32–39

Seo YK, Kim SJ, Boo YC, Baek JH, Lee SH, Koh JS (2011) Effects of p-coumaric acid on erythema and pigmentation of human skin exposed to ultraviolet radiation. Clin Exp Dermatol 36:260–266

Silva F, Figueiras A, Gallardo E, Nerin C, Domingues FC (2014) Strategies to improve the solubility and stability of stilbene antioxidants: a comparative study between cyclodextrins and bile acids. Food Chem 145:115–125

Slominski A, Tobin DJ, Shibahara S, Wortsman J (2004) Melanin pigmentation in mammalian skin and its hormonal regulation. Physiol Rev 84:1155–1228

Solano F, Briganti S, Picardo M, Ghanem G (2006) Hypopigmenting agents: an updated review on biological, chemical and clinical aspects. Pigment Cell Res 19:550–571

Song K, An SM, Kim M, Koh JS, Boo YC (2011) Comparison of the antimelanogenic effects of p-coumaric acid and its methyl ester and their skin permeabilities. J Dermatol Sci 63:17–22

Spielmann H (2010) The EU commission's draft report on alternative (Non-animal) methods for cosmetics testing: current status and future prospects–2010: a missed opportunity. Altern Lab Anim 38:339–343

Steinhoff M, Stander S, Seeliger S, Ansel JC, Schmelz M, Luger T (2003) Modern aspects of cutaneous neurogenic inflammation. Arch Dermatol 139:1479–1488

Tachibana M (2000) MITF: a stream flowing for pigment cells. Pigment Cell Res 13:230–240

Takara K, Iwasaki H, Ujihara K, Wada K (2008) Human tyrosinase inhibitor in rum distillate wastewater. J Oleo Sci 57:191–196

Takeyama R, Takekoshi S, Nagata H, Osamura RY, Kawana S (2004) Quercetin-induced melanogenesis in a reconstituted three-dimensional human epidermal model. J Mol Histol 35:157–165

Wichers HJ, Recourt K, Hendriks M, Ebbelaar CE, Biancone G, Hoeberichts FA, Mooibroek H, Soler-Rivas C (2003) Cloning, expression and characterisation of two tyrosinase cDNAs from Agaricus bisporus. Appl Microbiol Biotechnol 61:336–341

Wu JM, Hsieh TC (2011) Resveratrol: a cardioprotective substance. Ann N Y Acad Sci 1215:16–21

Yanagihara M, Yoshimatsu M, Inoue A, Kanno T, Tatefuji T, Hashimoto K (2012) Inhibitory effect of gnetin C, a resveratrol dimer from melinjo (Gnetum gnemon), on tyrosinase activity and melanin biosynthesis. Biol Pharm Bull 35:993–996

Yasumoto K, Yokoyama K, Takahashi K, Tomita Y, Shibahara S (1997) Functional analysis of microphthalmia-associated transcription factor in pigment cell-specific transcription of the human tyrosinase family genes. J Biol Chem 272:503–509

Yoon TJ, Lei TC, Yamaguchi Y, Batzer J, Wolber R, Hearing VJ (2003) Reconstituted 3-dimensional human skin of various ethnic origins as an in vitro model for studies of pigmentation. Anal Biochem 318:260–269
Acknowledgments
This study was supported by the Korea Health Technology R&D Project of the Ministry of Health & Welfare (Grant No. A103017).
About this article
Cite this article
Park, J., Park, J.H., Suh, HJ. et al. Effects of resveratrol, oxyresveratrol, and their acetylated derivatives on cellular melanogenesis. Arch Dermatol Res 306, 475–487 (2014). https://doi.org/10.1007/s00403-014-1440-3
Received:

Revised:

Accepted:

Published:

Issue Date:

DOI: https://doi.org/10.1007/s00403-014-1440-3
Keywords