Abstract
Matrix metalloproteinase-9 (MMP-9) appears to be a major protease responsible for the degradation of matrix and growth-promoting agents in chronic wounds. Honey has been successfully used for treating non-healing wounds associated with infections. However, the mechanisms of its action at the cellular level have remained poorly understood. The aim of this study was to investigate the effect of fir honeydew honey on TNF-α-induced MMP-9 expression and secretion from human keratinocytes (HaCaT) and to identify the honey component(s) responsible for a discovered effect. A C18 solid-phase column was used for preparation of honey aqueous extract (HAE). Expression and production of MMP-9 by HaCaT cells were determined by reverse transcription-PCR, gelatine zymography and Western blot analysis using a polyclonal antibody against MMP-9. We found that HAE inhibited TNF-α-induced production of MMP-9 in keratinocytes in a dose-dependent manner at both the mRNA and protein levels. Apigenin and kaempferol, identified flavonoids in HAE, markedly inhibited MMP-9 production from HaCaT and epidermal keratinocytes. Taken together, fir honeydew honey, which contains certain flavonoids, prevents TNF-α-induced proteolytic activity in cutaneous inflammation. Thus, our findings provide clear evidence that honey may serve as a natural treatment for dermatological problems associated with a persistent inflammation.
Access options
Buy single article
Instant access to the full article PDF.
USD 39.95
Price excludes VAT (USA)
Tax calculation will be finalised during checkout.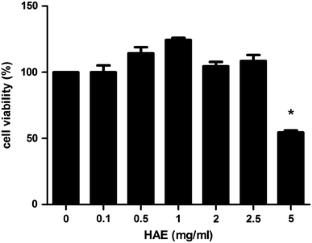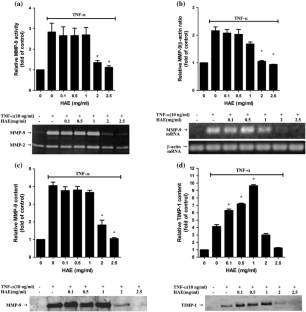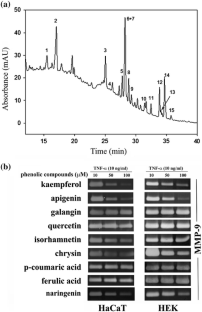 References
Bashkaran K, Zunaina E, Bakiah S, Sulaiman SA, Sirajudeen K, Naik V (2011) Anti-inflammatory and antioxidant effects of Tualang honey in alkali injury on the eyes of rabbits: experimental animal study. BMC Complement Altern Med 11:90

Eming SA, Krieg T, Davidson JM (2007) Inflammation in wound repair: molecular and cellular mechanisms. J Invest Dermatol 127:514–525

Fu X, Li X, Cheng B, Chen W, Sheng Z (2005) Engineered growth factors and cutaneous wound healing: success and possible questions in the past 10 years. Wound Repair Regen 13:122–130

Gill SE, Parks WC (2008) Metalloproteinases and their inhibitors: regulators of wound healing. Int J Biochem Cell Biol 40:1334–1347

Ha SK, Moon E, Kim SY (2010) Chrysin suppresses LPS-stimulated proinflammatory responses by blocking NF-κB and JNK activations in microglia cells. Neurosci Lett 485:143–147

Hirano H, Watanabe T (1990) Microsequencing of proteins electrotransferred onto immobilizing matrices from polyacrylamide gel electrophoresis: application to an insoluble protein. Electrophoresis 11:573–580

Hussein SZ, Mohd Yusoff K, Makpol S, Mohd Yusof YA (2012) Gelam honey inhibits the production of proinflammatory, mediators NO, PGE(2), TNF-α, and IL-6 in carrageenan-induced acute paw edema in rats. Evid Based Complement Alterna Med 2012 (Article ID 109636):1–12

Kassim M, Achoui M, Mansor M, Yusoff KM (2010) The inhibitory effects of Gelam honey and its extracts on nitric oxide and prostaglandin E(2) in inflammatory tissues. Fitoterapia 81:1196–1201

Kassim M, Achoui M, Mustafa MR, Mohd MA, Yusoff KM (2010) Ellagic acid, phenolic acids, and flavonoids in Malaysian honey extracts demonstrate in vitro anti-inflammatory activity. Nutr Res 30:650–659

Kleiner D, Stetler-Stevenson W (1994) Quantitative zymography: detection of pictogram quantities of gelatinases. Anal Biochem 218:325–329

Kwakman PH, te Velde AA, De Boer L, Speijer D, Vandenbroucke-Grauls CM, Zaat SA (2010) How honey kills bacteria. FASEB J 24:2576–2582

Kyriakides TR, Wulsin D, Skokos EA, Fleckman P, Pirrone A, Shipley JM, Senior RM, Bornstein P (2009) Mice that lack matrix metalloproteinase-9 display delayed wound healing associated with delayed reepithelization and disordered collagen fibrillogenesis. Matrix Biol 28:65–73

Ladwig GP, Robson MC, Liu R, Kuhn MA, Muir DF, Schultz GS (2002) Ratios of activated matrix metalloproteinase-9 to tissue inhibitor of matrix metalloproteinase-1 in wound fluids are inversely correlated with healing of pressure ulcers. Wound Repair Regen 10:26–37

Leong AG, Herst PM, Harper JL (2012) Indigenous New Zealand honeys exhibit multiple anti-inflammatory activities. Innate Immun 18:459–466

Li DL, Zheng QC, Fang XX, Ji HT, Yang JG, Zhang HX (2009) Theoretical study on potency and selectivity of novel nonpeptide inhibitors of matrix metalloproteinases mmp-2 and mmp-9. J Theor Comput Chem 8:491–506

Liu YC, Margolis DJ, Isseroff RR (2011) Does inflammation have a role in the pathogenesis of venous ulcers? A critical review of the evidence. J Invest Dermatol 131:818–827

Majtan J, Kovacova E, Bilikova K, Simuth J (2006) The immunostimulatory effect of the recombinant apalbumin 1-major honeybee royal jelly protein-on TNFα release. Int Immunopharmacol 6:269–278

Majtan J, Kumar P, Majtan T, Walls AF, Klaudiny J (2010) Effect of honey and its major royal jelly protein 1 on cytokine and MMP-9 mRNA transcripts in human keratinocytes. Exp Dermatol 19:e73–e79

Mäkelä M, Salo T, Larjava H (1998) MMP-9 from TNF alpha-stimulated keratinocytes binds to cell membranes and type I collagen: a cause for extended matrix degradation in inflammation? Biochem Biophys Res Commun 253:325–335

Mirastschijski U, Schnabel R, Claes J, Schneider W, Agren MS, Haaksma C, Tomasek JJ (2010) Matrix metalloproteinase inhibition delays wound healing and blocks the latent transforming growth factor-beta1-promoted myofibroblast formation and function. Wound Repair Regen 18:223–234

Molan PC (2011) The evidence and the rationale for the use of honey as a wound dressing. Wound Pract Res 19:204–220

Molan PC (2006) The evidence supporting the use of honey as a wound dressing. Int J Low Extrem Wounds 5:40–54

Moor AN, Vachon DJ, Gould LJ (2009) Proteolytic activity in wound fluids and tissues derived from chronic venous leg ulcers. Wound Repair Regen 17:832–839

Mustoe TA, Cutler NR, Allman RM, Goode PS, Deuel TF, Prause JA, Bear M, Serdar CM, Pierce GF (1994) A phase II study to evaluate recombinant platelet-derived growth factor-BB in the treatment of stage 3 and 4 pressure ulcers. Arch Surg 129:213–219

Nagase H, Woessner JF (1999) Matrix metalloproteinases. J Biol Chem 274:21491–21494

Palmieri D, Perego P, Palombo D (2012) Apigenin inhibits the TNFα-induced expression of eNOS and MMP-9 via modulating Akt signalling through oestrogen receptor engagement. Mol Cell Biochem 371:129–136

Ranzato E, Martinotti S, Burlando B (2012) Epithelial mesenchymal transition traits in honey-driven keratinocyte wound healing: comparison among different honeys. Wound Repair Regen 20:778–785

Serra R, Buffone G, Falcone D, Molinari V, Scaramuzzino M, Gallelli L, de Franciscis S (2013) Chronic venous leg ulcers are associated with high levels of metalloproteinases-9 and neutrophil gelatinase-associated lipocalin. Wound Repair Regen 21:395–401

Soo C, Shaw WW, Zhang X, Longaker MT, Howard EW, Ting K (2000) Differential expression of matrix metalloproteinases and their tissue-derived inhibitors in cutaneous wound repair. Plast Reconstr Surg 105:638–647

Steed DL (1995) Clinical evaluation of recombinant human platelet-derived growth factor for the treatment of lower extremity diabetic ulcers. Diabetic Ulcer Study Group. J Vasc Surg 21:71–78

Tarnuzzer RW, Schultz GS (1996) Biochemical analysis of acute and chronic wound environments. Wound Repair Regen 4:321–325

Tonks AJ, Cooper RA, Jones KP, Blair S, Parton J, Tonks A (2003) Honey stimulates inflammatory cytokine production from monocytes. Cytokine 21:242–247

Tonks AJ, Dudley E, Porter NG, Parton J, Brazier J, Smith EL, Tonks A (2007) A 5.8-kDa component of manuka honey stimulates immune cells via TLR4. J Leukoc Biol 82:1147–1155

Trengove NJ, Stacey MC, MacAuley S, Bennett N, Gibson J, Burslem F, Murphy G, Schultz G (1999) Analysis of the acute and chronic wound environments: the role of proteases and their inhibitors. Wound Repair Regen 7:442–452

van den Berg AJ, van den Worm E, van Ufford HC, Halkes MJ, Hoekstra MJ, Beukelman CJ (2008) An in vitro examination of the antioxidant and anti-inflammatory properties of buckwheat honey. J Wound Care 17:172–178

Widgerow AD (2012) Cellular resolution of inflammation–catabasis. Wound Repair Regen 20:2–7

Woo KJ, Jeong YJ, Inoue H, Park JW, Kwon TK (2005) Chrisin suppresses lipopolysaccharide-induced cycloooxygenase-2 expression through the inhibition of nuclear factor for IL-6 (NF-IL-6) DNA-binding activity. FEBS Lett 579:705–711

Yang H, Liu Q, Ahn JH, Kim SB, Kim YC, Sung SH, Hwang BY, Lee MK (2012) Luteolin downregulates IL-1β-induced MMP-9 and -13 expressions in osteoblasts via inhibition of ERK signalling pathway. J Enzyme Inhib Med Chem 27:261–266
Acknowledgments
This work was supported by the Slovak Research and Development Agency under the Contract No. APVV-0115-11 and partially by the Operational Program of Research and Development and co-financed with the European Fund for Regional Development (EFRD). Grant: ITMS 26240220030: Research and development of new biotherapeutic methods and its application in some illnesses treatment.
Conflict of interest
The authors declare that they have no conflict of interest.
About this article
Cite this article
Majtan, J., Bohova, J., Garcia-Villalba, R. et al. Fir honeydew honey flavonoids inhibit TNF-α-induced MMP-9 expression in human keratinocytes: a new action of honey in wound healing. Arch Dermatol Res 305, 619–627 (2013). https://doi.org/10.1007/s00403-013-1385-y
Received:

Accepted:

Published:

Issue Date:

DOI: https://doi.org/10.1007/s00403-013-1385-y
Keywords
Wound healing

Inflammation

Honey

Matrix metalloproteinase