Abstract
Androgen and androgen receptor (AR) may play important roles in several skin-related diseases, such as androgenetic alopecia and acne vulgaris. Current treatments for these androgen/AR-involved diseases, which target the synthesis of androgens or prevent its binding to AR, can cause significant adverse side effects. Based on the recent studies using AR knockout mice, it has been suggested that AR and androgens play distinct roles in the skin pathogenesis, and AR seems to be a better target than androgens for the treatment of these skin diseases. Here, we review recent studies of androgen/AR roles in several skin-related disorders, including acne vulgaris, androgenetic alopecia and hirsutism, as well as cutaneous wound healing.
Access options
Buy single article
Instant access to the full article PDF.
USD 39.95
Price excludes VAT (USA)
Tax calculation will be finalised during checkout.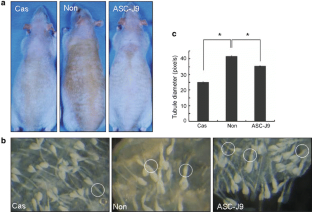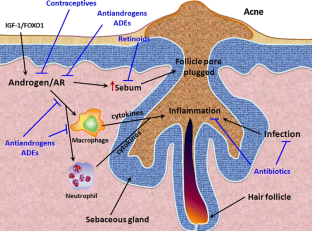 References
Aggarwal BB, Shishodia S, Takada Y, Jackson-Bernitsas D, Ahn KS, Sethi G, Ichikawa H (2006) TNF blockade: an inflammatory issue. Ernst Schering Res Found Workshop 56:161–186

Arias NH, Houssay AB, Pieretti SA (1982) Effects of cyproterone and tamoxifen upon the hair waves in mice. Acta Physiol Lat Am 32(4):261–266

Ashcroft GS, Mills SJ (2002) Androgen receptor-mediated inhibition of cutaneous wound healing. J Clin Invest 110(5):615–624

Ashcroft GS, Mills SJ, Flanders KC, Lyakh LA, Anzano MA, Gilliver SC, Roberts AB (2003) Role of Smad3 in the hormonal modulation of in vivo wound healing responses. Wound Repair Regen 11(6):468–473

Ashcroft GS, Yang X, Glick AB, Weinstein M, Letterio JL, Mizel DE, Anzano M, Greenwell-Wild T, Wahl SM, Deng C, Roberts AB (1999) Mice lacking Smad3 show accelerated wound healing and an impaired local inflammatory response. Nat Cell Biol 1(5):260–266

Ben-Amitai D, Laron Z (2011) Effect of insulin-like growth factor-1 deficiency or administration on the occurrence of acne. J Eur Acad Dermatol Venereol 25(8):950–954

Bernerd F, Schweizer J, Demarchez M (1996) Dermal cysts of the rhino mouse develop into unopened sebaceous glands. Arch Dermatol Res 288(10):586–595

Boudou P, Chivot M, Vexiau P, Soliman H, Villette JM, Julien R, Belanger A, Fiet J (1994) Evidence for decreased androgen 5 alpha-reduction in skin and liver of men with severe acne after 13-cis-retinoic acid treatment. J Clin Endocrinol Metab 78(5):1064–1069

Boudou P, Soliman H, Chivot M, Villette JM, Vexiau P, Belanger A, Fiet J (1995) Effect of oral isotretinoin treatment on skin androgen receptor levels in male acneic patients. J Clin Endocrinol Metab 80(4):1158–1161

Brennan FM, McInnes IB (2008) Evidence that cytokines play a role in rheumatoid arthritis. J Clin Invest 118(11):3537–3545

Cantagrel V, Lefeber DJ, Ng BG, Guan Z, Silhavy JL, Bielas SL, Lehle L, Hombauer H, Adamowicz M, Swiezewska E, De Brouwer AP, Blumel P, Sykut-Cegielska J, Houliston S, Swistun D, Ali BR, Dobyns WB, Babovic-Vuksanovic D, van Bokhoven H, Wevers RA, Raetz CR, Freeze HH, Morava E, Al-Gazali L, Gleeson JG (2010) SRD5A3 is required for converting polyprenol to dolichol and is mutated in a congenital glycosylation disorder. Cell 142(2):203–217

Chapman MG, Dowsett M, Dewhurst CJ, Jeffcoate SL (1985) Spironolactone in combination with an oral contraceptive: an alternative treatment for hirsutism. Br J Obstet Gynaecol 92(9):983–985

Chapman MG, Katz M, Dowsett M, Hague W, Jeffcoate SL, Dewhurst CJ (1986) Spironolactone in the treatment of hirsutism. Acta Obstet Gynecol Scand 65(4):349–350

Chen W, Obermayer-Pietsch B, Hong JB, Melnik B, Yamasaki O, Dessinioti C, Ju Q, Liakou A, Al-Khuzaei S, Katsambas A, Ring J, Zouboulis C (2011) Acne-associated syndromes: models for better understanding of acne pathogenesis. J Eur Acad Dermatol Venereol 25(6):637–646

Chen W, Thiboutot D, Zouboulis CC (2002) Cutaneous androgen metabolism: basic research and clinical perspectives. J Invest Dermatol 119(5):992–1007

Chen W, Zouboulis CC, Fritsch M, Blume-Peytavi U, Kodelja V, Goerdt S, Luu-The V, Orfanos CE (1998) Evidence of heterogeneity and quantitative differences of the type 1 5alpha-reductase expression in cultured human skin cells—evidence of its presence in melanocytes. J Invest Dermatol 110(1):84–89

Chen W, Zouboulis CC, Orfanos CE (1996) The 5 alpha-reductase system and its inhibitors. Recent development and its perspective in treating androgen-dependent skin disorders. Dermatology 193(3):177–184

Choudhry R, Hodgins MB, Van der Kwast TH, Brinkmann AO, Boersma WJ (1992) Localization of androgen receptors in human skin by immunohistochemistry: implications for the hormonal regulation of hair growth, sebaceous glands and sweat glands. J Endocrinol 133(3):467–475

Chuang KH, Altuwaijri S, Li G, Lai JJ, Chu CY, Lai KP, Lin HY, Hsu JW, Keng P, Wu MC, Chang C (2009) Neutropenia with impaired host defense against microbial infection in mice lacking androgen receptor. J Exp Med 206(5):1181–1199

Cibula D, Hill M, Vohradnikova O, Kuzel D, Fanta M, Zivny J (2000) The role of androgens in determining acne severity in adult women. Br J Dermatol 143(2):399–404

Danby FW (2010) Nutrition and acne. Clin Dermatol 28(6):598–604

Dejean AS, Hedrick SM, Kerdiles YM (2011) Highly specialized role of Forkhead box O transcription factors in the immune system. Antioxid Redox Signal 14(4):663–674

Demidowich AP, Freeman AF, Kuhns DB, Aksentijevich I, Gallin JI, Turner ML, Kastner DL, Holland SM (2012) Brief Report: genotype, phenotype, and clinical course in five patients with PAPA syndrome (pyogenic sterile arthritis, pyoderma gangrenosum, and acne). Arthr Rheum 64(6):2022–2027

Derynck R, Zhang YE (2003) Smad-dependent and Smad-independent pathways in TGF-beta family signalling. Nature 425(6958):577–584

Diamanti-Kandarakis E (1999) Current aspects of antiandrogen therapy in women. Curr Pharm Des 5(9):707–723

Dinh QQ, Sinclair R (2007) Female pattern hair loss: current treatment concepts. Clin Interv Aging 2(2):189–199

Ellis JA, Stebbing M, Harrap SB (2001) Polymorphism of the androgen receptor gene is associated with male pattern baldness. J Invest Dermatol 116(3):452–455

Engeland CG, Bosch JA, Cacioppo JT, Marucha PT (2006) Mucosal wound healing: the roles of age and sex. Arch Surg 141(12):1193–1197 (discussion 1198)

Fan W, Yanase T, Morinaga H, Okabe T, Nomura M, Daitoku H, Fukamizu A, Kato S, Takayanagi R, Nawata H (2007) Insulin-like growth factor 1/insulin signaling activates androgen signaling through direct interactions of Foxo1 with androgen receptor. J Biol Chem 282(10):7329–7338

Fang Z, Zhang T, Dizeyi N, Chen S, Wang H, Swanson KD, Cai C, Balk SP, Yuan X (2012) Androgen receptor enhances p27 degradation in prostate cancer cells through rapid and selective TORC2 activation. J Biol Chem 287(3):2090–2098

Fimmel S, Zouboulis CC (2005) Influence of physiological androgen levels on wound healing and immune status in men. Aging Male 8(3–4):166–174

Fritsch M, Orfanos CE, Zouboulis CC (2001) Sebocytes are the key regulators of androgen homeostasis in human skin. J Invest Dermatol 116(5):793–800

Garza LA, Liu Y, Yang Z, Alagesan B, Lawson JA, Norberg SM, Loy DE, Zhao T, Blatt HB, Stanton DC, Carrasco L, Ahluwalia G, Fischer SM, FitzGerald GA, Cotsarelis G (2012) Prostaglandin D2 INHIBITS hair growth and is elevated in bald scalp of men with androgenetic alopecia. Sci Transl Med 4(126):126ra134

George R, Clarke S, Thiboutot D (2008) Hormonal therapy for acne. Semin Cutan Med Surg 27(3):188–196

Gilliver SC, Ashcroft GS (2007) Sex steroids and cutaneous wound healing: the contrasting influences of estrogens and androgens. Climacteric 10(4):276–288

Gilliver SC, Ashworth JJ, Mills SJ, Hardman MJ, Ashcroft GS (2006) Androgens modulate the inflammatory response during acute wound healing. J Cell Sci 119(Pt 4):722–732

Gilliver SC, Ruckshanthi JP, Atkinson SJ, Ashcroft GS (2007) Androgens influence expression of matrix proteins and proteolytic factors during cutaneous wound healing. Lab Invest 87(9):871–881

Gilliver SC, Ruckshanthi JP, Hardman MJ, Zeef LA, Ashcroft GS (2009) 5alpha-dihydrotestosterone (DHT) retards wound closure by inhibiting re-epithelialization. J Pathol 217(1):73–82

Gomez Vazquez M, Navarra Amayuelas R, Lamarca M, Baquedano L, Romero Ruiz S, Vilar-Checa E, Iniesta MD (2011) Ethinylestradiol/chlormadinone acetate for use in dermatological disorders. Am J Clin Dermatol 12(Suppl 1):13–19

Goren I, Muller E, Schiefelbein D, Christen U, Pfeilschifter J, Muhl H, Frank S (2007) Systemic anti-TNFalpha treatment restores diabetes-impaired skin repair in ob/ob mice by inactivation of macrophages. J Invest Dermatol 127(9):2259–2267

Griffin JE, Wilson JD (1989) The androgen resistance syndrome: 5α-reductase deficiency, testicular feminization, and related disorders. In: Scriver CR, Beaudet AL, Sly WS DV (eds) The metabolic basis of inherited disease. McGraw-Hill, New York, pp 1919–1944

Gruber DM, Sator MO, Joura EA, Kokoschka EM, Heinze G, Huber JC (1998) Topical cyproterone acetate treatment in women with acne: a placebo-controlled trial. Arch Dermatol 134(4):459–463

Guevara-Aguirre J, Balasubramanian P, Guevara-Aguirre M, Wei M, Madia F, Cheng CW, Hwang D, Martin-Montalvo A, Saavedra J, Ingles S, de Cabo R, Cohen P, Longo VD (2011) Growth hormone receptor deficiency is associated with a major reduction in pro-aging signaling, cancer, and diabetes in humans. Sci Transl Med 3(70):70ra13

Guido M, Romualdi D, Campagna G, Ricciardi L, Bompiani A, Lanzone A (2010) Ethinylestradiol–chlormadinone acetate combination for the treatment of hirsutism and hormonal alterations of normal-weight women with polycystic ovary syndrome: evaluation of the metabolic impact. Reprod Sci 17(8):767–775

Hamilton JB (1942) Male hormone stimulation is prerequisite and an incitant in common baldness. Am J Anat 71:451–480

Hamzavi I, Tan E, Shapiro J, Lui H (2007) A randomized bilateral vehicle-controlled study of eflornithine cream combined with laser treatment versus laser treatment alone for facial hirsutism in women. J Am Acad Dermatol 57(1):54–59

Heemers HV, Tindall DJ (2007) Androgen receptor (AR) coregulators: a diversity of functions converging on and regulating the AR transcriptional complex. Endocr Rev 28(7):778–808

Henze C, Hinney B, Wuttke W (1998) Incidence of increased androgen levels in patients suffering from acne. Dermatology 196(1):53–54

Hibberts NA, Howell AE, Randall VA (1998) Balding hair follicle dermal papilla cells contain higher levels of androgen receptors than those from non-balding scalp. J Endocrinol 156(1):59–65

Hillmer AM, Flaquer A, Hanneken S, Eigelshoven S, Kortum AK, Brockschmidt FF, Golla A, Metzen C, Thiele H, Kolberg S, Reinartz R, Betz RC, Ruzicka T, Hennies HC, Kruse R, Nothen MM (2008) Genome-wide scan and fine-mapping linkage study of androgenetic alopecia reveals a locus on chromosome 3q26. Am J Hum Genet 82(3):737–743

Hillmer AM, Hanneken S, Ritzmann S, Becker T, Freudenberg J, Brockschmidt FF, Flaquer A, Freudenberg-Hua Y, Jamra RA, Metzen C, Heyn U, Schweiger N, Betz RC, Blaumeiser B, Hampe J, Schreiber S, Schulze TG, Hennies HC, Schumacher J, Propping P, Ruzicka T, Cichon S, Wienker TF, Kruse R, Nothen MM (2005) Genetic variation in the human androgen receptor gene is the major determinant of common early-onset androgenetic alopecia. Am J Hum Genet 77(1):140–148

Imperato-McGinley J, Gautier T, Cai LQ, Yee B, Epstein J, Pochi P (1993) The androgen control of sebum production. Studies of subjects with dihydrotestosterone deficiency and complete androgen insensitivity. J Clin Endocrinol Metab 76(2):524–528

Inui S, Itami S (2011) Molecular basis of androgenetic alopecia: from androgen to paracrine mediators through dermal papilla. J Dermatol Sci 61(1):1–6

Jenkins EP, Andersson S, Imperato-McGinley J, Wilson JD, Russell DW (1992) Genetic and pharmacological evidence for more than one human steroid 5 alpha-reductase. J Clin Invest 89(1):293–300

Kanda N, Watanabe S (2005) Regulatory roles of sex hormones in cutaneous biology and immunology. J Dermatol Sci 38(1):1–7

Kimura S, Matsumoto T, Matsuyama R, Shiina H, Sato T, Takeyama K, Kato S (2007) Androgen receptor function in folliculogenesis and its clinical implication in premature ovarian failure. Trends Endocrinol Metab 18(5):183–189

Kitagawa T, Matsuda K, Inui S, Takenaka H, Katoh N, Itami S, Kishimoto S, Kawata M (2009) Keratinocyte growth inhibition through the modification of Wnt signaling by androgen in balding dermal papilla cells. J Clin Endocrinol Metab 94(4):1288–1294

Klinger B, Anin S, Silbergeld A, Eshet R, Laron Z (1998) Development of hyperandrogenism during treatment with insulin-like growth factor-I (IGF-I) in female patients with Laron syndrome. Clin Endocrinol (Oxf) 48(1):81–87

Kuster W, Happle R (1984) The inheritance of common baldness: two B or not two B? J Am Acad Dermatol 11(5 Pt 1):921–926

Kvedar JC, Baden HP, Levine L (1988) Selective inhibition by minoxidil of prostacyclin production by cells in culture. Biochem Pharmacol 37(5):867–874

Lai JJ, Lai KP, Chuang KH, Chang P, Yu IC, Lin WJ, Chang C (2009) Monocyte/macrophage androgen receptor suppresses cutaneous wound healing in mice by enhancing local TNF-alpha expression. J Clin Invest 119(12):3739–3751

Leyden J, Bergfeld W, Drake L, Dunlap F, Goldman MP, Gottlieb AB, Heffernan MP, Hickman JG, Hordinsky M, Jarrett M, Kang S, Lucky A, Peck G, Phillips T, Rapaport M, Roberts J, Savin R, Sawaya ME, Shalita A, Shavin J, Shaw JC, Stein L, Stewart D, Strauss J, Swinehart J, Swinyer L, Thiboutot D, Washenik K, Weinstein G, Whiting D, Pappas F, Sanchez M, Terranella L, Waldstreicher J (2004) A systemic type I 5 alpha-reductase inhibitor is ineffective in the treatment of acne vulgaris. J Am Acad Dermatol 50(3):443–447

Li L, Tang L, Baranov E, Yang M, Amoh Y, Katsuoka K, Hoffman RM (2010) Selective induction of apoptosis in the hamster flank sebaceous gland organ by a topical liposome 5-alpha-reductase inhibitor: a treatment strategy for acne. J Dermatol 37(2):156–162

Lin HY, Xu Q, Yeh S, Wang RS, Sparks JD, Chang C (2005) Insulin and leptin resistance with hyperleptinemia in mice lacking androgen receptor. Diabetes 54(6):1717–1725

Lobo RA, Shoupe D, Serafini P, Brinton D, Horton R (1985) The effects of two doses of spironolactone on serum androgens and anagen hair in hirsute women. Fertil Steril 43(2):200–205

Lookingbill DP, Abrams BB, Ellis CN, Jegasothy BV, Lucky AW, Ortiz-Ferrer LC, Savin RC, Shupack JL, Stiller MJ, Zone JJ et al (1992) Inocoterone and acne. The effect of a topical antiandrogen: results of a multicenter clinical trial. Arch Dermatol 128(9):1197–1200

Ma Q, Fu W, Li P, Nicosia SV, Jenster G, Zhang X, Bai W (2009) FoxO1 mediates PTEN suppression of androgen receptor N- and C-terminal interactions and coactivator recruitment. Mol Endocrinol 23(2):213–225

Melnik B (2012) Diet in acne: further evidence for the role of nutrient signalling in acne pathogenesis. Acta Derm Venereol 92(3):228–231

Melnik BC (2009) Role of FGFR2-signaling in the pathogenesis of acne. Dermatoendocrinol 1(3):141–156

Melnik BC (2010) FoxO1—the key for the pathogenesis and therapy of acne? J Dtsch Dermatol Ges 8(2):105–114

Melnik BC (2011) Evidence for acne-promoting effects of milk and other insulinotropic dairy products. Nestle Nutr Workshop Ser Pediatr Program 67:131–145

Melnik BC (2011) Isotretinoin and FoxO1: a scientific hypothesis. Dermatoendocrinol 3(3):141–165

Melnik BC, John SM, Schmitz G (2011) Over-stimulation of insulin/IGF-1 signaling by western diet may promote diseases of civilization: lessons learnt from Laron syndrome. Nutr Metab (Lond) 8:41

Melnik BC, Schmitz G (2009) Role of insulin, insulin-like growth factor-1, hyperglycaemic food and milk consumption in the pathogenesis of acne vulgaris. Exp Dermatol 18(10):833–841

Messenger AG, Rundegren J (2004) Minoxidil: mechanisms of action on hair growth. Br J Dermatol 150(2):186–194

Mirshahpanah P, Maibach HI (2007) Models in acnegenesis. Cutan Ocul Toxicol 26(3):195–202

Miyamoto H, Yang Z, Chen YT, Ishiguro H, Uemura H, Kubota Y, Nagashima Y, Chang YJ, Hu YC, Tsai MY, Yeh S, Messing EM, Chang C (2007) Promotion of bladder cancer development and progression by androgen receptor signals. J Natl Cancer Inst 99(7):558–568

Moghetti P, Castello R, Negri C, Tosi F, Magnani CM, Fontanarosa MC, Armanini D, Muggeo M (1995) Flutamide in the treatment of hirsutism: long-term clinical effects, endocrine changes, and androgen receptor behavior. Fertil Steril 64(3):511–517

Moghetti P, Toscano V (2006) Treatment of hirsutism and acne in hyperandrogenism. Best Pract Res Clin Endocrinol Metab 20(2):221–234

Moghetti P, Tosi F, Tosti A, Negri C, Misciali C, Perrone F, Caputo M, Muggeo M, Castello R (2000) Comparison of spironolactone, flutamide, and finasteride efficacy in the treatment of hirsutism: a randomized, double blind, placebo-controlled trial. J Clin Endocrinol Metab 85(1):89–94

Monk E, Shalita A, Siegel DM (2011) Clinical applications of non-antimicrobial tetracyclines in dermatology. Pharmacol Res 63(2):130–145

Naito A, Sato T, Matsumoto T, Takeyama K, Yoshino T, Kato S, Ohdera M (2008) Dihydrotestosterone inhibits murine hair growth via the androgen receptor. Br J Dermatol 159(2):300–305

Nieves NJ, Ahrens JM, Plum LA, DeLuca HF, Clagett-Dame M (2010) Identification of a unique subset of 2-methylene-19-nor analogs of vitamin D with comedolytic activity in the rhino mouse. J Invest Dermatol 130(10):2359–2367

Olsen EA, Hordinsky M, Whiting D, Stough D, Hobbs S, Ellis ML, Wilson T, Rittmaster RS (2006) The importance of dual 5alpha-reductase inhibition in the treatment of male pattern hair loss: results of a randomized placebo-controlled study of dutasteride versus finasteride. J Am Acad Dermatol 55(6):1014–1023

Otberg N, Finner AM, Shapiro J (2007) Androgenetic alopecia. Endocrinol Metab Clin North Am 36(2):379–398

Pang Y, He CD, Liu Y, Wang KB, Xiao T, Wang YK, Zhu H, Wei B, Zhao N, Jiang Y, Wei HC, Chen HD (2008) Combination of short CAG and GGN repeats in the androgen receptor gene is associated with acne risk in North East China. J Eur Acad Dermatol Venereol 22(12):1445–1451

Pochi PE, Strauss JS (1974) Endocrinologic control of the development and activity of the human sebaceous gland. J Invest Dermatol 62(3):191–201

Quigley CA, De Bellis A, Marschke KB, el-Awady MK, Wilson EM, French FS (1995) Androgen receptor defects: historical, clinical, and molecular perspectives. Endocr Rev 16(3):271–321

Rahman F, Christian HC (2007) Non-classical actions of testosterone: an update. Trends Endocrinol Metab 18(10):371–378

Randall VA, Thornton MJ, Hamada K, Redfern CP, Nutbrown M, Ebling FJ, Messenger AG (1991) Androgens and the hair follicle. Cultured human dermal papilla cells as a model system. Ann N Y Acad Sci 642:355–375

Randall VA, Thornton MJ, Messenger AG (1992) Cultured dermal papilla cells from androgen-dependent human hair follicles (e.g. beard) contain more androgen receptors than those from non-balding areas of scalp. J Endocrinol 133(1):141–147

Richards JB, Yuan X, Geller F, Waterworth D, Bataille V, Glass D, Song K, Waeber G, Vollenweider P, Aben KK, Kiemeney LA, Walters B, Soranzo N, Thorsteinsdottir U, Kong A, Rafnar T, Deloukas P, Sulem P, Stefansson H, Stefansson K, Spector TD, Mooser V (2008) Male-pattern baldness susceptibility locus at 20p11. Nat Genet 40(11):1282–1284

Samson M, Labrie F, Zouboulis CC, Luu-The V (2010) Biosynthesis of dihydrotestosterone by a pathway that does not require testosterone as an intermediate in the SZ95 sebaceous gland cell line. J Invest Dermatol 130(2):602–604

Sawaya ME, Shalita AR (1998) Androgen receptor polymorphisms (CAG repeat lengths) in androgenetic alopecia, hirsutism, and acne. J Cutan Med Surg 3(1):9–15

Schmidt JB (1998) Other antiandrogens. Dermatology 196(1):153–157

Schulte-Hermann R, Ohde G, Schuppler J, Timmermann-Trosiener I (1981) Enhanced proliferation of putative preneoplastic cells in rat liver following treatment with the tumor promoters phenobarbital, hexachlorocyclohexane, steroid compounds, and nafenopin. Cancer Res 41(6):2556–2562

Seiffert K, Seltmann H, Fritsch M, Zouboulis CC (2007) Inhibition of 5alpha-reductase activity in SZ95 sebocytes and HaCaT keratinocytes in vitro. Horm Metab Res 39(2):141–148

Shaw JC (1996) Antiandrogen therapy in dermatology. Int J Dermatol 35(11):770–778

Sinclair R, Greenland KJ, Egmond S, Hoedemaker C, Chapman A, Zajac JD (2007) Men with Kennedy disease have a reduced risk of androgenetic alopecia. Br J Dermatol 157(2):290–294

Slayden SM, Moran C, Sams WM Jr, Boots LR, Azziz R (2001) Hyperandrogenemia in patients presenting with acne. Fertil Steril 75(5):889–892

Smith RN, Mann NJ, Braue A, Makelainen H, Varigos GA (2007) A low-glycemic-load diet improves symptoms in acne vulgaris patients: a randomized controlled trial. Am J Clin Nutr 86(1):107–115

Smith TM, Gilliland K, Clawson GA, Thiboutot D (2008) IGF-1 induces SREBP-1 expression and lipogenesis in SEB-1 sebocytes via activation of the phosphoinositide 3-kinase/Akt pathway. J Invest Dermatol 128(5):1286–1293

Sundberg JP, King LE, Bascom C (2001) Animal models for male pattern (androgenetic) alopecia. Eur J Dermatol 11(4):321–325

Treister NS, Richards SM, Suzuki T, Jensen RV, Sullivan DA (2005) Influence of androgens on gene expression in the BALB/c mouse submandibular gland. J Dent Res 84(12):1187–1192

Uemura M, Tamura K, Chung S, Honma S, Okuyama A, Nakamura Y, Nakagawa H (2008) Novel 5 alpha-steroid reductase (SRD5A3, type-3) is overexpressed in hormone-refractory prostate cancer. Cancer Sci 99(1):81–86

Unluhizarci K, Ozel D, Tanriverdi F, Karaca Z, Kelestimur F (2009) A comparison between finasteride, flutamide, and finasteride plus flutamide combination in the treatment of hirsutism. J Endocrinol Invest 32(1):37–40

van de Wijngaart DJ, Dubbink HJ, van Royen ME, Trapman J, Jenster G (2012) Androgen receptor coregulators: recruitment via the coactivator binding groove. Mol Cell Endocrinol 352(1–2):57–69

Vora S, Ovhal A, Jerajani H, Nair N, Chakrabortty A (2008) Correlation of facial sebum to serum insulin-like growth factor-1 in patients with acne. Br J Dermatol 159(4):990–991

Wysowski DK, Freiman JP, Tourtelot JB, Horton ML 3rd (1993) Fatal and nonfatal hepatotoxicity associated with flutamide. Ann Intern Med 118(11):860–864

Xia Y, Cho S, Howard RS, Maggio KL (2012) Topical eflornithine hydrochloride improves the effectiveness of standard laser hair removal for treating pseudofolliculitis barbae: a randomized, double-blinded, placebo-controlled trial. J Am Acad Dermatol In press

Yang Z, Chang YJ, Yu IC, Yeh S, Wu CC, Miyamoto H, Merry DE, Sobue G, Chen LM, Chang SS, Chang C (2007) ASC-J9 ameliorates spinal and bulbar muscular atrophy phenotype via degradation of androgen receptor. Nat Med 13(3):348–353

Yang Z, Yu H, Cheng B, Tang W, Dong Y, Xiao C, He L (2009) Relationship between the CAG repeat polymorphism in the androgen receptor gene and acne in the Han ethnic group. Dermatology 218(4):302–306

Ye F, Imamura K, Imanishi N, Rhodes L, Uno H (1997) Effects of topical antiandrogen and 5-alpha-reductase inhibitors on sebaceous glands in male fuzzy rats. Skin Pharmacol 10(5–6):288–297

Yeh S, Tsai MY, Xu Q, Mu XM, Lardy H, Huang KE, Lin H, Yeh SD, Altuwaijri S, Zhou X, Xing L, Boyce BF, Hung MC, Zhang S, Gan L, Chang C (2002) Generation and characterization of androgen receptor knockout (ARKO) mice: an in vivo model for the study of androgen functions in selective tissues. Proc Natl Acad Sci USA 99(21):13498–13503

Zhu H, Ma H, Ni H, Ma XH, Mills N, Yang ZM (2004) Expression and regulation of lipocalin-type prostaglandin D synthase in rat testis and epididymis. Biol Reprod 70(4):1088–1095

Zhuo FL, Xu W, Wang L, Wu Y, Xu ZL, Zhao JY (2012) Androgen receptor gene polymorphisms and risk for androgenetic alopecia: a meta-analysis. Clin Exp Dermatol 37(2):104–111

Zouboulis CC, Chen WC, Thornton MJ, Qin K, Rosenfield R (2007) Sexual hormones in human skin. Horm Metab Res 39(2):85–95

Zouboulis CC, Degitz K (2004) Androgen action on human skin—from basic research to clinical significance. Exp Dermatol 13(Suppl 4):5–10
Related articles recently published in Archives of Dermatological Research (selected by the journal's editorial staff):
Lee WJ, Jung HD, Chi SG, Kim BS, Lee SJ, Kim dW, Kim MK, Kim JC (2010) Effect of dihydrotestosterone on the upregulation of inflammatory cytokines in cultured sebocytes. Arch Dermatol Res 302:429–433

Su LH, Chen HH (2011) Androgenetic alopecia in policemen: higher prevalence and different risk factors relative to the general population (KCIS no. 23). Arch Dermatol Res 303:753–761
Acknowledgments
We thank Karen Wolf for help in preparing the manuscript. This work was supported by George Whipple Professorship Endowment, NIH grant DK73414, and Department of Health Clinical Trial and Research Center of Excellence grant DOH99-TD-B-111-004 to China Medical University, Taichung, Taiwan.
Conflict of interest
The authors declare no conflict of interest.
About this article
Cite this article
Lai, JJ., Chang, P., Lai, KP. et al. The role of androgen and androgen receptor in skin-related disorders. Arch Dermatol Res 304, 499–510 (2012). https://doi.org/10.1007/s00403-012-1265-x
Received:

Revised:

Accepted:

Published:

Issue Date:

DOI: https://doi.org/10.1007/s00403-012-1265-x
Keywords
Androgen

Androgen receptor

Wound healing

Androgenetic alopecia

Acne vulgaris

Hirsutism