Abstract
Irradiation by long-term ultraviolet (UV) A initiates the induction of photoaging. However, the mechanisms responsible for the structural changes of skin induced by UVA irradiation of the eye are still unknown. Male hairless mice were used in this study. The eye or dorsal skin was locally exposed to UVA after covering the remaining body surface with aluminum foil at a dose of 110 kJ/m2 using a FL20SBLB-A lamp for 60 days. The plasma α-melanocyte stimulating hormone (α-MSH), nitrogen oxides (NO2/NO3), tumor necrosis factor-α (TNF-α), and the prostaglandin E2 (PGE2) content all increased after UVA irradiation. The levels of NO2/NO3, TNF-α, and PGE2 also increased more after UVA skin irradiation than after UVA eye irradiation. However, the level of α-MSH increased more by eye irradiation than skin irradiation. In addition, UVA irradiation of the eye and dorsal skin increased the number of mast cells and fibroblasts. Furthermore, the expression of the melanocortin-1 receptor (MC1R) was increased on the fibroblast surface by UVA irradiation of the eye. These results indicate that the signal evoked by UVA irradiation of the eye, through the hypothalamo-pituitary proopiomelanocortin system, up-regulated the production of α-MSH. This hormone controls the collagen generation from fibroblasts, thus suggesting that photoaging was induced by UVA irradiation of the eye.
Access options
Buy single article
Instant access to the full article PDF.
USD 39.95
Price excludes VAT (USA)
Tax calculation will be finalised during checkout.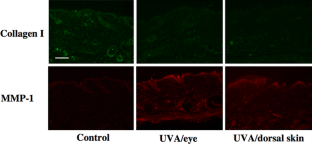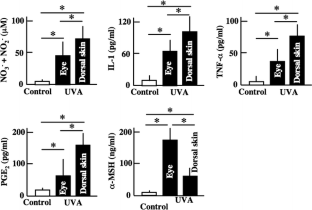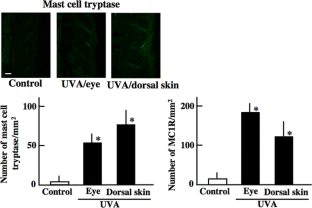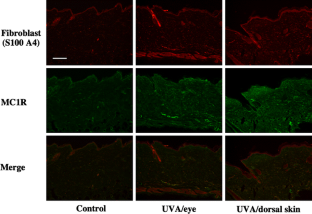 Abbreviations
UVA:

Ultraviolet A

α-MSH:

α-melanocyte stimulating hormone

MC1R:

Melanocortin receptor 1

TNF-α:

Tumor necrosis factor-α

PGE2 :

Prostaglandin E2
References
Angel P, Szabowski A, Schorpp-Kistner M (2001) Function and regulation of AP-1 subunits in skin physiology and pathology. Oncogene 20:2413–2423

Bohm M, Luger TA, Tobin DJ, Carcia-Borron JC (2006) Melanocortin receptor ligands: new horizons for skin biology and clinical dermatology. J Invest Dermatol 126:1966–1975

Bohm M, Raghunath M, Sunderkoffer C, Schiller M, Stander S, Brzoska T, Cauvet T, Schioth HB, Schwarz T, Luger TA (2004) Collagen metabolism is a novel target of the neuropeptide α-melanocyte-stimulating hormone. J Biol Chem 279:6959–6966

Bosset S, Bonnet-Duquennoy M, Barre P, Chalon A, Kurfurst R, Bonte F, Schnebert S, Le LV, Nicolas JF (2003) Photoaging shows histological features of chronic skin inflammation without clinical and molecular abnormalities. Br J Dermatol 149:826–835

Fisher GJ, Datta SC, Talwar HS, Wang ZQ, Varani J, Kang S, Voorhees JJ (1996) The molecular basis of sun-induced premature skin aging and retinoid antagonism. Nature 379:335–338

Fisher GJ, Wang ZQ, Datta SC, Varani J, Kang S, Voorhees JJ (1997) Pathophysiology of premature skin aging induced by ultraviolet light. N Engl J Med 337:1419–1428

Gilchrest BA (1989) Skin aging and photoaging: an overview. J Am Acad Dermatol 21:610–613

Hiramoto K (2009) Ultraviolet A irradiation of the eye activates a nitric oxide-dependent hypothalamo-pituitary pro-opiomelanocortin pathway and modulates the functions of Langerhans cells. J Dermatol 36:335–345

Hiramoto K, Jikumaru M, Yamate Y, Sato EF, Inoue M (2009) Ultraviolet A irradiation of the eye induces immunomodulation of skin and intestine in mice via hypothalamo-pituitary-adrenal pathways. Arch Dermatol Res 301:239–244

Hoggard N, Johnstone AM, Faber P, Gibney ER, Elia M, Lobley G, Royner V, Horgan G, Hunter L, Bashir S, Stubbs RJ (2004) Plasma concentration of alpha-MSH, AgRP and leptin in lean and obese men and their relationship to differing states of energy balance perturbation. Clin Endocrinol (Oxf) 61:31–39

Holzmann H, Altmeyer P, Stohr L, Chilf GN (1983) Modification of alpha-MSH by UVA irradiation of the skin. Hautarzt 34:294–297

Iddamalgoda A, Le QT, Ito K, Tanaka K, Kojima H, Kido H (2008) Mast cell tryptase and photoaging: possible involvement in the degradation of extra cellular matrix and basement membrane proteins. Arch Dermatol Res 300:S69–S76

Johnson JL, Jackson CL, Angelini GP, George ST (1998) Activation of matrix-degrading metalloproteinases by mast cell proteases in atherosclerotic plaques. Arterioscler Thromb Vasc Biol 18:1707–1715

Kaminska R, Helisalmi P, Harvima JR, Naukkarinen A, Horsmaheimo M, Harvima IT (1999) Focal dermal-epidermal separation and fibronectin cleavage in basement membrane by human mast cell tryptase. J Invest Dermatol 113:567–573

Lavker RM (1979) Structural alterations in exposed and unexposed aged skin. J Invest Dermatol 73:59–66

Oikarinen A, Autio P, Kiistala U, Risteli L, Risteli J (1992) A new model to measure type I and III collagen synthesis in human skin in vivo: demonstration of decreased collagen synthesis after topical glucocorticoid treatment. J Invest Dermatol 98:220–225

Schauer E, Trautinger F, Kock A, Schwarz A, Bhardwaj R, Simon M, Ansel JC, Schwarz T, Luger TA (1994) Proopiomelanocortin-derived peptides are synthesized and released by human keratinocytes. J Clin Invest 93:2258–2262

Shishioh-Ikejima N, Ogawa T, Yamagti K, Watanabe Y, Kuratsune H, Kiyama H (2010) The increase of alpha-melanocyte-stimulating hormone in the plasma of chronic fatigue syndrome patients. BMC Neurol 10:73–79

Smith LT, Holbrook KA, Madri JA (1986) Collagen types I, III, and V in human embryonic and fetal skin. Am J Anat 175:507–521

Suzuki K, Lees M, Newland GF, Nagase H, Wooley DE (1995) Activation of precursors for matrix metalloproteinases 1 (interstitial collagenase) and 3 (stromelysin) by rat mast-cell proteinases I and II. Biochem J 305:301–306

Talwar HS, Griffiths CEM, Fisher GJ, Hamilton TA, Voorhees JJ (1995) Reduced type I and type III procollagens in photodamaged adult human skin. J Invest Dermatol 105:285–290

Yamamoto-Tojo M, Tojo T, Shioi T, Masuda T, Inomata T, Izumi T (2006) Central neurotranspeptide, alpha-melanocyte-stimulating hormone (alpha-MSH) is upregulated in patients with congestive heart failure. Intern Med 45:429–434

Yamate Y, Hiramoto K, Kasahara E, Jikumaru M, Sato EF, Inoue J, Inoue M (2011) Ultraviolet-A irradiation to the eye modulates intestinal mucosal functions and properties of mast cells in the mouse. Photochem Photobiol 87:191–198
About this article
Cite this article
Hiramoto, K., Yamate, Y., Kobayashi, H. et al. Long-term ultraviolet A irradiation of the eye induces photoaging of the skin in mice. Arch Dermatol Res 304, 39–45 (2012). https://doi.org/10.1007/s00403-011-1183-3
Received:

Revised:

Accepted:

Published:

Issue Date:

DOI: https://doi.org/10.1007/s00403-011-1183-3
Keywords