Abstract
A relationship has been suggested between mast cells (MCs) and male pattern hair loss (MPHL), because of histological evidence of perifollicular fibrosis and increased mast cell numbers. Two paired punch biopsies were taken from balding vertexes and non-balding occipital promontory areas of ten patients with MPHL (Ludwig–Hamilton IIIv to IV) and from five normal subjects aged from 20 to 35 years. Masson trichrome and Victoria blue staining were performed to observe collagen frameworks and elastic fiber structures. Numbers of immunoreactive MCs stained with anti-tryptase or anti-chymase antibody were counted. It was found that collagen bundles were significantly increased in balding vertexes than in non-balding occiput scalp skin. A near 4-fold increase in elastic fibers was observed in both vertex and occiput scalp skins with MPHL versus controls. Total numbers of MCs (tryptase-positive) in site-matched scalp samples were about 2-fold higher in MPHL subjects than in normal controls. Percentage elastic fiber (%) was found to be relatively well-correlated with tryptase and chymase-positive MCs. These findings suggest that accumulated MCs might be responsible for increased elastic fiber synthesis in MPHL, and indicate that future investigations are warranted.
Access options
Buy single article
Instant access to the full article PDF.
USD 39.95
Price includes VAT (USA)
Tax calculation will be finalised during checkout.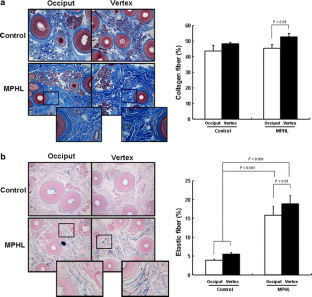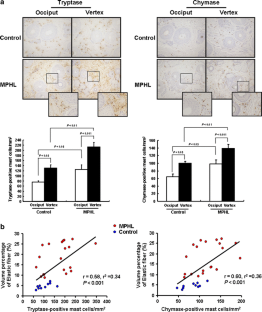 References
1.

Abe M, Kurosawa M, Ishikawa O, Miyachi Y (2000) Effect of mast cell-derived mediators and mast cell-related neutral proteases on human dermal fibroblast proliferation and type I collagen production. J Allergy Clin Immunol 106:S78–S84

2.

Abe M, Yokoyama Y, Amano H, Matsushima Y, Kan C, Ishikawa O (2002) Effect of activated human mast cells and mast cell derived mediators on proliferation, type 1 collagen production and glycosaminoglycans synthesis by human dermal fibroblasts. Eur J Dermatol 12:340–346

3.

Border WA, Noble NA (1994) Transforming growth factor beta in tissue fibrosis. N Engl J Med 331:1286–1292

4.

Elston DM, McCollough ML, Warschaw KE, Bergfeld WF (2000) Elastic tissue in scars and alopecia. J Cutan Pathol 27:147–152

5.

Fiorucci L, Ascoli F (2004) Mast cell tryptase, a still enigmatic enzyme. Cell Mol Life Sci 61:1278–1295

6.

Gilhar A, Paus R, Kalish RS (2007) Lymphocytes, neuropeptides, and genes involved in alopecia areata. J Clin Invest 117:2019–2027

7.

Gonzalez S, Moran M, Kochevar IE (1999) Chronic photodamage in skin of mast cell-deficient mice. Photochem photobiol 70:248–253

8.

Haber RS (2006) Pathogenesis and medical therapy of male and female pattern hair loss In: Haber RS, Stough DB (eds) Hair transplantation. Elselvier, Philadelphia, pp 1–7

9.

Hawkins RA, Claman HN, Clark RA, Steigerwald JC (1985) Increased dermal mast cell population in progressive systemic sclerosis; a link in chronic fibrosis? Ann intern Med 102:182–186

10.

Horenstein MG, Simon J. (2007) Investigation of the hair follicle inner root sheath in scarring and non-scarring alopecia. J Cutan Pathol 34:762–768

11.

Howard PS (2001) Mast cell enzymes alter the connective tissue phenotype of bladder wall fibroblasts and smooth muscle cells. Urology 57(6 Suppl 1):112–113

12.

Huttunen M, Harvima IT (2005) Mast cell tryptase and chymase in chronic leg ulcers: chymase is potentially destructive to epithelium and is controlled by proteinase inhibitors. Br J Dermatol 152:1149–1160

13.

Inoue Y, King TE Jr, Barker E, Daniloff E, Newman LS (2002) Basic fibroblast growth factor and its receptors in idiopathic pulmonary fibrosis and lymphangioleiomyomatosis. Am J Respir Crit Care Med 166:765–773

14.

Inui S, Fukuzato Y, Nakajima T, Yoshikawa K, Itami S (2002) Androgen inducible TGF beta1 from balding dermal papilla cells inhibits epithelial cell growth: a clue to understand paradoxical effects of androgen on human hair growth. FASEB J 16:1967–1969

15.

Itami S, Inui S (2005) Role of androgen in mesenchymal epithelial interactions in human hair follicle. J Investig Dermatol Symp Proc 10:209–211

16.

Jahoda CA (1998) Cellular and developmental aspects of androgenetic alopecia. Exp Dermatol 7:235–248

17.

Jaworsky C, Kligman AM, Murphy GF (1992) Characterization of inflammatory infiltrates in male pattern alopecia: implications for pathogenesis. Br J Dermatol 127:239–246

18.

Lee YS, Vijayasingam S (1995) Mast cells and myofibroblasta in kelod: a light microscopic, immunohistochemical and ultrastructural study. Ann Acad Med Singapore 24:902–905

19.

Mahe YF, Michelet JF, Billoni N (2000) Androgenetic alopecia and microinflammation. Int J Dermatol 39:576–584

20.

McGaha TL, Bona CA (2002) Role of profibrogenic cytokines secreted by T cells in fibrotic processes in scleroderma. Autoimmun Rev 1:174–181

21.

Nishioka K, Kobayashi Y, Katayama I, Takijiri C (1987) Mast cell numbers in diffuse scleroderma. Arch Dermatol 123:205–208

22.

Obana N, Chang C (1997) inhibition of hair growth by testosterone in the presence of dermal papilla cells from the frontal bald scalp of the postpubertal stumptailed macaque. Endocrinology 138:356–361

23.

Rothe MJ, Nowak M, Kerdel FA (1990) The mast cells in health and disease. J Am Acad Dermatol 23:615–624

24.

Ryan JJ, Kashyap M, Bailey D, Kennedy S, Speiran K, Brenzovich J, Barnstein B, Oskeritzian C, Gomez G (2007) Mast cell homeostasis: a fundamental aspect of allergic disease. Crit Rev Immunol 27:15–32

25.

Saito H (2005) Role of mast cell proteases in tissue remodeling. Chem Immunol Allergy 87:80–84

26.

Sueki H, Stoudemayer T, Kligman AM, Murphy GF (1999) Quantitative and ultrastructural analysis of inflammatory infiltrates in male pattern alopecia. Acta Derm Venereol 79:347–350

27.

Trüeb RM (2002) Molecular mechanisms of androgenetic alopecia. Exp Gerontol 37:981–990

28.

Trüeb RM (2005) Aging of hair. J Cosmet Dermatol 4:60–72

29.

Verrecchia F, Mauviel A, Farge D (2006) Transforming growth factor-beta signaling through the Smad proteins: role in systemic sclerosis. Autoimmun Rev 5:563–569

30.

Wang HW, Tedla N, Hunt JE, Wakefield D, McNeil HP (2005) Mast cell accumulation and cytokine expression in the tight skin mouse model of scleroderma. Exp Dermatol 14:295–302

31.

Wasyłyszyn T, Kozłowski W, Zabielski SL. (2007) Changes in distribution pattern of CD8 lymphocytes in the scalp in alopecia areata during treatment with diphencyprone. Arch Dermatol Res 299:231–237

32.

Whiting DA (1993) Diagnostic and predictive value of horizontal sections of scalp biopsy specimens in male pattern androgenetic alopecia. J Am Acad Dermatol 28:755–763

33.

Xu X, Solky B, Elenitsas R, Cotsarelis G (2003) Scarring alopecia associated with mastocytosis. J Cutan Pathol 30:561–565

34.

Yoo HG, Kim JS, Lee SR, Pyo HK, Moon HI, Lee JH, Kwon OS, Chung JH, Kim KH, Eun HC, Cho KH (2006) Perifollicular fibrosis: pathogenetic role in androgenetic alopecia. Biol Pharm Bull 29:1246–1250
Acknowledgment
This study was supported by a grant from the Korea Health 21 R&D Project, Ministry of Health & Welfare, Republic of Korea (A030086), and by a research agreement with AmorePacific Corporation, Republic of Korea.
About this article
Cite this article
Won, C.H., Kwon, O.S., Kim, Y.K. et al. Dermal fibrosis in male pattern hair loss: a suggestive implication of mast cells. Arch Dermatol Res 300, 147–152 (2008). https://doi.org/10.1007/s00403-007-0826-x
Received:

Revised:

Accepted:

Published:

Issue Date:
Keywords
Mast cell

Tryptase

Chymase

Male pattern hair loss

Fibrosis