Abstract
Chronic exposure of the skin to sunlight causes damage to the underlying connective tissue with a loss of elasticity and firmness. Silicon (Si) was suggested to have an important function in the formation and maintenance of connective tissue. Choline-stabilized orthosilicic acid ("ch-OSA") is a bioavailable form of silicon which was found to increase the hydroxyproline concentration in the dermis of animals. The effect of ch-OSA on skin, nails and hair was investigated in a randomized, double blind, placebo-controlled study. Fifty women with photodamaged facial skin were administered orally during 20 weeks, 10 mg Si/day in the form of ch-OSA pellets (n=25) or a placebo (n=25). Noninvasive methods were used to evaluate skin microrelief (forearm), hydration (forearm) and mechanical anisotropy (forehead). Volunteers evaluated on a virtual analog scale (VAS, "none=0, severe=3") brittleness of hair and nails. The serum Si concentration was significantly higher after a 20-week supplementation in subjects with ch-OSA compared to the placebo group. Skin roughness parameters increased in the placebo group (Rt:+8%; Rm: +11%; Rz: +6%) but decreased in the ch-OSA group (Rt: −16%; Rm: −19%; Rz: −8%). The change in roughness from baseline was significantly different between ch-OSA and placebo groups for Rt and Rm. The difference in longitudinal and lateral shear propagation time increased after 20 weeks in the placebo group but decreased in the ch-OSA group suggesting improvement in isotropy of the skin. VAS scores for nail and hair brittleness were significantly lower after 20 weeks in the ch-OSA group compared to baseline scores. Oral intake of ch-OSA during the 20 weeks results in a significant positive effect on skin surface and skin mechanical properties, and on brittleness of hair and nails.
Access options
Buy single article
Instant access to the full article PDF.
USD 39.95
Price excludes VAT (USA)
Tax calculation will be finalised during checkout.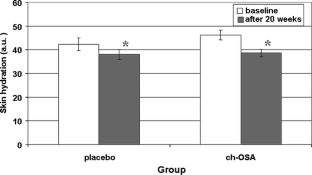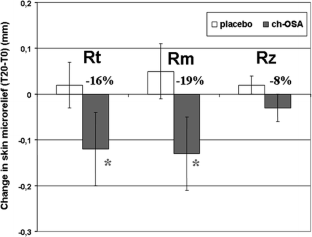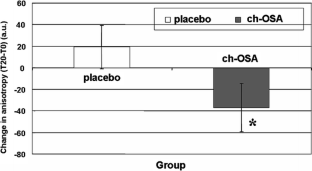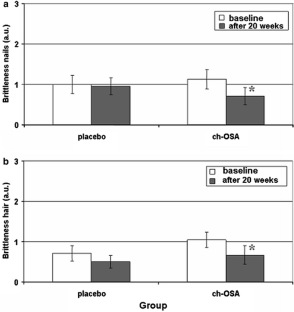 References
Austin JH (1977) Silicon levels in human tissues. Nobel Symp 255–268

Blusztajn JK (1998) Choline, a vital amine. Science 281(5378):794–795

Calomme M, Cos P, D'Haese P, Vingerhoets R, Lamberts L, De Broe M, Van Hoorebeke C, Vanden Berghe D (2000) Silicon absorption from stabilized orthosilicic acid and other supplements in healthy subjects. In: Roussel et al (eds) Trace elements in man and animals, vol. 10. Plenum, New York, pp 1111–1114

Calomme M, Sindambiwe J, Cos P, Vyncke C, Geusens P, Vanden Berghe D (2004) Effect of choline stabilized orthosilicic acid on bone density in ovariectomized rats. J Bone Miner Res 19:S449

Calomme MR, Vanden Berghe D (1997) Supplementation of calves with stabilized orthosilicic acid. Effect on the Si, Ca, Mg, and P concentrations in serum and the collagen concentration in skin and cartilage. Biol Trace Elem 56:153–165

Calomme MR, Wijnen P, Sindambiwe JB, Cos P, Mertens J, Geusens P, Vanden Berghe A (2002) Effect of choline stabilized orthosilicic acid on bone density in chicks. Calcif Tissue Int 70:292

Carlisle EM (1972) Silicon: an essential element for the chick. Science 178:619–621

Carlisle EM (1981) A silicon requirement for prolyl hydroxylase activity. Fed Proc 40:866

Carlisle EM (1981) Silicon: a requirement in bone formation independent of vitamin D1. Calcif Tissue Int 33:27–34

Clarys P, Barel AO, Gabard B (1999) Non-invasive electrical measurements for the evaluation of the hydration state of the skin: comparison between three commercial instruments- the Corneometer, the Skicon and the Nova DPM. Skin Res Technol 5:14–20

De Paepe K, Lagarde JM, Gall Y, Roseeuw D, Rogiers V (2000) Microrelief of the skin using a light transmission method. Arch Dermatol Res 292:500–510

Food and Nutrition Board (1998) Dietary reference intakes for thiamin, riboflavin, niacin, vitamin B6, folate, vitamin B12, panthothenic acid, biotin, and choline. Institute of Medicine, National Academy Press, Washington, DC

Gaziano J et al (1996) Diet and heart disease. The role of fat, alcohol, and antioxidants. Cardiol Clin 14(1):69–83

Hermanns-Lê T, Jonlet F, Scheen A, Piérard GE (2001) Age and body mass index-related changes in cutaneous shear wave velocity. Exp Gerontol 36:363–372

Hott M, de Pollak C, Modrowski D, Marie PJ (1993) Short term effects of organic Silicon on trabecular bone in mature ovariectomised rats. Calcif Tissue Int 53:174–179

Jugdaohsingh R, Reffitt D, Oldham C, Davy JP, Fifield LK, Thompson RPH, Powell JJ (2000) Oligomeric but not monomeric silica prevents aluminum absorption in humans. Am J Clin Nutr 71:944–949

Kieffer ME, Efsen J (1998) Imedeen in the treatment of photoaged skin: an efficacy and safety trial over 12 months. J Eur Acad Dermatol Venereol 11(2):129–136

Lassus A (1993) Colloidal silicic acid for oral and topical treatment of aged skin, fragile hair and brittle nails in females. J Int Med Res 21:209–215

Murad H, Tabibian MP (2001) The effect of an oral supplement containing glucosamine, amino acids, minerals, and antioxidants on cutaneous aging: a preliminary study. J Dermatol Treat 12:47–51

Olsen EA, Katz HI, Levine N, Nigra TP, Pochi PE, Savin RC, Shupack J, Weinstein GD, Lufrano L, Perry BH (1997) Tretinoin emollient cream for photodamaged skin: results of 48-week, multicenter, double-blind studies. J Am Acad Dermatol 37:217–226

Pennington JA (1991) Silicon in food and diets. Food Addit Contam 8:97–118

Reffitt DM, Jugdaohsingh R, Thompson RP, Powell JJ (1999) Silicic acid: its gastrointestinal uptake and urinary excretion in man and effects on aluminium excretion. J Inorg Biochem 76:141–147

Reffitt DM, Ogston N, Jugdaohsingh R, Cheung HFJ, Evans BAJ, Thompson RPH, Powell JJ, Hampson GN (2003) Orthosilicic acid (OSA) stimulates collagen type 1 synthesis and osteoblast differentation in human osteoblast-like cells in vitro. Bone 32:127–135

Rico H, Gallego-Lago JL, Hernandez ER, Villa LF, Sanchez-Atrio A, Seco C, Gervas JJ. (2000) Effect of silicon supplement on osteopenia induced by ovariectomy in rats. Calcif Tissue Int 66:53–55

Schwarz K (1973) A bound form of silicon in glycosaminoglycans and polyuronides. Proc Natl Acad Sci USA 70(5):1608–1612

Seaborn CD, Nielsen FH (1994) Dietary silicon affects acid and alkaline phosphatase and 45 calcium uptake in bone of rats. J Trace Elem Exp Med 7:11–18

Seaborn CD, Nielsen FH (2002) Dietary silicon and arginine affect mineral element composition of rat femur and vetrebra. Biol Trace Elem Res 89:239–250

Seaborn CD, Nielsen FH (2002) Silicon deprivation decreases collagen formation in wounds and bone, and ornithine transaminase enzyme activity in liver. Biol Trace Elem Res 89(3):251–261

Smith BL (1993) Analysis of hair element levels by age, sex, race, and hair color. In: Anke M, Meissner D, Mills CF (eds) Trace elements in man and animals, TEMA 8. Kluwer Academic, New York, pp 1091–1093

Sripanyakorn S et al (2004) The silicon content of beer and its bioavailability in healthy volunteers. Br J Nutr 91:403–409

Stiller MJ, Bartolone J, Stern R, Smith S, Kollias N, Gillies R, Drake (1996) Topical 8% glycolic acid and 8% L-Lactic acid creams for the treatment of photodamaged skin. A double-blind vehicle controlled clinical trial. Arch Dermatol 132:631–636

Trautinger F (2001) Mechanisms of photodamage of the skin and its functional consequences for skin ageing. Clin Exp Dermatol 26:573–577

Van Dyck K, Van Cauwenberghe R, Robberecht H, Deelstra H (1999) Bioavailability of silicon from food and food supplements. Fresenius J Anal Chem 363:541–544

Zeisel SH (1990) Choline deficiency. J Nutr Biochem 1:332–349

Zeisel SH (2003) Concentrations of choline-containing compounds and betaine in common foods. J Nutr 133:1302–1307
Acknowledgements
The authors thank Dr. André Moreels and the technical staff of The Medical Centre, Vrije Universiteit Brussel, for blood sampling of the study subjects. ch-OSA was developed by Dirk Vanden Berghe for Bio Minerals n.v. This study was supported by a grant of Bio Minerals n.v.
About this article
Cite this article
Barel, A., Calomme, M., Timchenko, A. et al. Effect of oral intake of choline-stabilized orthosilicic acid on skin, nails and hair in women with photodamaged skin. Arch Dermatol Res 297, 147–153 (2005). https://doi.org/10.1007/s00403-005-0584-6
Received:

Revised:

Accepted:

Published:

Issue Date:

DOI: https://doi.org/10.1007/s00403-005-0584-6
Keywords
Photodamaged skin

Silicon

Orthosilicic acid

Nails

Hair