Abstract
No studies have been performed evaluating skin barrier alterations in humans exposed to ultra-low humidity (ULH) in spite of several lines of evidence from animal experiments suggesting that the skin barrier is altered on exposure to ULH. The objectives of this study were to assess barrier function changes in workers occupationally exposed to ULH (relative humidity 1.5%), and to evaluate whether the exposure duration shows a dose-response relationship with transepidermal water loss (TEWL) and skin capacitance. A total of 49 male workers exposed to ULH for 12 h per working day were classified into five subgroups based on their ULH exposure duration (<0.5 months, 0.5–1.0 month, 1.1–10.0 months, 10.1–20.0 months, and >20.0 months). A group of 12 age-matched male laboratory workers from a normal humidity environment were recruited as a control group. TEWL and skin capacitance were measured to evaluate their skin barrier function. TEWL measurements showed a significant decline (8.3±0.4 vs 10.0±0.4 g m−2 h−1, P<0.05) but no differences were found in skin capacitance (39.7±1.3 a.u. vs 45.0±2.4 a.u., P=0.68) between the whole ULH exposure group and the control group. Maximum decreases in TEWL and skin capacitance were seen in the subgroups exposed for <0.5 months and 0.5–1.0 month, respectively. Almost completely natural recovery occurred in skin capacitance after 20 months ULH exposure, in contrast to less than 90% recovery in TEWL. Three stages were defined according to the pattern of alterations in TEWL and skin capacitance in relation to ULH exposure duration. A positive association between TEWL and skin capacitance occurred in the control group and stage I but a negative correlation in stage II. No correlation was found in stage III. Our study demonstrated that workers exposed to a ULH environment could exhibit skin barrier alterations. Both TEWL and skin capacitance decreased within 2 weeks of ULH exposure. The maximum alterations in TEWL and skin capacitance occurred during 0.5–1.0 months and 2 weeks, respectively. TEWL recovered partially and more slowly than skin capacitance which recovered earlier and almost completely.
Access options
Buy single article
Instant access to the full article PDF.
US$ 39.95
Tax calculation will be finalised during checkout.
Subscribe to journal
Immediate online access to all issues from 2019. Subscription will auto renew annually.
US$ 119
Tax calculation will be finalised during checkout.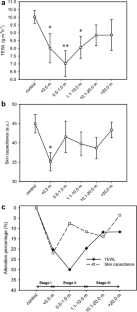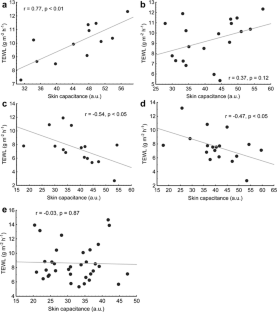 References
1.

Schaefer H, Redelmeier T (1995) Skin barrier: principles of percutaneous absorption. New York, Karger, pp 21–22

2.

Wyon P (1992) Sick buildings and the experimental approach. Environ Technol 13:313–322

3.

ASHRAE (1999) Ventilation for acceptable indoor air quality (standard 62). American Society of Heating, Refrigerating and Air-conditioning Engineers, Atlanta, GA

4.

Rycroft RJ, Smith WD (1980) Low humidity occupational dermatoses. Contact Dermatitis 6:488–492

5.

Nagda NL, Hodgson M (2001) Low relative humidity and aircraft cabin air quality. Indoor Air 11:200–214

6.

Sato J, Denda M, Nakanishi J, Koyama J (1998) Dry condition affects desquamation of stratum corneum in vivo. J Dermatol Sci 18:163–169

7.

Denda M, Sato J, Masuda Y, Tsuchiya T, Koyama J, Kuramoto M, Elias PM, Feingold KR (1998) Exposure to a dry environment enhances epidermal permeability barrier function. J Invest Dermatol 111:858–863

8.

Denda M, Sato J, Tsuchiya T, Elias PM, Feingold KR (1998) Low humidity stimulates epidermal DNA synthesis and amplifies the hyperproliferative response to barrier disruption: implication for seasonal exacerbations of inflammatory dermatoses. J Invest Dermatol 111:873–878

9.

Sato M, Fukayo S, Yano E (2003) Adverse environmental health effects of ultra-low relative humidity indoor air. J Occup Health 45:133–136

10.

Aalto-Korte K, Turpeinen M (1993) Transepidermal water loss and absorption of hydrocortisone in widespread dermatitis. Br J Dermatol 128:633–635

11.

Zhai H, Leow YH, Maibach HI (1998) Human barrier recovery after acute acetone perturbation: an irritant dermatitis model. Clin Exp Dermatol 23:11–13

12.

Wigger-Alberti W, Krebs A, Elsner P (2000) Experimental irritant contact dermatitis due to cumulative epicutaneous exposure to sodium lauryl sulphate and toluene: single and concurrent application. Br J Dermatol 143:551–556

13.

Pinnagoda J, Tupker RA (1995) Measurement of the transepidermal water loss. In: Serup J, Jemec GBE (eds) Handbook of non-invasive methods and the skin. CRC Press, Boca Raton, pp 173–178

14.

Chou TC, Shih TS, Tsai JC, Wu JD, Sheu HM, Chang HY (2004) Effect of occupational exposure to rayon manufacturing chemicals on skin barrier to evaporative water loss. J Occup Health 46:410–417

15.

Sato J, Denda M, Chang S, Elias PM, Feingold KR (2002) Abrupt decreases in environmental humidity induce abnormalities in permeability barrier homeostasis. J Invest Dermatol 119:900–904

16.

Egawa M, Oguri M, Kuwahara T, Takahashi M (2002) Effect of exposure of human skin to a dry environment. Skin Res Technol 8:212–218

17.

Rycroft RJ (1985) Low humidity and microtrauma. Am J Ind Med 8:371–373

18.

Rogiers V; EEMCO Group (2001) EEMCO guidance for the assessment of transepidermal water loss in cosmetic sciences. Skin Pharmacol Appl Skin Physiol 14:117–128

19.

Barel AO, Clarys P (1995) Measurement of epidermal capacitance. In: Serup J, Jemec GBE (eds) Handbook of non-invasive methods and the skin. CRC Press, Boca Raton, pp 165–170

20.

Tagami H, Yoshikuni K (1985) Interrelationship between water-barrier and reservoir functions of pathologic stratum corneum. Arch Dermatol 121:642–645
Acknowledgements
The authors are grateful to all participants for their cooperation. We also thank Ms. Jo-Han Liang, Ms. Chia-Chun Chen, Mr. Yu-Chieh Kuo, and Mr. You-Ching Sung for their technical assistance.
About this article
Cite this article
Chou, TC., Lin, KH., Wang, SM. et al. Transepidermal water loss and skin capacitance alterations among workers in an ultra-low humidity environment. Arch Dermatol Res 296, 489–495 (2005). https://doi.org/10.1007/s00403-005-0541-4
Received:

Revised:

Accepted:

Published:

Issue Date:
Keywords
Ultra-low humidity

Skin barrier function

Transepidermal water loss

Skin capacitance

Occupational exposure