Abstract
Purpose
To report surgical outcomes in patients treated with conversion total hip arthroplasty (CTHA) for early failure of cephalomedullary nails (CMNs).
Methods
A retrospective review was conducted of CTHA for treatment of failed CMN within 1 year of initial surgery for intertrochanteric (IT) hip fractures. The cohort was matched 1:5 to patients who underwent elective primary THA (PTHA). Patient demographics, mechanism of CMN failure, surgical outcomes, and complication rates were assessed.
Results
22 patients met criteria with a mean time to failure of 145 days. Modes of failure included: lag screw cut-out with superior migration (9, 40.9%), or medialization (8, 36.4%), and aseptic nonunion with implant failure (2, 9.0%) and without implant failure (3, 13.6%). Fourteen of the patients (63.6%) had acetabular-sided damage secondary to lag screw penetration, all in the screw cut-out groups. Patient demographics were similar between cohorts. Compared to PTHA, CTHA patients had increased operative time, blood loss, LOS, and readmission rates. After IMN failure, the operative leg was shorter than the contralateral leg in all cases. CTHA restored leg lengths to <  = 10 mm in 15 (68.1%) of patients, with an average leg length discrepancy after CTHA of 6.7 mm. CTHA patients had increased rates of overall surgical complications and medical complications, specifically anemia (all p < 0.01). Tranexamic acid was used less often in the CTHA group (p < 0.01). Rate of periprosthetic joint infection (PJI), dislocation, and revision were all higher in the CTHA, though did not reach statistical significance.
Conclusion
The majority (77.3%) of CMN implant failure for nonunion within 1 year was due to screw cut-out. CTHA is a salvage option for early failed IT hip fracture repair, but expected surgical outcomes are more similar to revision THA than primary THA, with increased risk of readmission, longer surgery and LOS, increased blood loss, and higher complication rates.
Level of evidence
III, Retrospective comparative study.
Access options
Buy single article
Instant access to the full article PDF.
USD 39.95
Price includes VAT (USA)
Tax calculation will be finalised during checkout.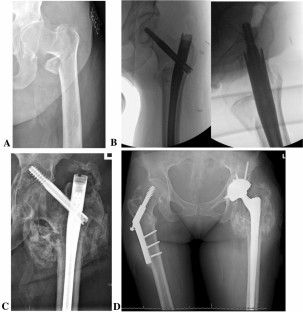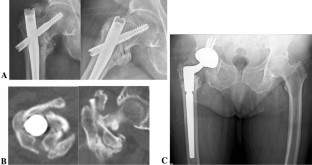 Abbreviations
CTHA:

Conversion total hip arthroplasty

THA:

Total hip arthroplasty

CMNs:

Cephalomedullary nails

IT:

Intertrochanteric

PTHA:

Primary THA

PJI:

Periprosthetic joint infection

LOS:

Length of hospital stay after surgery

DVT:

Deep venous thromboembolism

PE:

Pulmonary embolism

AKI:

Acute kidney injury

UTI:

Urinary tract infections

LLD:

Leg length discrepancy
References
1.

Mariani EM, Rand JA (1987) Nonunion of intertrochanteric fractures of the femur following open reduction and internal fixation. Results of second attempts to gain union. Clin Orthop Relat Res. https://doi.org/10.1097/00003086-198705000-00013

2.

Sarathy MP, Madhavan P, Ravichandran KM (1995) Nonunion of intertrochanteric fractures of the femur. Treatment by modified medial displacement and valgus osteotomy. J Bone Joint Surg Br 77(1):90–92

3.

Schwarzkopf R, Baghoolizadeh M (2015) Conversion total hip arthroplasty: primary or revision total hip arthroplasty. World J Orthop 6(10):750–753

4.

Schwarzkopf R, Chin G, Kim K, Murphy D, Chen AF (2017) Do conversion total hip arthroplasty yield comparable results to primary total hip arthroplasty? J Arthroplasty 32(3):862–871

5.

Haidukewych GJ, Berry DJ (2003) Hip arthroplasty for salvage of failed treatment of intertrochanteric hip fractures. J Bone Joint Surg Am 85(5):899–904

6.

Smith A, Denehy K, Ong KL, Lau E, Hagan D, Malkani A (2019) Total hip arthroplasty following failed intertrochanteric hip fracture fixation treated with a cephalomedullary nail. Bone Joint J 101-B(6_Supple_B):91–96

7.

Qin CD, Helfrich MM, Fitz DW, Oyer MA, Hardt KD, Manning DW (2018) Differences in post-operative outcome between conversion and primary total hip arthroplasty. J Arthroplasty 33(5):1477–1480

8.

DeHaan AM, Groat T, Priddy M, Ellis TJ, Duwelius PJ, Friess DM et al (2013) Salvage hip arthroplasty after failed fixation of proximal femur fractures. J Arthroplasty 28(5):855–859

9.

Lee Y-K, Kim JT, Alkitaini AA, Kim K-C, Ha Y-C, Koo K-H (2017) Conversion hip arthroplasty in failed fixation of intertrochanteric fracture: a propensity score matching study. J Arthroplasty 32(5):1593–1598

10.

Archibeck MJ, Carothers JT, Tripuraneni KR, White RE (2013) Total hip arthroplasty after failed internal fixation of proximal femoral fractures. J Arthroplasty 28(1):168–171

11.

Luthringer TA, Elbuluk AM, Behery OA, Cizmic Z, Deshmukh AJ (2018) Salvage of failed internal fixation of intertrochanteric hip fractures: clinical and functional outcomes of total hip arthroplasty versus hemiarthroplasty. Arthroplast Today 4(3):383–391

12.

Kaplan K, Miyamoto R, Levine BR, Egol KA, Zuckerman JD (2008) Surgical management of hip fractures: an evidence-based review of the literature. II: intertrochanteric fractures. J Am Acad Orthop Surg 16(11):665–673

13.

Meinberg EG, Agel J, Roberts CS, Karam MD, Kellam JF (2018) Fracture and dislocation classification compendium-2018. J Orthop Trauma 32(Suppl 1):S1-170

14.

Kjellberg M, Al-Amiry B, Englund E, Sjödén GO, Sayed-Noor AS (2012) Measurement of leg length discrepancy after total hip arthroplasty. The reliability of a plain radiographic method compared to CT-scanogram. Skeletal Radiol 41(2):187–191

15.

Austin PC (2011) An introduction to propensity score methods for reducing the effects of confounding in observational studies. Multivariate Behav Res 46(3):399–424

16.

Pui CM, Bostrom MP, Westrich GH, Della Valle CJ, Macaulay W, Mont MA et al (2013) Increased complication rate following conversion total hip arthroplasty after cephalomedullary fixation for intertrochanteric hip fractures: a multi-center study. J Arthroplasty 28(8 Suppl):45–47

17.

Gazzotti G, Matino G, Tsatsis C, Sacchetti G, Baudi P, Catani F (2014) Causes and treatments of lag screw's cut out after intramedullary nailing osteosinthesis for trochanteric fractures. Acta Biomed 85(2):135–143

18.

Takasago T, Goto T, Toki S, Hamada D, Yoshioka S, Tonogai I et al (2014) Intrapelvic migration of the lag screw in intramedullary nailing. Case Rep Orthop 2014:519045

19.

Fryhofer GW, Ramesh S, Sheth NP (2020) Acetabular reconstruction in revision total hip arthroplasty. J Clin Orthop Trauma 11(1):22–28

20.

Klima ML (2021) Comparison of early fatigue failure of the TFNa and gamma 3 cephalomedullary nails in the United States from 2015 to 2019. J Orthop Trauma 35(2):e39-44

21.

Exaltacion JJF, Incavo SJ, Mathews V, Parsley B, Noble P (2012) Hip arthroplasty after intramedullary hip screw fixation: a perioperative evaluation. J Orthop Trauma 26(3):141–147

22.

Patel S, Soler JA, El-Husseiny M, Pegg DJ, Witt JD, Haddad FS (2012) Trochanteric fixation using a third-generation cable device–minimum follow-up of 3 years. J Arthroplasty 27(3):477–481

23.

Austin MS, Hozack WJ, Sharkey PF, Rothman RH (2003) Stability and leg length equality in total hip arthroplasty. J Arthroplasty 18(3 Suppl 1):88–90

24.

Maloney WJ, Keeney JA (2004) Leg length discrepancy after total hip arthroplasty. J Arthroplasty 19(4 Suppl 1):108–110

25.

Dou Y, Zhou Y, Tang Q, Yang D, Liu J (2013) Leg-length discrepancy after revision hip arthroplasty: are modular stems superior? J Arthroplasty 28(4):676–679

26.

Hines JT, Hernandez NM, Amundson AW, Pagnano MW, Sierra RJ, Abdel MP (2019) Intravenous tranexamic acid safely and effectively reduces transfusion rates in revision total hip arthroplasty. Bone Joint J 101-B(6_Supple_B):104–109
Funding
Kenneth Egol—Smith & Nephew: Paid presenter or speaker; Synthes & Acumed: Research support; Exactech: Royalties, Paid Consultant; Wolters Kluwer: Royalties. Ran Schwarzkopf—Smith & Nephew: IP royalties; Paid consultant; Research supports.
Ethics declarations
Ethical approval
Approved- NYU SOM IRB number i17-01223.
Additional information
Publisher's Note
Springer Nature remains neutral with regard to jurisdictional claims in published maps and institutional affiliations.
About this article
Cite this article
Schultz, B.J., Sicat, C., Penev, A. et al. Conversion total hip arthroplasty for early failure following unstable intertrochanteric hip fracture: what can patients expect?. Arch Orthop Trauma Surg (2021). https://doi.org/10.1007/s00402-021-04215-1
Received:

Accepted:

Published:
Keywords
Conversion total hip arthroplasty

Conversion arthroplasty

Failed intertrochanteric hip fractures

Screw cut-out

Implant failure