Abstract
Background
The purpose of this study was to examine the influence of lateral hinge fractures in medial closing-wedge distal femoral osteotomy (MCWDFO) on bone union.
Methods
Twenty-one patients were followed-up for more than 1 year after MCWDFO. The incidence and type of hinge fracture, as well as the course of bone healing, were investigated. Slow healing was defined as bone union was not obtained until 3 months after surgery.
Results
Hinge fractures were observed in 12 cases (57%). There were three types of hinge fractures. Type 1: the lateral cortex was completely cut through (4 cases), type 2: the osteotomy line was too proximal (6 cases), and type 3: the hinge point was significantly medial (2 cases). There was a significant difference in the mean correction angles between hinge fracture and no-fracture cases, with the mean angles being 13.8 ± 4.0° and 9.6 ± 3.1°, respectively. Sixty-seven percent (8/12) of cases with hinge fractures developed slow healing. Among the hinge fracture cases, when there was no displacement of the hinge fracture and good contact with the anterior flange, 40% (2/5) of cases developed slow healing. If there was displacement of the hinge or no contact of the anterior flange, 86% (6/7) of cases developed slow healing. In contrast, only 11% (1/9) of subjects who did not have a hinge fracture, developed slow healing. In 67% (6/9) of cases with slow healing, a correction loss of 2° or greater (average: 4.3 degrees valgus) was observed. There were no cases of non-union. Clinical outcomes at 1 year showed no significant difference between the groups with and without hinge fractures.
Conclusions
There is a very high risk of hinge fracture in patients undergoing MCWDFO. Hinge fractures often lead to slow healing and a loss of correction. We recommend the endpoint of the distal lateral cortex of the femur as the ideal hinge point for the prevention of hinge fractures. Bone union is obtained slowly in even all hinge fracture cases without revision surgery. Consequently, surgical results are not affected by the occurrence of hinge fracture at 1 year.
Access options
Buy single article
Instant access to the full article PDF.
USD 39.95
Price includes VAT (USA)
Tax calculation will be finalised during checkout.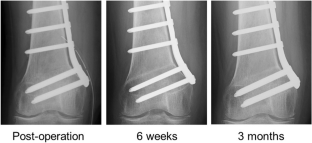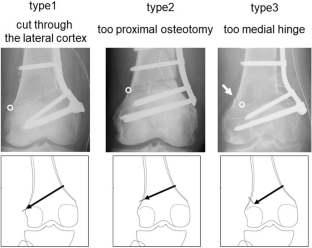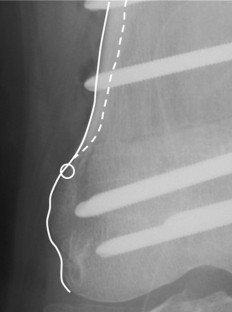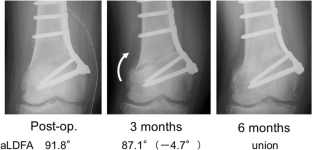 Availability of data and materials
The datasets during and/or analysed during the current study available from the corresponding author on reasonable request.
References
1.

Chahla J, Mitchell JJ, Liechti DJ, Moatshe G, Menge TJ, Dean CS, LaPrade RF (2016) Opening- and closing-wedge distal femoral osteotomy: a systematic review of outcomes for isolated lateral compartment osteoarthritis. Orthop J Sports Med 4(6):1–8

2.

Kim YC, Yang JH, Kim HJ, Tawonsawatruk T, Chang YS, Lee JS, Bhandare NN, Kim KS, Delgado GDG, Nha KW (2018) Distal femoral varus osteotomy for valgus arthritis of the knees: systematic review of open versus closed wedge osteotomy. Knee Surg Relat Res 30(1):3–16

3.

Wylie JD, Jones DL, Hartley MK, Kapron AL, Krych AJ, Aoki SK, Maak TG (2016) Distal femoral osteotomy for the valgus knee: medial closing wedge versus lateral opening wedge: a systematic review. Arthroscopy 32(10):2141–2147

4.

Ogawa H, Matsumoto K, Akiyama H (2017) The prevention of a lateral hinge fracture as a complication of a medial opening wedge high tibial osteotomy: a case control study. Bone Jt J 99-B(7):887–893

5.

Takeuchi R, Ishikawa H, Kumagai K, Yamaguchi Y, Chiba N, Akamatsu Y, Saito T (2012) Fractures around the lateral cortical hinge after a medial opening-wedge high tibial osteotomy: a new classification of lateral hinge fracture. Arthroscopy 28(1):85–94

6.

Nakamura R, Komatsu N, Murao T, Okamoto Y, Nakamura S, Fujita K, Nishimura H, Katsuki Y (2015) The validity of the classification for lateral hinge fractures in open wedge high tibial osteotomy. Bone Jt J 97-B(9):1226–1231

7.

Lee OS, Lee YS (2018) Diagnostic value of computed tomography and risk factors for lateral hinge fracture in the open wedge high tibial osteotomy. Arthroscopy 34(4):1032–1043

8.

Dexel J, Fritzsche H, Beyer F, Harman MK, Lützner J (2017) Open-wedge high tibial osteotomy: incidence of lateral cortex fractures and influence of fixation device on osteotomy healing. Knee Surg Sports Traumatol Arthrosc 25(3):832–837

9.

Kellgren JH, Lawrence JS (1957) Radiological assessment of osteo-arthrosis. Ann Rheum Dis 16(4):494–502

10.

Koshino T (1982) The treatment of spontaneous osteonecrosis of the knee by high tibial osteotomy with and without bone-grafting or drilling of the lesion. J Bone Jt Surg Am 64(1):47–58

11.

Brinkman J-M, Hurschler C, Agneskirchner JD, Freiling D, van Heerwaarden RJ (2011) Axial and torsional stability of an improved single plane and a new biplanar osteotomy technique for supracondylar femur osteotomies. Knee Surg Sports Traumatol Arthrosc 19(7):1090–1098

12.

Aoki Y, Yasuda K, Mikami S, Ohmoto H, Majima T, Minami A (2006) Inverted V-shaped high tibial osteotomy compared with closing-wedge high tibial osteotomy for osteoarthritis of the knee. Ten-year follow-up result. J Bone Jt Surg Br 88(10):1336–1340

13.

Nakamura N, Takeuchi R, Sawaguchi T, Ishikawa H, Saito T, Goldhahn S (2001) Cross-cultural adaptation and validation of the Japanese knee injury and osteoarthritis outcome score (KOOS). J Orthop Sci 16(5):516–523

14.

Nha KW, Chang YS, Shon OJ, Shim BJ, Lee JS, Song JS, Bae JH (2019) Where is the target point to prevent cortical hinge fracture in medial closing-wedge distal femoral varus osteotomy? J Knee Surg 32(3):274–279

15.

Liska F, Voss A, Imhoff FB, Willinger L, Imhoff AB (2018) Nonunion and delayed union in lateral open wedge distal femoral osteotomies-a legitimate concern? Int Orthop 42(1):9–15

16.

van Heerwaarden RJ, Wymenga AB, Freiling D, Staubli AE (2008) Supracondylar varization osteotomy of the femur with plate fixation. Osteotomies around the knee. AO Publishing, London, pp 147–166

17.

Wylie JD, Maak TG (2016) Medial closing-wedge distal femoral osteotomy for genu valgum with lateral compartment disease. Arthrosc Tech 5(6):e1357–e1366

18.

Kim TW, Lee MC, Cho JH, Kim JS, Lee YS (2019) The ideal location of the lateral hinge in medial closing wedge osteotomy of the distal femur: analysis of soft tissue coverage and bone density. Am J Sports Med 47(12):2945–2951

19.

Wang JW, Hsu CC (2005) Distal femoral varus osteotomy for osteoarthritis of the knee. J Bone Jt Surg Am 87(1):127–133

20.

Omidi-Kashani F, Hasankhani IG, Mazlumi M, Ebrahimzadeh MH (2009) Varus distal femoral osteotomy in young adults with valgus knee. J Orthop Surg Res 4:15

21.

Lee SJ, Kim JH, Choi W (2021) Factors related to the early outcome of medial open wedge high tibial osteotomy: coronal limb alignment affects more than cartilage degeneration state. Arch Orthop Trauma Surg 141(8):1339–1348

22.

Sohn S, Koh IJ, Kim MS, In Y (2020) Risk factors and preventive strategy for excessive coronal inclination of tibial plateau following medial opening-wedge high tibial osteotomy. Arch Orthop Trauma Surg. https://doi.org/10.1007/s00402-020-03660-8
Ethics declarations
Conflict of interest
No benefits in any form have been received or will be received from a commercial party related directly or indirectly to the subject of this article.
Ethical approval/consent to participate/consent to publish
This retrospective investigational protocol was conducted with the approval of the Ethics Committee of the Toyama Municipal Hospital (IRB No. 2018-22). In accordance with the requirements of this review, all subjects were provided informed consent to participate and publish this study.
Additional information
Publisher's Note
Springer Nature remains neutral with regard to jurisdictional claims in published maps and institutional affiliations.
About this article
Cite this article
Fujita, K., Sawaguchi, T., Goshima, K. et al. Influence of lateral hinge fractures on biplanar medial closing-wedge distal femoral osteotomy for valgus knee: a new classification of lateral hinge fracture. Arch Orthop Trauma Surg (2021). https://doi.org/10.1007/s00402-021-04212-4
Received:

Accepted:

Published:
Keywords
Medial closing-wedge distal femoral osteotomy

Hinge fracture

Bone healing