Abstract
Recently, catastrophic failure (i.e., dissociation between the metal femoral head and stem due to stem neck deformation) after total hip arthroplasty (THA) has been reported. Early detection of this complication is very important, because it is accompanied by an increased cobalt concentration in the body, which might influence systemic conditions such as heart failure and immune system diseases. However, early detection of stem neck deformation is considered as difficult. In most cases in the literatures, the diagnosis was made at the time of acute dissociation. We report a case of early detection of stem neck deformation with the 'Bowing-head sign' before acute dissociation. The patient is a 71-year old woman complained of a clicking sensation in the right hip during regular follow-up after THA with a 32-mm cobalt/chromium head with polyethylene insert for osteoarthritis performed 7 years previously. The plain radiograph showed that the angle between the metal femoral head and the axis of the stem neck was not perpendicular ('Bowing-head sign'). Dynamic evaluation under fluoroscopy showed movement of the stem neck in the metal femoral head with hip abduction and adduction. Laboratory data showed abnormal serum cobalt (6.3 μg/L, normal < 1 μg/L) and chromium (3.8 μg/L, normal < 5 μg/L) levels. Considering those radiographic findings, deformation of the stem neck due to trunnionosis was diagnosed, and elective revision surgery was performed without any complications. Plain radiographs after THA should be assessed with attention to this complication, 'Bowing-head sign' must not be overlooked.
This is a preview of subscription content, log in to check access.
Access options
Buy single article
Instant access to the full article PDF.
US$ 39.95
Price includes VAT for USA
Subscribe to journal
Immediate online access to all issues from 2019. Subscription will auto renew annually.
US$ 199
This is the net price. Taxes to be calculated in checkout.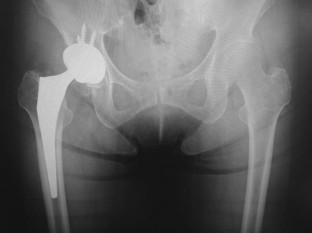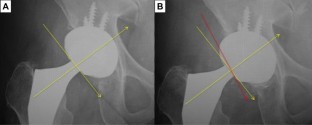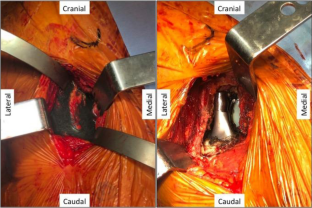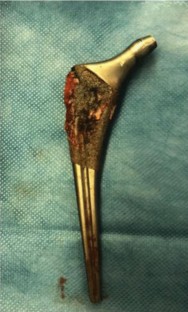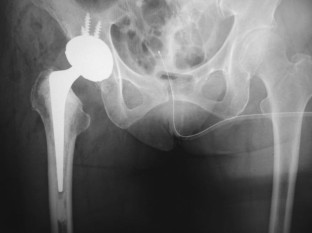 References
1.

Arvinte D, Kiran M, Sood M (2015) Femoral head-trunnion dissociation secondary to corrosion of a modular total hip replacement: a case report. JBJS Case Connect 5(2):e35–e34

2.

Bansal T, Aggarwal S, Dhillon MS, Patel S (2020) Gross trunnion failure in metal on polyethylene total hip arthroplasty: a systematic review of literature. Int Orthop 44(4):609–621

3.

Bolarinwa SA, Martino JM, Moskal JT, Wolfe MW, Shuler TE (2019) Gross trunnion failure after a metal-on-polyethylene total hip arthroplasty leading to dissociation at the femoral head-trunnion interface. Arthroplast Today 5(1):5–10

4.

Bradberry SM, Wilkinson JM, Ferner RE (2014) Systemic toxicity related to metal hip prostheses. Clin Toxicol (Phila) 52(8):837–847

5.

Howie DW, Holubowycz OT, Middleton R (2012) Large femoral heads decrease the incidence of dislocation after total hip arthroplasty: a randomized controlled trial. J Bone Jt Surg Am Vol 94(12):1095–1102

6.

Ikeda T, Takahashi K, Kabata T, Sakagoshi D, Tomita K, Yamada M (2010) Polyneuropathy caused by cobalt-chromium metallosis after total hip replacement. Muscle Nerve 42(1):140–143

7.

Jinnai Y, Baba T, Zhuang X et al (2020) Does a fluoro-assisted direct anterior approach for total hip arthroplasty pose an excessive risk of radiation exposure to the surgeon? Sicot-J 6:6

8.

Matsen Ko L, Chen AF, Deirmengian GK, Hozack WJ, Sharkey PF (2016) Catastrophic femoral head–stem trunnion dissociation secondary to corrosion. J Bone Jt Surg Am Vol 98(16):1400–1404

9.

Pryse-Phillips W (2009) Companion to clinical neurology. Oxford University Press, Oxford

10.

Runner RP, Bellamy JL, Roberson JR (2016) Gross trunnion failure of a cobalt-chromium femoral head on a titanium stem at midterm follow-up: a report of 3 cases. JBJS Case Connect 6(4):e96

11.

Sanz Pérez MI, Rico Villoras AM, Moreno Velasco A, Bartolomé García S, Campo Loarte J (2019) Heart transplant secondary to cobalt toxicity after hip arthroplasty revision. Hip Int: J Clin Exp Res Hip Pathol Ther 29(4):Np1–np5

12.

Shamshoon S, Thornley P, de Beer J (2018) Profound trunnion wear resulting in femoral head-neck dissociation in total hip arthroplasty. Case Rep Orthop 2018:1534572

13.

Zywiel MG, Brandt JM, Overgaard CB, Cheung AC, Turgeon TR, Syed KA (2013) Fatal cardiomyopathy after revision total hip replacement for fracture of a ceramic liner. Bone Jt J 95-b(1):31–37
Acknowledgements
We thank Takehisa Matsukawa, Ph.D, and, Ayano Kubota for a measurement of blood metal concentration. We thank Mr. Colin G Murphy for his advice of the title and content of the manuscript.
Funding
No funds were received in support of this study. No benefits in any form have been received or will be received from a commercial party related directly or indirectly to the subject of this article.
Ethics declarations
Conflict of interest
The authors declare that they have no conflict of interest.
Additional information
Publisher's Note
Springer Nature remains neutral with regard to jurisdictional claims in published maps and institutional affiliations.
About this article
Cite this article
Homma, Y., Morikawa, T., Ishii, S. et al. Bowing-head sign: rare but detectable in pre-catastrophic hip implant failure. Arch Orthop Trauma Surg (2020). https://doi.org/10.1007/s00402-020-03609-x
Received:

Accepted:

Published:
Keywords
Total hip arthroplasty

Bowing-head sign

Cementles stem

Cobalt

Dissociation