Abstract
Introduction
Kyphoplasty is an established method of treating osteoporotic vertebral body compression fractures. In recent years, several techniques to enhance the efficiency and outcomes of this surgery have been developed and implemented in clinical practice. In the present study, we assess the impact of two new access instruments on overall operation time and the administered dose area product in comparison with the standard access instrument used in our clinical practice. The two newer comparator devices have been designed with the intention of streamlining intraoperative workflow by omitting several procedural steps.
Materials and methods
This was a single-center prospective randomized trial investigating three distinct access instruments compatible with the Joline Allevo balloon catheter system. Specifically, two newer access devices marketed as being able to enhance surgical workflow (Joline RapidIntro Vertebra Access Device with a trocar tip and Joline SpeedTrack Vertebra Introducer Device with a short, tapered tip) were compared with the older, established Joline Vertebra Access Device from the same firm. Consecutive eligible and consenting patients scheduled to undergo kyphoplasty for osteoporotic vertebral compression fracture refractory to conservative, medical treatment during the period May 2012–August 2015 were randomized to receive surgery using one of the three devices. Besides the use of the trial instruments, all other preoperative, intraoperative and postoperative care was delivered according to standard practice.
Results
91 kyphoplasties were performed on 65 unique patients during the study period. The median operation time across the three groups was 29 min (IQR 22.5–35.5) with a median irradiation time of 2.3 min (IQR 1.2–3.4). The median patient age was 74 years (IQR 66–80). The groups did not significantly differ in terms of age (p = 0.878), sex (p = 0.37), T score (p = 0.718), BMI (p = 0.285) or the applied volume of cement (p = 0.792). There was no significant difference between the treatment groups with respect to surgical duration (p = 0.157) or dose area product (p = 0.913).
Conclusions
Although use of the two newer-generation access instruments were designed to involve fewer unique steps per operation, their use was not associated with reduction in surgical duration, irradiation time or dose area product administered compared with the older, established vertebral access device. Care should be taken to evaluate the impact of new instruments on key surgery-related parameters such as surgical duration and radiation exposure and claims made about new instruments should be assessed a structured fashion.
Access options
Buy single article
Instant access to the full article PDF.
USD 39.95
Price excludes VAT (USA)
Tax calculation will be finalised during checkout.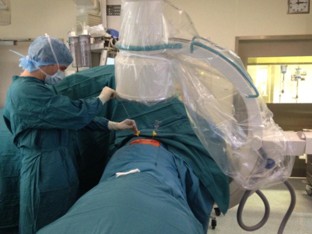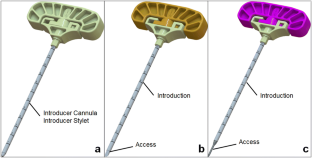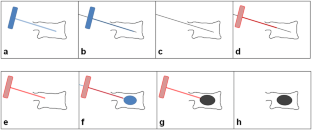 References
Lee YL, Yip KM (1996) The osteoporotic spine. Clin Orthop Relat Res 323:91–97

Hernlund E, Svedbom A, Ivergard M, Compston J, Cooper C, Stenmark J, McCloskey EV, Jonsson B, Kanis JA (2013) Osteoporosis in the European Union: medical management, epidemiology and economic burden. A report prepared in collaboration with the International Osteoporosis Foundation (IOF) and the European Federation of Pharmaceutical Industry Associations (EFPIA). Arch Osteopor 8:136. https://doi.org/10.1007/s11657-013-0136-1

Melton LJ 3rd, Kan SH, Frye MA, Wahner HW, O'Fallon WM, Riggs BL (1989) Epidemiology of vertebral fractures in women. Am J Epidemiol 129(5):1000–1011

Dennison E, Cooper C (2000) Epidemiology of osteoporotic fractures. Hormone Res 54(Suppl 1):58–63. https://doi.org/10.1159/000063449

Felsenberg D, Silman AJ, Lunt M, Armbrecht G, Ismail AA, Finn JD, Cockerill WC, Banzer D, Benevolenskaya LI, Bhalla A, Bruges Armas J, Cannata JB, Cooper C, Dequeker J, Eastell R, Felsch B, Gowin W, Havelka S, Hoszowski K, Jajic I, Janott J, Johnell O, Kanis JA, Kragl G, Lopes Vaz A, Lorenc R, Lyritis G, Masaryk P, Matthis C, Miazgowski T, Parisi G, Pols HA, Poor G, Raspe HH, Reid DM, Reisinger W, Schedit-Nave C, Stepan JJ, Todd CJ, Weber K, Woolf AD, Yershova OB, Reeve J, O'Neill TW (2002) Incidence of vertebral fracture in europe: results from the European Prospective Osteoporosis Study (EPOS). J Bone Miner Res 17(4):716–724. https://doi.org/10.1359/jbmr.2002.17.4.716

Mundy GR, Guise TA (1999) Hormonal control of calcium homeostasis. Clin Chem 45(8 Pt 2):1347–1352

Chapuy MC, Arlot ME, Duboeuf F, Brun J, Crouzet B, Arnaud S, Delmas PD, Meunier PJ (1992) Vitamin D3 and calcium to prevent hip fractures in elderly women. N Engl J Med 327(23):1637–1642. https://doi.org/10.1056/NEJM199212033272305

Chapuy MC, Arlot ME, Delmas PD, Meunier PJ (1994) Effect of calcium and cholecalciferol treatment for three years on hip fractures in elderly women. BMJ 308(6936):1081–1082

Cranney A, Tugwell P, Adachi J, Weaver B, Zytaruk N, Papaioannou A, Robinson V, Shea B, Wells G, Guyatt G (2002) Meta-analyses of therapies for postmenopausal osteoporosis. III. Meta-analysis of risedronate for the treatment of postmenopausal osteoporosis. Endocrine Rev 23(4):517–523. https://doi.org/10.1210/er.2001-3002

Reginster J, Minne HW, Sorensen OH, Hooper M, Roux C, Brandi ML, Lund B, Ethgen D, Pack S, Roumagnac I, Eastell R (2000) Randomized trial of the effects of risedronate on vertebral fractures in women with established postmenopausal osteoporosis. Vertebral Efficacy with Risedronate Therapy (VERT) Study Group. Osteopor Int 11(1):83–91

Choy W, Barrington N, Garcia RM, Kim RB, Rodriguez H, Lam S, Dahdaleh N, Smith ZA (2017) Risk factors for medical and surgical complications following single-level ALIF. Glob Spine J 7(2):141–147. https://doi.org/10.1177/2192568217694009

Phan K, Kim JS, Capua JD, Lee NJ, Kothari P, Dowdell J, Overley SC, Guzman JZ, Cho SK (2017) Impact of operation time on 30-day complications after adult spinal deformity surgery. Glob Spine J 7(7):664–671. https://doi.org/10.1177/2192568217701110

Gupta G, Singh R, Kotasthane DS, Kotasthane VD (2010) Myelodysplastic syndromes/neoplasms: recent classification system based on World Health Organization Classification of Tumors—International Agency for Research on Cancer for Hematopoietic and Lymphoid Tissues. J Blood Med 1:171–182. https://doi.org/10.2147/JBM.S12257

Angevine PD, Arons RR, McCormick PC (2003) National and regional rates and variation of cervical discectomy with and without anterior fusion, 1990–1999. Spine 28(9):931–939. https://doi.org/10.1097/01.BRS.0000058880.89444.A9 (discussion 940)

Ciol MA, Deyo RA, Howell E, Kreif S (1996) An assessment of surgery for spinal stenosis: time trends, geographic variations, complications, and reoperations. J Am Geriatr Soc 44(3):285–290

Mountford PJ, Temperton DH (1992) Recommendations of the International Commission on Radiological Protection (ICRP) 1990. Eur J Nucl Med 19(2):77–79

Mroz TE, Abdullah KG, Steinmetz MP, Klineberg EO, Lieberman IH (2011) Radiation exposure to the surgeon during percutaneous pedicle screw placement. J Spin Disord Tech 24(4):264–267. https://doi.org/10.1097/BSD.0b013e3181eed618

Srinivasan D, Than KD, Wang AC, La Marca F, Wang PI, Schermerhorn TC, Park P (2014) Radiation safety and spine surgery: systematic review of exposure limits and methods to minimize radiation exposure. World Neurosurg 82(6):1337–1343. https://doi.org/10.1016/j.wneu.2014.07.041

Yamashita K, Higashino K, Wada K, Morimoto M, Abe M, Takata Y, Sakai T, Fukui Y, Sairyo K (2016) Radiation exposure to the surgeon and patient during a fluoroscopic procedure: how high is the exposure dose? A cadaveric study. Spine 41(15):1254–1260. https://doi.org/10.1097/BRS.0000000000001542

He B, Xie S, Wang J, Xu C, Mao Y, Xu S (2018) Assessment of radiation exposure in balloon kyphoplasty using a new navigation system. Minim Invas Ther Allied Technol. https://doi.org/10.1080/13645706.2018.1459726

Sembrano JN, Yson SC, Polly DW Jr, Ledonio CG, Nuckley DJ, Santos ER (2015) Comparison of nonnavigated and 3-dimensional image-based computer navigated balloon kyphoplasty. Orthopedics 38(1):17–23. https://doi.org/10.3928/01477447-20150105-51

Izadpanah K, Konrad G, Sudkamp NP, Oberst M (2009) Computer navigation in balloon kyphoplasty reduces the intraoperative radiation exposure. Spine 34(12):1325–1329. https://doi.org/10.1097/BRS.0b013e3181a18529
Funding
Material support for this study was provided by Joline GmbH & Co KG (Hechingen, Germany). Joline had no role in study design, data collection and analysis, decision to publish, or preparation of the manuscript.
Ethics declarations
Conflict of interest
None of the authors received any compensation for their work on this article, nor have they received compensation from Joline for work undertaken in any other capacity. There are no other relevant financial or non-financial conflicts of interest to declare.
Ethical approval
This study was approved by the institutional review board of Jena University Hospital (reference number: 3287-11/11) and conformed to the Declaration of Helsinki in its present form.
Informed consent
Informed consent to surgery and trial involvement was provided by each and every participant.
About this article
Cite this article
Schwarz, F., Lawson McLean, A., Steinberg, A.L. et al. Prospective randomized comparison of early versus newer-generation vertebral access devices for kyphoplasty. Arch Orthop Trauma Surg 139, 1571–1577 (2019). https://doi.org/10.1007/s00402-019-03235-2
Received:

Published:

Issue Date:

DOI: https://doi.org/10.1007/s00402-019-03235-2
Keywords