Abstract
Introduction
Mesenchymal stem cells (MSCs) have gained popularity for articular cartilage repair. However, efficacy of intra-articular MSCs in osteoarthritis remains unclear. In the setting of a meta-analysis of randomized controlled trials (RCTs), we aimed to investigate the efficacy of intra-articular MSCs on clinical outcomes and cartilage repair in patients with knee osteoarthritis.
Materials and methods
PubMed, EMBASE, Cochrane Library, CINAHL, and Scopus were searched from inception to March 31, 2017. This study included RCTs using cell population containing MSCs for treatment of knee osteoarthritis. The quality was assessed by Cochrane Collaboration`s risk of bias tool. For meta-analysis, data on clinical outcomes measured by visual analog scale (VAS), Lysholm score, WOMAC and data on cartilage repair measured by MOCART and WORMS were extracted. In studies with several cell concentrations, outcomes of recommended concentration were used mainly to ensure robustness.
Results
A total of five RCTs (220 patients) were included. Two studies were deemed to have low risk of bias. In pooled analysis, there was significant difference in VAS score (mean difference [MD], − 9.2; 95% CI: − 17.21, − 1.20) and Lysholm score (MD, 8.70; 95% CI 0.06, 17.34), but not WOMAC (MD, − 7.44; 95% CI − 20.38, 5.50). In cumulative functional analysis using Lysholm score and WOMAC in recommended concentration, there was a significant improvement (standard mean difference [SMD], 0.53; 95% CI 0.13, 0.94) after treatment. In cartilage repair assessed by MRI, there was no significant difference (SMD, 0.53; 95% CI− 0.28, 1.34).
Conclusions
This meta-analysis demonstrated that intra-articular MSCs have a limited evidence in pain relief and functional improvement in knee osteoarthritis. While MSCs may result in favorable clinical outcomes with a recommended concentration, use of concomitant treatment should be considered. In addition, current evidence does not support the use of intra-articular MSCs for improving cartilage repair in knee osteoarthritis.
Level of evidence
Systematic review of Level-II studies.
Access options
Buy single article
Instant access to the full article PDF.
USD 39.95
Price excludes VAT (USA)
Tax calculation will be finalised during checkout.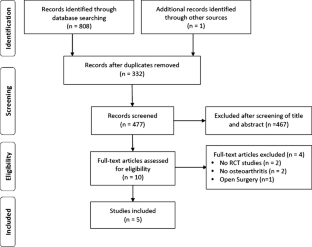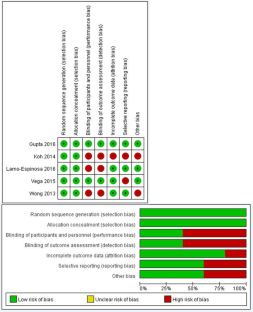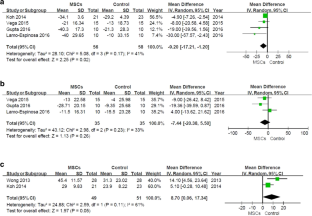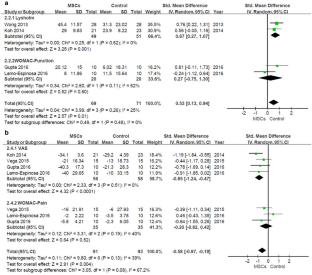 References
Pap T, Korb-Pap A (2015) Cartilage damage in osteoarthritis and rheumatoid arthritis–two unequal siblings. Nat Rev Rheumatol 11(10):606–615

Nelson AE, Allen KD, Golightly YM, Goode AP, Jordan JM (2014) A systematic review of recommendations and guidelines for the management of osteoarthritis: the chronic osteoarthritis management initiative of the US bone and joint initiative. Semin Arthritis Rheum 43(6):701–712

Bruyere O, Cooper C, Pelletier JP, Maheu E, Rannou F, Branco J, Luisa Brandi M, Kanis JA, Altman RD, Hochberg MC, Martel-Pelletier J, Reginster JY (2016) A consensus statement on the European Society for Clinical and Economic Aspects of Osteoporosis and Osteoarthritis (ESCEO) algorithm for the management of knee osteoarthritis-from evidence-based medicine to the real-life setting. Semin Arthritis Rheum 45(4 Suppl):S3–S11

Pastides P, Chimutengwende-Gordon M, Maffulli N, Khan W (2013) Stem cell therapy for human cartilage defects: a systematic review. Osteoarthr Cartil 21(5):646–654

Park YB, Ha CW, Rhim JH, Lee HJ (2018) Stem cell therapy for articular cartilage repair: review of the entity of cell populations used and the result of the clinical application of each entity. Am J Sports Med 46(10):2540–2552

Maxson S, Lopez EA, Yoo D, Danilkovitch-Miagkova A, Leroux MA (2012) Concise review: role of mesenchymal stem cells in wound repair. Stem Cells Transl Med 1(2):142–149

Mamidi MK, Das AK, Zakaria Z, Bhonde R (2016) Mesenchymal stromal cells for cartilage repair in osteoarthritis. Osteoarthr Cartil 24(8):1307–1316

Jones EA, Crawford A, English A, Henshaw K, Mundy J, Corscadden D, Chapman T, Emery P, Hatton P, McGonagle D (2008) Synovial fluid mesenchymal stem cells in health and early osteoarthritis: detection and functional evaluation at the single-cell level. Arthritis Rheum 58(6):1731–1740

Sekiya I, Ojima M, Suzuki S, Yamaga M, Horie M, Koga H, Tsuji K, Miyaguchi K, Ogishima S, Tanaka H, Muneta T (2012) Human mesenchymal stem cells in synovial fluid increase in the knee with degenerated cartilage and osteoarthritis. J Orthop Res 30(6):943–949

Gupta PK, Das AK, Chullikana A, Majumdar AS (2012) Mesenchymal stem cells for cartilage repair in osteoarthritis. Stem Cell Res Ther 3(4):25

Yubo M, Yanyan L, Li L, Tao S, Bo L, Lin C (2017) Clinical efficacy and safety of mesenchymal stem cell transplantation for osteoarthritis treatment: a meta-analysis. PLoS One 12(4):e0175449

Pas HI, Winters M, Haisma HJ, Koenis MJ, Tol JL, Moen MH (2017) Stem cell injections in knee osteoarthritis: a systematic review of the literature. Br J Sports Med 51(15):1125–1133

Xia P, Wang X, Lin Q, Li X (2015) Efficacy of mesenchymal stem cells injection for the management of knee osteoarthritis: a systematic review and meta-analysis. Int Orthop 39(12):2363–2372

Rodriguez-Merchan EC (2014) Intra-articular injections of mesenchymal stem cells for knee osteoarthritis. Am J Orthop 43(12):E282–E291. (Belle Mead NJ)

Koh YG, Choi YJ (2012) Infrapatellar fat pad-derived mesenchymal stem cell therapy for knee osteoarthritis. Knee 19(6):902–907

Moher D, Liberati A, Tetzlaff J, Altman DG (2009) Preferred reporting items for systematic reviews and meta-analyses: the PRISMA statement. BMJ 339:b2535

Bourin P, Bunnell BA, Casteilla L, Dominici M, Katz AJ, March KL, Redl H, Rubin JP, Yoshimura K, Gimble JM (2013) Stromal cells from the adipose tissue-derived stromal vascular fraction and culture expanded adipose tissue-derived stromal/stem cells: a joint statement of the International Federation for Adipose Therapeutics and Science (IFATS) and the International Society for Cellular Therapy (ISCT). Cytotherapy 15(6):641–648

Gupta PK, Chullikana A, Rengasamy M, Shetty N, Pandey V, Agarwal V, Wagh SY, Vellotare PK, Damodaran D, Viswanathan P, Thej C, Balasubramanian S, Majumdar AS (2016) Efficacy and safety of adult human bone marrow-derived, cultured, pooled, allogeneic mesenchymal stromal cells (Stempeucel(R)): preclinical and clinical trial in osteoarthritis of the knee joint. Arthr Res Ther 18(1):301

Lamo-Espinosa JM, Mora G, Blanco JF, Granero-Molto F, Nunez-Cordoba JM, Sanchez-Echenique C, Bondia JM, Aquerreta JD, Andreu EJ, Ornilla E, Villaron EM, Valenti-Azcarate A, Sanchez-Guijo F, Del Canizo MC, Valenti-Nin JR, Prosper F (2016) Intra-articular injection of two different doses of autologous bone marrow mesenchymal stem cells versus hyaluronic acid in the treatment of knee osteoarthritis: multicenter randomized controlled clinical trial (phase I/II). J Transl Med 14(1):246

Wong KL, Lee KB, Tai BC, Law P, Lee EH, Hui JH (2013) Injectable cultured bone marrow-derived mesenchymal stem cells in varus knees with cartilage defects undergoing high tibial osteotomy: a prospective, randomized controlled clinical trial with 2 years' follow-up. Arthroscopy 29(12):2020–2028

Higgins JP, Altman DG, Gotzsche PC, Juni P, Moher D, Oxman AD, Savovic J, Schulz KF, Weeks L, Sterne JA (2011) The Cochrane Collaboration's tool for assessing risk of bias in randomised trials. BMJ 343:d5928

Egger M, Davey Smith G, Schneider M, Minder C (1997) Bias in meta-analysis detected by a simple, graphical test. BMJ 315(7109):629–634

Vega A, Martin-Ferrero MA, Del Canto F, Alberca M, Garcia V, Munar A, Orozco L, Soler R, Fuertes JJ, Huguet M, Sanchez A, Garcia-Sancho J (2015) Treatment of knee osteoarthritis with allogeneic bone marrow mesenchymal stem cells: a randomized controlled trial. Transplantation 99(8):1681–1690

Koh YG, Kwon OR, Kim YS, Choi YJ (2014) Comparative outcomes of open-wedge high tibial osteotomy with platelet-rich plasma alone or in combination with mesenchymal stem cell treatment: a prospective study. Arthroscopy 30(11):1453–1460

Jung WH, Takeuchi R, Chun CW, Lee JS, Ha JH, Kim JH, Jeong JH (2014) Second-look arthroscopic assessment of cartilage regeneration after medial opening-wedge high tibial osteotomy. Arthroscopy 30(1):72–79

Kim KI, Seo MC, Song SJ, Bae DK, Kim DH, Lee SH (2017) Change of chondral lesions and predictive factors after medial open-wedge high tibial osteotomy with a locked plate system. Am J Sports Med 45(7):1615–1621

Schuster P, Schulz M, Mayer P, Schlumberger M, Immendoerfer M, Richter J (2015) Open-wedge high tibial osteotomy and combined abrasion/microfracture in severe medial osteoarthritis and varus malalignment: 5-year results and arthroscopic findings after 2 years. Arthroscopy 31(7):1279–1288

Park YB, Ha CW, Lee CH, Yoon YC, Park YG (2017) Cartilage regeneration in osteoarthritic patients by a composite of allogeneic umbilical cord blood-derived mesenchymal stem cells and hyaluronate hydrogel: results from a clinical trial for safety and proof-of-concept with 7 years of extended follow-up. Stem Cells Transl Med 6(2):613–621

Wakitani S, Imoto K, Yamamoto T, Saito M, Murata N, Yoneda M (2002) Human autologous culture expanded bone marrow mesenchymal cell transplantation for repair of cartilage defects in osteoarthritic knees. Osteoarthr Cartil 10(3):199–206

Li MH, Xiao R, Li JB, Zhu Q (2017) Regenerative approaches for cartilage repair in the treatment of osteoarthritis. Osteoarthr Cartil 25(10):1577–1587

Trojian TH, Concoff AL, Joy SM, Hatzenbuehler JR, Saulsberry WJ, Coleman CI (2016) AMSSM scientific statement concerning viscosupplementation injections for knee osteoarthritis: importance for individual patient outcomes. Br J Sports Med 50(2):84–92

Dai WL, Zhou AG, Zhang H, Zhang J (2017) Efficacy of platelet-rich plasma in the treatment of knee osteoarthritis: a meta-analysis of randomized controlled trials. Arthroscopy 33(3):659–670.e651

Kraeutler MJ, Chahla J, LaPrade RF, Pascual-Garrido C (2017) Biologic options for articular cartilage wear (platelet-rich plasma, stem cells, bone marrow aspirate concentrate). Clin Sports Med 36(3):457–468

Kahlenberg CA, Nwachukwu BU, Hamid KS, Steinhaus ME, Williams RJ (2017) Analysis of outcomes for high tibial osteotomies performed with cartilage restoration techniques. Arthroscopy 33(2):486–492

Koga H, Muneta T, Nagase T, Nimura A, Ju YJ, Mochizuki T, Sekiya I (2008) Comparison of mesenchymal tissues-derived stem cells for in vivo chondrogenesis: suitable conditions for cell therapy of cartilage defects in rabbit. Cell Tissue Res 333(2):207–215

Park YB, Ha CW, Kim JA, Rhim JH, Park YG, Chung JY, Lee HJ (2016) Effect of transplanting various concentrations of a composite of human umbilical cord blood-derived mesenchymal stem cells and hyaluronic acid hydrogel on articular cartilage repair in a rabbit model. PLoS One 11(11):e0165446

Li YY, Cheng HW, Cheung KM, Chan D, Chan BP (2014) Mesenchymal stem cell-collagen microspheres for articular cartilage repair: cell density and differentiation status. Acta Biomater 10(5):1919–1929
Funding
This study was supported by a grant from the Korea Health Technology R&D Project through the Korea Health Industry Development Institute (KHIDI), funded by the Ministry of Health & Welfare, Republic of Korea (Grant number: HI14C3484). The funding sources were not involved in the study design, collection, analysis or interpretation of the data, writing of the manuscript, or in the decision to submit the manuscript for publication.
Ethics declarations
Conflict of interest
All authors declare that they have no conflict of interest.
Ethical approval
This article does not contain any studies with human participants performed by any of the authors.
Informed consent
For this type of study, formal consent is not required.
Additional information
Publisher's Note
Springer Nature remains neutral with regard to jurisdictional claims in published maps and institutional affiliations.
Electronic supplementary material
Below is the link to the electronic supplementary material.
About this article
Cite this article
Kim, S.H., Ha, CW., Park, YB. et al. Intra-articular injection of mesenchymal stem cells for clinical outcomes and cartilage repair in osteoarthritis of the knee: a meta-analysis of randomized controlled trials. Arch Orthop Trauma Surg 139, 971–980 (2019). https://doi.org/10.1007/s00402-019-03140-8
Received:

Published:

Issue Date:

DOI: https://doi.org/10.1007/s00402-019-03140-8
Keywords
Osteoarthritis

Mesenchymal stem cells

Clinical outcome

Cartilage repair

Meta-analysis