Abstract
Introduction
To investigate the validity of Barthel Index (BI) compared with de Morton Mobility Index (DEMMI), EuroQol-visual analog scale (EQ-VAS), 2-min walk test (2MWT), and timed get-up-and-go test (TUG), and to evaluate the responsiveness of all outcome measures for assessing functional recovery in older patients who underwent hemiarthroplasty after femoral neck fracture.
Material and method
Eighty-one femoral neck fracture patients who were enrolled in a study evaluating functional recovery after bisphosphonate therapy during 2013 to 2015, and who had data available at both baseline and 12 months after surgery were included in this study.
Results
All scores improved significantly from baseline to the 1-year follow-up. BI had moderate to strong correlation with DEMMI, 2MWT, and TUG (r-value: 0.490–0.843), and mild to moderate correlation with EQ-VAS (r-value: 0.278–0.323). All outcome measurements had high effect estimates. The minimal clinically important difference (MCID) of BI at 12 months was 9.8 points.
Conclusion
Since BI was shown to have good validity (moderate to strong correlation with DEMMI and performance-based tests, and mild to moderate correlation with EQ-VAS), BI can be used to accurately assess functional recovery in patients who undergo hemiarthroplasty after femoral neck fracture.
Access options
Buy single article
Instant access to the full article PDF.
USD 39.95
Price excludes VAT (USA)
Tax calculation will be finalised during checkout.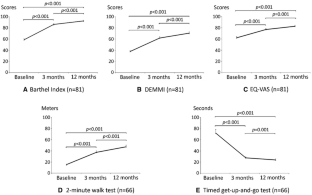 References
Dhanwal D, Dennison E, Harvey N, Cooper C (2011) Epidemiology of hip fracture: Worldwide geographic variation. Indian J Orthop 45(1):15. https://doi.org/10.4103/0019-5413.73656

Kanis J, Odén A, McCloskey E, Johansson H, Wahl D, Cooper C (2012) A systematic review of hip fracture incidence and probability of fracture worldwide. Osteoporos Int 23(9):2239–2256. https://doi.org/10.1007/s00198-012-1964-3

Cooper C, Campion G, Melton L (1992) Hip fractures in the elderly: a world-wide projection. Osteoporos Int 2(6):285–289. https://doi.org/10.1007/bf01623184

Scaf-Klomp W (2001) Recovery of physical function after limb injuries in independent older people living at home. Age Ageing 30(3):213–219. https://doi.org/10.1093/ageing/30.3.213

Post MW, van Asbeck FW, van Dijk AJ, Schrijvers AJ (1995) Dutch interview version of the Barthel index evaluated in patients with spinal cord injuries. Ned Tijdschr Geneeskd 139(27):1376–1380

Houlden H, Edwards M, McNeil J, Greenwood R (2006) Use of the Barthel index and the functional independence measure during early inpatient rehabilitation after single incident brain injury. Clin Rehabil 20(2):153–159. https://doi.org/10.1191/0269215506cr917oa

Murcia J, Llorens P, Sánchez-Payá J, Reus S, Boix V, Merino E et al (2010) Functional status determined by Barthel index predicts community acquired pneumonia mortality in general population. J Infect 61(6):458–464. https://doi.org/10.1016/j.jinf.2010.08.006

Javier Martín-Sánchez F, Gil V, Llorens P, Herrero P, Jacob J, Fernández C, Miró Ò (2012) Barthel index-enhanced feedback for effective cardiac treatment (BI-EFFECT) study: contribution of the Barthel index to the heart failure risk scoring system model in elderly adults with acute heart failure in the emergency department. J Am Geriatr Soc 60(3):493–498. https://doi.org/10.1111/j.1532-5415.2011.03845.x

Unnanuntana A, Laohaprasitiporn P, Jarusriwanna A (2017) Effect of bisphosphonate initiation at week 2 versus week 12 on short-term functional recovery after femoral neck fracture: a randomized controlled trial. Arch Osteoporos 12(1):27. https://doi.org/10.1007/s11657-017-0321-8

de Morton N, Davidson M, Keating J (2008) The de Morton mobility index (DEMMI): an essential health index for an ageing world. Health Qual Life Outcomes 6(1):63. https://doi.org/10.1186/1477-7525-6-63

de Morton N, Harding K, Taylor N, Harrison G (2012) Validity of the de Morton mobility index (DEMMI) for measuring the mobility of patients with hip fracture during rehabilitation. Disabil Rehabil 35(4):325–333. https://doi.org/10.3109/09638288.2012.705220

Tidermark J, Zethraeus N, Svensson O, Törnkvist H, Ponzer S (2002) Quality of Life related to fracture displacement among elderly patients with femoral neck fractures treated with internal fixation. J Orthop Trauma 16(1):34–38. https://doi.org/10.1097/00005131-200201000-00008

Connelly D, Thomas B, Cliffe S, Perry W, Smith R (2009) Clinical utility of the 2-minute walk test for older adults living in long-term care. Physiother Can 61(2):78–87. https://doi.org/10.3138/physio.61.2.78

Podsiadlo D, Richardson S (1991) The timed "Up & Go": a test of basic functional mobility for frail elderly persons. J Am Geriatr Soc 39(2):142–148. https://doi.org/10.1111/j.1532-5415.1991.tb01616.x

Terwee C, Bot S, de Boer M, van der Windt D, Knol D, Dekker J et al (2007) Quality criteria were proposed for measurement properties of health status questionnaires. J Clin Epidemiol 60(1):34–42. https://doi.org/10.1016/j.jclinepi.2006.03.012

Chan YH (2003) Biostatistics 104: correlational analysis. Singap Med J 44(12):614–619

Cohen J (1988) Statistical power analysis for the behavioral sciences, 2nd edn. Lawrence Erlbaum Associates, Hillsdale

Husted J, Cook R, Farewell V, Gladman D (2000) Methods for assessing responsiveness. J Clin Epidemiol 53(5):459–468. https://doi.org/10.1016/s0895-4356(99)00206-1

Wright A, Hannon J, Hegedus E, Kavchak A (2012) Clinimetrics corner: a closer look at the minimal clinically important difference (MCID). J Man Manip Ther 20(3):160–166. https://doi.org/10.1179/2042618612y.0000000001

Jaeschke R, Singer J, Guyatt G (1989) Measurement of health status. Control Clin Trials 10(4):407–415. https://doi.org/10.1016/0197-2456(89)90005-6

Copay A, Subach B, Glassman S, Polly D, Schuler T (2007) Understanding the minimum clinically important difference: a review of concepts and methods. Spine J 7(5):541–546. https://doi.org/10.1016/j.spinee.2007.01.008

Della Pietra G, Savio K, Oddone E, Reggiani M, Monaco F, Leone M (2011) Validity and reliability of the Barthel index administered by telephone. Stroke 42(7):2077–2079. https://doi.org/10.1161/strokeaha.111.613521

Morley D, Selai C, Thompson A (2011) The self-report Barthel Index: preliminary validation in people with Parkinson's disease. Eur J Neurol 19(6):927–929. https://doi.org/10.1111/j.1468-1331.2011.03592.x
Acknowledgements
The authors gratefully acknowledge Ms. Wachirapan Narktang of the Division of Research, Department of Orthopaedic Surgery, Faculty of Medicine Siriraj Hospital and Mr. Suthipol Udompunthurak of the Division of Clinical Epidemiology, Department of Health Research and Development, Faculty of Medicine Siriraj Hospital, for their assistance with data collection and statistical analyses.
Ethics declarations
Conflict of interest
The authors declare that they have no conflict of interest.
Ethical approval
This article does not contain any studies with human participants or animals performed by any of the authors.
Electronic supplementary material
Below is the link to the electronic supplementary material.
About this article
Cite this article
Unnanuntana, A., Jarusriwanna, A. & Nepal, S. Validity and responsiveness of Barthel index for measuring functional recovery after hemiarthroplasty for femoral neck fracture. Arch Orthop Trauma Surg 138, 1671–1677 (2018). https://doi.org/10.1007/s00402-018-3020-z
Received:

Published:

Issue Date:

DOI: https://doi.org/10.1007/s00402-018-3020-z
Keywords