Abstract
Background
The purpose of this retrospective study was to report on the functional outcome after both open and arthroscopic rotator cuff (RC) repair in normal weight, pre-obese and obese patients. It was hypothesized that obesity is a negative prognostic factor for clinical outcome and failure for the RC repair.
Methods
One hundred and forty-six patients who underwent either open or arthroscopic rotator cuff repair between 2006 and 2010 were included in this study. Seventy-five patients (56.7 ± 10.1 years of age) after open RC repair and 71 patients (59.0 ± 9.1 years of age) treated arthroscopically were available for evaluation. In both groups a double-row reconstruction was performed. Patients were divided in three groups according to their body-mass index. The mean follow-up was at 43 ± 16 (minimum 24) months. At follow-up, the clinical outcome was assessed by the DASH and Constant score. An ultrasound of both shoulders was performed in all patients.
Results
The mean BMI was 28.3 ± 5.3 in the arthroscopic group and 27.7 ± 4.3 in the open group. Overall, in both groups similar clinical results were noted [Constant–Murley score 78.3 ± 18.2 arthroscopic vs. 77.0 ± 21.8 for open surgery; DASH 12.7 ± 18.2 arthroscopic vs. 15.6 ± 21.6 for open surgery (p = 0.81)]. Both the failure rate and the clinical outcome were significantly worse for obese patients (BMI > 30, p = 0.007). The failure rate was 15.8% for the normal-weight patients, 8.2% in the pre-obese group and in the obese group 28.6%. The RC repair failure occurred in 11 cases in both groups after arthroscopic or open treatment (15.0%).
Conclusions
Both the arthroscopic and the open approach showed equivalent clinical results and failure rates. Obesity (BMI > 30) causes less favorable results in the Constant and DASH scores and showed higher re-tear rates.
This is a preview of subscription content,
to check access.
Access this article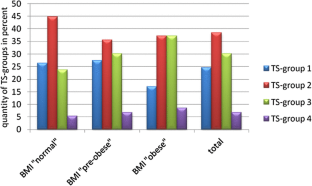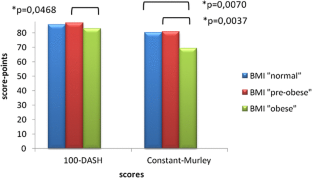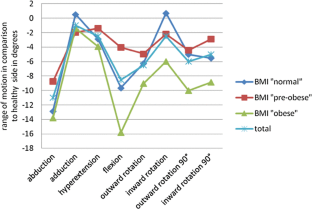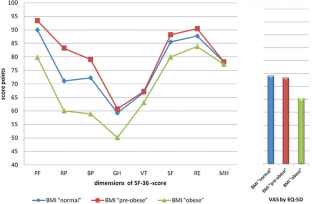 References
Bhatia S, Greenspoon JA, Horan MP, Warth RJ, Millett PJ (2015) Two-year outcomes after arthroscopic rotator cuff repair in recreational athletes older than 70 years. Am J Sports Med 43(7):1737–1742

Mascarenhas R, Chalmers PN, Sayegh ET, Bhandari M, Verma NN, Cole BJ, Romeo AA (2014) Is double-row rotator cuff repair clinically superior to single-row rotator cuff repair: a systematic review of overlapping meta-analyses. Arthroscopy 30(9):1156–1165

Pauly S, Stahnke K, Klatte-Schulz F, Wildemann B, Scheibel M, Greiner S (2015) Do patient age and sex influence tendon cell biology and clinical/radiographic outcomes after rotator cuff repair? Am J Sports Med 43(3):549–556

Charousset C, Bellaiche L, Kalra K, Petrover D (2010) Arthroscopic repair of full-thickness rotator cuff tears: is there tendon healing in patients aged 65 years or older? Arthroscopy 26(3):302–309

Loew M, Magosch P, Lichtenberg S, Habermeyer P, Porschke F (2015) How to discriminate between acute traumatic and chronic degenerative rotator cuff lesions: an analysis of specific criteria on radiography and magnetic resonance imaging. J Shoulder Elbow Surg 24(11):1685–1693

Sher JS, Uribe JW, Posada A, Murphy BJ, Zlatkin MB (1995) Abnormal findings on magnetic resonance images of asymptomatic shoulders. J Bone Jt Surg Am 77(1):10–15

Brockmeyer M, Schmitt C, Haupert A, Kohn D, Lorbach O (2017) Limited diagnostic accuracy of magnetic resonance imaging and clinical tests for detecting partial-thickness tears of the rotator cuff. Arch Orthop Trauma Surg 137(12):1719–1724

Zingg PO, Jost B, Sukthankar A, Buhler M, Pfirrmann CW, Gerber C (2007) Clinical and structural outcomes of nonoperative management of massive rotator cuff tears. J Bone Jt Surg Am 89(9):1928–1934

Severud EL, Ruotolo C, Abbott DD, Nottage WM (2003) All-arthroscopic versus mini-open rotator cuff repair: a long-term retrospective outcome comparison. Arthroscopy 19(3):234–238

Walton JR, Murrell GA (2012) A two-year clinical outcomes study of 400 patients, comparing open surgery and arthroscopy for rotator cuff repair. Bone Jt Res 1(9):210–217

Bayle X, Pham TT, Faruch M, Gobet A, Mansat P, Bonnevialle N (2017) No difference in outcome for open versus arthroscopic rotator cuff repair: a prospective comparative trial. Arch Orthop Trauma Surg 137(12):1707–1712

Millett PJ, Espinoza C, Horan MP, Ho CP, Warth RJ, Dornan GJ, Christoph Katthagen J (2017) Predictors of outcomes after arthroscopic transosseous equivalent rotator cuff repair in 155 cases: a propensity score weighted analysis of knotted and knotless self-reinforcing repair techniques at a minimum of 2 years. Arch Orthop Trauma Surg 137(10):1399–1408

McElvany MD, McGoldrick E, Gee AO, Neradilek MB, Matsen FA 3rd (2015) Rotator cuff repair: published evidence on factors associated with repair integrity and clinical outcome. Am J Sports Med 43(2):491–500

Djerbi I, Chammas M, Mirous MP, Lazerges C, Coulet B, French Society For S, Elbow (2015) Impact of cardiovascular risk factor on the prevalence and severity of symptomatic full-thickness rotator cuff tears. Orthop Traumatol Surg Res 101 (6 Suppl):S269-273

Saccomanno MF, Sircana G, Cazzato G, Donati F, Randelli P, Milano G (2015) Prognostic factors influencing the outcome of rotator cuff repair: a systematic review. Knee Surg Sports Traumatol Arthrosc 24 (12):3809–3819

Kim YK, Moon SH, Cho SH (2013) Treatment outcomes of single- versus double-row repair for larger than medium-sized rotator cuff tears: the effect of preoperative remnant tendon length. Am J Sports Med 41(10):2270–2277

Stahnke K, Nikulka C, Diederichs G, Haneveld H, Scheibel M, Gerhardt C (2016) Serial MRI evaluation following arthroscopic rotator cuff repair in double-row technique. Arch Orthop Trauma Surg 136(5):665–672

Kovacevic D, Rodeo SA (2008) Biological augmentation of rotator cuff tendon repair. Clin Orthop Relat Res 466(3):622–633

Cheung EV, Silverio L, Sperling JW (2010) Strategies in biologic augmentation of rotator cuff repair: a review. Clin Orthop Relat Res 468(6):1476–1484

Rodeo SA (2007) Biologic augmentation of rotator cuff tendon repair. J Shoulder Elbow Surg 16(5 Suppl):S191-197

Goutallier D, Postel JM, Bernageau J, Lavau L, Voisin MC (1994) Fatty muscle degeneration in cuff ruptures. Pre- and postoperative evaluation by CT scan. Clin Orthop Relat Res (304):78–83

Thomazeau H, Rolland Y, Lucas C, Duval JM, Langlais F (1996) Atrophy of the supraspinatus belly. Assessment by MRI in 55 patients with rotator cuff pathology. Acta Orthop Scand 67(3):264–268

Park JS, Park HJ, Kim SH, Oh JH (2015) Prognostic factors affecting rotator cuff healing after arthroscopic repair in small to medium-sized tears. Am J Sports Med 43(10):2386–2392

Patte D (1990) Classification of rotator cuff lesions. Clin Orthop Relat Res (254):81–86

Chung SW, Oh JH, Gong HS, Kim JY, Kim SH (2011) Factors affecting rotator cuff healing after arthroscopic repair: osteoporosis as one of the independent risk factors. Am J Sports Med 39(10):2099–2107

Whiting PS, White-Dzuro GA, Avilucea FR, Dodd AC, Lakomkin N, Obremskey WT, Collinge CA, Sethi MK (2017) Body mass index predicts perioperative complications following orthopaedic trauma surgery: an ACS-NSQIP analysis. Eur J Trauma Emerg Surg 43(2):255–264

Romero-Corral A, Somers VK, Sierra-Johnson J, Thomas RJ, Collazo-Clavell ML, Korinek J, Allison TG, Batsis JA, Sert-Kuniyoshi FH, Lopez-Jimenez F (2008) Accuracy of body mass index in diagnosing obesity in the adult general population. Int J Obes 32(6):959–966

Roy JS, Braen C, Leblond J, Desmeules F, Dionne CE, MacDermid JC, Bureau NJ, Fremont P (2015) Diagnostic accuracy of ultrasonography, MRI and MR arthrography in the characterisation of rotator cuff disorders: a systematic review and meta-analysis. Br J Sports Med 49(20):1316–1328

Collin P, Yoshida M, Delarue A, Lucas C, Jossaume T, Ladermann A, French Society for S Elbow (2015) Evaluating postoperative rotator cuff healing: prospective comparison of MRI and ultrasound. Orthop Traumatol Surg Res 101(6 Suppl):S265–S268

Constant CR, Murley AH (1987) A clinical method of functional assessment of the shoulder. Clin Orthop Relat Res (214):160–164

Balke M, Banerjee M, Vogler T, Akoto R, Bouillon B, Liem D (2014) Acromial morphology in patients with calcific tendinitis of the shoulder. Knee Surg Sports Traumatol Arthrosc 22 (2):415–421

Nicholson GP, Goodman DA, Flatow EL, Bigliani LU (1996) The acromion: morphologic condition and age-related changes. A study of 420 scapulas. J Shoulder Elbow Surg 5(1):1–11

Doyscher R, Kraus K, Finke B, Scheibel M (2014) Acute and overuse injuries of the shoulder in sports. Der Orthop 43(3):202–208

Beitzel K, Zandt JF, Buchmann S, Beitzel KI, Schwirtz A, Imhoff AB, Brucker PU (2016) Structural and biomechanical changes in shoulders of junior javelin throwers: a comprehensive evaluation as a proof of concept for a preventive exercise protocol. Knee Surg Sports Traumatol Arthrosc 24(6):1931–1942

Gumina S, Candela V, Passaretti D, Latino G, Venditto T, Mariani L, Santilli V (2014) The association between body fat and rotator cuff tear: the influence on rotator cuff tear sizes. J Shoulder Elbow Surg 23(11):1669–1674

Gumina S, Arceri V, Carbone S, Albino P, Passaretti D, Campagna V, Fagnani C, Postacchini F (2013) The association between arterial hypertension and rotator cuff tear: the influence on rotator cuff tear sizes. J Shoulder Elbow Surg 22(2):229–232

Kim YK, Jung KH, Kim JW, Kim US, Hwang DH (2017) Factors affecting rotator cuff integrity after arthroscopic repair for medium-sized or larger cuff tears: a retrospective cohort study. J Shoulder Elbow Surg. https://doi.org/10.1016/j.jse.2017.11.016

Warrender WJ, Brown OL, Abboud JA (2011) Outcomes of arthroscopic rotator cuff repairs in obese patients. J Shoulder Elbow Surg 20(6):961–967

Abtahi AM, Granger EK, Tashjian RZ (2015) Factors affecting healing after arthroscopic rotator cuff repair. World J Orthop 6(2):211–220

Dhar Y, Anakwenze OA, Steele B, Lozano S, Abboud JA (2013) Arthroscopic rotator cuff repair: impact of diabetes mellitus on patient outcomes. Physician Sports Med 41(1):22–29
About this article
Cite this article
Ateschrang, A., Eggensperger, F., Ahrend, M.D. et al. Obesity causes poorer clinical results and higher re-tear rates in rotator cuff repair. Arch Orthop Trauma Surg 138, 835–842 (2018). https://doi.org/10.1007/s00402-018-2921-1
Received:

Published:

Issue Date:

DOI: https://doi.org/10.1007/s00402-018-2921-1
Keywords