Abstract
Introduction
Understanding of tram-system related cycling injuries (TSRCI) is poor. The aim of this study was to report the spectrum of injuries, demographics and social deprivation status of patients. Secondary aims included assessment of accident circumstances, effects of TSRCI on patients' confidence cycling, together with time off work and cycling.
Methods
A retrospective review of patients presenting to emergency services across all hospitals in Edinburgh and West Lothian with tram related injuries between May 2009 and April 2016 was undertaken. Medical records and imagining were analysed and patients were contacted by telephone.
Results
191 cyclists (119 males, 72 females) were identified. 63 patients sustained one or more fractures or dislocations. Upper limb fractures/dislocations occurred in 55, lower limb fractures in 8 and facial fractures in 2. Most patients demonstrated low levels of socioeconomic deprivation. In 142 cases, the wheel was caught in tram-tracks, while in 32 it slid on tracks. The latter occurred more commonly in wet conditions (p = 0.028). 151 patients answered detailed questionnaires. Ninety-eight were commuting. 112 patients intended to cross tramlines and 65 accidents occurred at a junction. Eighty patients reported traffic pressures contributed to their accident. 120 stated that their confidence was affected and 24 did not resume cycling. Female gender (p < 0.001) and presence of a fracture/dislocation (p = 0.012) were independent predictors of negative effects on confidence. Patients sustaining a fracture/dislocation spent more time off work (median 5 days vs 1, p < 0.001) and cycling (median 57 days vs 21, p < 0.001).
Conclusions
TSRCI occur predominantly in young to middle-aged adults with low levels of socioeconomic deprivation, most commonly when bicycle wheels get caught in tram-tracks. They result in various injuries, frequently affecting the upper limb. Traffic pressures are commonly implicated. Most patients report negative effects on confidence and a sizeable minority do not resume cycling. TSRCI can result in significant loss of working and cycling days.
This is a preview of subscription content, log in to check access.
Access options
Buy single article
Instant access to the full article PDF.
US$ 39.95
Price includes VAT for USA
Subscribe to journal
Immediate online access to all issues from 2019. Subscription will auto renew annually.
US$ 199
This is the net price. Taxes to be calculated in checkout.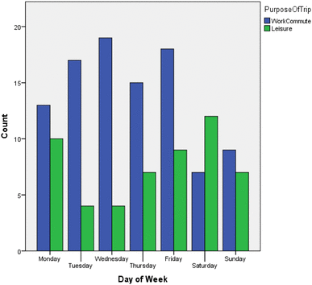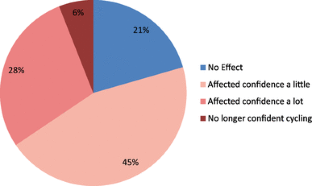 References
1.

Wilkinson RG, Marmot MG, World Health Organization (2003) Regional office for Europe. Social determinants of health the solid facts, 2nd edn. World Health Organization, Regional Office for Europe, ed. Copenhagen

2.

Rojas-Rueda D, de NA, Tainio, Nieuwenhuijsen M (2011) MJ. The health risks and benefits of cycling in urban environments compared with car use: health impact assessment study. BMJ 343:d4521

3.

Hartog JJ, Boogaard H, Nijland H, Hoek G (2011) Do the health benefits of cycling outweigh the risks? Cien Saude Colet 16(12):4731–4744

4.

Fishman E, Schepers P, Kamphuis CB (2015) Dutch cycling: quantifying the health and related economic benefits. Am J Public Health 105(8):e13-e15

5.

Transport for London. Analysis of Cycling Potential. Travel in London. 2010. Transport for London. 11-7-2017. Ref Type: Report

6.

Goodman A, Panter J, Sharp SJ, Ogilvie D (2013) Effectiveness and equity impacts of town-wide cycling initiatives in England: a longitudinal, controlled natural experimental study. Soc Sci Med 97:228–237

7.

Smale W. Pedal power - the unstoppable growth of cycling. 4-1-2016. BBC News http://www.bbc.co.uk/news/business-35101252. 22-7-2017. Ref Type: Online Source

8.

Sanford T, McCulloch CE, Callcut RA, Carroll PR, Breyer BN (2015) Bicycle trauma injuries and hospital Admissions in the United States, 1998–2013. JAMA 314(9):947–949

9.

Transport Safety Victoria. 2016 Annual Incident Statistics: Victorian Tram Operators. 2017. Melbourne, Victoria. Ref Type: Report

10.

Smith A, Mais D. Light Rail and Tram Statistics: England 2016/7. 29-6-0017. London, Department for Transport. Ref Type: Report

11.

Mitra B, Al JJ, Cameron PA, Gabbe BJ (2010) Tram-related trauma in Melbourne, Victoria. Emerg Med Australas 22(4):337–342

12.

Cameron IC, Harris NJ, Kehoe NJ (2001) Tram-related injuries in Sheffield. Injury 32(4):275–277

13.

World Health Organization. Who Global Status Report on Road Safety 2013: Supporting a Decade of Action. World Health Organization; 2013

14.

Teschke K, Dennis J, Reynolds CC, Winters M, Harris MA (2016) Bicycling crashes on streetcar (tram) or train tracks: mixed methods to identify prevention measures. BMC Public Health 16:617

15.

Court-Brown CM, Aitken SA, Duckworth AD, Clement ND, McQueen MM (2013) The relationship between social deprivation and the incidence of adult fractures. J Bone Joint Surg Am 95(6):e321-e327

16.

Unwin NC (1995) Promoting the public health benefits of cycling. Public Health 109(1):41–46

17.

Heesch KC, Giles-Corti B, Turrell G (2014) Cycling for transport and recreation: associations with socio-economic position, environmental perceptions, and psychological disposition. Prev Med 63:29–35

18.

Kingma J, Duursma N, ten Duis HJ (1997) The aetiology and long-term effects of injuries due to bicycle accidents in persons aged fifty years and older. Percept Mot Skills 85(3 Pt 1):1035–1041

19.

Rubin G, Peleg K, Givon A, Rozen N (2015) Upper extremity fractures among hospitalized road traffic accident adults. Am J Emerg Med 33(2):250–253

21.

Teschke K, Harris MA, Reynolds CC, Winters M, Babul S, Chipman M et al (2012) Route infrastructure and the risk of injuries to bicyclists: a case-crossover study. Am J Public Health 102(12):2336–2343

22.

Vandenbulcke G, Thomas I, Int PL (2014) Predicting cycling accident risk in Brussels: a spatial case-control approach. Accid Anal Prev 62:341–357

23.

Timmins N (2008) NHS goes to the PROMS. BMJ 336(7659):1464–1465

24.

Cowie JG, Turnbull GS, Ker AM, Breusch SJ (2013) Return to work and sports after total hip replacement. Arch Orthop Trauma Surg 133(5):695–700

25.

Colvin AC, Walsh M, Koval KJ, McLaurin T, Tejwani N, Egol K (2009) Return to sports following operatively treated ankle fractures. Foot Ankle Int 30(4):292–296

26.

Johnson UA, Three-Year (1997) Follow-Up of long-term injured competitive athletes: influence of psychological risk factors on rehabilitation. J Sport Rehabil 6(3):256–271
Ethics declarations
Conflict of interest
J Maempel, S Mackenzie, P Stirling, C McCann and T White declare that they have no conflict of interest. Professor C Oliver was a member and councillor of the Cyclists Touring Club Lothian and Borders and also the chair of the Road Share Steering Group based in Edinburgh, Scotland. He no longer holds these positions.
Ethical approval
For this type of study formal consent is not required. The study was registered locally as an audit of service.
Informed consent
All patients contacted by telephone to answer questions regarding the circumstances of their incidents, effects on confidence, cycling and return to work were asked for informed consent to include their responses in the study prior to asking them any questions. 4 patients declined and did not, therefore, respond to the questions. The responses from the remaining patients who gave consent were included in the manuscript.
Additional information
The ​original ​version ​of ​this ​article ​was ​revised: The author would like to correct the errors in the first paragraph of the Methods section.
About this article
Cite this article
Maempel, J.F., Mackenzie, S.P., Stirling, P.H.C. et al. Tram system related cycling injuries. Arch Orthop Trauma Surg 138, 643–650 (2018). https://doi.org/10.1007/s00402-018-2890-4
Received:

Published:

Issue Date:
Keywords
Cyclist

Cycling

Tram

Tram-system

Streetcar

Light rail

Fractures

Injuries