Abstract
Background
Cut-out is the most common mechanical complication of the osteosynthesis of pertrochanteric fractures. This complication determines a significant increase in morbidity in elderly patient. Cut-out is defined as the varus collapse of the femoral head–neck fragment with the extrusion of the cephalic screw. Surgical treatment of cut-out might lead to further complications, longer rehabilitation, increased social burden and healthcare system costs. The aim of the study is to identify the predictors of cut-out to prevent its occurrence.
Materials and methods
Study population included all patients affected by extracapsular fracture of the proximal femur who were admitted and treated with short cephalomedullary nailing at the Cattinara Hospital-ASUITS of Trieste between 2009 and 2014. A retrospective analysis of clinical and radiographic data was carried out and cut-out cases recorded. The data collected on the study population were analyzed to find an eventual correlation with the occurrence of cut-out. The independent variables were age, gender, side of the fracture, ASA class, Evans classification, nailing system, quality of reduction, TAD, CalTAD, and Parker ratio.
Results
The study population counted 813 cases, with an F:M ratio of 4:1 and a mean age of 84.7 years. The cut-out was recorded in 18 cases (2.2%). There was no statistically significant association between cut-out and age, sex, side of fracture, ASA class, and nailing system. The Evans classification, the quality of reduction, the TAD, the CalTAD, and the Parker's ratio demonstrated a significant correlation at univariate analysis with cut-out. The results of multivariate analysis confirmed that TAD, Parker AP, and quality of reduction were independently significantly correlated to cut-out.
Conclusion
The results of the present study demonstrate that good quality of reduction and correct position of the lag screw are likely to decrease the risk of cut-out complication. A nomogram for cut-out prediction is proposed for clinical validation.
Access options
Buy single article
Instant access to the full article PDF.
US$ 39.95
Tax calculation will be finalised during checkout.
Subscribe to journal
Immediate online access to all issues from 2019. Subscription will auto renew annually.
US$ 119
Tax calculation will be finalised during checkout.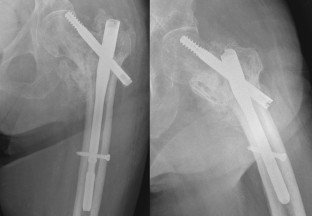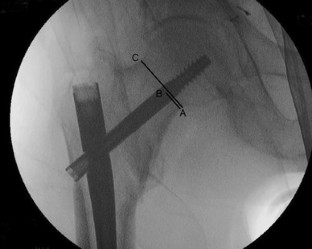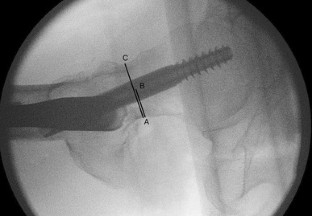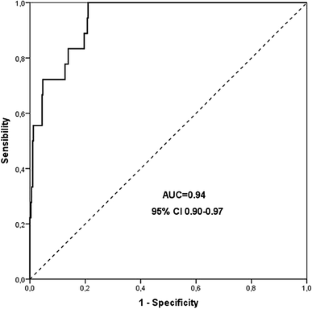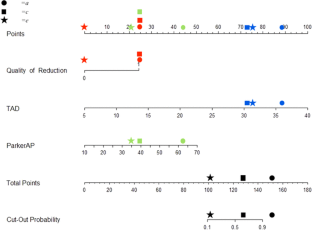 References
1.

Pascarella R, Fantasia R, Maresca A, Bettuzzi C, Amendola L, Violini S, Cuoghi F, Sangiovanni P, Cerbassi S, Boriani S, Tigani DS (2016 Apr) How evolution of the nailing system improves results and reduces orthopedic complications: more than 2000 cases of trochanteric fractures treated with the Gamma Nail System. Musculoskelet Surg 100(1):1–8

2.

Mavrogenis AF, Panagopoulos GN, Megaloikonomos PD, Igoumenou VG, Galanopoulos I, Vottis CT, Karabinas P, Koulouvaris P, Kontogeorgakos VA, Vlamis J, Papagelopoulos PJ (2016) Complications after hip nailing for fractures. Orthopedics 39(1):e108–e116

3.

Ratti C, Vulcano E, La Barbera G, Canton G, Murena L, Cherubino P (2013 Oct) The incidence of fragility fractures in Italy. Aging Clin Exp Res 25(Suppl 1):S13–S14

4.

Piscitelli P, Tarantino U, Chitano G, Argentiero A, Neglia C, Agnello N, Saturnino L, Feola M, Celi M, Raho C, Distante A, Brandi ML (2011 Sep) Updated incidence rates of fragility fractures in Italy. Clin Cases Miner Bone Metab 8(3):54–61

5.

Turgut A, Kalenderer Ö, Karapınar L, Kumbaracı M, Akkan HA, Ağuş H (2016 May) Which factor is most important for occurrence of cutout complications in patients treated with proximal femoral nail antirotation? Retrospective analysis of 298 patients. Arch Orthop Trauma Surg 136(5):623–30

6.

Brunner A, Büttler M, Lehmann U, Frei HC, Kratter R, Di Lazzaro M, Scola A, Sermon A, Attal R (2016 Feb) What is the optimal salvage procedure for cut-out after surgical fixation of trochanteric fractures with the PFNA or TFN: a multicentre study. Injury 47(2):432–438

7.

Kashigar A, Vincent A, Gunton MJ, Backstein D, Safir O, Kuzyk PR (2014 Aug) Predictors of failure for cephalomedullary nailing of proximal femoral fractures. Bone Joint J 96-B(8):1029–1034

8.

Geller JA, Saifi C, Morrison TA, Macaulay W (2010 Jun) Tip-apex distance of intramedullary devices as a predictor of cut-out failure in the treatment of peritrochanteric elderly hip fractures. Int Orthop 34(5):719–22

9.

Evans EM (1949 May) The treatment of trochanteric fractures of the femur. J Bone Joint Surg Br 31B(2):190–203

10.

Baumgaertner MR, Curtin SL, Lindskog DM, Keggi JM (1995 Jul) The value of the tip-apex distance in predicting failure of fixation of peritrochanteric fractures of the hip. J Bone Joint Surg Am 77(7):1058–1064

11.

Baumgaertner MR, Solberg BD (1997 Nov) Awareness of tip-apex distance reduces failure of fixation of trochanteric fractures of the hip. J Bone Joint Surg Br 79(6):969–71

12.

Parmar V, Kumar S, Aster A, Harper WH (2005 Jun) Review of methods to quantify lag screw placement in hip fracture fixation. Acta Orthop Belg 71(3):260–263

13.

Bojan AJ, Beimel C, Taglang G, Collin D, Ekholm C, Jönsson A (2013) Critical factors in cut-out complication after gamma nail treatment of proximal femoral fractures. BMC Musculoskelet Disord 14:1

14.

Kane P, Vopat B, Paller D, Koruprolu S, Daniels AH, Born C (2014 Dec) A biomechanical comparison of locked and unlocked long cephalomedullary nails in a stable intertrochanteric fracture model. J Orthop Trauma 28(12):715–20

15.

Klatte TO, Vettorazzi E, Beckmann J, Pueschel K, Amling M, Gebauer M (2015) The Singh Index does not correlate with bone mineral density (BMD) measured with dual energy X-ray absorptiometry (DXA) or peripheral quantitative computed tomography (pQCT). Arch Orthop Trauma Surg 135(5):645–50. https://doi.org/10.1007/s00402-015-2187-9 (Epub 2015 Mar 5)

16.

Mingo-Robinet J, Torres-Torres M, Martínez-Cervell C, Alonso Del Olmo JA, Rivas Laso JA, Aguado-Hernández H, Burón-Alvarez I (2015) Comparative study of the second and third generation of gamma nail for trochanteric fractures: review of 218 cases. J Orthop Trauma 29(3):e85–e90

17.

Goffin JM, Jenkins PJ, Ramaesh R, Pankaj P, Simpson AH (2013) What Is the relevance of the tip-apex distance as a predictor of lag screw cut-out? PLoS One 8(8):e71195

18.

Li S, Chang SM, Niu WX, Ma H (2015 Nov) Comparison of tip apex distance and cut-out complications between helical blades and lag screws in intertrochanteric fractures among the elderly: a meta-analysis. J Orthop Sci 20(6):1062–1069

19.

Kuzyk PR, Zdero R, Shah S, Olsen M, Waddell JP, Schemitsch EH (2012 Jul) Femoral head lag screw position for cephalomedullary nails. a biomechanical analysis. J Orthop Trauma 26(7):414–21

20.

Poyanli OS, Soylemez S, Ozkut AT, Uygur E, Kemah B, Unal OK (2015 Nov) Precise placement of lag screws in operative treatment of trochanteric femoral fractures with a new guide system. Injury 46(11):2190–2195

21.

Caruso G, Bonomo M. Valpiani G, Salvatori G, Gildone A, Lorusso V, Massari L (2017) A six-year retrospective analysis of cut-out risk predictors in cephalomedullary nailing for pertrochanteric fractures. Bone Joint Res 6(8):481–488

22.

Chang SM, Zhang YQ, Ma Z, Li Q, Dargel J, Eysel P (2015 Jun) Fracture reduction with positive medial cortical support: a key element in stability reconstruction for the unstable pertrochanteric hip fractures. Arch Orthop Trauma Surg 135(6):811–818

23.

Buyukdogan K, Caglar O, Isik S, Tokgozoglu M, Atilla B (2017 Feb) Risk factors for cut-out of double lag screw fixation in proximal femoral fractures. Injury 48(2):414–418
Ethics declarations
Conflict of interest
The authors declare that they have no conflict of interest.
Funding
There is no funding source.
Ethical approval
This article does not contain any studies with human participants or animals performed by any of the authors.
About this article
Cite this article
Murena, L., Moretti, A., Meo, F. et al. Predictors of cut-out after cephalomedullary nail fixation of pertrochanteric fractures: a retrospective study of 813 patients. Arch Orthop Trauma Surg 138, 351–359 (2018). https://doi.org/10.1007/s00402-017-2863-z
Received:

Published:

Issue Date:
Keywords
Pertrochanteric fractures

Fragility fractures

Cephalomedullary nailing

Cut-out

Mechanical failure

Predictors

Nomogram