Abstract
Introduction
The aim of this investigation was to analyse "total blood loss" (TBL), "blood transfusion rate" (BT) and the "amount of transfused blood units" (BU) between the different primary shoulder arthroplasty (SA) types: reverse, anatomical and stemless. Only primary SA was included. Further goal was to identify risk factors for TBL, amount of BU and BT rate.
Methods
A retrospective charts analysis of patients who received primary SA for degenerative shoulder pathology in our institution between 2004 and 2016 was performed. The demographic data, co-morbidities, haemoglobin and hematocrit level, BT rate, amount of transfused BU etc. were collected. TBL was estimated. Linear regression, log-linear poisson regression and logistic regression were used to compare the outcomes TBL, amount of transfused BU and BT rate, respectively, between different prosthesis types.
Results
Of 278 patients included in this study 209 received reverse, 57 anatomical and 12 stemless SA. Mean TBL was 392.7 ml in reverse, 394.6 ml in anatomical and 298.3 ml in stemless SA. The BT rate and mean amount of BU were, respectively, 14.4% and 0.32 in reverse and 8.77% and 0.23 in anatomical SA. None of the patients with stemless arthroplasty received BT. Significant risk factors for elevated TBL are operation time, higher BMI, male sex. Significant risk parameters for BT and higher amount of transfused BU are low BMI, cemented arthroplasty, coronary heart disease, ASA score > 2 and previous therapy with vitamin K antagonists.
Conclusion
Although there were little differences between the blood transfusion rates in reverse vs. anatomical arthroplasty, there was no difference in total blood loss between these different prosthesis types. None of the patients with stemless arthroplasty received blood transfusion. There are various risk factors affecting total blood loss and blood transfusion rate. However, risk parameters influencing blood transfusion may be different to them affecting total blood loss.
Access options
Buy single article
Instant access to the full article PDF.
US$ 39.95
Tax calculation will be finalised during checkout.
Subscribe to journal
Immediate online access to all issues from 2019. Subscription will auto renew annually.
US$ 119
Tax calculation will be finalised during checkout.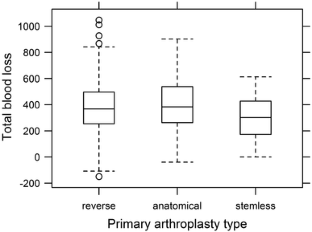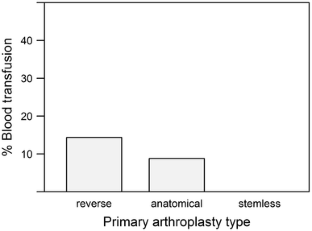 References
1.

Kim SH, Wise BL, Zhang Y, Szabo RM (2011) "Increasing incidence of shoulder arthroplasty in the United States", (in eng). J Bone Jt Surg Am 93(24):2249–2254

2.

J Oppermann et al (2016) "Shoulder arthroplasty in Germany: 2005–2012," (in eng). Arch Orthop Trauma Surg 136(5):723–729

3.

Norris TR, Iannotti JP (2002) "Functional outcome after shoulder arthroplasty for primary osteoarthritis: a multicenter study," (in eng). J Shoulder Elbow Surg 11(2):130–135

4.

Geervliet PC, van den Bekerom MPJ, Spruyt P, Curvers M, van Noort A, Visser CPJ (2017) "Outcome and revision rate of uncemented glenohumeral resurfacing (C.A.P.) after 5–8 years," (in eng). Arch Orthop Trauma Surg 137(6):771–778

5.

Bülhoff M, Sowa B, Bruckner T, Zeifang F, Raiss P (Sep 2016) "Activity levels after reverse shoulder arthroplasty," (in eng). Arch Orthop Trauma Surg 136(9):1189–1193

6.

M Petri et al. (2016) "Predictors for satisfaction after anatomic total shoulder arthroplasty for idiopathic glenohumeral osteoarthritis," (in eng). Arch Orthop Trauma Surg 136(6):755–762

7.

Schnetzke M, Preis A, Coda S, Raiss P, Loew M (2017) "Anatomical and reverse shoulder replacement with a convertible, uncemented short-stem shoulder prosthesis: first clinical and radiological results," (in eng). Arch Orthop Trauma Surg 137(5):679–684

8.

Padegimas EM, Clyde CT, Zmistowski BM, Restrepo C, Williams GR, Namdari S (2016) "Risk factors for blood transfusion after shoulder arthroplasty," (in eng). Bone Jt J 98-B(2):224–228

9.

Gruson KI, Accousti KJ, Parsons BO, Pillai G, Flatow EL (2009) "Transfusion after shoulder arthroplasty: an analysis of rates and risk factors," (in ENG). J Shoulder Elbow Surg 18(2):225–230

10.

Anthony CA, Westermann RW, Gao Y, Pugely AJ, Wolf BR, Hettrich CM (2015) "What Are Risk Factors for 30-day Morbidity and Transfusion in Total Shoulder Arthroplasty? A Review of 1922 Cases," (in ENG). Clin Orthop Relat Res 473(6):2099–2105

11.

Domen RE (1998) "Adverse reactions associated with autologous blood transfusion: evaluation and incidence at a large academic hospital" (in eng). Transfusion 38(3):296–300

12.

Ceccherini-Nelli L, Filipponi F, Mosca F, Campa M (2004) "The risk of contracting an infectious disease from blood transfusion," (in eng). Transplant Proc 36(3):680–682

13.

Irlenbusch U, Kääb MJ, Kohut G, Proust J, Reuther F, Joudet T (2015) "Reversed shoulder arthroplasty with inversed bearing materials: 2-year clinical and radiographic results in 101 patients," (in eng). Arch Orthop Trauma Surg 135(2):161–169

14.

Hawi N, Tauber M, Messina MJ, Habermeyer P, Martetschläger F (2016) "Anatomic stemless shoulder arthroplasty and related outcomes: a systematic review," (in eng). BMC Musculoskelet Disord 17(1):376

15.

Keener JD, Chalmers PN, Yamaguchi K (Jun 2017) "The humeral implant in shoulder arthroplasty," (in eng). J Am Acad Orthop Surg 25(6):427–438

16.

Charrois O, Kahwaji A, Vastel L, Rosencher N, Courpied JP (2001) "Blood loss in total hip arthroplasty for rapidly destructive coxarthrosis" (in eng). Int Orthop 25(1):22–24

17.

Team RC (2011) R: a language and environment for statistical computing

18.

Ryan DJ, Yoshihara H, Yoneoka D, Zuckerman JD (May 2015) "Blood transfusion in primary total shoulder arthroplasty: incidence, trends, and risk factors in the United States from 2000 to 2009," (in eng). J Shoulder Elbow Surg 24(5):760–765

19.

Kandil A, Griffin JW, Novicoff WM, Brockmeier SF (2016) "Blood transfusion after total shoulder arthroplasty: which patients are at high risk?," (in eng). Int J Shoulder Surg 10(2):72–77

20.

JC Hardy et al (2013) "Blood transfusion associated with shoulder arthroplasty," (in Eng). J Shoulder Elbow Surg 22(2):233–239
Ethics declarations
Conflict of interest
Author DM, BG, CP and AA declare that they have no conflict of interest. TH has been paid for presentations for Smith & Nephew, Zimmer Biomet and Implantcast. He has received research support from Smith & Nephew and Zimmer Biomet. He is a consultant to Smith & Nephew. BFE: Consultant to Smith & Nephew; Payment for lectures by Smith & Nephew.
Ethical approval
All procedures performed in studies involving human participants were in accordance with the ethical standards of the institutional and/or national research committee and with the 1964 Helsinki declaration and its later amendments or comparable ethical standards". For this type of study formal consent is not required.
About this article
Cite this article
Malcherczyk, D., Abdelmoula, A., Heyse, T.J. et al. Bleeding in primary shoulder arthroplasty. Arch Orthop Trauma Surg 138, 317–323 (2018). https://doi.org/10.1007/s00402-017-2851-3
Received:

Published:

Issue Date:
Keywords
Bleeding

Shoulder arthroplasty

Total blood loss

Blood transfusion

Reverse

Anatomical