Abstract
Introduction
Obesity is an epidemic nowadays and this fact conditions results in orthopaedic surgery. Very few studies evaluates if obesity is a risk factor for reverse shoulder arthroplasty. The aim of this study is to confirm if there are differences with regard to the outcomes in patients undergoing reverse shoulder arthroplasty according to their body mass index (BMI).
Materials and methods
A total of 35 patients were enrolled in the study. Then divided into subpopulations according to their BMI and analyzed twice. First analysis set a division 30 of BMI and second set it in 35. ASES score, major complications, length of the hospital stay, radiolucent lines in components as well as scapular notching were assessed.
Results
No major complications were described in our patients. No differences were found related to hospital stay, radiolucent lines or scapular notching. However, in the second analysis (BMI < 35 and ≥ 35) statistical differences were found regarding ASES score. Poorer functional outcomes were described in the type-II obese and morbidly obese population.
Conclusion
Functional outcomes of reverse shoulder arthroplasty are worse in patients with a BMI over 35.
Access options
Buy single article
Instant access to the full article PDF.
USD 39.95
Price includes VAT (USA)
Tax calculation will be finalised during checkout.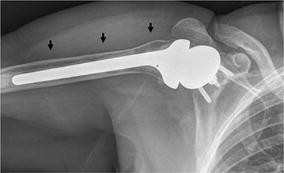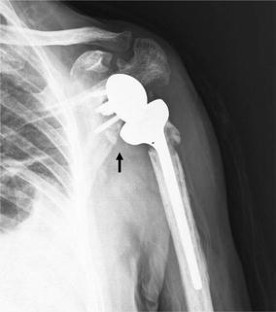 References
1.

Böstman O (1994) Prevalence of obesity among patients admitted for elective orthopaedic surgery. Int J Obes Relat Metab Disord 18:709–713

2.

Hill JO, Catenacci V, Wyatt HR (2005) Obesity: overview of an epidemic. Psychiatr Clin North Am 28:1–23. doi:10.1016/j.psc.2004.09.010

3.

Jarrett C, Brown B, Schmidt C (2013) Reverse shoulder arthroplasty. Orthop Clin North Am 44:389–408

4.

Affonso J, Nicholson G, Frankle M et al (2012) Complications of the reverse prosthesis: prevention and treatment. Instr Course Lect 61:157–168

5.

Gupta A, Chalmers P, Rahman Z et al (2014) Reverse total shoulder arthroplasty in patients of varying body mass index. J Shoulder Elb Surg 23:35–42

6.

Werner B, Burrus M, Browne J, Brockmeier S (2015) Superobesity (body mass index > 50 kg/m2) and complications after total shoulder arthroplasty: an incremental effect of increasing body mass index. J Shoulder Elb Surg 24:1868–1875

7.

Michener L, McClure P, Sennett B (2002) American shoulder and elbow surgeons standardized shoulder assessment form, patient self-report section: reliability, validity, and responsiveness. Shoulder Elb Surg 11:587–594

8.

Sirveaux F, Favard L, Oudet D et al (2004) Grammont inverted total shoulder arthroplasty in the treatment of glenohumeral osteoarthritis with massive rupture of the cuff. Results of a multicentre study of 80 shoulders. J Bone Jt Surg Br 86:388–395

9.

Jazayeri R, Kwon Y (2011) Evolution of the reverse total shoulder prosthesis. Bull NYU Hosp Jt Dis 69:50–55

10.

Kim S, Wise B, Zhang Y, Szabo R (2011) Increasing incidence of shoulder arthroplasty in the United States. J Bone Jt Surg Am 21:2249–2254

11.

Nam D, Kepler C, Neviaser A (2010) Reverse total shoulder arthroplasty: current concepts, results and component wear analysis. J Bone Jt Surg Am 92:23–35

12.

Schwarzkopf R, Thompson SL, Adwar SJ et al (2012) Postoperative complication rates in the "super-obese" hip and knee arthroplasty population. J Arthroplast 27:397–401. doi:10.1016/j.arth.2011.04.017

13.

Pappou I, Virani N, Clark R et al (2014) Outcomes and costs of reverse shoulder arthroplasty in the morbidly obese: a case control study. J Bone Jt Surg Am 16:1169–1176

14.

Linberg C, Sperling J, Schleck C, Cofield R (2009) Shoulder arthro-plasty in morbidly obese patients. J Shoulder Elb Surg 18:903–906

15.

Silber J, Rosenbaum P, Kelz R et al (2012) Medical and financial risks associated with surgery in the elderly obese. Ann Surg 256:79–86

16.

Hattrup S (2007) Early complications with the delta reverse shoulder arthroplasty: influence of the learning curve. J Shoulder Elb Surg 16:e55

17.

Statz J, Wagner E, Houdek M et al (2016) Outcomes of primary reverse shoulder arthroplasty in patients with morbid obesity. J Shoulder Elb Surg 25:e191–e198

18.

Beck J, Irgit K, Andreychik C et al (2013) Reverse total shoulder arthroplasty in obese patients. J Hand Surg Am 38:965–970
Acknowledgements
The authors would like to thank Orthopedic registrars from the University Hospital Reina Sofía of Córdoba for being one of the best group of colleagues ever. Especially thanks to senior 5th year registrars 2017 prom, to whom we wish the best for their future.
Ethics declarations
Conflict of interest
The authors declare that they have no conflict of interest.
Funding
There is no funding source.
Ethical approval
This article does not contain any studies with human participants or animals performed by any of the authors.
About this article
Cite this article
Izquierdo-Fernández, A., Minarro, J.C., Carpintero-Lluch, R. et al. Reverse shoulder arthroplasty in obese patients: analysis of functionality in the medium-term. Arch Orthop Trauma Surg 138, 1–5 (2018). https://doi.org/10.1007/s00402-017-2816-6
Received:

Published:

Issue Date:
Keywords
Obesity

Reverse shoulder arthroplasty

Body mass index

BMI

Outcomes