Abstract
Introduction
The treatment options for nonunions of infraisthmal femoral shaft fractures after internal fixation are controversial. Methods such as exchanging an existing nail with a nail of a larger size, dynamization, removal of the nail followed by plating, and bone grafting have all been reported. Among those options, exchange nailing seems to be the most popular choice. In this study, a Poller screw, or an additional interlocking screw, was used in conjunction with exchange intramedullary nailing. The purpose of this study was to evaluate the effectiveness of treating femoral shaft nonunions using insertion of a Poller screw or an additional interlocking screw in conjunction with intramedullary nail fixation.
Materials and methods
This study included 18 patients who presented with nonunion of femur shaft fractures after internal fixation at the infraisthmal level. These patients included 13 men and 5 women, with a mean age of 46.8 years (range 15–78 years). The mean postsurgical period of nonunion was 7.8 months (range 6–12 months). The patients were classified into two groups: the atrophic nonunion group and the hypertrophic nonunion group. In all patients, nailing was enhanced with a Poller screw or additional interlocking screws. All patients were followed up with plain film examinations and were assessed for their functional recovery status to determine the osseous union conditions.
Results
All 18 patients achieved postoperative bony union after a mean time of 7.5 months (range 3–12 months), and all patients were able to walk with full weight-bearing and without pain within 3 months. There were no significant complications, such as broken hardware, implant back-outs, axial or rotational malalignments, or deep infections.
Conclusion
Poller screws and additional interlocking screws, along with intramedullary nailing exchange, may be an effective and reliable alternative for treating infraisthmal femoral shaft nonunions.
Access options
Buy single article
Instant access to the full article PDF.
US$ 39.95
Tax calculation will be finalised during checkout.
Subscribe to journal
Immediate online access to all issues from 2019. Subscription will auto renew annually.
US$ 119
Tax calculation will be finalised during checkout.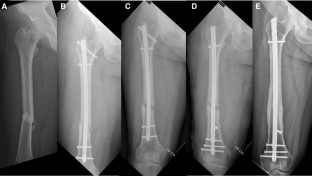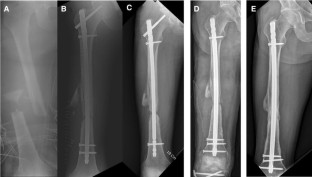 References
1.

Papineau LJ, Lemieux R, Mehio Z (1980) Treatment of diaphyseal femoral fractures. Can J Surg 23:252–255

2.

Hampton OP Jr, Holt EP Jr (1961) Intramedullary nailing of comminuted fractures of the femoral shaft. Ann Surg 153:1020–1028

3.

Kempf I, Grosse A, Beck G (1985) Closed locked intramedullary nailing. Its application to comminuted fractures of the femur. J Bone Jt Surg Am 67:709–720

4.

Kuntscher GB (1958) The Kuntscher method of intramedullary fixation. J Bone Joint Surg Am 40-A:17–26

5.

Kuntscher G (1962) Surgical treatment of open diaphysial fractures of the long bones. Acta Orthop Belg 28:444–449

6.

Ricci WM, Bellabarba C, Evanoff B, Herscovici D, DiPasquale T, Sanders R (2001) Retrograde versus antegrade nailing of femoral shaft fractures. J Orthop Trauma 15:161–169

7.

Taitsman LA, Lynch JR, Agel J, Barei DP, Nork SE (2009) Risk factors for femoral nonunion after femoral shaft fracture. J Trauma 67:1389–1392

8.

Zickel RE (1988) Nonunions of fractures of the proximal and distal thirds of the shaft of the femur. Instr Course Lect 37:173–179

9.

Yang KH, Kim JR, Park J (2012) Nonisthmal femoral shaft nonunion as a risk factor for exchange nailing failure. J Trauma Acute Care Surg 72:E60–E64

10.

Somford MP, van den Bekerom MP, Kloen P (2013) Operative treatment for femoral shaft nonunions, a systematic review of the literature. Strateg Trauma Limb Reconstr 8:77–88

11.

Gelalis ID, Politis AN, Arnaoutoglou CM et al (2012) Diagnostic and treatment modalities in nonunions of the femoral shaft: a review. Injury 43:980–988

12.

Park J, Kim SG, Yoon HK, Yang KH (2010) The treatment of nonisthmal femoral shaft nonunions with im nail exchange versus augmentation plating. J Orthop Trauma 24:89–94

13.

Swanson EA, Garrard EC, Bernstein DT, O'Connor DP, Brinker MR (2015) Results of a systematic approach to exchange nailing for the treatment of aseptic femoral nonunions. J Orthop Trauma 29:21–27

14.

Weber BG, Brunner C (1981) The treatment of nonunions without electrical stimulation. Clin Orthop Relat Res 161:24–32

15.

Winquist RA, Hansen ST (1978) Segmental fractures of the femur treated by closed intramedullary nailing. J Bone Jt Surg Am 60:934–939

16.

Cameron CD, Meek RN, Blachut PA, O'Brien PJ, Pate GC (2014) Intramedullary nailing of the femoral shaft: a prospective, randomized study. J Orthop Trauma 28(Suppl 8):S11–S14

17.

Kessler SB, Hallfeldt KK, Perren SM, Schweiberer L (1986) The effects of reaming and intramedullary nailing on fracture healing. Clin Orthop Relat Res 212:18–25

18.

Brumback RJ (1996) The rationales of interlocking nailing of the femur, tibia, and humerus. Clin Orthop Relat Res 324:292–320

19.

Wu CC, Chen WJ (2002) Exchange nailing for aseptic nonunion of the femoral shaft. Int Orthop 26:80–84

20.

Swanson EA, Garrard EC, Bernstein DT, O'Connor DP, Brinker MR (2014) The results of a systematic approach to exchange nailing for the treatment of aseptic femoral nonunions. J Orthop Trauma 29:21–27

21.

Niedzwiedzki T, Brudnicki J, Niedzwiedzki L (2007) Treatment of femoral shaft union disturbances with intramedullary nailing. Treatment failure. Ortop Traumatol Rehabil 9:377–383

22.

Brinker MR, O'Connor DP (2007) Exchange nailing of ununited fractures. J Bone Jt Surg Am 89:177–188

23.

Zhang X, Zhong B, Sui S, Yu X, Jiang Y (2001) Treatment of distal femoral nonunion and delayed union by using a retrograde intramedullary interlocking nail. Chin J Traumatol 4:180–184

24.

Ueng SW, Chao EK, Lee SS, Shih CH (1997) Augmentative plate fixation for the management of femoral nonunion after intramedullary nailing. J Trauma 43:640–644

25.

Krettek C, Miclau T, Schandelmaier P, Stephan C, Mohlmann U, Tscherne H (1999) The mechanical effect of blocking screws ("Poller screws") in stabilizing tibia fractures with short proximal or distal fragments after insertion of small-diameter intramedullary nails. J Orthop Trauma 13:550–553

26.

Krettek C, Stephan C, Schandelmaier P, Richter M, Pape HC, Miclau T (1999) The use of Poller screws as blocking screws in stabilising tibial fractures treated with small diameter intramedullary nails. J Bone Jt Surg Br 81:963–968

27.

Chan DS, Nayak A, Blaisdell G et al (2015) Effect of distal interlocking screw number and position after intramedullary nailing of distal tibial fractures: a biomechanical study simulating immediate weight-bearing. J Orthop Trauma 29:98–104

28.

Kulkarni SG, Varshneya A, Kulkarni S et al (2012) Intramedullary nailing supplemented with Poller screws for proximal tibial fractures. J Orthop Surg (Hong Kong) 20:307–311

29.

Shahulhameed A, Roberts CS, Ojike NI (2011) Technique for precise placement of poller screws with intramedullary nailing of metaphyseal fractures of the femur and the tibia. Injury 42:136–139

30.

Hannah A, Aboelmagd T, Yip G, Hull P (2014) A novel technique for accurate Poller (blocking) screw placement. Injury 45:1011–1014

31.

Eom TW, Kim JJ, Oh HK, Kim JW (2016) Challenge to treat hypertrophic nonunion of the femoral shaft: the Poller screw augmentation technique. Eur J Orthop Surg Traumatol 26:559–563
Ethics declarations
Conflict of interest
The authors declare that they have no conflict of interest.
Funding
There is no funding source.
Ethical approval
This article does not contain any studies with human participants or animals performed by any of the authors.
Informed consent
Informed consent was obtained from all individual participants included in the study.
About this article
Cite this article
Kim, JW., Yoon, YC., Oh, CW. et al. Exchange nailing with enhanced distal fixation is effective for the treatment of infraisthmal femoral nonunions. Arch Orthop Trauma Surg 138, 27–34 (2018). https://doi.org/10.1007/s00402-017-2802-z
Received:

Published:

Issue Date:
Keywords
Nonunion

Infraisthmal femoral shaft fracture

Exchange intramedullary nailing

Poller screw

Additional interlocking screw