Abstract
Background
Traumatic lesions of the olecranon bursa (OB) and prepatellar bursa (PB) are injuries commonly seen in orthopaedic trauma units. These injuries are associated with a high rate of complications. At present, only little is known about the incidence, complication rate, and treatment approaches in patients with acute open bursae.
Materials and methods
A total of 552 patients who had been treated for acute traumatic lesions of either the olecranon bursa or the prepatellar bursa, or both at our department were retrospective identified in the years between 2009 and 2014. An analysis of the medical history of these patients was carried out to investigate the incidence of bursa injuries, circumstances, concomitant injuries, complication rate, and treatment approaches. In addition, a systematic literature search on PubMed was conducted.
Results
The incidence of traumatic lesions of the OB or PB in trauma patients was 0.2% (198/100,000; 62% OB, 38% PB). Bursectomy was performed in 83.7%. Concomitant injuries were present in 41% of the cases, with no significant influence on the complication rate (P = 0.367). The overall complication rate was 19.7%. Revision surgery was necessary in 4.5% of the patients. No significant differences between OB and PB injuries were noted with regard to the complication rate (P = 0.221). There were also no significant differences in the complication rate between patients who received bursectomy and those with conservative treatment (P = 0.364). Regression analyses showed that prophylactic antibiotic administration significantly reduced the risk of infection (P = 0.04).
Conclusions
Traumatic lesions of the OB and PB are associated with a high risk of complications. Prophylactic antibiotic therapy can potentially reduce the risk of infection and the need for revision surgery.
Access options
Buy single article
Instant access to the full article PDF.
US$ 39.95
Tax calculation will be finalised during checkout.
Subscribe to journal
Immediate online access to all issues from 2019. Subscription will auto renew annually.
US$ 119
Tax calculation will be finalised during checkout.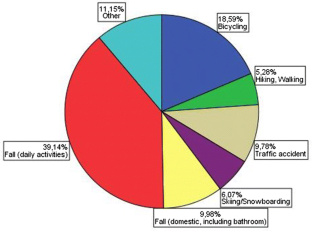 References
1.

Baumbach SF, Domaszewski F, Wyen H, Kalcher K, Mutschler W, Kanz KG (2013) Evaluation of the current treatment concepts in Germany, Austria and Switzerland for acute traumatic lesions to the prepatellar and olecranon bursa. Injury 44:1423–1427

2.

Lane JC, Mabvuure NT, Hindocha S, Khan W (2012) Current concepts of prophylactic antibiotics in trauma: a review. Open Orthop J 6:511–517

3.

Degreef I, De Smet L (2006) Complications following resection of the olecranon bursa. Acta Orthop Belg 72:400–403

4.

Ogilvie-Harris DJ, Gilbart M (2000) Endoscopic bursal resection: the olecranon bursa and prepatellar bursa. Arthroscopy 16:249–253

5.

Kaiser P, Schmidle G, Raas C, Blauth M (2015) Treatment concept for a traumatic lesion of the prepatellar bursa. Oper Orthop Traumatol 27(427–36):437–438

6.

Platt R, Zaleznik DF, Hopkins CC, Dellinger EP, Karchmer AW, Bryan CS et al (1990) Perioperative antibiotic prophylaxis for herniorrhaphy and breast surgery. N Engl J Med 322:153–160

7.

Classen DC, Evans RS, Pestotnik SL, Horn SD, Menlove RL, Burke JP (1992) The timing of prophylactic administration of antibiotics and the risk of surgical-wound infection. N Engl J Med 326:281–286
Ethics declarations
Conflict of interest
The authors declare that they have no conflict of interest.
About this article
Cite this article
Raas, C., Attal, R., Kaiser, P. et al. Treatment and outcome with traumatic lesions of the olecranon and prepatellar bursa: a literature review apropos a retrospective analysis including 552 cases. Arch Orthop Trauma Surg 137, 823–827 (2017). https://doi.org/10.1007/s00402-017-2690-2
Received:

Published:

Issue Date:
Keywords
Traumatic bursa lesion

Olecranon bursa

Prepatellar bursa

Antibiotic therapy in wounds

Bursectomy

Bursitis

Bursa